Thursday April 6 — 1:41pm
The Sale is OVER. Thank you all for raising $1,070 in about 31 hours!!!!


8:40am JUST ADDED 10 more pins!!!
Be sure to REFRESH your browser
I'm back with more Disney collectibles for you. Your ENTIRE purchase price goes directly to my Avon Walk for Breast Cancer page, a charity deduction for you! It's a win win.
Yes, it's time for Mini-Pin Palooza. It takes me weeks to get everything together for a regular pin palooza so I thought perhaps a smaller palooza would work better for everyone.
Your ENTIRE purchase price is a direct donation to my Avon Walk for Breast Cancer!
Here's how it works. READ CAREFULLY
** The following pins are offered for sale at the stated price.
** You leave a comment below stating the ITEM number of the pin(s) you wish to purchase.
** I will go through the comments in the order they ARE received.
** I will then put a SOLD with your first name and first initial last name on the pin description.
** Within 72 hours I will send you the link information for my Avon Walk for Breast Cancer and you will have 48 hours to make your donation. Once that happens Avon will send you an email confirmation. Forward me a copy of the donation receipt along with your shipping address — pins will be mailed in approximately 3-10 days.
Your ENTIRE purchase price goes directly to my Avon Walk for Breast Cancer Account. I pay postage and WILL SHIP TO US ONLY. You get pin(s) you want and a charity deduction too! I raise money and reduce my pin collection.
Many thanks to the following folks who donated pins: Carol and Gary Cruise, Pam Passwater, Mouse Adventures
ITEM # 1 SOLD Stefanie V Spectacle of Dancing Lights 2014 – Wayne & Lanny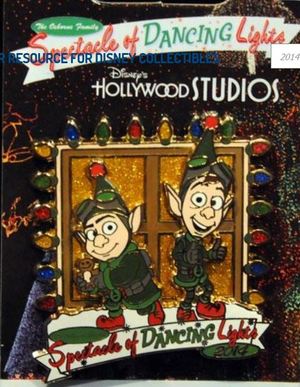 Price $25
ITEM # 2 SOLD Debra CAST EXCLUSIVE Walt Disney's 115th Birthday – Limited Edition 1000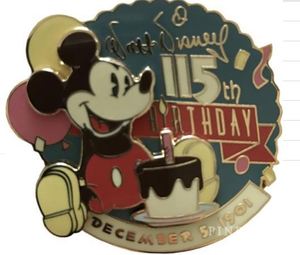 Price $35

ITEM #3 SOLD LisaJ WDI – D23 Destination D 2014: Attraction Rewind – Tower Of The Four Winds Critters – Fish
Price $40

ITEM # 4 SOLD WDI – Moana & Pua Limited Edition of 250
Untouched In Original Package
Price $200
ITEM # 5 SOLD Stefanie V DVC the Villas at the Disney's Grand Floridian
Price $30
ITEM # 6 SOLD Tricia WDI – Dumbo 75th Anniversary Limited Edition 250
Price $40
ITEM # 7 SOLD Helen L. Wilderness Lodge – Under Construction – 3 pin set on Card!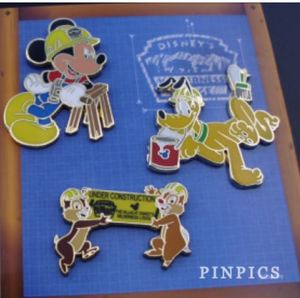 Price $40
ITEM # 8 Club 33 60th Anniversary Pin LE 2000
To celebrate DLR's 60th anniversary, Club 33 released this pin. It has the 33 in the middle and a dangle with a diamond-shaped jewel to celebrate Disneyland's Diamond Celebration. The pin measures 1 1/2″ across x 2 3/4″ tall.
Price $150

ITEM # 9 SOLD DianeG Tapestry of Nations Wings
Price $15

ITEM # 10 SOLD Helen L DCL – October 2004 Artist Choice (Donald & Compass)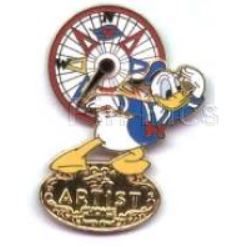 Price $35
ITEM # 11 SOLD Derek D Captain Phasma Star

Price $25

ITEM # 12 SOLD LisaJ Now It's Time to Say Goodbye (Chip and Dale) Adventures by Disney – Backstage Magic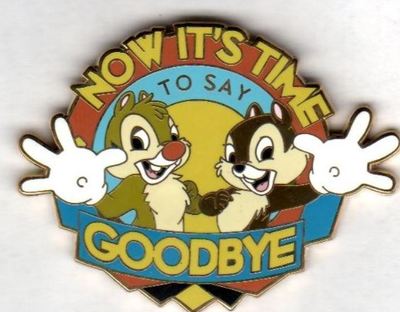 Price $35

ITEM # 13 SOLD Joelle Walt's World (Pluto) Adventures by Disney – Backstage Magic
Price $25
ITEM # 14 SOLD Derek D (Mr. Toad's Wild Ride) 1971-1998 Journey Through Time Pin Event 2003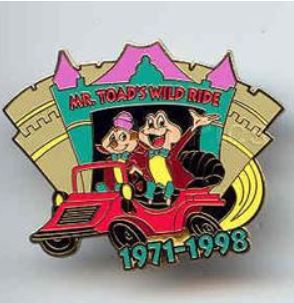 Price $60
ITEM # 15 SOLD Emily S Maleficent I.D. Badge Walt Disney Studios Burbank LE 300
Price $75
ITEM #16 Helen L.Mickey Alaska Disney Cruise Line LE 2000
Price $ 25
ITEM # 17 SOLD Norway 1999 World Showcase Pavilion Series
One of a series of pins highlighting the Epcot World Showcase countries. Pin is a red square trimmed in gold; at bottom is a blue band with "Norway" in white lettering. Superimposed in the square is a diamond shape image of the Norway pavilion.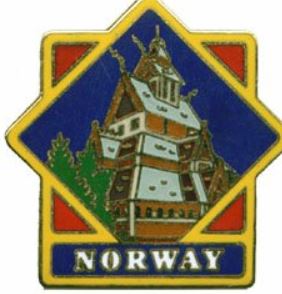 Price $50
ITEM # 18 SOLD LisaJ 1993 Merry Christmas Mickey Mailman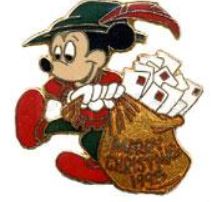 Price $25
ITEM # 19 SOLD Brenda Stitch Baby New Year Disney Auctions LE 500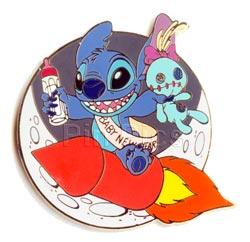 Price $75
ITEM #20 SOLD GaryKMinnie Mouse On the Range Quest for the West Adventures by Disney
Price $ 20
ITEM #21 SOLD lisa j 2001 Candlelight Processional
Price $ 20
ITEM #22 SOLD Carthay Circle Theatre Grand Opening LE
This limited edition commemorates the grand opening of the Carthay Circle Theatre Opening Day. The theater building is a red/marroon color and the background features swirled silver paint and cream colored light beams. The bottom of the pin reads "Grand Opening 2012".
Price $ 20
ITEM # 23 SOLD Patricia L Cast Member Exclusive – SOARIN' – 2016 Cast Member
PRICE $30
Item # 24 SOLD Tinker Bell Passholder Exclusive – Epcot® Flower and Garden Festival 2007
Tinker Bell is reading up on "Planting a Butterfly Garden" in this Limited Edition, Passholder Exclusive pin. This pin commemorates the 14th Annual Flower and Garden Festival at Epcot®. which runs from April 5 through June 3, 2007. This pin was designed by Disney Design Group Artist Dawn Ockstadt. It features Tink reading a book (brown covered) titled Planting a Butterfly Garden on the front cover. There is a pink and yellow butterfly sitting on the corner of the back cover of the book.
PRICE $ 60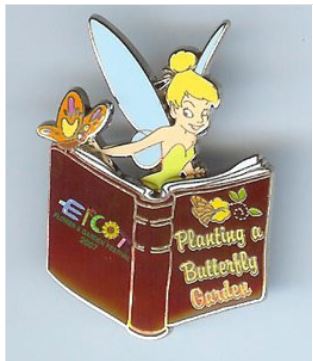 Item # 25 SOLD Susan B New Fantasyland 2012 Hinged Pin
PRICE $35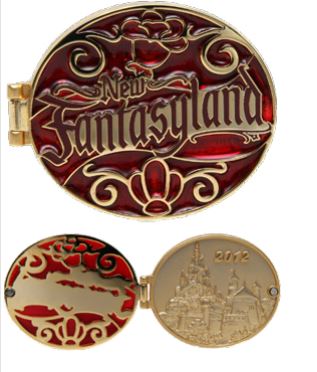 Item # 26 SOLD Simba, Timon, and Pumbaa Epcot® Flower and Garden Festival 2009 – Annual Passholder
Simba, Timon, and Pumbaa from the Lion King relax in the jungle at the 16th annual Epcot® International Flower and Garden Festival in this Annual Passholder exclusive Limited Edition pin.
PRICE $ 55
Item # 27 SOLD Mary C Chip 'n' Dale 2005 Passholder Exclusive – Epcot International Food and Wine Festival
PRICE $ 45
Item # 28 SOLD Patricia L Lilo and Stitch 2008 Food and Wine Festival DVC
PRICE $50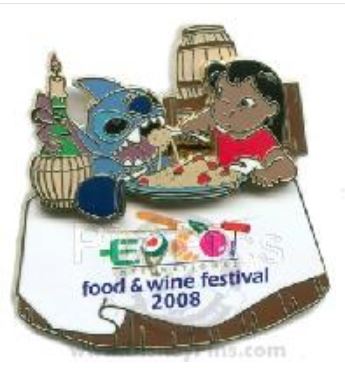 Item # 29 SOLD OUT Musketeer Figment One sold to Laura B, Kelly S, Mike, Derek
PRICE $20
Item # 30 SOLD Mary C Olympic Figment Weightlifting

PRICE $35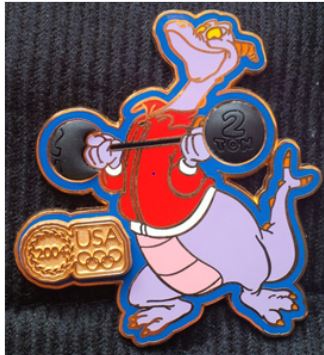 Thank you PinPics.com – Links on the pin names go to the PinPics.com website (with their permission) so you can learn more about the pin. Also PinPics.com has given me permission to use photos and/or descriptions.