Otronicon, the annual four-day Orlando Science Center event celebrating technology, starts Friday, Jan. 13. Disney fans will find plenty to inspire them, including an interactive exhibit presented by Walt Disney World that takes participants behind the scenes of some of the resort's most popular attractions.
Now in its twelfth year, Otronicon has grown from a conference for video gamers to one that encompasses the many forms of technology that we use in our everyday lives. This year, an emphasis again has been placed on STEM (science, technology, engineering and mathematics) careers. Many, if not most, of the exhibitors are local companies with a vested interest in the development of STEM programs and jobs in Orlando.
In addition, the focus on teaching kids how to create code for computers returns with an Hour of Code each day at 11 a.m. This initiative introduces computer science to new learners through simple programming games and features popular characters, such as those from Minecraft, Star Wars and Moana. Plus, speaker Ashley Moore presents a talk at 2:30 p.m. Saturday that teaches adults about "coding, design, robotics and maker skills in fun and engaging ways to help them overcome bullying, build confidence and teach them to spread goodness. We use coding and design as a vehicle to help kids become confident leaders with skills that make an impact."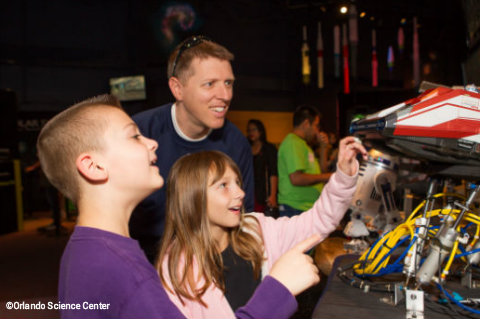 Disney's Imagineers demonstrate "Storytelling through Technology" each day throughout the event. The exhibit promises to take visitors on a journey "through technology and time" that highlights "technologies used to bring the animated figures and visual effects featured at some of Walt Disney World's most iconic attractions and shows to life." Participants also can explore a "color and play" station, where they can add color to favorite Disney characters and then see them come to life through the use of augmented reality technologies.
Video games still make up a large part of the event, too. Families can take part in daily competitions hosted by Powder Keg Games; visit the Indie Game Showcase to discover the latest and most innovative game releases all in one place; and try a number of new and popular games. Otronicon 2017 also features state-of-the-art medical and military simulators from Florida Hospital for Children and Lockheed Martin, respectively. And participants can learn about new technology at Kennedy Space Center through several demonstrations.
Admission to Otronicon is $19.95 per day for adults; $17.95 per day for students and seniors; and $13.95 per day for children ages 3 to 11. Admission to Otronicon is free for Science Center members. Hours for Otronicon are 10 a.m. to 5 p.m. each day. A separate ticket is required for Science Night Live featuring Otronicon! From 8:30 to 11:30 p.m. Jan. 14.
Volunteer opportunities for those ages 13 and older still are available as well. The Science Center needs volunteers to serve as game techs, exhibit operators, way finders and more. Each shift lasts about four hours, and volunteers get free admission to the event on the days they volunteer and free Otronicon T-shirts. Sign up here or contact Zach Lynn, director of volunteers and engagement, at [email protected] or 407-514-2223.