There's a new version of World of Color for this holiday season: World of Color – Season of Light. It combines favorite holiday musical numbers with heartwarming scenes from Disney and Disney-Pixar movies, choreographed with fountains, lasers, lights and even flames.
We saw it Saturday night, and I have to say that it's my favorite version of the show. The fountains are not so much the main focus of the show now, and all of the different effects are much more integrated and complement each other. I thought the lasers were used especially well.
And I loved the music. I'm old enough to remember my parents playing Christmas albums by Nat King Cole ("The Christmas Song"), Bing Crosby ("Mele Kalikimaka"), and Dean Martin ("Let it Snow"), and I enjoy hearing them again. But it's also great to hear contemporary artists such as Michael Buble and Idina Menzel ("Baby It's Cold Outside"), and Amy Grant ("Have Yourself a Merry Little Christmas"). And Pentatonix's version of "Dance of the Sugar Plum Fairies", followed by Trans-Siberian Orchestra's "Wizard in Winter", had everyone cheering.
The animation clips were very well chosen. Who can forget the heartwarming moment from "Lady and the Tramp" when, on Christmas morning, "Darling" opens the box and Lady's head pops out?
And I had to laugh when Sadness from "Inside Out" appeared – to the music of Elvis Presley's "Blue Christmas." 🙂
During the song "Let There Be Peace on Earth", giant soap bubbles, shaped like hearts, rise into the air and float away.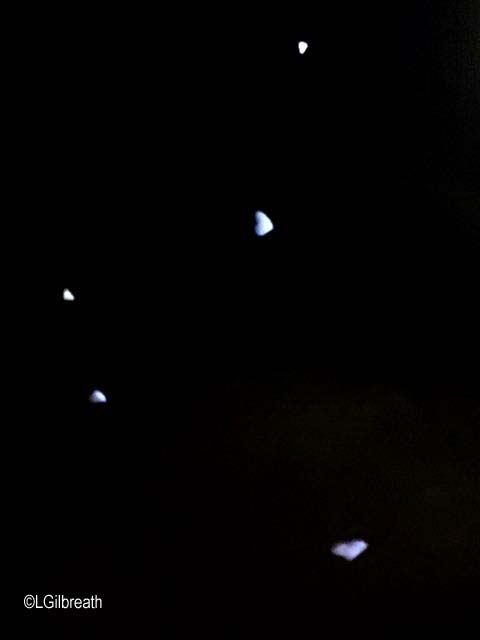 My camera battery died partway through, but here's the first 16 minutes of the show, including the Pentatonix and TSO numbers.
As I mentioned, we thought it was a terrific show. In reading Disney's "Fact Sheet" about it, I found a few items that explain some of the new aspects.
Five newly installed barges in the lagoon erupt in a brilliant lighting effect to punctuate the grand finale.
More than 800 individual light fixtures are needed to illuminate the show.
Six laser projectors are deployed to create a variety of entertaining effects.
Nearly 20 high-definition projectors convey imagery to the screens of water.
You'll need a Fastpass to access the viewing areas for the show. These are available at the entrance to Grizzly River Run beginning at park opening. Fastpasses for the areas that are more centered are distributed first, so go early. There is some standby viewing, but it's further back and tends to fill up early.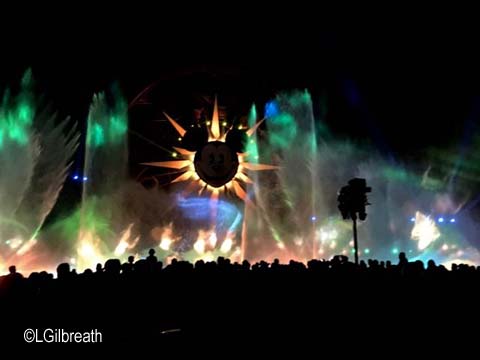 In addition to the regular Fastpass option for the show, there are options for Premium viewing experiences. Lunch and Dinner packages are available at Carthay Circle Restaurant and Wine Country Trattoria, and a Dinner Package at Ariel's Grotto. The newest option, introduced earlier this year, is the Sparkling Dessert Package. Lee and I did that one on Saturday. It's unique because you actually get to sit for the show – everyone is seated at small tables. A plate of cheese, fruits and desserts is served to you, along with beverages. At $79 plus tax it's the most expensive of the viewing options, but it's my favorite way to see the show.
We have more information on Dining packages on our World of Color page.
We took a quick look around the park at some of the other holidays options. This year Santa Claus has moved from his Elias and Co. department store Santa setting to a more rustic area along in the newly named "Redwood Creek – Santa's Holiday Visit".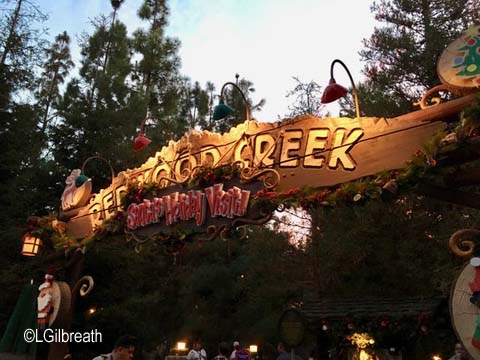 Santa is tucked away in the Ahwahnee Circle (the small amphitheater). I was wondering if guests would be less interested in visiting him there, but the line was long, so that's apparently not an issue. Without standing in line there was no way to get a good view of Santa Claus, so this is not a very good photo.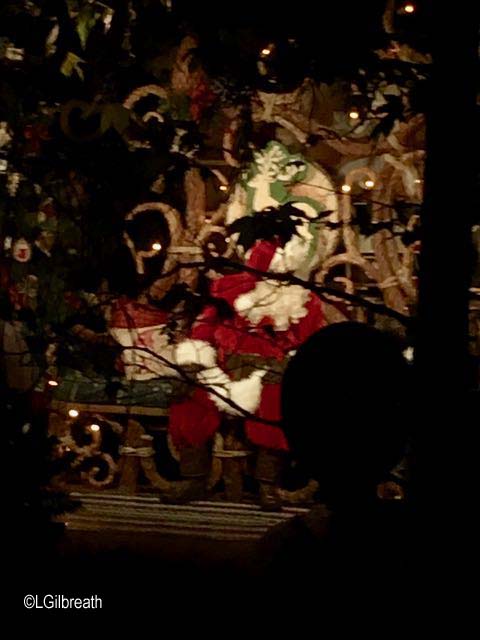 I thought it very amusing that this is the roof of Santa's greeting area. 🙂 A place for the reindeer – but only eight of them – to hang out.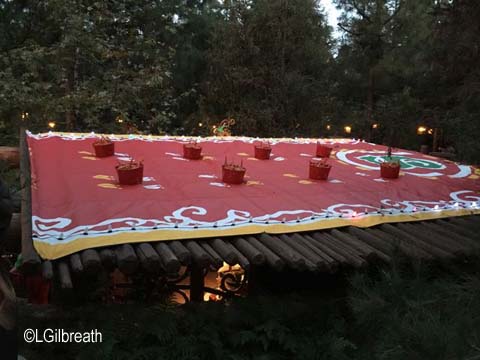 The Redwood Creek area itself has decorations, which I don't recall seeing in the past. The Jingle Bridge is hung with bells that ring when people bounce on it.
The "challenge" aspect of the Redwood Creek area is now "Elf Games". Some additional elements have been added at some of the apparatus, like a sack of gifts at the slides for the "Pack the Presents" game.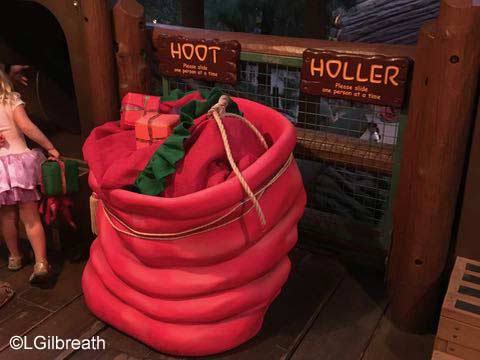 There's also a meet and greet spot with Chip and/or Dale.
Guests seemed to be enjoying the area – as I mentioned the line for Santa was fairly long and there were a number of kids enjoying the various challenges.
This isn't a holiday thing, but right now DCA is showing an extended preview of Moana in the Bugs Land Theater. Using all of the available effects. Including lots of water. We really enjoyed the preview – the movie looks very good.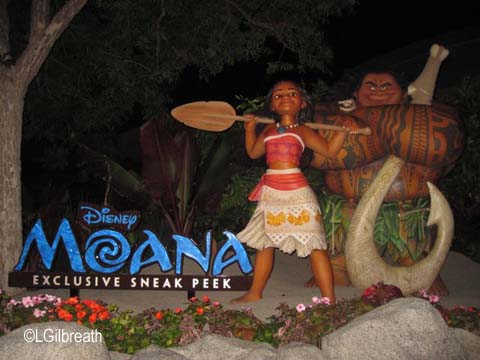 The rest of the park seems to be decked out in its usual holiday style. The Christmas tree is in Carthay Circle, and there's a tree lighting show every night. The residents of Cars Land have also decorated the town of Radiator Springs – Seasons Speedings to all! 🙂 (I'm certainly enjoying the Passholder benefit of free downloads of PhotoPass photos!)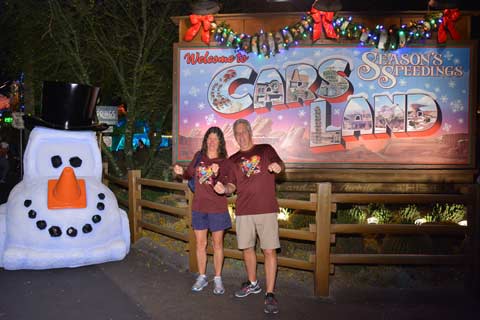 Here's the new popcorn buckets being sold in both parks. The Santa Mickey was VERY popular and we saw lots of people carrying them around. Getting them before they sell out.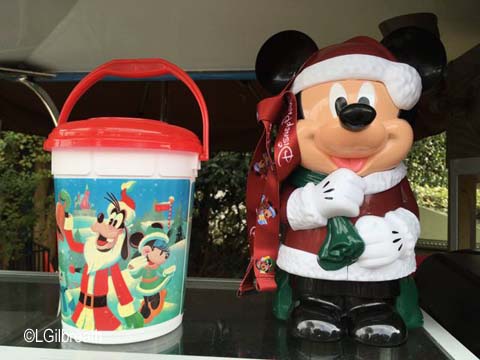 I believe the Elf Mickey Stein is only available at Disneyland. That was also popular.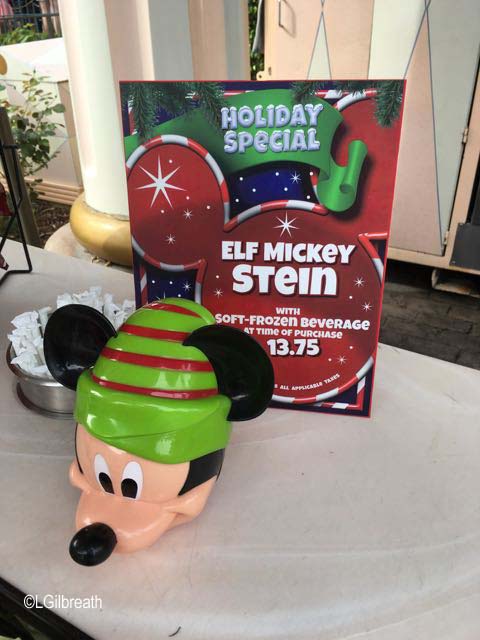 There's also a Snow White and the Seven Dwarfs refillable mug that seems to be available resort wide.
To close, even though this isn't DCA, either, the construction of the enormous gingerbread house in the Grand Californian was underway. This year it's a gingerbread version of the hotel itself. There's even a fire in the fireplace.
A smaller version of the gingerbread house is available for purchase – $85.