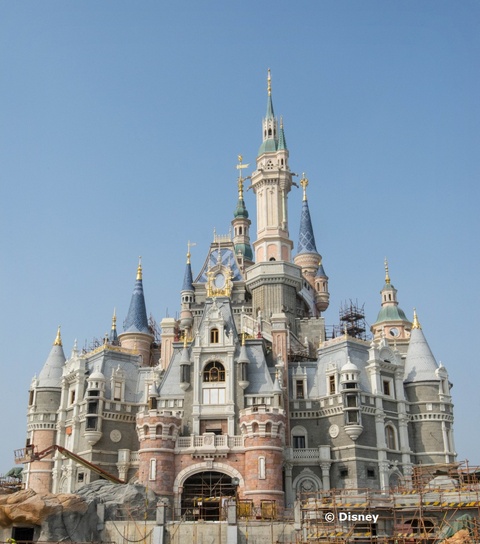 Magical grand opening celebration will take place on June 16, 2016
BURBANK, Calif., January 12, 2016 — The Walt Disney Company and Shanghai Shendi Group announced today that Shanghai Disney Resort will host a multi-day, grand opening celebration, culminating in a spectacular welcoming ceremony for the resort's first official guests on June 16, 2016. The world-class resort, located in the Pudong District of Shanghai, will be Disney's first destination resort in mainland China, featuring classic Disney storytelling and characters with all-new experiences tailored for the people of China.
"When it opens in June, Shanghai Disney resort will be a one-of-a-kind, world-class destination that is authentically Disney and distinctly Chinese," said Robert A. Iger, chairman and chief executive officer, The Walt Disney Company. "The resort reflects Disney's legendary storytelling along with China's rich culture, and showcases some of the most creative and innovative experiences we've ever created. We're looking forward to showing it to the world and sharing it with the people of China for generations to come."
In 2014, Disney and Shanghai Shendi Group, joint shareholders of the Resort, announced an accelerated expansion plan to capitalize on the tremendous growth in China's tourism sector — adding additional attractions, entertainment and other offerings to increase capacity at the theme park. On opening day, Shanghai Disney Resort will include:
— Shanghai Disneyland, a world-class theme park with six themed lands: Adventure Isle, Gardens of Imagination, Mickey Avenue, Tomorrowland, Treasure Cove and Fantasyland, all centered around the Enchanted Storybook Castle, the largest and tallest castle at any Disney theme park. Guests will enjoy numerous thrilling attractions and live entertainment spectaculars — many of them first-of-a-kind for a Disney park.
— The Shanghai Disneyland Hotel and Toy Story Hotel, imaginatively themed resort-hotels conveniently located near the theme park. The Shanghai Disneyland Hotel is an elegant Art Nouveau-inspired resort with a touch of Disney magic and imagination, while the Toy Story Hotel immerses guests in a world inspired by the toys from the Disney-Pixar series of Toy Story animated films.
— Disneytown, an international shopping, dining and entertainment district, adjacent to the entrance of Shanghai Disneyland. Disneytown will include the Walt Disney Grand Theatre, home to the first-ever Mandarin production of the Broadway hit Disney's THE LION KING. Another must-see for guests will be the World of Disney Store, offering an impressive collection of Disney merchandise, including many products designed especially for Shanghai Disney Resort.
— Wishing Star Park, a recreational area with beautiful gardens, a walking path and a glittering lake. With approximately 40 hectares, Wishing Star Park presents guests with awe-inspiring natural views and beautiful sunsets.
The resort represents the largest foreign investment project in Shanghai, and one of the largest foreign investments in the history of China. The opening of Shanghai Disney Resort will mark a key milestone in the development of tourism in Shanghai, changing the landscape of the industry and delighting guests for generations to come.
Shanghai Disney Resort broke ground in 2011 and has celebrated numerous construction milestones since then, including the topping off of the iconic Enchanted Storybook Castle in spring 2015. In October, the resort kicked off the first of several large-scale job fairs aimed at ultimately recruiting thousands of cast members from across China to provide Disney's legendary service to guests on opening day.