So this last October, Walt Disney Animation Studios invited us in to their studios to see and hear about their upcoming 55th animated feature, "Zootopia."
[Photos provided by Disney.]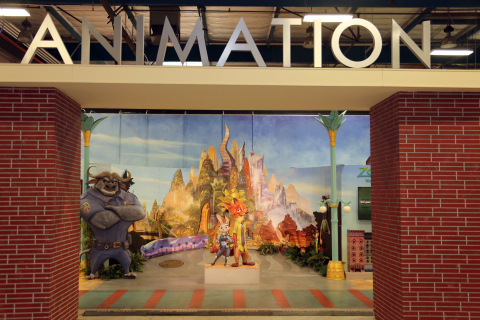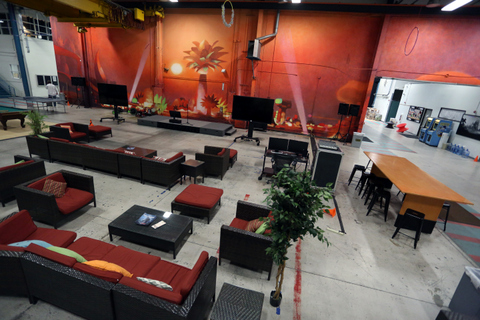 The day started off with a presentation of some footage by Directors Byron Howard and Rich Moore, and Producer Clark Spencer.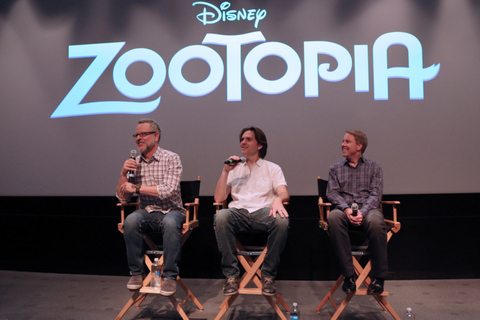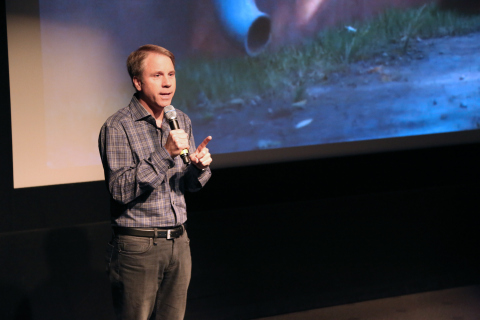 Clark Spencer: [On the four ingredients in every movie WDAS makes] "First, we strive to tell timeless stories for today's audiences. Second, we make these movies to be entertaining for all ages around the world. Third, our films must contain a combination of both great humor and deep emotion; and fourth, these films must live up to the standard of Walt Disney–after all, his name is on each and every one of these movies."
[On the genesis of Byron Howard's concept for Zootopia] "…One day he came up with the idea of an all-animal city named "Zootopia." When he pitched it to John Lasseter, John literally picked Byron up and hugged him–true story. John had always wanted to do a talking animal film and he was so excited to return to this great legacy. But he charged Byron and the team with one very important thing: He said we have to make an animal movie that no one has seen before. And that's been our mantra on this film as we've been making it."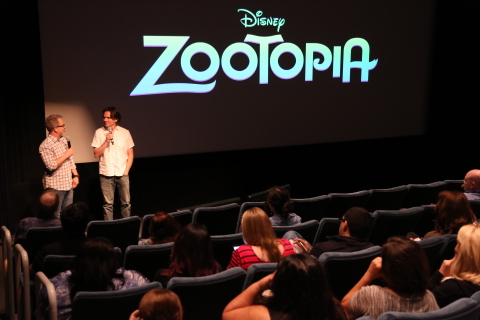 Byron Howard & Rich Moore: [On the construction of Zootopia] "Zootopia had to be built for every size animal and safety was a big concern for us–mice had to be able to cross the street safely near elephants and rhinoceroses…hotel beds have to safely and comfortably accomodate a rhino, an elephant, a fox or a mouse or a shrew…"
"…For desert animals, this is Sahara Square, a huge desert area which is hot and dry. It's kind of like an upscale Dubai or Monte Carlo with lots of casinos and high-end shops–just glitz through the roof. We actually took a research trip to Vegas…"
"…Tundra Town, where the cold weather animals live like polar bears, moose, and arctic shrews, and the cool thing about this is that they have coolers and refrigerated coolant under the sidewalks to keep it cold, they have something called a 3 o'clock blizzard…and lucky for us, we get to reuse a lot of that snow from 'Frozen!'"
"And then there's the Rainforest District…where it's wet and humid….And the question was, and this all goes back to research, how do you get a Tundra and a Desert into one city?…We talked to people who were experts in air conditioning and they said if you had enough money and determination, and these animals do, you could build a massive air conditioning and heating wall that stretches across the city."
"And there's also in town a little itty bitty neighborhood called 'Little Rodentia'…and there is Bunny Burrows which has millions and millions and millions of adorable super-cute bunnies."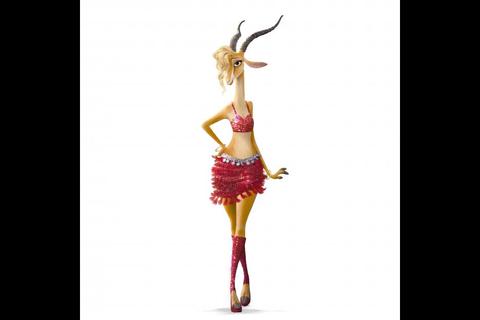 [On casting Shakira as Gazelle] "…(After the pitch) she walked up and said 'I love it guys, I hope you guys keep me on the list and I hope you call me,' we're all like 'NO NO NO, IT'S JUST YOU, THERE'S NO ONE ELSE ON THE LIST,' and so she said 'oh, well then I'm in,' and it was like the shortest meeting, the shortest deal in Hollywood history."
[On having a moral vs. becoming preachy] "We never want to preach…what we like to do is to take an issue and examine it, and not try to beat it over the audience's head…What I take away from this film, if there's a message, a moral, or a theme to it, it's that you define you. The world has opinions, of who you are, but you ultimately define yourself, not the world….What we always discussed in creating this story is…we're going to give Judy this mantra, that "anyone can be anything," and we are going to test it for three acts of a film, and how are we going to have her walk away from this thing?…Personally, that's what I take away from this film."
Next time: We hear from the specific animation departments involved in creating the world and denizens of Zootopia.