Friday was my first opportunity to experience Halloween Time at the Disneyland Resort this year. I have always enjoyed this event, though I miss seeing the decorations that used to be over in Disney California Adventure – I always thought Goofy's Candy Corn Acres was a lot of fun! But now everything takes place in Disneyland.
The usual decorations are in place at the entrance, and hundreds of pumpkins decorate Main Street. See Jason's Halloween Time blog for all of the photos.
Also returning this year are the seasonal overlays for Haunted Mansion Holiday and Space Mountain Ghost Galaxy. Mickey's Halloween Party is taking place on selected nights – 17 parties this year. There were signs posted in the Esplanade advising guests that Friday night's party was sold out.
The Dia de Los Muertos display is back in Frontierland. This year there are new sweet treats with a Dia de los Muertos theme.
The event that did not return this year is the Halloween Carnival that has been held in the Big Thunder Ranch Jamboree area. It featured pumpkin carvers, crafts and games, entertainment, and character meet and greets. I missed that – particularly seeing the pumpkin carver's creations.
It was Media Day and Disney had set up several interviews for me, all in the Halloween "spirit", so to speak. Especially this first one, which was a lot of fun.
They called it a "Haunted Conversation", and afterward I was haunted by all of the things that I could've said…like feeling petrified, or asking Archibald if he was often taken for granite, or even singing a few bars of "Grim Grinning Ghosts." Oh well, at least I got enough in that the interview wasn't a total bust. 😉
There's always quite a variety of Halloween merchandise available – it's starting to rival the holiday season! Disney merchandise coordinator Ashley Cortez showed me some of the new merchandise. There are even more Nightmare Before Christmas and Haunted Mansion items in the Port Royale shop in New Orleans Square.
I thought the Figaro plush was very cute.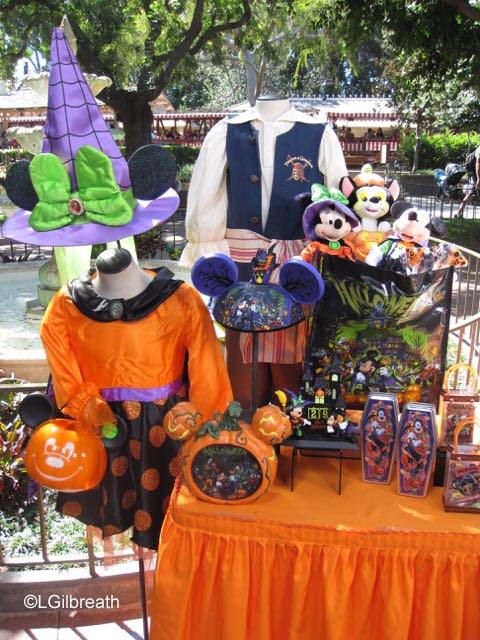 A lot of the shops have Halloween displays.
Here is one of the Halloween Party shirts – there's also an orange version.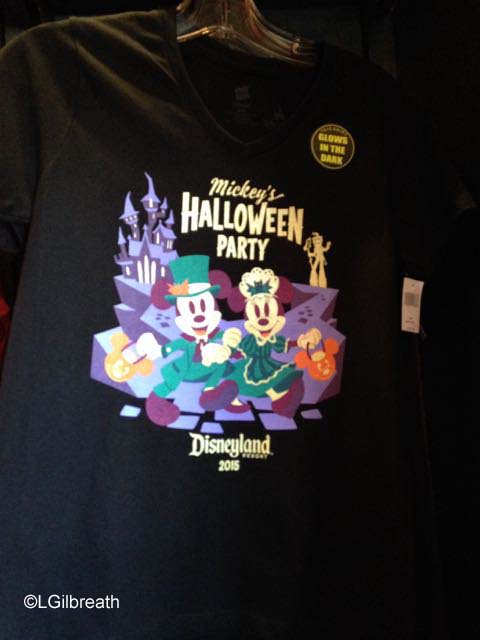 The shirt glows in the dark, and speaking of glow in the dark, there are a couple of other new items. This is the Zero popcorn bucket. Zero glows in the dark AND his nose lights up.
This Poison Apple Stein also glows in the dark. Unfortunately the steins are currently sold out.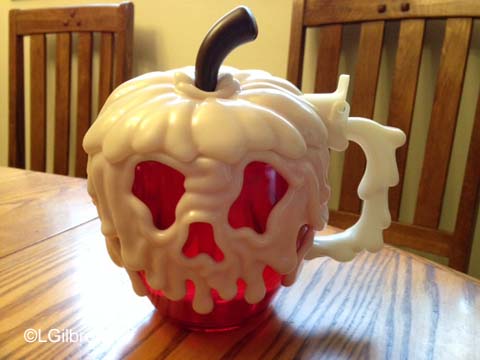 I spoke with Disney chef Christina Orejel about some of the seasonal treats that are available. Surprisingly, a number of them feature pumpkin! Who knew? I've interviewed her several times and she's a lot of fun.
One of the seasonal treats we did not talk about is thePumpkin Beignets that are available at the Mint Julep Bar. One of my favorites, though I think I like the gingerbread beignets that are available during the Christmas season just a little more.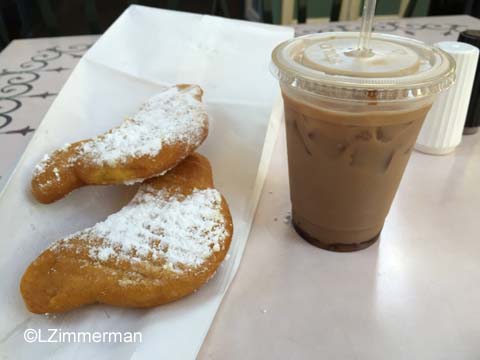 Lee and I went to the Hungry Bear Restaurant for lunch, since the menu there has recently changed a bit. You can find the updated menu HERE. The burgers are still on the menu but the Fried Green Tomato sandwich and Big Al's Salad are gone. There's a new Turkey Caesar Wrap and a Picnic Salad. The mini pies are also gone, and funnel cakes are the featured dessert.
I tried the Crispy Chicken Sandwich, which isn't new, but I'd never had it before. It's served with French fries, sweet potato fries, onion rings, or zesty slaw. Normally I'd order the slaw, but they put red and green peppers in it – yuck. So I tried the onion rings instead, which were quite good. The sandwich was disappointing – it was a deep-fried chicken breast, and it was pretty dry and tasteless.
Lee ordered their Halloween Time special: Pulled Pork Hot Dog. Lee really enjoyed it – he ordered sweet potato fries with it. I had some of the pulled pork and it was tasty.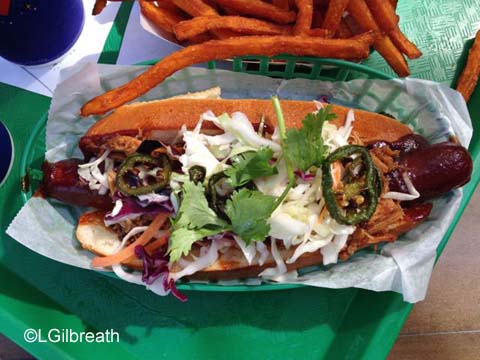 For dessert we tried their other Halloween Time special, a Caramel Apple Funnel Cake. This was huge, and we couldn't finish it. It was really good: the apples weren't too terribly sweet and they didn't overdo the caramel sauce. When we ordered it the cast member asked us if we wanted it half and half – they would have made it half caramel apple and half one of their regular toppings (chocolate or strawberry).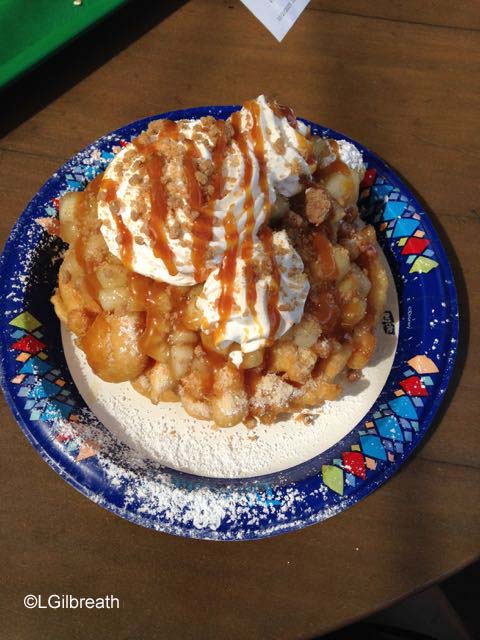 We were able to get in a couple of rides on Haunted Mansion Holiday before the line got too long. This is the 15th year in a row that Jack Skellington and Co. have "decked the halls", and I've enjoyed it every year. There's a new gingerbread house each year – this season it's a house of cards. It doesn't have much movement compared to more recent gingerbread creations – just sways slightly.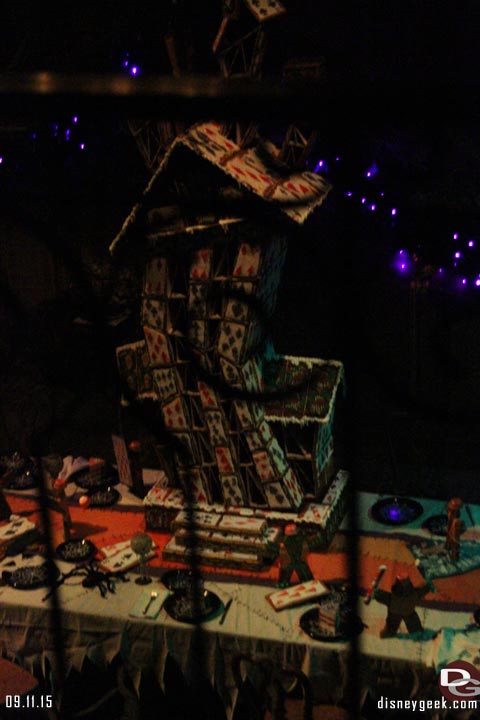 I thought the opening scene with Zero seemed a little different this year.
The Hat Box Ghost is still in residence – in addition to his top hat, there are a couple of more seasonal hats around him.
We also dared to take a voyage on Space Mountain Ghost Galaxy. I didn't notice any changes here. My favorite part is still the display in the launch bay – watching it seem to malfunction as the signal is lost, then re-established. Oooooh……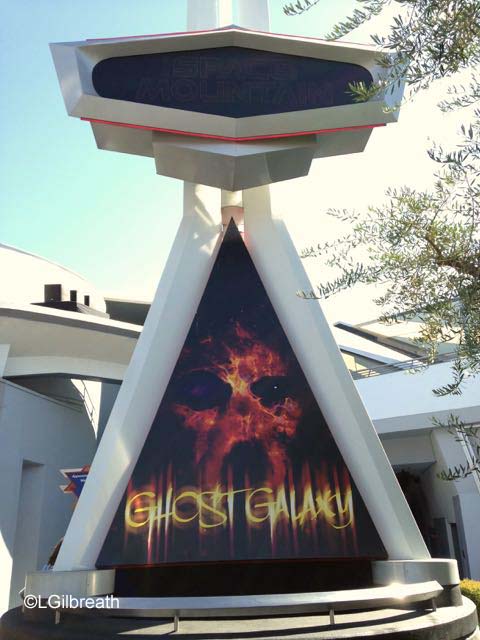 In the past the Disneyland Band has had special spider-web decorated band uniforms during Halloween Time, but the new band is wearing their regular Diamond Anniversary uniforms. The Dapper Dans still wear their Halloween vests, though.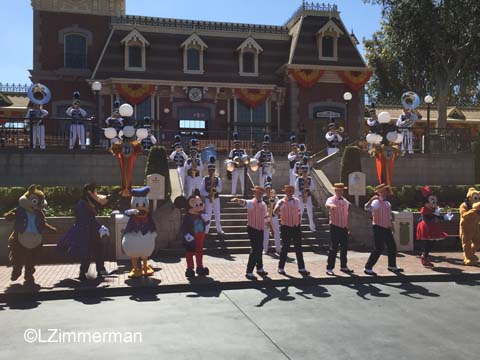 And speaking of costumes…the characters appear in their own Halloween costumes.
Not much Halloween "spirit" at DCA, though we found the loaves of Mickey jack-o-lantern sourdough bread outside Pacific Wharf Cafe (they are also available at Mortimer's Market).
And there's a new fall edition of the Buena Vista Bugle.