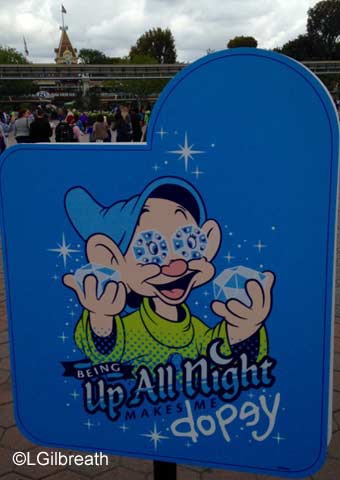 As part of the kickoff of the Diamond Anniversary Celebration, Disneyland also threw a 24-hour party. Both Disneyland and Disney California Adventure were open from 6 a.m. on Friday, May 22, through 6 a.m. on Saturday, May 23. Jason, Jeanine, and Laura attended and provide their comments and photos below.
12:00 a.m.,Hour -6
Laura: When I left Disneyland just before midnight on the 21st, there were already hundreds of guests queued up in the tram area east of the Esplanade, some with tents set up, many with sleeping bags or blankets. The people at the head of the line had arrived at 3:00 p.m., so they had already been waiting for 9 hours!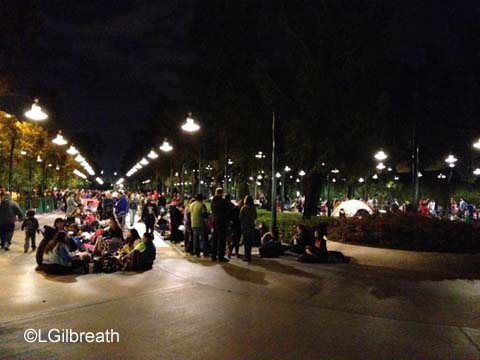 When we returned at 5:30, the Bag Check line stretched all the way back to the guest drop-off area on Harbor, but it was steadily moving. Once past bag check, the line at the turnstiles was short.
Main Street wasn't yet totally packed, but it was getting close. Guests were being held at the end of Main Street.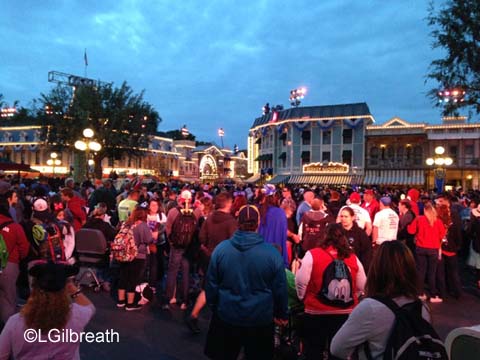 6:00 a.m., Hour 0
Laura: At 6:00 there were fireworks along Main Street and over the castle, and guests began WALKING 🙂 towards their destinations. And people were already staking out spots for the first Paint the Night parade – which didn't start until 8:50 that night!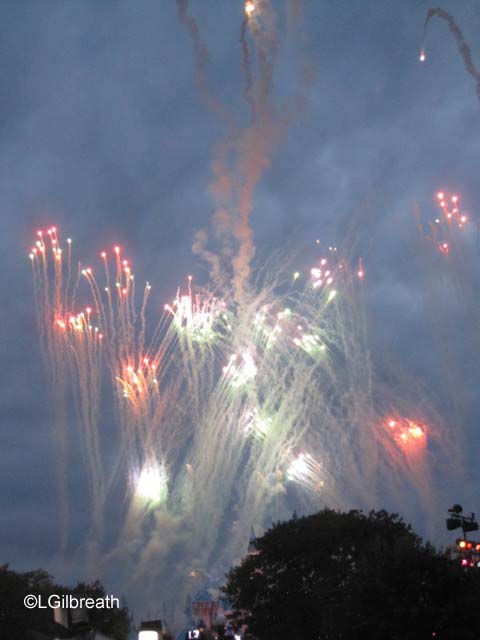 Jason: At 6:00 we were on Main Street and ready to start the day. It was incredible to watch a constant stream of guests walk by us for around 30 minutes straight!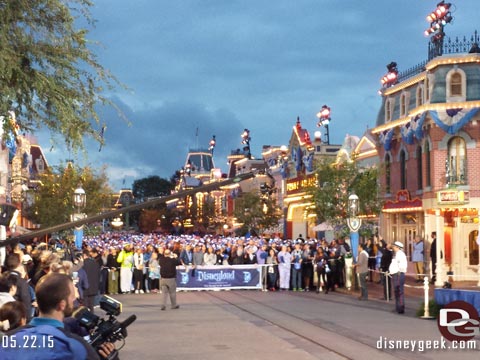 Jeanine: 0600 On Main Street, roughly six hours before I typically like to start my day. At least Mickey and the Cast Members waiting to welcome everyone in looked more awake than I felt.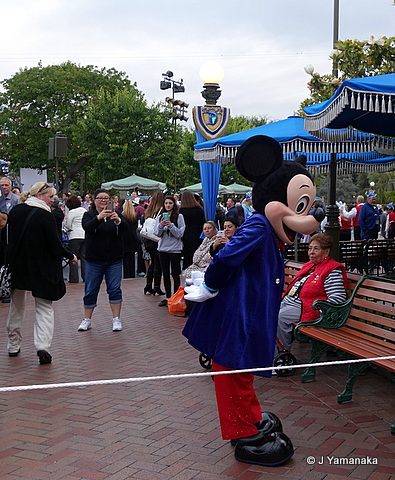 After the countdown and the fireworks, the floodgates opened.
7:00 a.m., Hour 1
Laura: After breakfast we walked back up Main Street. You'd think this huge line was for some kind of exclusive merchandise…but it was the line for Starbucks!
Jason: The new Peter Pan window at the Emporium debuted that day. The others are still to come.
Jeanine: After the first of what would be several Diet Cokes of the day, we commemorated the hour at one of the many clock face photo-ops set up around the parks. Jason and I nominated Laura as the subject.
8:00 a.m., Hour 2
Laura: Matterhorn Bobsleds had just opened to guests that day, and many people rushed there first thing to get a look at the new Abominable Snowman. The line was 150 minutes long! Other than the Matterhorn, wait times elsewhere were much shorter than I expected given the number of people in the park.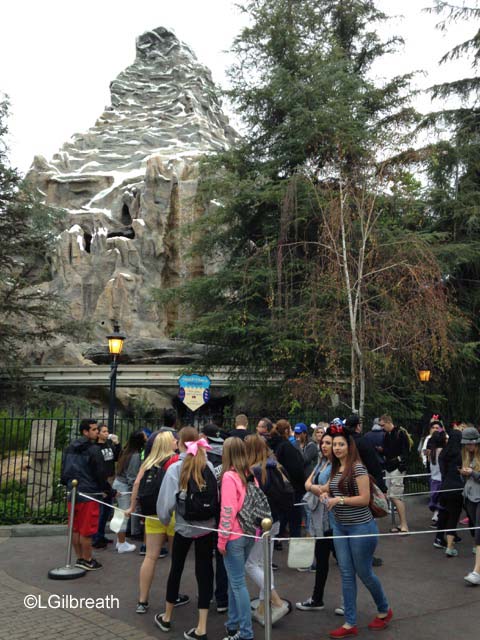 Jason: This is the end of the line for popcorn buckets…you can see the cart in the distance, around the corner. Laura counted just under 100 guests in line.
Jeanine: The cause for the long popcorn lines was the introduction of quite a few new popcorn buckets. These Big Thunder Mountain buckets look somewhat related to the "Seven Dwarfs Mine Train" cars in WDW.
9:00 a.m., Hour 3
Laura: We went over to DCA to check on conditions there. It was a lot less busy than Disneyland. We were even able to get Radiator Springs Racers Fastpasses with a 2:05 (p.m.) return time.
Many of the PhotoPass photographers had a clock face at their station to use in the photos. And the Disneyland Resort Twitter folks were doing something fun: if you added the #Disneyland60 hash tag to your tweets, they might pick them up and retweet them with something extra added! It's actually an animation, and the diamonds sparkle.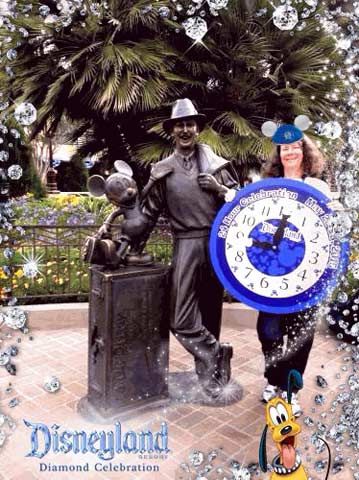 Jason: A special edition of the Buena Vista Bugle was on the newsstands that day.

Jeanine: Even DCA got its share of accessorization for the 60th.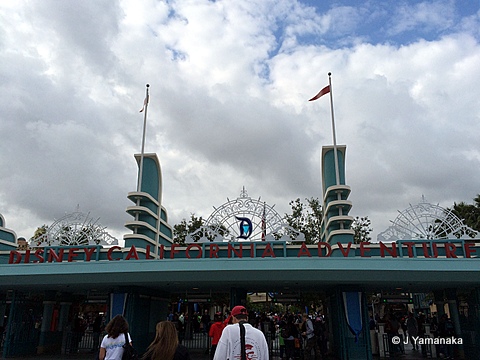 10:00 a.m., Hour 4
Laura: The Carthay Circle Restaurant has been blinged up for the anniversary, also. I know some don't care for it, but I like it.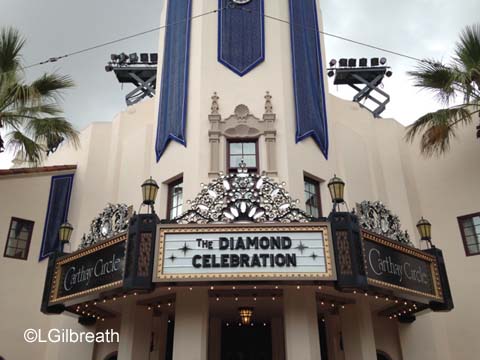 Jason: I had to check out of my hotel and move my car…this is the line of cars to get into the Toy Story lot. I ended up trying to go for the Mickey and Friends garage and it was closed so I ended up back at Toy Story, which is where I should have gone in the first place.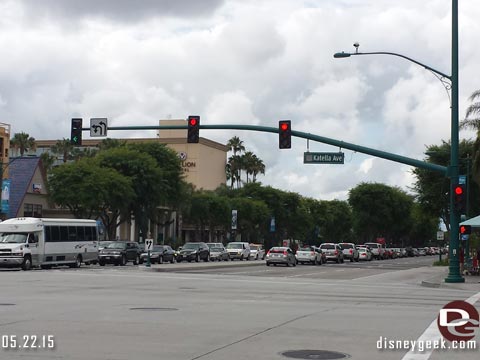 Jeanine: I also had to pack and get out of my hotel room. After returning, I stopped by the Media Center for another Diet Coke and checked out some of the merchandise displays, such as this one for light-up drink diamonds.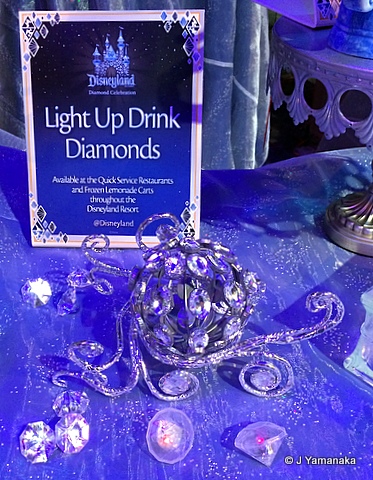 11:00 a.m., Hour 5
Laura: We checked out some of the new entertainment for the Anniversary celebration. The Red Car Trolley News Boys have added a new song, and Minnie Mouse, dressed as a flapper, has an appearance in the show.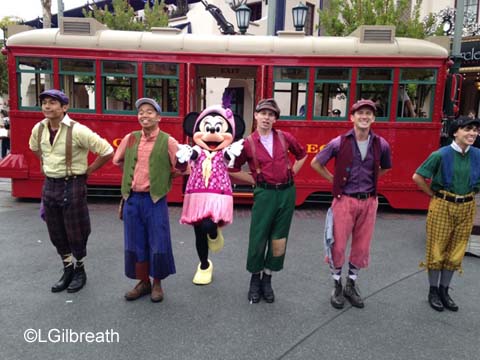 Jason: 60th Anniversary cotton candy bags. All of the napkins, cups, plates, etc. are also new for the anniversary.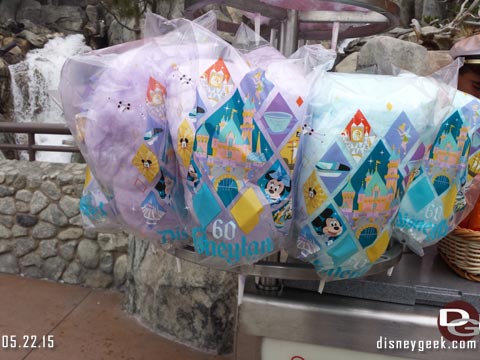 Jeanine: Hopefully the new number "If You Can Dream It, You Can Do It" won't encourage the misattribution of the phrase to Walt Disney.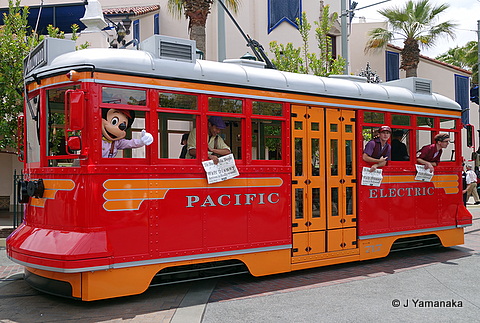 12:00 p.m., Hour 6
Laura: Just a couple of people in front of me at the popcorn cart near the Fun Wheel when I bought a purple Mickey balloon popcorn bucket for a friend. (The red one was available at the cart near Soarin' over California, and the blue from the cart near the Storytellers statue.)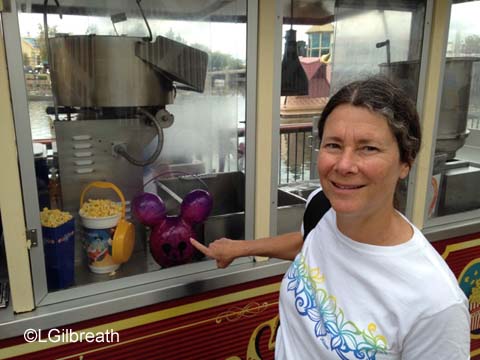 Jason: We caught a performance of Five and Dime's new show which includes three new songs: "Million Dollar Baby", "I've Got Rhythm", and "Sing Sing Sing."
Jeanine: Another photo-op! Jason and I volunteered Laura again.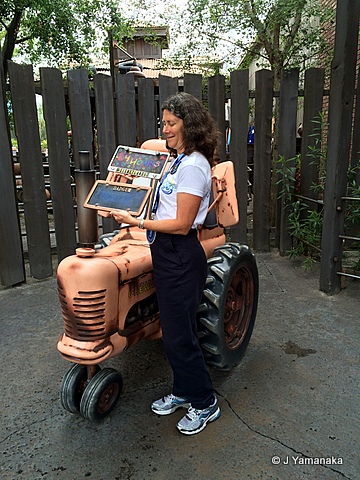 1:00 p.m., Hour 7
Laura: Donna the Dog Lady, one of the Citizens of Buena Vista Street, and her dog Lady were wearing some special anniversary jewelry.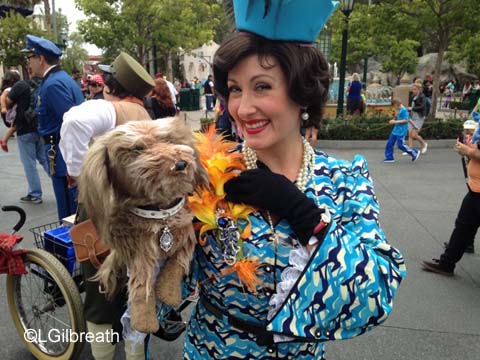 Jason: Returned to Disneyland and found most of the curb space along Main Street already claimed for the 8:50pm Paint the Night Parade.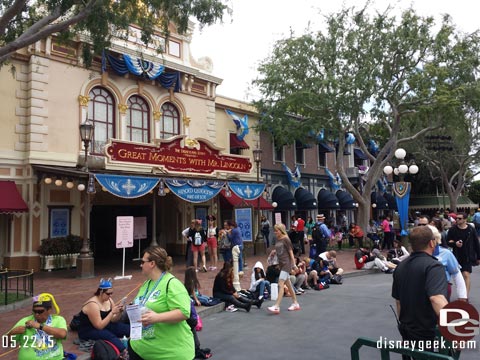 Jeanine: One more photo-op. Laura wasn't feeling this one.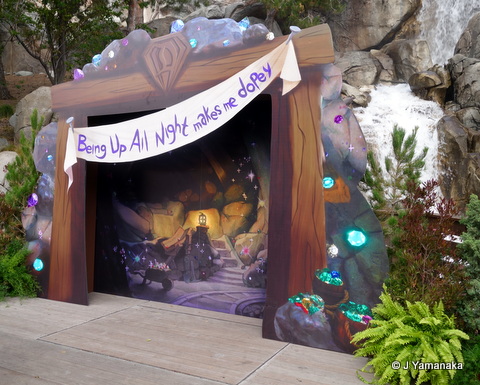 Laura: Actually I wanted to do this one, but the line was always too long – even at 4:00 a.m.!
2:00 p.m., Hour 8
Laura: We'd gone back to Disneyland where I was in search of the Anniversary stein (which was sold out for the day). I already had several purchases I wanted to take back to my hotel, so I left Disneyland around 2:00. There was a huge crowd of people in the Esplanade, and the turnstiles were closed – only a few people were being allowed in the park. I asked a cast member and was told they were only allowing re-entrys. I asked if those with dining reservations would be allowed in and he said yes – we would be able to bypass the line and re-enter one hour prior to our reservation time. Since Lee had gone back to San Diego, and was returning that afternoon, I hoped that was going to work!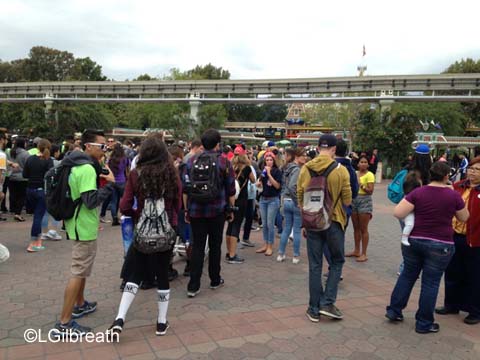 Jason: Passing by Sleeping Beauty Castle. The park had stopped admitting new guests by this point so the crowd leveled off and as more guests claimed their spots for the parade and fireworks the rest of the park was pleasant to walk around.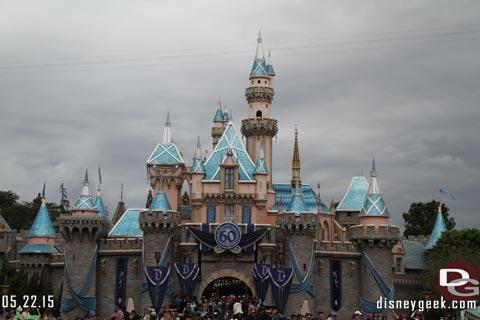 Jeanine: Quick run into The Star Trader for a merchandise run–the anniversary "R2-D60."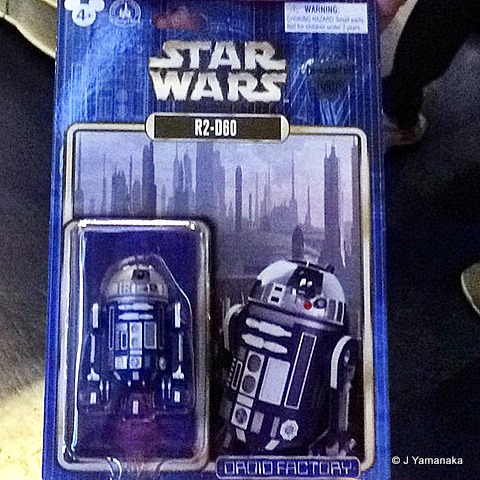 3:00 p.m., Hour 9
Jason: Stopped for lunch and Jeanine and Beci joined us. They had this mocha chocolate funnel cake from the Stage Door Cafe (which by the way took us half an hour to get because of a very slow moving line).
Jeanine: For verily, we did partake of the mocha chocolate funnel cake. And it was good.
4:00 p.m., Hour 10
Jason: My first attraction of the day, the Mark Twain. As you can see New Orleans Square looks better than on many Friday afternoons.
Jeanine: So at one point, while we're digesting an enormous amount of funnel cake, we look up and see the Mark Twain going by, suddenly realize we could be on it right now, and run over.
Laura: We attempted our return to Disneyland at 4:30 – our dinner reservation was 5:20. Disneyland Resort had tweeted that Disneyland was still closed to entries, but DCA was still available. The line for bag check extended all the way back to the guest drop-off area! Because of our dining reservation we bypassed it and were allowed in, where we were sent to the "Special Event" turnstile. The cast member had reservation lists from all of the restaurants. Most of the people in front of us had problems, but she was able to quickly find ours and let us in the park. Whew.
5:00 p.m., Hour 11
Laura: On our way back to Frontierland we stopped by the Times board. Considering the park was at capacity, the wait times weren't that bad – on a busy summer day the waits for the "E-ticket" rides approach two hours. But a lot of people were waiting for the parade and not riding rides. The crowds along the parade route looked like the parade was 30 minutes away and not almost four hours!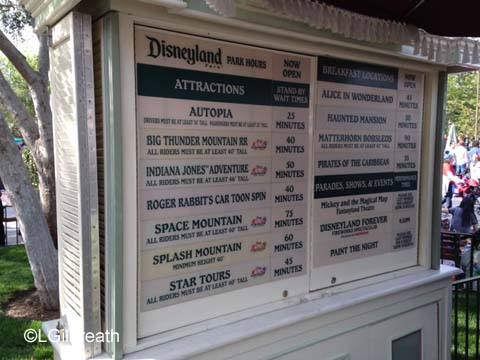 Jason: Stopped by the Springtime Roundup and saw Mickey. The area was very quiet with the usual short lines.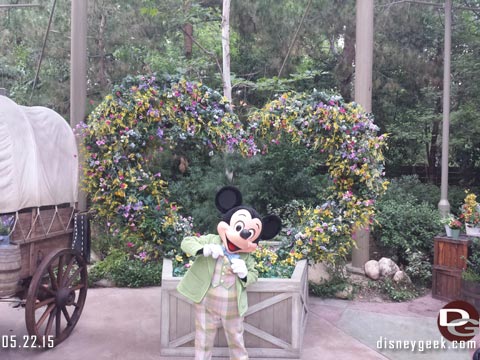 Jeanine: At this point it was time for our dinner reservation at Cafe Orleans. Unfortunately, their fire alarm had gone off earlier, and as a result, they were backed up by about 45 minutes and had dispensed all their pagers. This restaurant must have bad luck, because the last 24hr day I tried to eat there, they had had a power outage and couldn't seat anyone then, either.
6:00 p.m., Hour 12
Laura: Halfway there! About a month ago I'd booked the Fantasmic! dining package at River Belle Terrace because I wanted to see how the Disneyland Forever fireworks would look from the Rivers of America. Lee and I had a lovely dinner – the restaurant was an oasis of calm, and it was very nice to be able to sit and relax and enjoy a good meal. The food was surprisingly good, and we had excellent service. It was my first real meal of the day – the food lines in the parks were SO long! There were a number of special food items just for the day, but for me the lines were just too long to justify it. Our meal was definitely worth the $42/person price tag on this particular day. And as you'll see from the photo, we enjoyed our little art project, too. 🙂
Jason: A check of Main Street.. not bad…it is usually worse after the 6:30 Soundsational parade!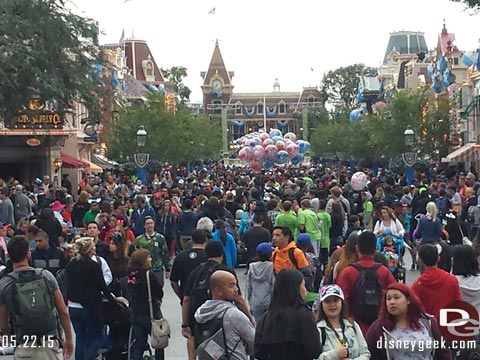 Jeanine: So we finally got seated and served.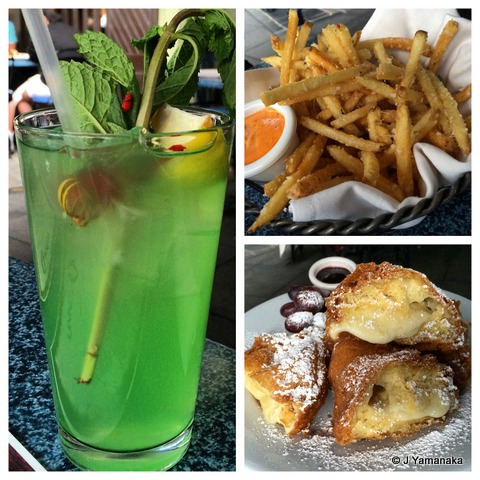 One thing you had to be mindful of by this stage of the game was the fact that the restrooms were starting to uniformly have lines extending outside the doors. New Orleans and Main Street were particularly bad in this regard, for men and women alike.
7:00 p.m., Hour 13
Laura: There were special 24-hour event photo stations set up throughout both parks. Most of them had 20-30 minute lines, but this one in Tomorrowland was short. It was nice to finally have one of these photos with Lee in it! Disney blinged this one up for us, too.
Jason: Time for some music…a Hard Day's Night performing at the Tomorrowland Terrace.
Jeanine: So by this time we were hearing (with what was becoming progressively weaker cell service) that Disneyland was in Stage Three Closure–no admittance or re-admittance to any guests. Curious, we went out to the front of the park to check it out, and the esplanade…didn't look too bad, actually. Apparently all the guests that had been there earlier had either been diverted to DCA or otherwise dispersed. Speculative thinking was that the park would be closed until after midnight.
8:00 p.m., Hour 14
Laura: We had met Jason and party in Tomorrowland where they had a table since they were listening to the band at Tomorrowland Terrace. It was very nice to sit for a while and chat while listening to the music. We all had Fastpasses for the 9:00 Fantasmic!, so not long after 8:00 we went looking for a restroom. With so many people in the park the lines had been out the door – even for the men's side – at most of them. The one near the Tomorrowland train station is large, and usually empty, but even it had a line out the door on the women's side. But because the facility was so large the line moved quickly.
Jason: Passing by Sleeping Beauty Castle on the way to Frontierland for Fantasmic. Cast Members would not let people stop for a photo so this was taken while walking…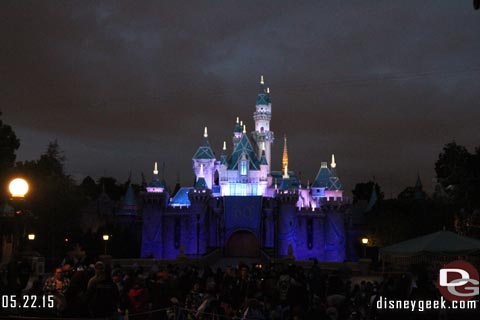 Jeanine: Going up to the train station to catch a ride over to New Orleans Square for Fantasmic! afforded us a nice view of an increasingly over-populated Main Street.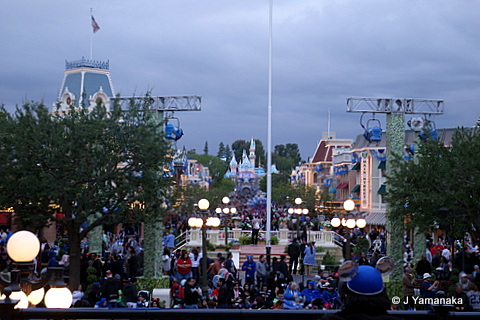 9:00 p.m., Hour 15
Laura: Time for Fantasmic! Our section was near the center, so we had a great view. Unfortunately we'd forgotten the seat cushions we got in January (only Blue Bayou gives those out), so it was rather uncomfortable after a while. After Fantasmic! ended we had a short wait for Disneyland Forever. Wow…it was still a great show! I felt that we had a terrific view. The fireworks were almost centered over the mist screen. So unlike Main Street, we didn't have to look to the left or right to see the projections, and then miss the fireworks that were straight ahead. We weren't as immersed in the projections as we were on Main Street, and they weren't quite as clear on the water as the buildings, but it was still terrific, and a slightly different experience than seeing them from Main Street – which is what Steve Davison has been telling us all along. Lots of "oohs" and "ahs" from the crowd.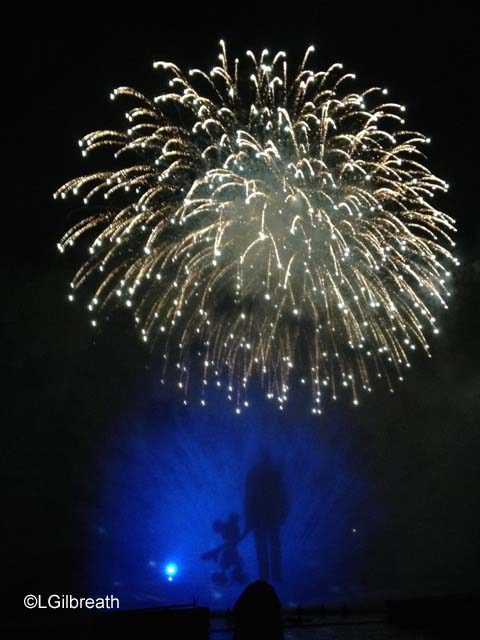 Jason: Fantasmic followed by Disneyland Forever. This picture is from near the end of Disneyland Forever and I thought a great way to end my day in the park.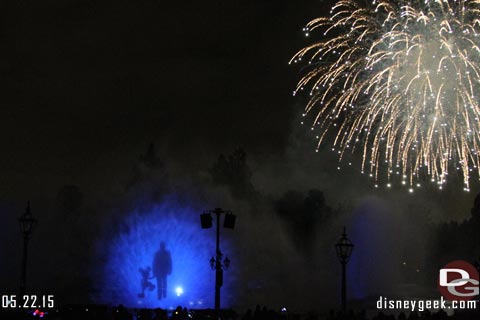 Laura: I found it very interesting that Jason and I independently chose the same scene from Disneyland Forever, but I left them both in to demonstrate how the view of the show is different depending on your location.
Jason: A quick note on Disneyland Forever from the Fantasmic viewing area. I watched from the Pirates Bridge which offered a decent view of the show. During Disneyland Forever the use of the water screens, some limited effects and additional fireworks in the area was a nice plus compared to previous shows. It is a solid alternate experience. If you did not know what you were missing on Main Street I think you would walk away satisfied. For me it did not hold the same level of immersion as Main Street and I kept thinking of what I was missing. Anyone watch from the Small World Mall? Curious how that looks. Also I would like to see how it is from up near the castle where you can clearly see those projections. So far out of the two locations I have tried Main Street is a clear winner but Fantasmic is not a bad alternative.
Jeanine: I was also up on the Pirates Bridge (section "green") for Fantasmic! and Disneyland Forever. It's a nice vantage point, but a pretty small area–if you're not one of the first people there, you're going to be behind people which can be no sweat if you're tall (Jason) but problematic if you're short (me.) I thought the projections on the water screens were fine and actually easier to make out than trying to see the castle ones from a distance (I had not seen the fireworks from Main Street at that time.) The main disadvantage is that you don't get the full effect of the castle fireworks or the various flying elements of the show.
10:00 p.m., Hour 16
Laura: Lee and I left Disneyland. Our plan was to sleep for a few hours and then return to DCA – I had a Fastpass for World of Color at 3:00 a.m. LOTS of people were leaving Disneyland now that they had seen both the parade and the fireworks, but there were still lots of people in the Esplanade waiting to get into Disneyland, and lots of people outside the bag check area waiting to enter the Esplanade.
Jason: A look at the Esplanade on my way out as I headed for my car. The park was still closed and would be for several more hours. Guests were kept back from the entrance so there was no problem leaving and not a long wait for the Toy Story bus either.
Jeanine: By the time Disneyland Forever finished, we had been standing in that one spot for something like two hours, so wandering around to find a place to sit down was kind of a priority. Unfortunately, while the lines for the attractions might have been manageable, most surfaces available for sitting were already taken up by people apparently hunkered down for the night.
11:00 p.m., Hour 17
Jeanine: At least there was a moment now to get some rides in. Managed to see the Haunted Mansion's newest occupant.
Also tried to get coffee at Starbucks, but the line was to the door and estimated to be about one hour long. Decided to wait until breakfast.
12:00 a.m., Hour 18
Jeanine: Ok, time for breakfast. The only difficulty was that, although the reservation at Carnation Cafe was for breakfast, they were only serving the dinner menu. Fortunately, a cherry malt is also the Breakfast of Champions.
Now, I was beginning to hear that, although the park was still closed to entering guests, parts of Disneyland were relatively empty. Since I was still on Main Street, where everyone was clustered for the 0100 Paint the Night parade, I didn't see it.
1:00 a.m., Hour 19
Jeanine: Went out to the front again to see how things were going, now that the parade had gone by and Main Street was beginning to clear. From the looks of things, it seemed clear that they would begin to start letting people in again shortly, although you got different opinions on that depending on how peripheral the Cast Member was. Meanwhile, the Dapper Dans worked overtime.
2:00 a.m., Hour 20
Jeanine: I had a FP for the 0300 World of Color: Celebrate! but decided I wouldn't go if I couldn't come back to Disneyland. While I sat there in the front mulling it over, they finally opened up the gates to all guests, who came running in, whooping and shrieking up a storm. Finally, I decided to chance it, figuring that there was no way Disneyland would refill up to capacity in the time it took to watch World of Color. After exiting Disneyland, however, I found that there was a huge stationary line in the esplanade waiting to get into DCA. I asked a Cast Member how I would get in, and they replied that DCA was at capacity and closed. It might reopen soon, but all these people would need to be cleared out before anyone else would get in. Gave up, went back in to Disneyland, and checked out the new exhibit "Drawing Disneyland: The Early Years" in the Disney Gallery, which highlights five of the original WED Imagineers who were instrumental in designing the different lands of Disneyland.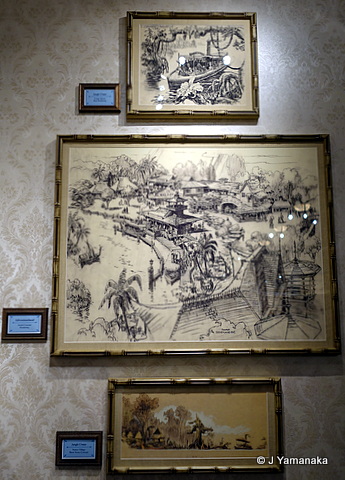 Harper Goff–Adventureland
Laura: Our alarm went off at 2:00. Lee opted to get some more sleep, but I went to the parks – I was hoping that by now the security line was gone/reasonable. The most recent tweet from Disneyland Resort said that Disneyland was still not open, but guests were still allowed to enter DCA. At 2:20 the bag check line had maybe 200 people in it, but we were told that BOTH parks were at capacity and they weren't letting anyone in. Since the 1:50 Paint the Night parade had recently ended I saw lots of people coming out of the Esplanade, so I hoped that would change soon. At 2:45 they opened bag check, and we were free to enter either park once inside. I hot-footed it to Paradise Bay.
3:00 a.m., Hour 21
Laura: The World of Color area was PACKED – even with my Fastpass I wouldn't have had a good spot, and I wanted to see how it looked from the side anyway. So I went over to Jumpin' Jellyfish. I was surprised that there weren't too many people over there – I even got a spot on the rail, even though I arrived just before 3:00.
I thought the show looked good even from the side – the projection screen on the Fun Wheel was very clear, so I still had some idea of what was going on. It's much better to see it from the front, of course – there's a lot you miss when you can't see the projections on the mist screens. But it's still interesting to see the fountains from the side.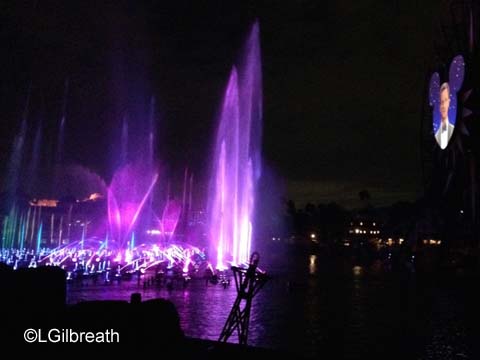 Jeanine: Finally got to use one FP for the day–Indiana Jones at 0310.
4:00 a.m., Hour 22
Laura: Once World of Color ended, lots of people left. There were still quite a few over at the Diamond Mad T Party, though. The "White Rabbit" DJ was on stage, and there were a number of people enjoying the music – a few were even dancing.
Jeanine: Went over to scope out the Toontown Pajama Party, which was supposed to end around 0400. Toontown had played host to a pajama party previously on a 24hr day, but skipped it last time. This year saw a return of the bean bag chairs, the cartoons up on a big-ish screen, and karaoke.
Mickey and Co. were also in pajamas and busy meeting and greeting.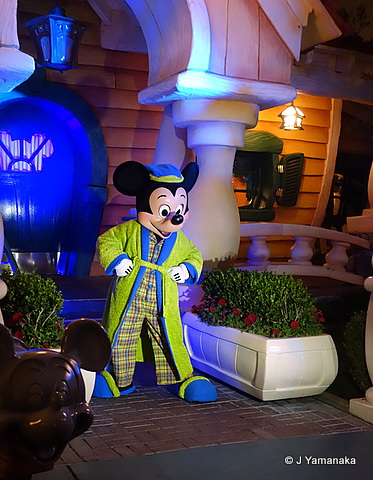 5:00 a.m., Hour 23
Jeanine: Rode Roger Rabbit for the First Time in Forever (I don't get back to Toontown all that often) and then exited the closing Toontown for it's a small world. I did not get transported to "Tomorrowland," despite wearing the symbol, but did meet up with Laura and took a ride on Casey Jr.
Laura: I went back over to Disneyland. Not too many people still roaming around – most who were still in the park were sitting around, trying to make it through the final hour! I met Jeanine back at "it's a small world".
6:00 a.m., Hour 24
Laura: No closing ceremony – we were at the castle, and there was an announcement, and nothing else. We made our way out to Main Street hoping to see the characters waving goodbye from the train station, but no. While I didn't make it the full 24 hours, I managed to be in the parks for about 17 hours, which was more than I expected to do. It was an interesting experience: sometimes fun, sometimes frustrating, though much more of the former than the latter for me.
Jeanine: We close out one more 24hr day at the Castle.
While there was a congratulatory announcement and a playing of the Mickey Mouse Club Theme Song, it's always a little anti-climactic when they don't have any live hosts or fireworks or anything to commemorate the ending. Additionally, the characters they usually have out by the train station waving goodbye to people leaving after 24hrs, were whisked away almost at the same time as they were playing the announcement at the castle, leaving only Disneyland Ambassador Allie Kawamoto and Walt Disney World Ambassador Nathaniel Palma.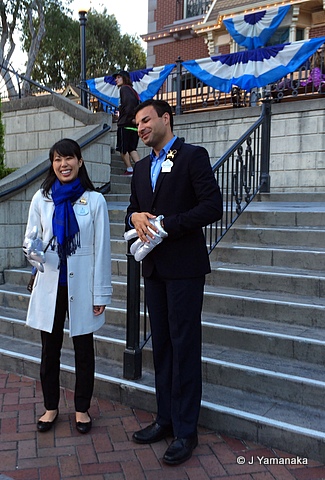 Final Comments
Jason: When Disneyland announced another 24 hour day to kick off the 60th anniversary and that they would hold it on Memorial Day weekend and start three new night time shows on the same day I thought it was an idea asking for trouble. I hoped they were planning plenty of preview opportunities to relieve some of the pressure on being there opening night. The controversial decision to close Disneyland in the early afternoon and not reopen it until well after the second Paint the Night Parade paid dividends for those inside the park but left those outside frustrated and people like me scratching our heads at the decision to run the 2nd parade so long after the first. For those of us inside Disneyland all day if you were not checking in with those outside the berm you experienced a fairly pleasant day. The crowds were heavy but felt less so than the holidays thanks to the large number of guests holding spots for Paint the Night and Disneyland Forever. The park never felt over crowded to me and I have been there on some high attendance days…the largest being the final day of the Main Street Electrical Parade. The food lines were long and slow and as the day went on the restroom lines were substantial but other than that it was a relatively smooth day. For those outside the berm though it was a completely different story.
Jeanine: I would agree with Jason that it seemed like a combination of factors likely to draw in huge amounts of people–a situation which ultimately proved to be true. The organization and communication which appeared to work fairly well in the morning, eventually seemed to break down under crushing volumes of guests and fatigue as the day wore on, with Cast Members doing the best they could with outdated or distorted information.
If Disneyland, with its relatively small areas, plans to court these kinds of crowds for these kinds of events in the future, they might need to take a page from some of the international parks more used to dealing with these issues. In Tokyo Disneyland, guests are prohibited from putting down blankets or reserving seats for parades and shows until around an hour ahead of time. While difficult to enforce in our society, more focused on individual freedoms, such a policy might have helped free up some of the congestion on Main Street, where people were sprawled out on the sidewalks from 0700. In some aspects, however, Disneyland did relatively well–counter service restaurants had fairly dauntingly long lines, but sit down restaurants seemed to have a lot of availability, particularly after midnight. The restroom situation was inconvenient, but nowhere near as bad as, say, Universal Studios Japan that I visited last year, where lines for the women's restrooms ran around 45 minutes for most of the day.
I've done three full 24hr days by now, (plus one just overnight) and while it's a long, tiring endeavor, and you can't plan on doing many attractions, there continues to be something special about being in the parks all night long which will doubtless continue to attract crowds whenever the occasions occur, with or without new shows, or parades, or even diamonds.
Laura: Ditto what Jason and Jeanine said. I want to say thank you to the Disneyland cast members, who managed to be gracious and patient under what had to be very difficult conditions for them. And I was also impressed with the behavior of the guests, too – though we were all tired, I thought people were more pleasant and courteous than they are on a normal day. This was my first 24-hour experience: as Jeanine said, there's something special about being in the parks all night long – or most of the night, at least. 🙂