On April 14 I attended a Media event at Disneyland to preview the upcoming Disneyland Diamond Anniversary. In Part 1 I described some of the merchandise that will be available and the specialty beverages we sampled, and our visit from Mickey and Minnie. From that point on we were not allowed to take any photos.
After Mickey and Minnie left, Steve Davison, Executive, Parades and Spectaculars, came on-stage to tell us more about the three new nighttime events. I've been fortunate to see him a number of times, like this one, where he has acted out parts of the shows he is describing. After watching him I feel as though I've seen the show, and I have to admit that sometimes I enjoy his version more than the real thing. 🙂 He brings so much energy and enthusiasm to it, as well as giving us insight into why they make some of the choices of music and characters and scenes. I wish REAL Disney fans had the opportunity to see him, because I think it would mean a lot more to knowledgeable fans than it does to executives and mainstream media.
World of Color – Celebrate! The Wonderful World of Walt Disney is a brand new show, not a re-tooling of the original. It will be hosted by Neil Patrick Harris and Mickey Mouse. Mickey is all-new hand-drawn animation by Dave Bossert's Feature Animation group. According to Davison, Mickey is a "fun" character, and has a love-hate relationship with the World of Color fountains.
There will be lots of lights and lasers, and Mickey's Fun Wheel has received a new projection surface that will be used as a storytelling device. A lot of clips of Walt Disney will be used to tell his story in his own words.
The show has five different segments. The Opening will include a new musical number called "Celebrate."
"A Celebration of Mickey" will feature Mickey Mouse through the years, including "Steamboat Willie", "Plane Crazy", "The Band Concert", Mickey Mouse shorts, and "Fantasia."
"Golden Age of Animation" encompasses Walt Disney Animation as well as Pixar.
"Dream of Disneyland" is just that – Walt Disney's dream of Disneyland, including footage from Disneyland's opening day.
A montage of Walt Disney is featured in the Finale, including the reminder that Disneyland will never be complete as long as there is imagination left.
As Davison told us, the idea is to "meet the man and celebrate Walt".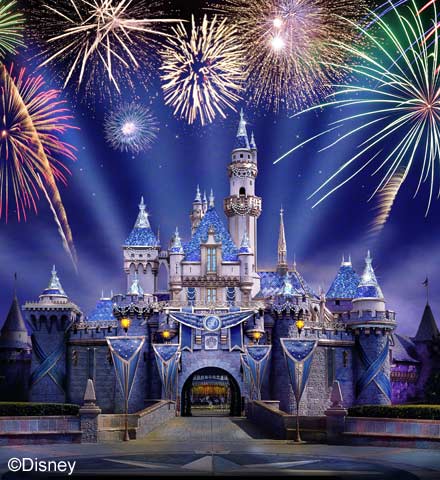 Disneyland Foreveris an "immersive fireworks spectacular" where projections will complement the fireworks. In addition to specialty shells, there will be projections on surfaces all over the park, including Main Street, USA, the castle, the Matterhorn, "it's a small world", and the water projection screens on the Rivers of America. While the imagery will be similar, there will still be slight differences in it depending on the location, and the idea is to encourage repeat guests to view it from different locations.
The show opens with images of Walt Disney in the Anaheim orange groves, and features a new song called "Live the Magic". Tinker Bell will fly around the castle, and an animated Peter Pan interacts with her.
The "Clouds" portion features projections of chimney sweeps dancing on rooftops and includes a new "Step in Time" chant by Dick Van Dyke. Images of kites segue to the lantern celebration from Tangled accompanied by "At Last I See the Light."
In "Enchanted Places" there will be images of honeycombs and heffalumps and woozles.
The "Jungle" segment features music from The Lion King and Jungle Book, including "Circle of Life" and "I Wanna Be Like You". Davison described a sunrise in pyrotechnics and we saw a simulation of the projections on Main Street with the animals coming to meet Simba – it looked really good.
"I Wanna Be Like You" is a jazzy number ending in a rainstorm, which makes use of a new full color laser on the castle and appropriately introduces the next segment.
"Sea" brings in watery images and elements, featuring "Under the Sea". Then Nemo swims through the air to the "Mt. Wannahockaloogie" chant from Finding Nemo as the Matterhorn becomes a fiery volcano. The "volcano" blows up and ash turns to snow…
The Matterhorn transforms into Elsa's ice palace in this "first finale", and it will probably snow on Main Street…
In the Finale the orange groves return, along with Tinker Bell and Peter Pan and a reprise of "Live the Magic". The new closing song by Richard Sherman, "Kiss Goodnight", is performed by Ashley Brown (Mary Poppins on Broadway). Searchlights will create the effect of diamonds in the sky.
I think it's going to be interesting to see how the projections look in real life. The simulations have presented more of a wide-angle view where it looks like we are seeing most of the length of Main Street, but I don't think that's how guest will be able to see it.
Paint the Night is the new, modern technology electrical parade. It was conceived as a "way over the top spectacle" and contains over 1.5 million LED lights. Davison said they actually had to tone down the lights – it was too bright.
The parade units feature dancers in imaginative illuminated costumes. The lights on the costumes change as the dancers interact with each other and possibly with the audience, also. All of the floats have secondary lights that paint the audience.
The parade leads off with the "Fiber Fairies", followed by the first unit. Tinker Bell floats in air as she gathers pixie dust into some kind of pixie dust vortex. The large electrical parade drum is behind.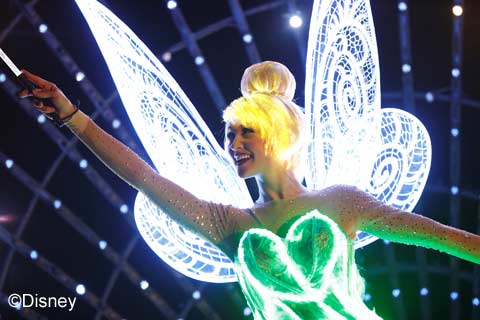 Monsters, Inc follows, with the brilliantly blue Sulley and glowing green Mike. Doors spin around and open and close, revealing whatever might be on the other side.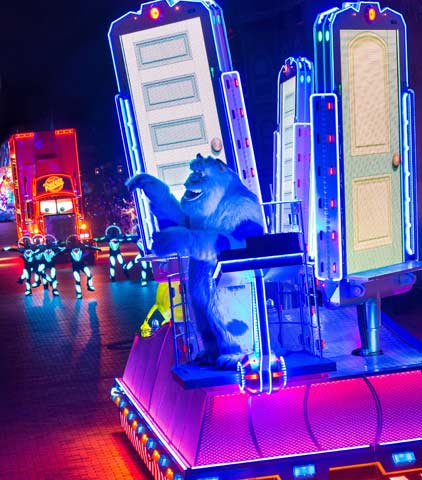 Cars Road Jam is next, with the "Cars Crew" dancers, Lightning McQueen, DJ, and Mack the truck. Mack is 54′ long, with 25,000 3D lights in a volumetric display. We had the opportunity to see a preview of this segment, seen below.
After the preview, Mack sat in front of us for about 20 minutes during a Q&A session. I found it fascinating to watch the light display and all of the images. I think it's really a shame that during the parade people won't get to really see it, because it goes by so fast and there are so many other things going on.
The next unit is The Little Mermaid, with electric jellyfish and coral fish. The float features King Triton and Ariel, as well as Nemo and Marlin.
"Candlelight Dreams" features Belle in a beautiful illuminated ballgown, with a large rose behind her. This unit will also include Rapunzel and Cinderella, multiple candelabras, court dancers and "dove dancers".
"Frozen Fractals", a representation of Elsa's ice palace, will be the tallest float in the parade. Anna and Elsa will be on board, accompanied by ice crystal dancers.
Lasso dancers with poi balls precede "Toy Story Electric Rodeo". The float features Slinky Dog with his coils represented by spinning illuminated disks. Buzz and Woody will ride the float, and Jessie will walk alongside.
"Mickey's Lightastic Finale" is the final parade. Disney characters will ride on-board individually controlled and lighted spheres followed by "double pinwheel dancers". The float features Sorcerer Mickey using his magical paintbrush to "paint the night".
The parade will be about 15 minutes long. On busy nights it will run twice: both before and after the fireworks. There is no performance stop – it will be continuously in motion. There will be an app that somehow allows guests to interact with the parade, but there were no other details on that. It's very similar to the version that's currently running at Hong Kong Disneyland, but there are some new elements, including the drum and the "Frozen" float.
Music that will be included in the parade includes "When Can I See You Again" from Wreck-it Ralph, "Route 66", "Under the Sea", and "You've Got a Friend in Me." And yes, the "Baroque Hoedown" will return, in a more modern synthpop arrangement. In the clip above, you will hear the new version, starting about 50 seconds in, as well as "When Can I See You Again".
All these shows begin when the Disneyland 60th Anniversary celebration kicks off on May 22. I know a number of you have asked how long these shows will be around. Disney has been coy about identifying an ending date, saying only that it will be "a long celebration", but has confirmed that all of the shows will be running at least through the holiday season and into 2016. And in fact the new World of Color and firework shows will be running in place of the holiday offerings of World of Color – Winter Dreams and Believe…In Holiday Magic. The "A Christmas Fantasy" parade will return for the holiday season as the daytime parade, replacing Soundsational.
AllEars will be covering the premieres of all of these shows, and we will have lots of additional information and photos and video at that time.