A Disney Fan's Adventure of a Lifetime
Several members of the AllEars team spent most of March visiting Disney destinations far from home. We visited Hong Kong Disneyland, Tokyo Disneyland, Tokyo Disney Sea, and Aulani in Hawaii. Along for all or part or this journey were AllEars' Deb Wills, Laura Gilbreath, Lee Zimmerman, Jeanine Yamanaka, Linda Eckwerth, and Deb Koma, and friends Jack and Pete.
Tokyo Disney Resort – Day 4, Tokyo Disneyland and Tokyo DisneySea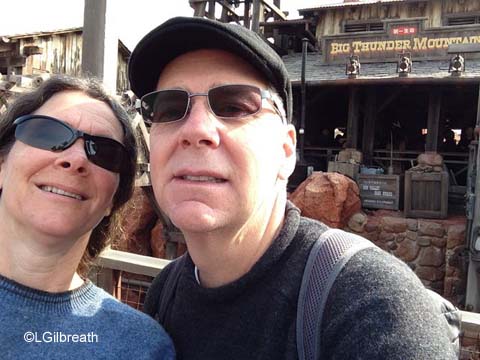 Just after 1:00 in the morning we were awakened by an earthquake measuring 4.4 on the Richter scale. Just after that my iPhone started freaking out as everyone got on "whatsapp" to talk about the earthquake. The non-Californians in our group were a little bit freaked out by it. 🙂 Though you have to realize that the previous day had been the third anniversary of the 2011 earthquake and tsunami, so that was in everyone's mind. We reassured them, and went back to sleep.
Despite the earthquake and our long day in TDS the day before, we woke up pretty early on Wednesday morning.
We had gone to the store when we returned the previous night but the shelves had practically been vacuumed clean…no yogurt, fruit, sandwiches, pastries or anything remotely breakfast-like. So that meant we didn't have anything in our room to eat for breakfast…
We went down to the Sherwood Garden restaurant in the hotel and Deb and Linda met us there. This was a buffet. The hotel clientele is mostly Japanese, so a lot of the food selections were quite unfamiliar to us – noodles and seafood and other things that I don't remember but seemed odd to me. Even the western-style dishes were different – none of us would even try the eggs. 🙂 They were very moist and looked barely cooked. The pancakes were quite small – not much larger than "silver dollar" size, and then they were only serving two at a time! The pastries were very good, though. I don't remember the price, but it was expensive, especially considering I didn't eat a whole lot. And it was not a character meal.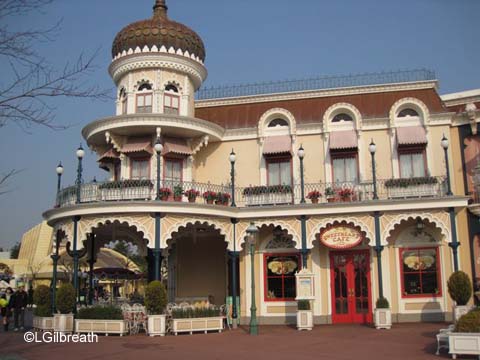 When we got outside it was another day in the 40s, but still sunny and mostly clear. Lee and I still managed to make it into Tokyo Disneyland during our 15-minute "early entry" period. Since we knew we'd be held at the hub we took advantage of there being hardly anyone in the park, and took photos inside the park entrance and the World Bazaar.
Once the park opened we power walked to Pooh's Hunny Hunt – and this time the queue was open – yay!!! We got inside to where we could see the loading zone – there were maybe 30 people in front of us – and the ilne stopped. And we waited…they weren't loading anyone. After 10 minutes or so they opened a side door and escorted us all out of the attraction. 🙁 But they gave us a "priority pass" that was good for ANY ride in either TDL or TDS, with the exception of Toy Story Mania and Star Tours (really???). Once outside we got a Fastpass for Pooh's Hunny Hunt, and hoped it would be running again by the time our Fastpass became valid (just over an hour away).
We decided to hit the standby line for Big Thunder Mountain. It extended back into Westernland, but it appeared they were still filling the queue so we got into it. It moved almost continuously, but we were still in line for about 35 minutes – longer than I thought it would take, but that was ok..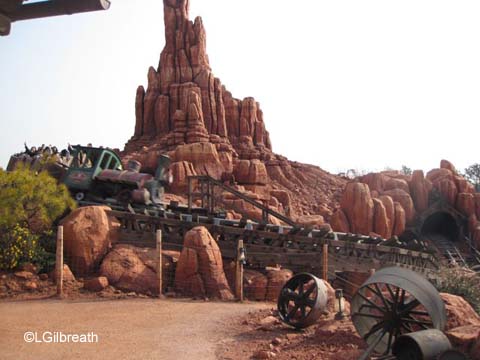 The ride looks a lot like the one at Disneyland, though the colors are a little bit deeper. I thought the special effects, like the earthquake, were better. And the ride itself seemed a little better – I couldn't tell you how it was different, but it seemed a little more thrilling and fun. Or maybe that's because we were on it with a whole lot of very enthusiastic young Japanese kids and their enjoyment was infectious. 🙂
We checked back in at Pooh's Hunny Hunt and it was running, so we were able to use our Fastpasses! I still really enjoy that attraction – it's just so much fun. We were in a different hunny pot this time, so had a slightly different view than we'd had the first time – and we were directly in the line of fire when the woozles lit the fuse on the cannon…
Lee was not fond of my next decision – we hadn't been in Toontown yet, so I told him we needed to visit there. 🙂 It was somewhat reminiscent of the one at Disneyland, both in the look and in the types of interactive things there were to do. And attractions, too: Gadget's Go Coaster, Roger Rabbit's Car Toon Spin, and all of the characters' houses and meet and greet spots. The lines and crowds for the meet and greets were insane! Those were the worst crowds we'd seen all week – we could hardly move. We couldn't get out of there fast enough!
We ran into Deb and Linda and had a quick visit with them – I think they were waiting for a Fastpass to be active.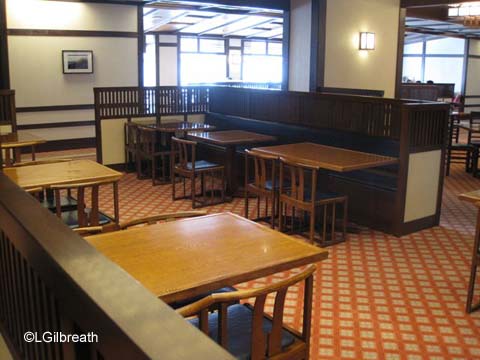 On Monday we'd noticed a Japanese restaurant on Main Street. Since it was almost 11:00 we thought we'd try to get in for an early lunch. It's called Restaurant Hokusai. Although the entrance is right on Main Street the restaurant itself is upstairs. It's quite large and takes up most of the second floor above a number of the shops. We had a short wait downstairs before being seated upstairs at a window table.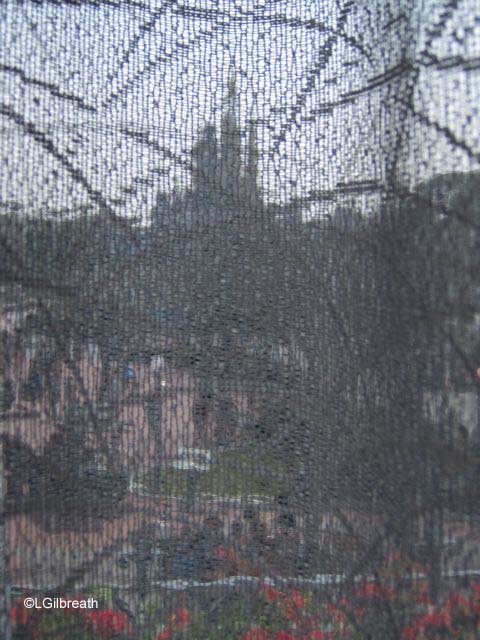 If not for the lacy window covering (which I couldn't move out of the way as it was attached to the window sill) we would've had a very nice view of Cinderella Castle.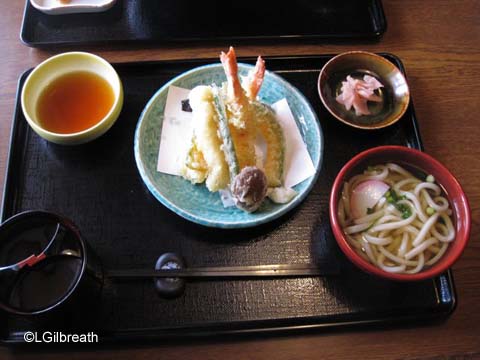 Lee ordered the Tempura Set – with shrimp and vegetable tempura, pickled vegetables, rice, and choice of hot or chilled udon.
I had the Shrimp Tempura Udon Set, which was hot udon with shrimp tempura, fish cake, chicken dumpling and shiitake, and served with inari and pickled vegetables. And an unusually-shaped piece of carrot. 🙂
We were served hot tea which was refilled multiple times. We both really enjoyed our meals – I was glad that this time the food was hot enough. 🙂 Since it was a Japanese place they only gave us chopsticks, and I also had a wooden soup spoon that was more like a ladle. I had some difficulty with all of that (I've never had much luck learning to eat with chopsticks), but I managed. I thought the price was quite reasonable for a table service meal: about $16 for mine and $18 for his, plus a 10% service charge.
Our timing was good – when we walked out the line was out the door, probably at least a 20 minute wait for a table.
We did some shopping…we'd been warned before the trip that we wouldn't find a lot of park specific merchandise like t-shirts and hats in Tokyo, and that proved to be the case. We saw just a few generic character t-shirts, and only two park t-shirts. Both of them were 30th anniversary shirts, and were only available in 2XL and 3XL sizes. And even those we only found in one shop. While there were plenty of funny hats, we didn't see anything like baseball caps or visors. What IS very popular is packaged food gifts, like cookies and candy, since apparently the Asians bring lots of food gifts back home to friends and family. There was a huge variety of those, and they came in a lot of different boxes and tins of various designs. I had a hard time choosing which ones to buy.
On the way out of the park we ran into Jack and Pete, who had also been shopping. They reminded us about picking up "story papers". These are available for some attractions – a small sheet of paper with a description (in English) of an attraction's story or narration. These are available at the attractions (we'd received them for Storm Rider the day before), but if you go to Guest Relations they'll give you the entire set for the park. So we went to pick up the set for Tokyo Disneyland.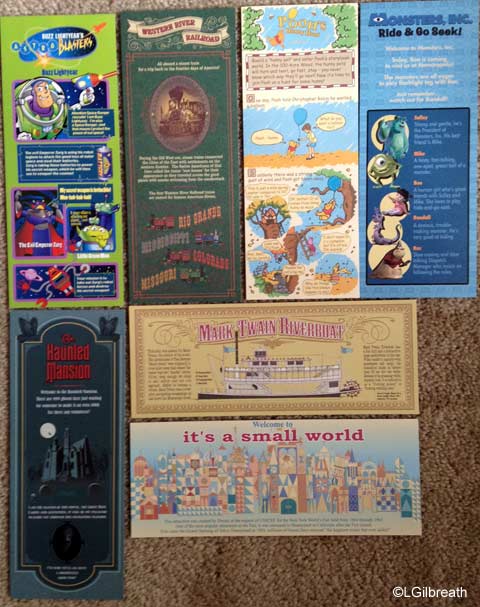 We made a quick stop back at our room to drop things off, and then took the monorail to Tokyo Disney Sea.
Since it was after noon there was almost no one going into the park – they were already in it! 🙂 I was surprised to see the Walt and Mickey "Storytellers" statue just inside the entrance turnstiles. It's just like the one on Buena Vista Street in Disney California Adventure. I was also surprised that no one was lined up to take their photo with it.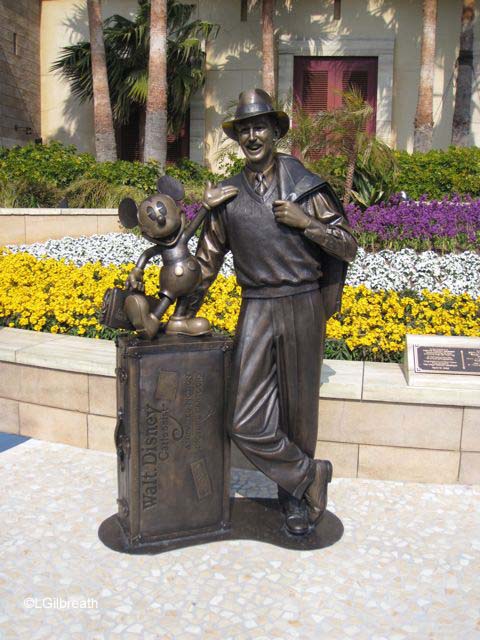 We weren't in a hurry, so were just going to stroll through the park and enjoy it. Along one side of the Mediterranean Harbor is a raised walkway that goes by what looks like some Roman ruins with columns and rock work – there were some cherry trees blooming there and it was very pretty.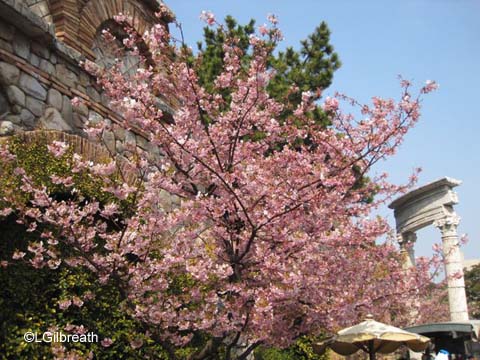 We went back to the Arabian Coast – and Sindbad's Storybook Voyage was open! We had no idea what this attraction was at all, but we walked inside and discovered that there was almost no line, and that it was a boat ride like Pirates or "small world". So we boarded and went for a cruise…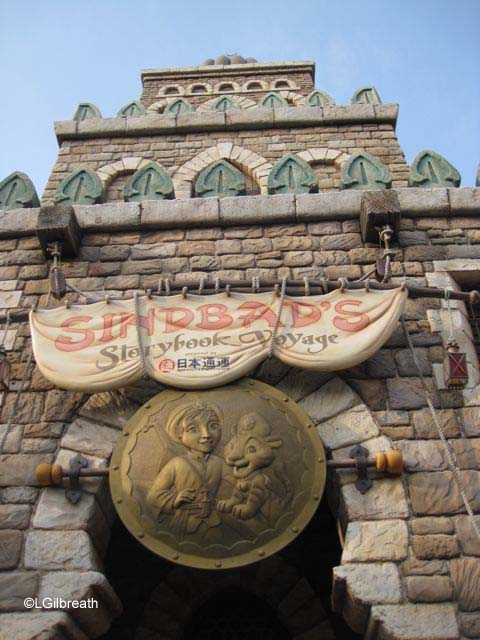 I LOVED it. So did Lee. This was absolutely adorable, and was my favorite attraction at the Tokyo parks. It's kind of like "small world" with a storyline, and more sophisticated animatronics. It starts off with Sindbad and Chandu, his adorable tiger cub sidekick (and you know I'm a sucker for cute tigers), heading off in Sindbad's ship, I guess to seek their fortune.
Along the way we find out that Sindbad is apparently the world's first Boy Scout, as he rescues giant bird chicks from robbers, and frees a giant (who looks like Shrek) and brings music to monkeys (I'm not quite sure why that last part was so important). In return for his good deeds his ship is loaded with treasure, magical bird feathers, and bananas, and he returns home triumphant.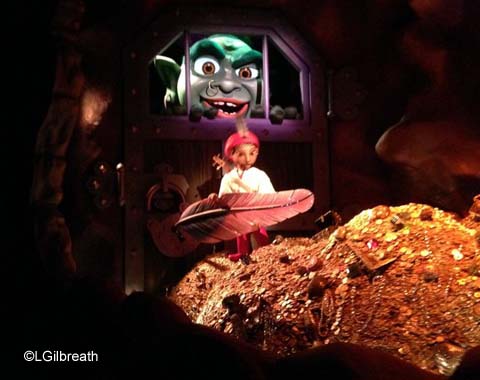 The music was by Alan Menken – the main theme is called "Compass of Your Heart", and it was wonderful. Most of it was in Japanese, but the phrase "Compass of Your Heart" was in English. The translation of the chorus is: "Life is an adventure, although there is no map. Seek the treasure and believe in the compass of your heart." Dialog was in Japanese, but I was surprised that all of the banners in the attraction, like: "May Fortune be With You", "Safe Journey, Sindbad", "Welcome Home, Sindbad", were in English.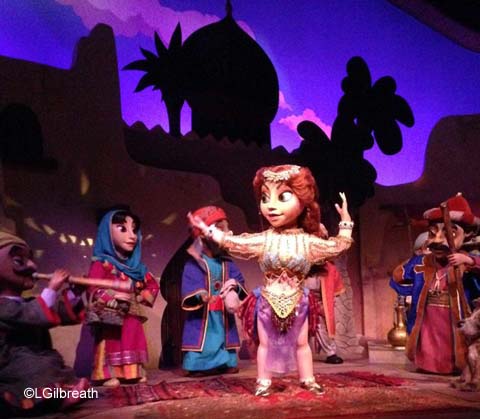 The animatronics had a very different look – they did not go for a life-like look like in Pirates, so these were more cartoonish – and I don't mean that in a negative way. They had disproportionately large heads, with somewhat angular features, and very large expressive eyes. They blinked, moved side-to-side, and the eyebrows went up and down. And of course the mouths and hands and bodies moved. They reminded me somewhat of the stop-motion animation from the old "Little Drummer Boy" special, but far more sophisticated. We were just so impressed by this attraction and how well-done and utterly entertaining and enchanting it was. Thinking about it still makes me smile.
Here's a video that Jack Spence put together when he visited TDS in 2010:
Did I mention that we loved it? EVERYONE did!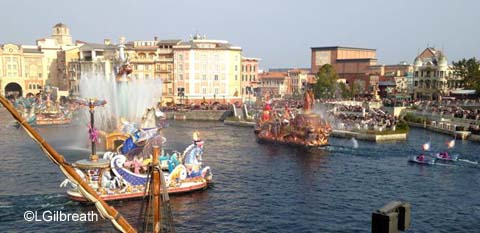 We thought we could catch part of Mythica again so we went back through Mysterious Island to the Fortress, where we were able to watch the last 15 minutes from the top of the Fortress. It gave us a much different view than we'd had the previous day when we were closer to the water. This gave us a better overview of everything, and we had the Miracosta hotel as a nice backdrop.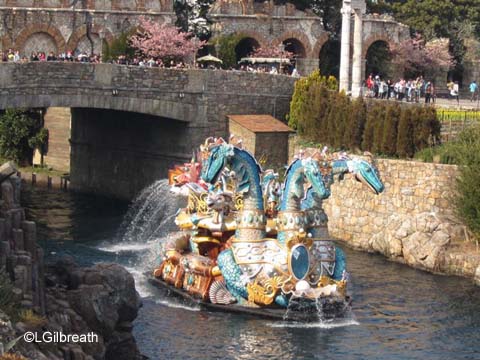 I really like the phoenix, but I'm not sure why he looks so ticked off compared to the other mythical creatures. 🙂
But maybe that's why he flames.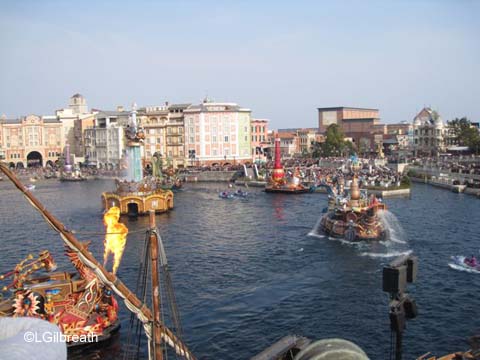 Lee wanted to use our Priority Passes for Journey to the Center of the Earth (I thought that was a waste of them, but I indulged him). This time I asked to sit in the front of the vehicle, since we had been in the back the first time. It was marginally better – but I still don't think it's worth waiting more than 20 minutes for this ride.
We went back to Arabian Coast to ride Sindbad's Storybook Voyage again and noticed details we'd missed the first time. And then we went to the Agrabah Marketplace to buy our own Chandu. 🙂 (Though now Tigger wants a turban like Chandu's.)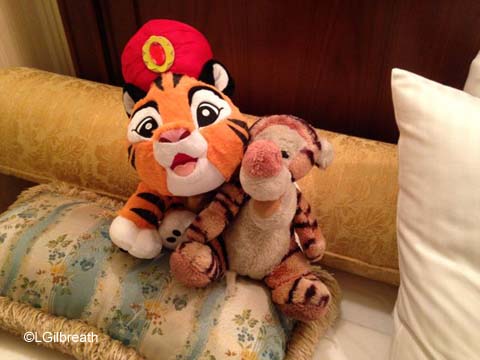 We wandered around the park a bit more, took some pictures, and picked up the Story Papers for TDS.
We took the monorail back to TDL and went back inside to get a Fastpass for Space Mountain. It was a little after 4:00, so I was kind of surprised there were any left, but we had a return time of 8:20.
In Tomorrowland we passed a snack kiosk that actually DIDN'T have a huge line – they were selling steamed buns with BBQ pork inside. We got one and split it, and it was pretty good.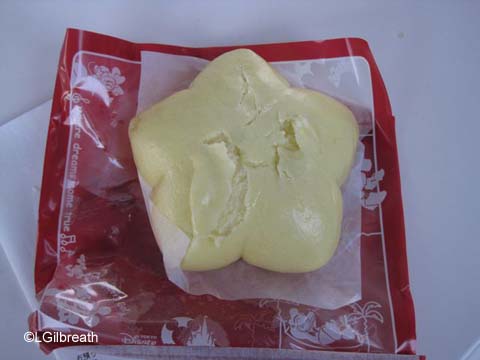 But we were still hungry, and it was time for our early dinner. We went to the "Queen of Hearts Banquet Hall" in Fantasyland. The one that had the hour-long wait on Monday. Well, this time we walked right into it. Oh. My. What INCREDIBLE theming for a buffeteria type of restaurant! Now I understand why people really want to go to this place. When we walked in I noticed that all over there are life-size figures of the card soldiers – standing guard, painting roses, etc. Above the entrance to the actual cafeteria line are the king and queen of hearts.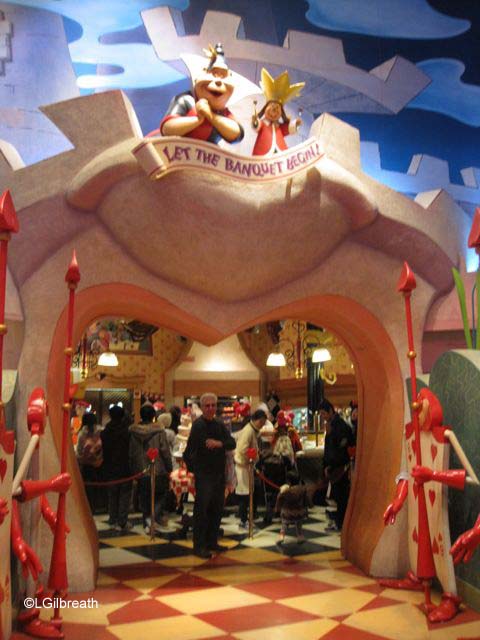 In the seating areas I saw the Cheshire Cat and Alice, and lots of flowers. The lighting is great – it's like twilight inside, so there's a nice glow from the lights inside the flowers. Really well done – I was quite impressed. It was much more like a very nice table service restaurant than a buffeteria. Once we had our food we were escorted to a table instead of having to hunt for one.
The food…it didn't really live up to the atmosphere. 🙂 It was fine, but not great. It was more western-style foods like steak, grilled fish, and rotisserie chicken. I had the swordfish, which was just ok. It came with two (2) pieces of broccoli.
Lee had the flank steak with gravy, with one piece of broccoli and one of cauliflower. And it was rare. The best thing about my dinner was the beverage – we both ordered the Kirin Apple Tea. It was really good! A hint of tea, plus the apple flavor, but not overly sweet. I really enjoyed it – I wish I'd discovered it earlier in the week!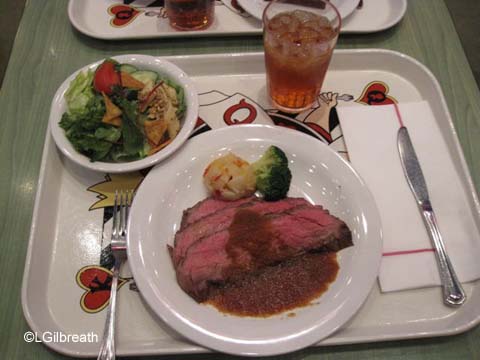 We didn't order dessert, but many of the desserts came with a souvenir plate or teacup that was made of china…very nice. When we walked out of the restaurant there was a line – not an hour wait, but considering how long it took us to get through the line when we only had 10 people in front of us, it was going to be a while…
Since it was 5:30 or so and we didn't have any plans until the Electrical Parade at 7:30 we actually went back to our hotel room for a while. It wasn't quite as cold as it had been the evening before, but we still didn't feel like hanging around, and knew we'd want to add some additional layers before the nighttime activities.
One thing about our hotel that I haven't mentioned…when we booked it, we saw that it offered free internet service – but what we didn't realize until we arrived was that it wasn't wireless internet! It actually required a device we could plug a cable into. And all we'd brought were iPhones and iPads. That meant very little internet connectivity for us while in Tokyo. We had the cellular data plan that we'd purchased, but that wouldn't go very far (and in fact Lee was already on his second increment). So we were pretty disappointed about the hotel situation. Most of our fellow travelers were smarter than we were, and had rented a MiFi type device at the airport to use – I think it was about $10/day for unlimited data. Pretty easy – they supplied a prepaid mailing envelope for its return.
We relaxed in our room for a while before putting on warmer clothes and going back into Tokyo Disneyland to see the Electrical Parade again. We watched it from the same spot, and Lee got us a couple of hot chocolates to enjoy before it started. Deb and Linda met us there – they hadn't yet seen the parade.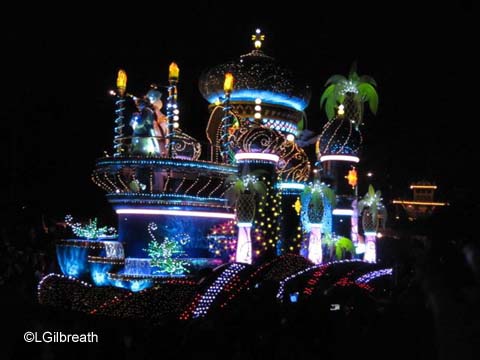 It was just as good the second time, and Deb and Linda were as wowed by it as we had been. 🙂
After the parade we went into Tomorrowland to use our Space Mountain Fastpasses. Now I'm trying to remember how Tokyo is different from Hong Kong and California…I think it's the same cars and track as California but it doesn't have the music.
We enjoyed our ride on Space Mountain. The fireworks had been canceled (again – of the four nights we'd been there they'd only gone off once!), and we went back to our hotel. The next day we were doing a bus tour, and we had to get ourselves to downtown Tokyo by 9:00.
Coming Next: Sightseeing in Kamakura and Yokohama, and the excitement of navigating Japan's railway system…