If you have followed Photographic Innoventions long enough, you would know I am a big fan of Super Zoom Lenses. For a cropped sensor camera, the 18-200mm and 18-300mm are the ranges used. For a full frame sensor camera, the 28-300mm is the range. All are image stabilized (IS for Canon, VR for Nikon and a host of other letters depending on your camera or lens manufacturer) and have variable apertures to keep both the weight and costs down.
Over the last couple of years, I have had a need for another type of zoom lens. This one is not as large a range but has a fixed aperture throughout the zoom range. The Super Zooms start out at f/3.5 at the short end and end up being f/5.6 or f/6.3 at the long end when shooting wide open. For a fixed aperture zoom, it will keep the same wide open aperture from the short to the long end. The Nikon 24-120mm f/4 VR lens is one such lens and I used it on my last trip to Walt Disney World.
To give you an idea of the range of this lens, I stood in the middle of Main Street USA and took a short (24mm) and a long (120mm) photo from the exact same position (see below) of Cinderella Castle. I did no cropping or straightening to the photos. Both taken with identical exposures except for the zoom setting.

Cinderella Castle from Main Street USA using a Nikon 24-120mm VR f/4 Lens.
Unlike the Super Zooms which only go as wide as 28mm (18mm cropped), the extra amount of angle at 24mm gives a real wide angle look. The 120mm is a very workable zoom at a Disney park. The Nikon 24-120 f/4 VR lens worked outstandingly for the Festival of Fantasy parade in the Magic Kingdom. At street level I was able to get the large floats in the frame at 24mm and zoom in for the characters on the floats and street.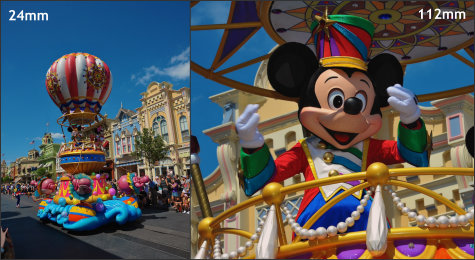 Festival of Fantasy parade on Main Street USA using a Nikon 24-120mm VR f/4 Lens.
Image stabilization (IS) or vibration reduction (VR) comes in handy when you are photographing from a moving vehicle or as day fades into night. The VR for the Nikon 24-120mm f/4 lens is excellent. I could hand hold down to 1/15th of a second easily. I could use even slower shutter speeds with the Da Grip Technique. Don't know about Da Grip? Click Here, you will be glad you did.
Friendship boat docking at Disney's Boardwalk Resort.
Nikon D700/24-120VR, 1/125s, f/11, ISO 360, EV 0, 105mm focal length, polarizer filter.
As a travel lens, I found the Nikon 24-120mm f/4 VR lens more than capable. The only time I missed my Super Zoom lens was on the Kilimanjaro Safari in Disney's Animal Kingdom. I still feel you need, at least, a 200mm lens to get good, frame filling results on the safari.