Today's blog is going to be a little different. Instead of highlighting some attraction, shop, or restaurant, I'm going to take a look at a "backstage" cast member event. Back in July, I wrote an article about getting a job at Walt Disney World and what to expect. In that article I described both the good and bad aspects of working at WDW and some of the perks received. This article will highlight one of the perks.
Once a year (usually in November), Disney honors all of their WDW cast members who have achieved 10, 15, 20, 25, etc. years of service with the company. It's their way of thanking their employees for the outstanding job they have done over the years. This last February, my friend Donald reached 20 years of service and invited me to be his guest at this year's event to be held on November 8th. After experiencing this gala night, I thought all of you might enjoy reliving it through my eyes. So here goes.
Several months before the event, all honorees received an invitation in the mail. Inside the trifold card were instructions, dress codes, driving directions, and more.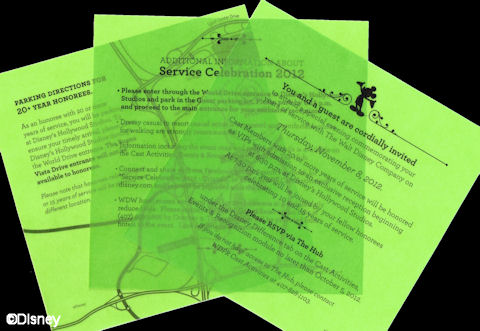 This year's event was held at Disney's Hollywood Studios. The park was closed that day to regular guests at 4pm. This would give the Special Events team two and half hours to transform the park from its normal appearance into a grand banquet and entertainment venue.
This year, those celebrating 20 years or more were to park at the Studio. Those celebrating 10 and 15 years were to park at Epcot where they would be bussed to the event. To make sure no one had misunderstood where to park, Disney placed electronic signboards on all the major roadways leading to the Studio with instructions. As Donald was celebrating 20 years of service, we parked at the Studio.
As guests approached the ticket booths, huge balloons welcomed everyone to the event. Large tables contained special nametags and illuminated lanyards for the honorees. After we picked up Donald's we proceeded to the turnstiles and waited for 6:30 to arrive.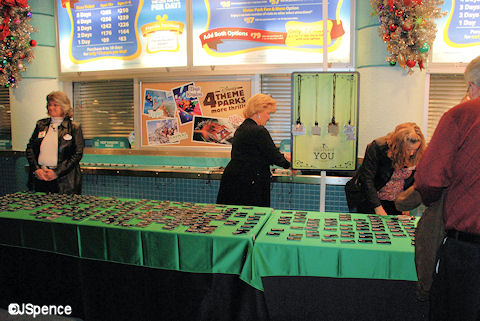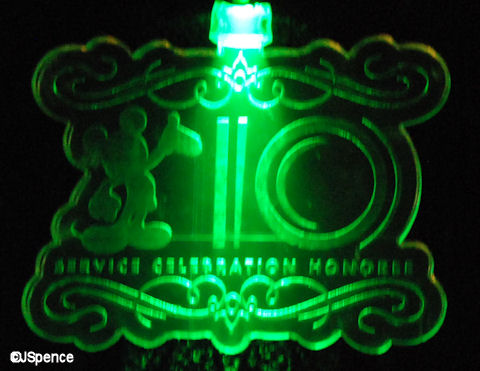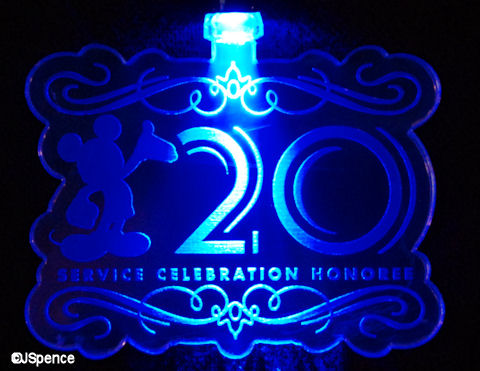 Once the gates opened, everyone proceeded into the park. In the forecourt, searchlights were scanning the sky in true Hollywood fashion. A red carpet lined the entire length of Hollywood Boulevard. Cast members lined both sides of the street, applauding, cheering, and congratulating the honorees as they took the "walk of fame."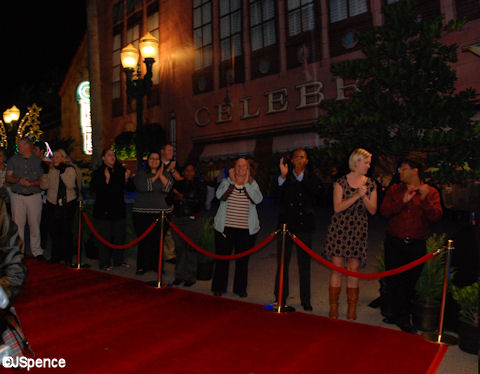 Other cast members were on hand passing out glasses of champagne. And if you couldn't find a cast member, there was a table full just waiting for the thirsty party-goers.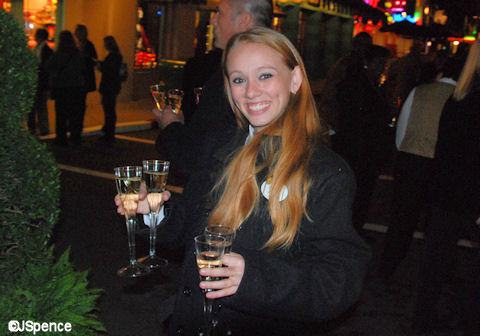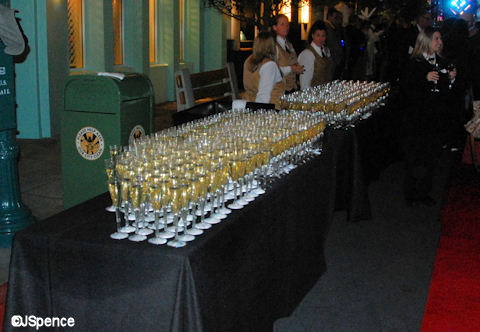 Almost every walkway and thoroughfare in the park had been lined with tables and chairs for guests to enjoy food and drink. It was truly magical to sit and relax at a table beneath the Osborne Christmas lights and not worry about fighting the throngs of guests that normally occupy this space. Here are pictures of Animation Courtyard, Sorcerer's Hat area, Pixar Place, Streets of America, and Sunset Boulevard.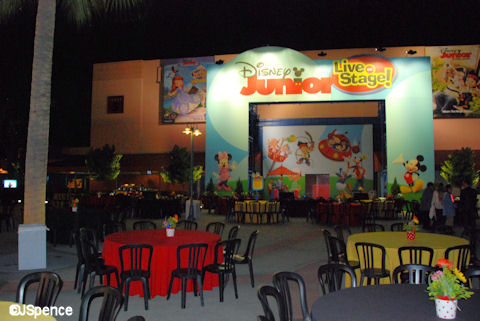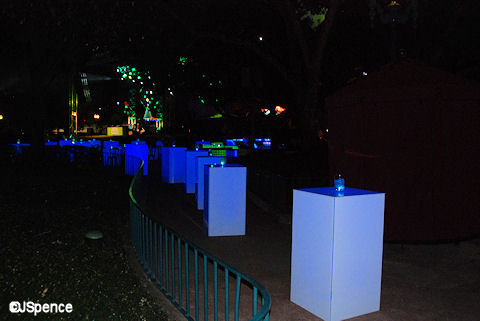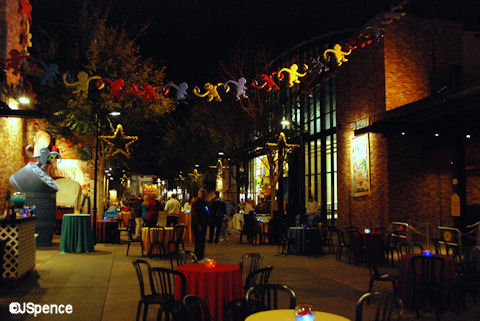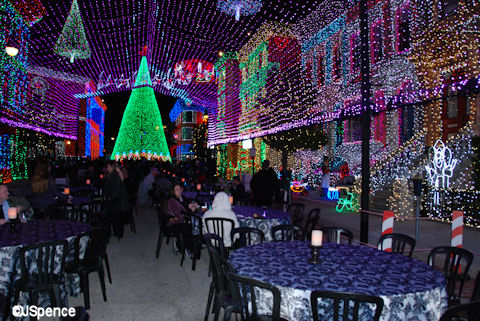 Food and drink tables were everywhere. And lines were practically nonexistent as Disney had set up so many opportunities for indulging. Let me give you a rundown of the menu.
Shrimp & Dip with Cocktail Sauce and Key Lime Dip (These were the largest shrimp I have ever seen in my life – they were huge.)
Raw Vegetables with Avocado Dip
Roasted Ruskin Tomato Soup
Artisan Cheeses
Fisherman's Pie with Maine Lobster, Crab, and Calamari
Roasted Sustainable Mahi
Sea Salt Grilled Flatbread
Asian BBQ Chicken Breast
Chimichurri Roasted Beef Tenderloin
Seared Lamb Chops
Sushi
Lobster on a Stick (20 year service honorees and above)
Various pastas and cooked vegetables as side dishes
Dessert tables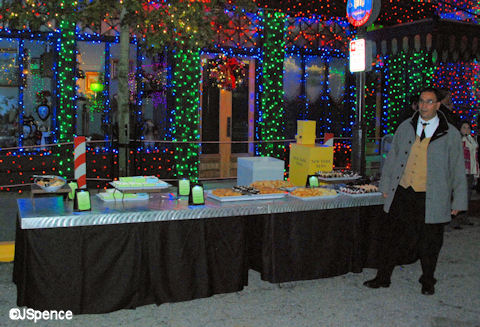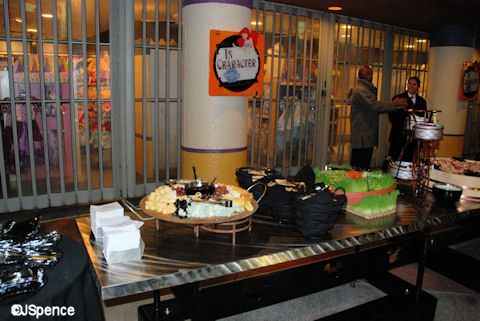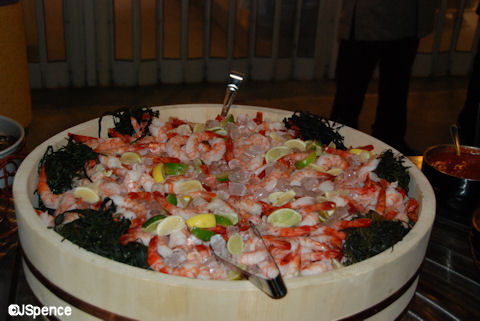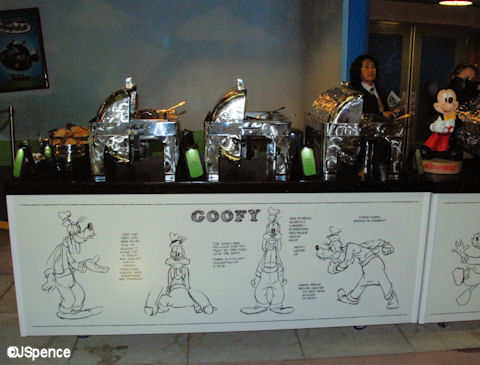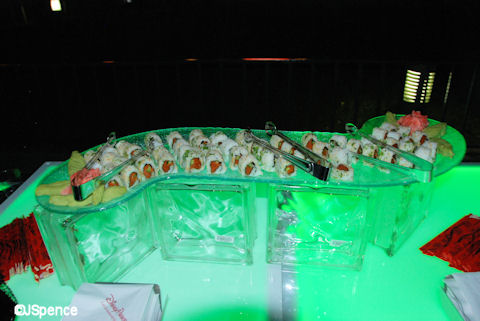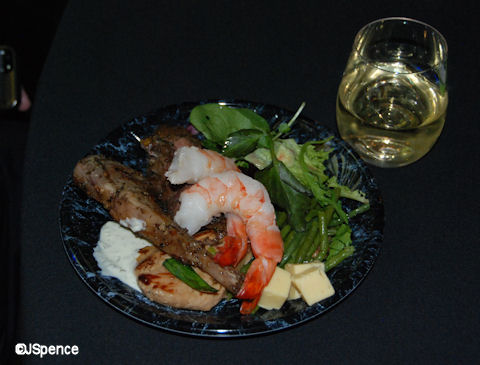 There was an abundance of food, even in the late hours of the event. Disney wasn't going to run out so you didn't need to stuff yourself at the beginning of the night. You could pace yourself. In addition, the food was delicious and top rate. As you can tell by the menu, they weren't serving chicken nuggets and mac-&-cheese. This was decent fare.
Beverages were also available throughout the park. A nice selection of beer and wine were served along with a special blue martini served in an illuminated glass. Soft drinks were also on hand.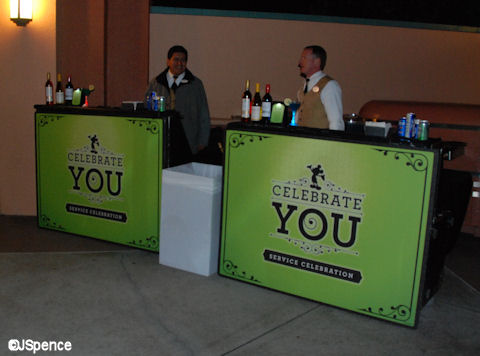 A number of bands could be found around the park. Everything from Big Band to Rock 'N' Roll was on hand to entertain the honorees.
Photographers were everywhere as were characters. And downloading pictures was free once back home.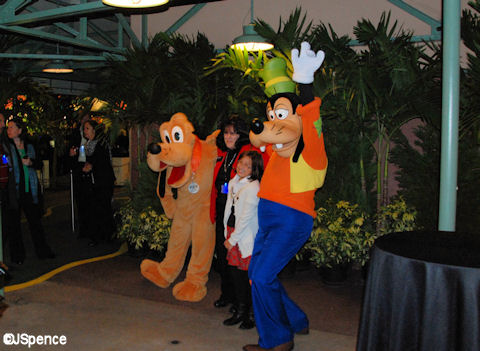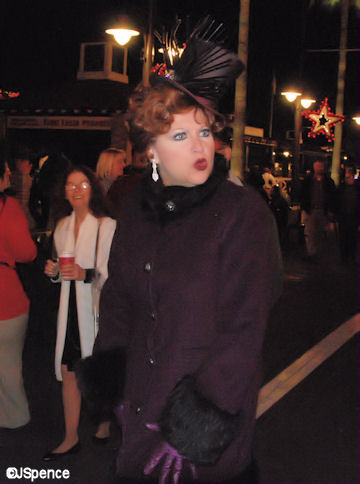 All of the marquees along Sunset Boulevard had been modified to recognize the honorees.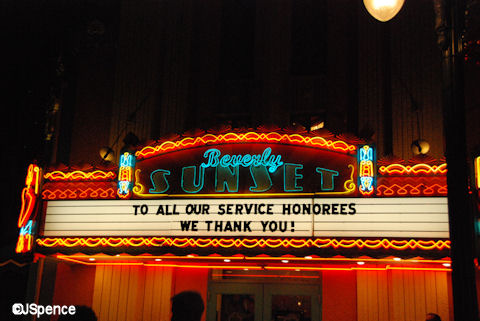 Disney also opened Star Tours, Tower of Terror, Rock 'N' Roller Coaster, and Toy Story Mania. We could literally walk onto all of these attractions. To give you an example, when Donald and I rode Tower of Terror, there were only four other people in the elevator with us.
At 9:30, Disney presented a special fireworks display. The show's narration was specifically recorded for the honorees and thanked them for their contributions and efforts. The display was first class. Disney did not skimp on this presentation.
The event ended at 11:30. From my point of view, everyone seemed to enjoy themselves and felt Disney had done an outstanding job of recognizing their cast members.
Disney spent big bucks on this event – as they do every year to honor their cast members. In my opinion, it is money well spent. The cast members do an outstanding job, often under less than ideal conditions. It's nice to see Disney honor their valued, long-term employees in this way. I was grateful to be allowed to see this event first hand and thank my friend Donald for inviting me as his guest.