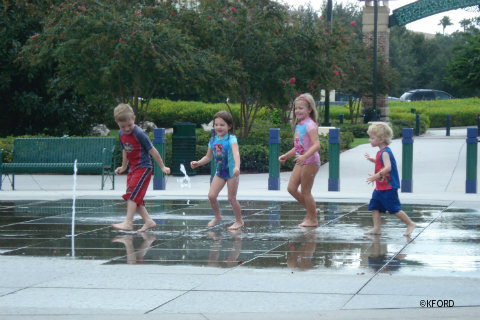 If you're looking for some Disney magic without going into the Orlando theme parks, why not spend part of a day at Downtown Disney's Marketplace?
When my children were younger, one of their playgroups actually met at the open-air shopping district because there were so many free and low-cost fun things for the kids to do. And, although some aspects have changed, there still are plenty of activities to entertain the younger set.
First, be sure to bring a swimsuit, towel and sunscreen (or at least a change of clothes) for the kids because there are two areas with jumping water fountains. The larger one is located between Once Upon A Toy and Earl of Sandwich, and the smaller water feature is adjacent to the back entrance to Disney's Days of Christmas. There are benches around the fountains for parents, and bathrooms are nearby so changing afterward is easy.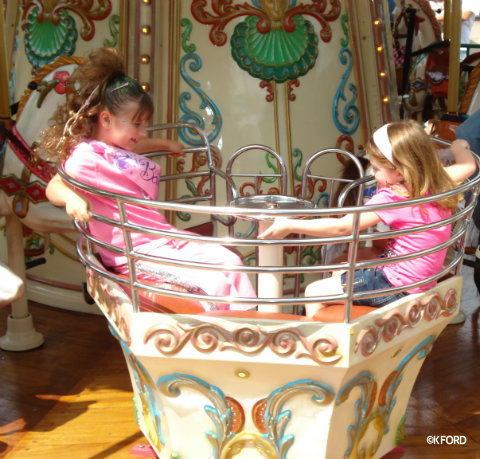 Little ones are sure to enjoy the train ride and a small carousel. Each costs $2 per ride per child, but parents are free. My children always sought out the lone "teacup" on the carousel because they thought that made the ride a little more special. All that spinning made me happy I was the one taking photos!
Nearby, Once Upon a Toy has play areas set up among the unique Disney-themed toys. Younger kids are likely to be interested in the tables set up to build Mr. Potato Head figures with the theme-park pieces, while the older kids will gravitate to the middle of the store where Nintendo DS, Wii and Playstation Station systems allow them to test the newest Disney video games.
Kids who are into Disney pin-trading can make a stop at the pin-trading center to see what cast members have to barter for their collections. (For tips on pin-trading with kids, please see my blog post.)
Ridemakerz, the custom remote-control car shop, is located inside Team Mickey. And while these cars can be expensive to purchase, there is an area bordered by bumpers that allows guests to test their new cars or other demo cars. Taking these souped-up cars for a spin can be entertaining.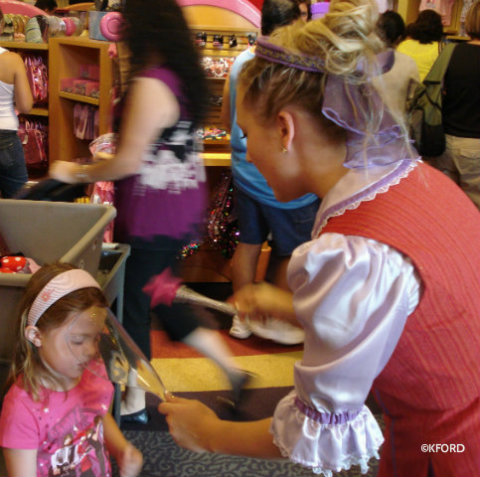 World of Disney, the largest store to carry Disney merchandise, also is home to one of the Bibbidi Bobbidi Boutique locations. At these salons, Fairy Godmothers in Training transform little girls into Disney princesses. These experiences typically require reservations and can be pricey. But the Fairy Godmothers in Training often are circulating in the store or standing outside the entrances, and they will offer kids a sprinkle of pixie dust for free. It's a small thing, but my almost-8-year-old daughter still loves to get the glitter in her hair.
Next door is the expanded Lego Imagination Center, where kids will find tubs of LEGOs to build creations and a raised slope to race them outside. Inside, the main room features a hub of computers where kids can design LEGO structures and play games. Parents also will find another play table filled with LEGOs tucked inside a separate room.
Don't forget to stop for lunch amidst all the fun! There are several places for a light bite, plus the always-fun Rainforest Cafe or T-Rex restaurants. If you're not familiar with the concept, these two restaurants transform while guests are dining. At Rainforest Cafe, a thunderstorm shakes the jungle and animals and a meteor shower descends on T-Rex. Afterward, pop into the Ghirardelli Chocolate Shop, where a cast member is always handing out seasonal samples.
Our last activity is usually to ride the water taxi from The Marketplace to West Side and back. It's free and the kids consider it an attraction, not just transportation.
I hope these ideas will be useful for guests with kids who want to dive into the Disney magic on a day they may not be going into the Disney theme parks. For my family, Downtown Disney is a fun way to get our Disney fix when the blockout dates are in effect for seasonal passes.