I took the time last October to watch the Flag Retreat ceremony which takes place each day at the Town Square flag pole in the Magic Kingdom. It is a beautiful and hushed ceremony. On this day, there was no music but just the sound of the security guards lowering the flag, folding it and presenting it to the Veteran of the Day. They then all parade to the Railroad Station through a path lined with Cast Members and to the applause of watching guests.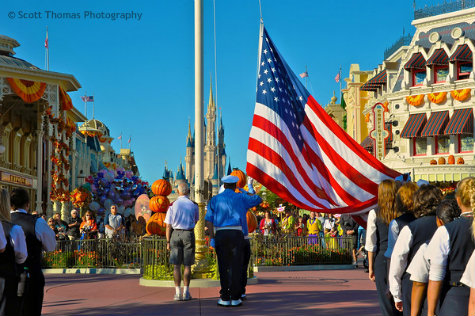 Veteran of the Day and Disney Security pay homage as the flag is lowered during the Flag Retreat ceremony in the Magic Kingdom.
Nikon D700/28-300VR, 1/125s, f/16, ISO 200, EV 0, 62mm focal length.
If you would like to witness the Flag Retreat ceremony, be at the Town Square flagpole about 4:45pm. The ceremony starts promptly at 5:00pm.
To my fellow Americans, have a safe Memorial Day weekend and give thanks to those who did not return from fighting for our freedoms.