Crocs were invented in 2002, the same year my first child was born, and they quickly became a staple for my kids. Once my son and daughter were steady on their feet, we invested in a pair for each.
Because we live in Orlando and have annual passes for Walt Disney World, I could not pass up the itsy-bitsy brightly colored shoes with the traditional Mickey icon cut-outs. Too cute!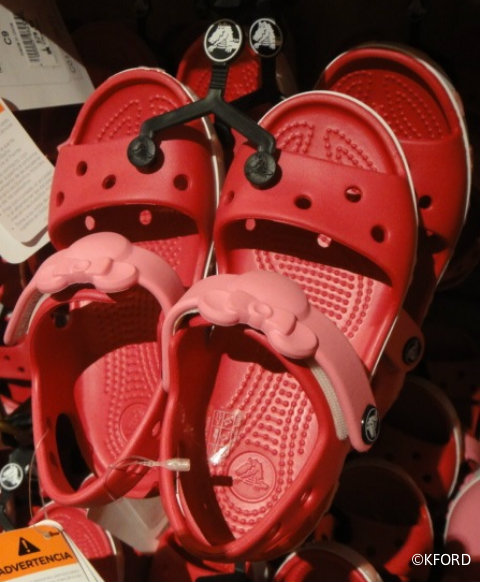 For my Florida kids, they are the perfect casual shoe. With their foam resin material, Crocs are comfortable for our frequent trips to the theme parks. They are simple for the littlest hands to put on and take off by themselves. If they get wet or dirty, they are easy to clean. No need to spend the day wearing wet shoes because a child couldn't resist the lure of a splash pad!
That said, I do think there are places where kids shouldn't wear Crocs. Obviously, they're not made for sports, and are not the best choice for even casual recreation, such as playing at the playground. The lack of deep treads on the bottom and the strap on the back of the shoe do not offer enough support for running and jumping. Because of this, my kids do not wear their Crocs to school.
Still, their Crocs get a good workout, so I keep an eye out for new styles and deals. Crocs typically range from $25 for toddlers up to $50 for adult sizes. For kids' Crocs with Disney designs, there are a few options.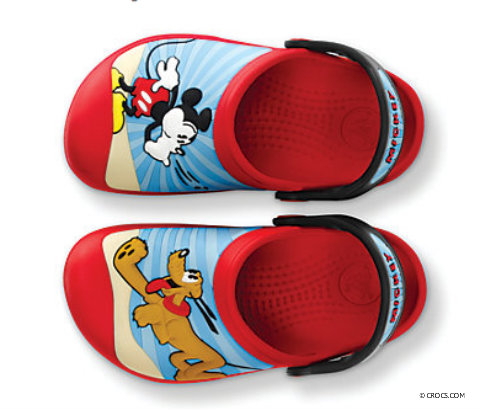 First, take a look at Crocs.com, where current children's Disney styles include pictures of Mickey Mouse and Pluto; Woody and Buzz Lightyear from Toy Story; Winnie the Pooh and Tigger; Tow Mater and Finn McMissile; and Lightning McQueen and Francisco clog styles. There is also a navy and red Croc with icon Mickey design. Be sure to sign up for email alerts for sales, coupon codes and free shipping.
You can add a touch of Disney Magic to any style of Crocs with air holes by adding Jibbitz, the charms that personalize the shoes. Crocs.com carries about 100 different Disney Jibbitz designs and many more, including popular characters such as The Avengers and Hello Kitty. The average price is $3 per Jibbitz.
Other websites sell Disney Crocs, as well. ShoeBuy.com has Disney Princess Crocs with free shipping and free returns. SurfandDirt.com sells the kids' icon Mickey design in a variety of colors. Zappos.com offers both styles.
These choices usually run through size 3 Junior. What do you do if your child has outgrown that size and still wants Mickey Crocs?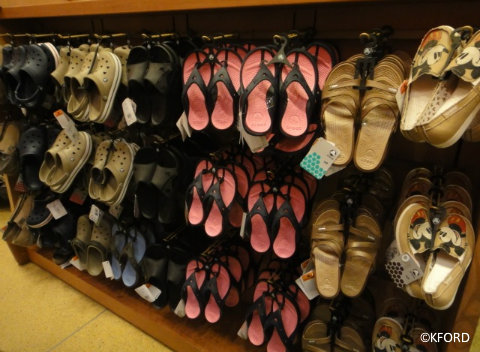 Your best best is to shop at one of the Disney theme parks because they carry adult sizes and styles. My 9-year-old son recently chose navy blue Crocs with a subtle Mickey icon design. They look a little more grown-up, but still have a touch of whimsy. World of Disney at Downtown Disney has many styles of Crocs in its new crop — from the adorable pint-size shoes to the subtle adult designs. If you won't be visiting Disney World any time soon, you can order them through the mail order department by calling 1-877-560-6477 or emailing [email protected]