Contributing photographer Jason of disneygeek.com visited the parks on Friday, November 11, 2011, the first day of the 2011 holiday season. Part 1 features photos from Disneyland, including special Veterans Day events, holiday decorations, and "it's a small world" Holiday.
The tram stop signs have been switched to Christmas.
New holiday banners and signs in Downtown Disney.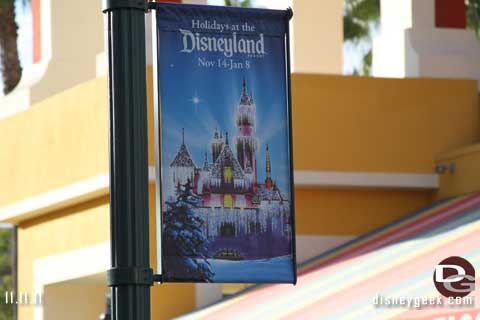 An interesting comparison.. here is the entrance to DCA…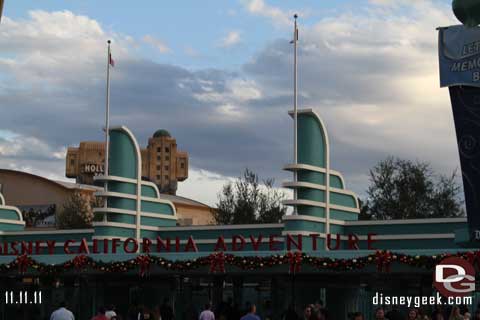 And the entrance to Disneyland.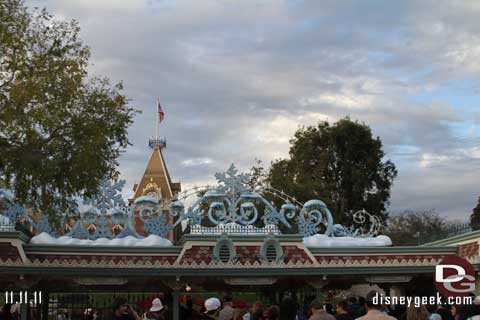 Holiday decor at the Main Street train station.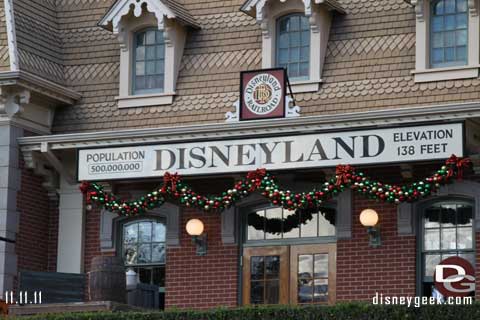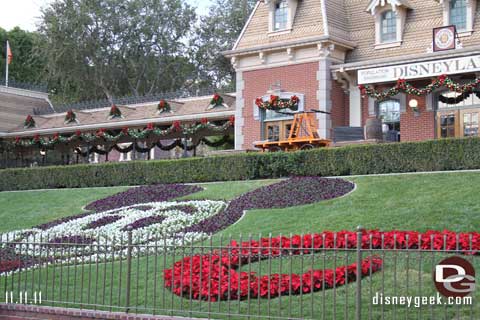 Cast members at the turnstiles have new costumes.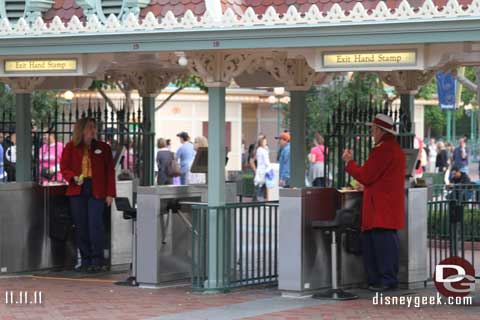 The tunnel poster has been updated for the holidays.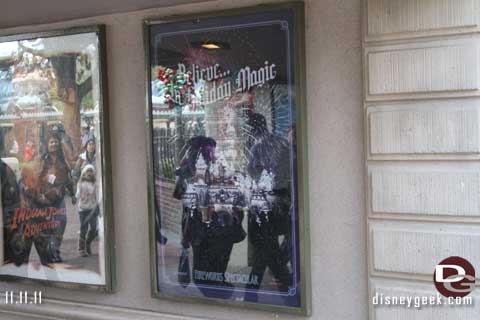 Mickey's Soundsational Parade is running through Sunday then "A Christmas Fantasy" starts on Monday.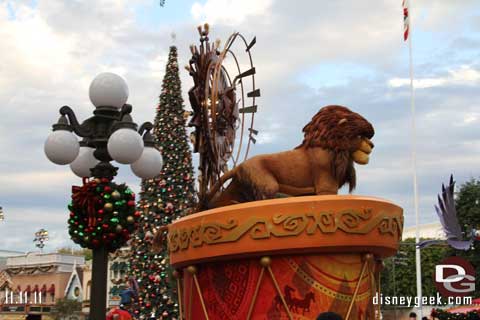 "Snow" on Sleeping Beauty Castle.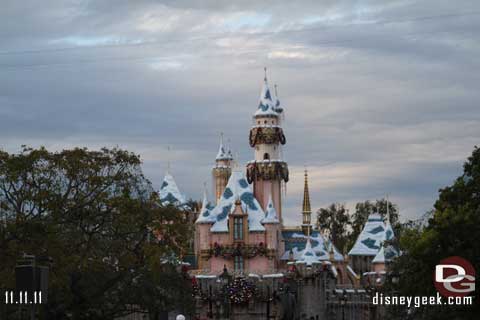 New Orleans Square is very festive.
The Blue Bayou and Pirates of the Caribbean are still closed.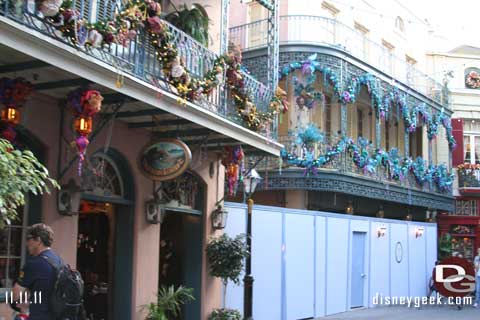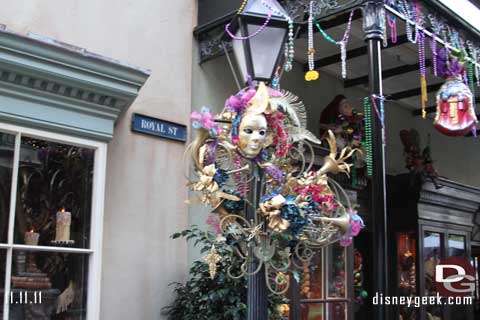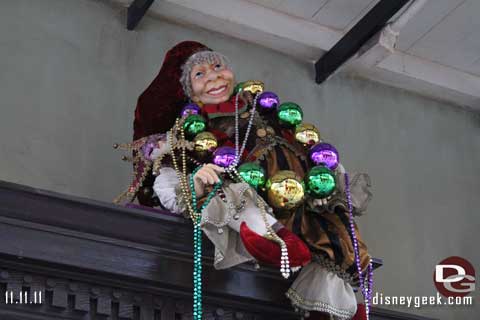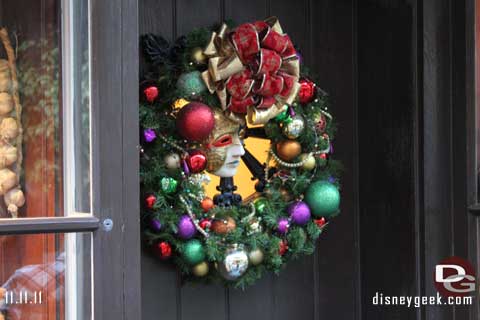 Moving over to The Golden Horseshoe in Frontierland.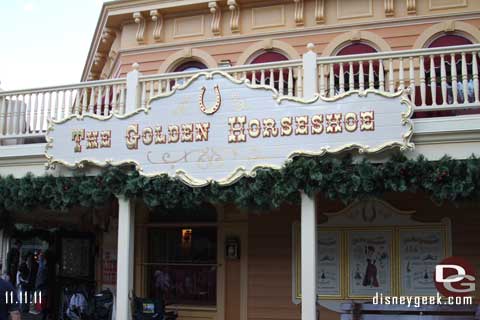 The Golden Horseshoe tree.
Even with the garland the new railings still look off to me.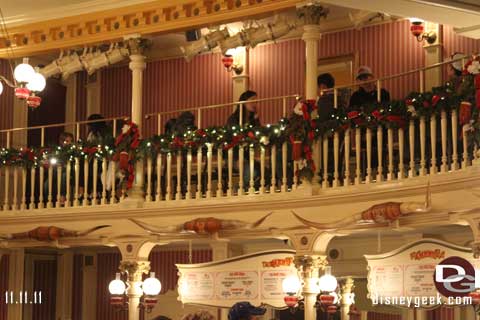 Some of the other Frontierland decorations.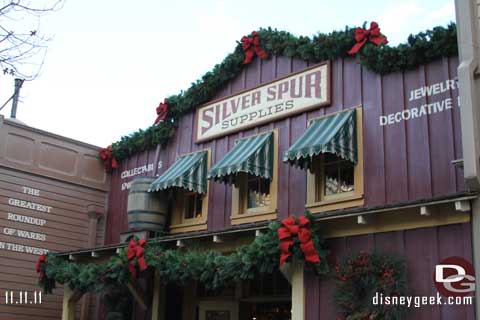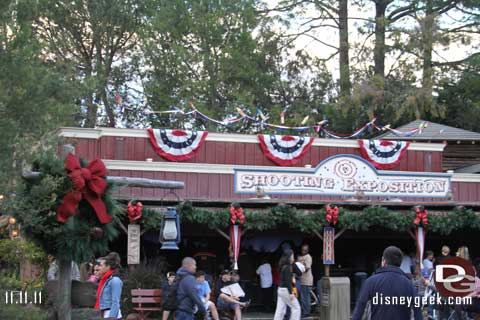 The Christmas tree in Town Square.
In celebration of Veterans Day there was an expanded Flag Retreat. An honor guard with members representing all the services led the procession.
Disneyland Resort Cast Member Veterans followed.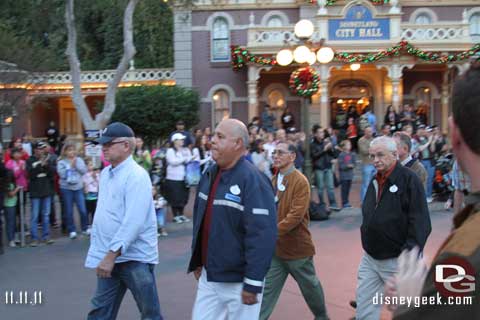 The Third Marine Aircraft Wing Band was a special participant.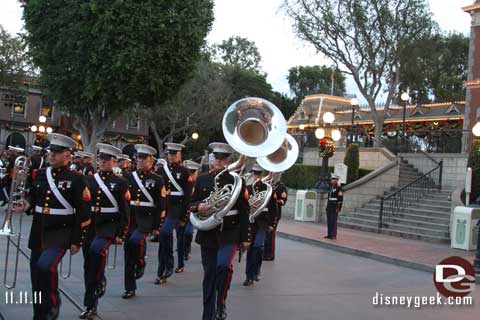 The Cast Members lined up on either side of the Train Station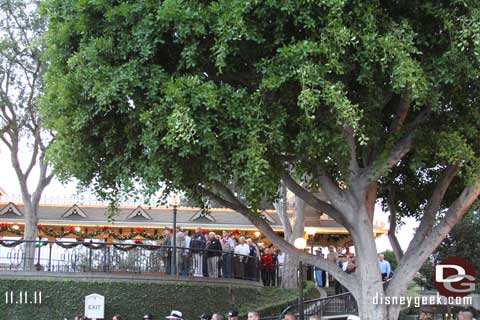 The Dapper Dans in their patriotic outfits.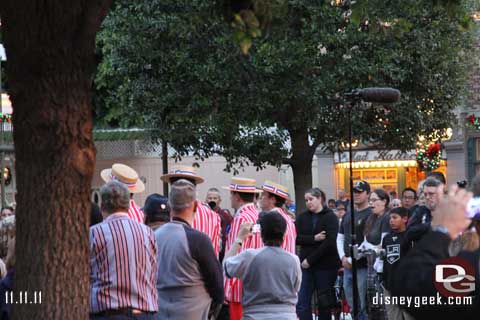 As the anthem for each service was played the Cast Members paraded in.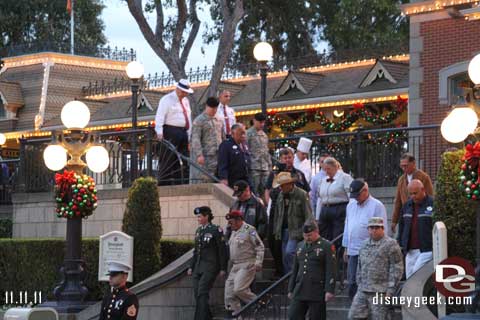 The flag is lowered.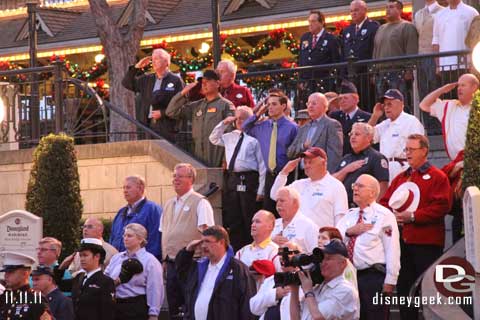 Folding the flags
The band did a great drill to turn around.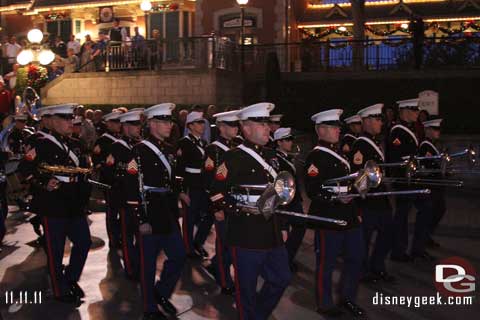 (Laura's note: If you'd like to see the ceremony, Jason has posted a video to youtube: http://youtu.be/mOo9WfG7Ssg)
Some lights on Sleeping Beauty Castle, but the full "Winter Castle" show doesn't start until November 14.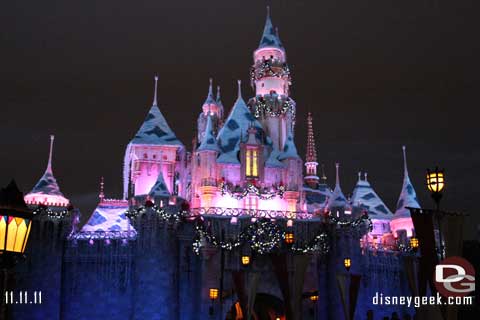 "it's a small world" Holiday is open for the season.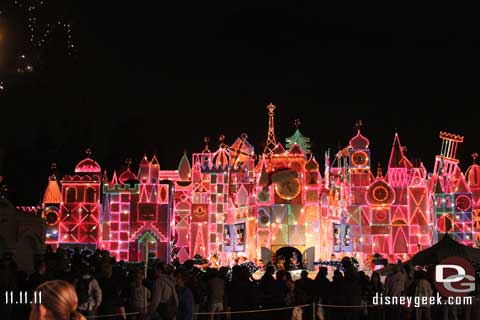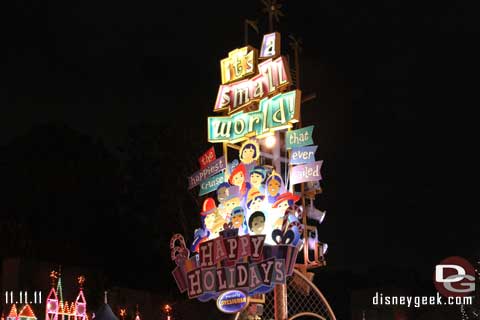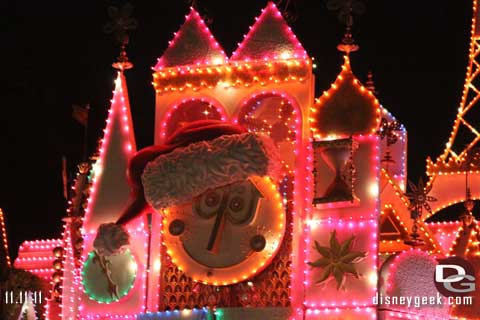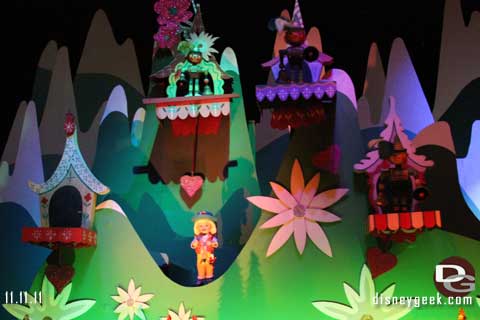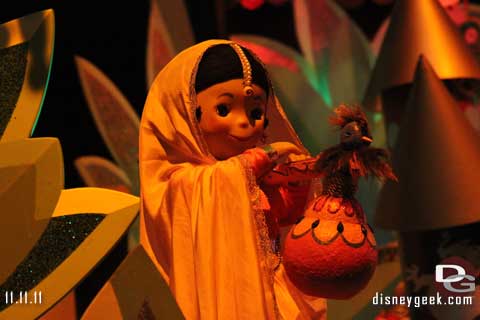 Elvis is back.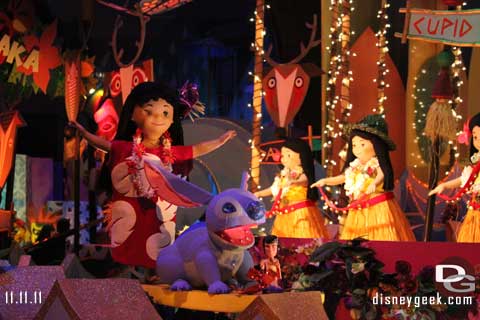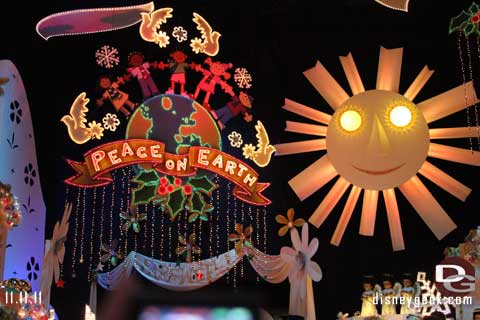 Looks like the floor in the toy store next to "it's a small world" was redone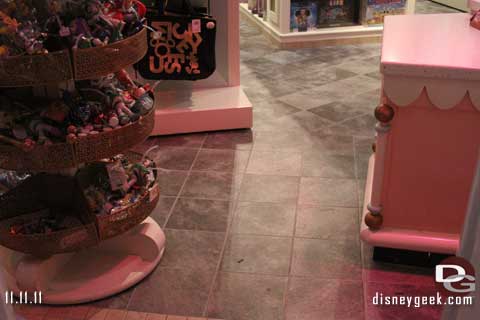 New trees in Toontown (I read they came from Florida). I was not impressed by them – I thought the old ones were better.
Oops.. one of the Os is missing.
The Marine band was also doing a pre-parade set.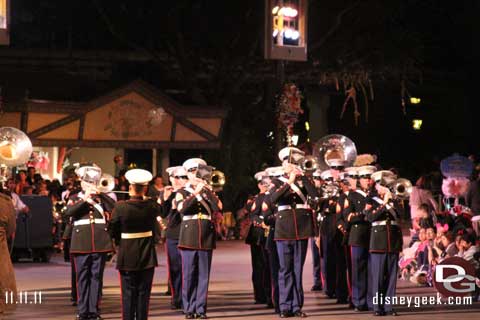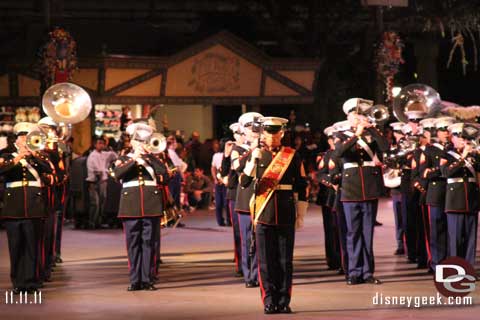 Nighttime holiday lights on Main Street.
The gallery was closed preparing for a new exhibit – Trains of Disney – that opened on Saturday.
Part 2 will include photos from Disney California Adventure and the Disneyland Hotel. For additional photos and details from this trip you can check out the full Disneyland Update I posted on my site, http://disneygeek.com