Several years ago, I wrote a blog about Disney nametags and how these badges have changed over the years. Today, I want to tell you about a new nametag that a select few cast members are sporting these days. These are worn by the recipients of the Legacy Award, a new recognition program that has been rolled out across the Disney Parks and Resorts around the world.
In the past, each segment of the Disney Company had its own recognition program. Although all business units had the same goal, to celebrate those individuals who exemplify the Disney spirit, each had different selection criteria. For example, cast members working at Walt Disney World were eligible to win the "Partners in Excellence" award while those at Disneyland, could win the "Spirit of Disneyland" award. The recipients of these honors can be identified by a pin they wear on their nametag. Unfortunately, these pins are small and easily confused with service anniversary pins. Most guests would never have a clue that these outstanding cast members have been singled out for their performance. Below is a "Partners in Excellence" pin.
This "lack of easily identifiable recognition" has been changed with the Legacy Award. The recipients of this honor receive a blue nametag with white lettering (the opposite of the standard nametag). Being different, these badges stand out and are easily spotted. This is good. Now guests will notice and hopefully ask the cast member why they have a blue nametag (rather than the standard white), giving them the opportunity to proudly brag.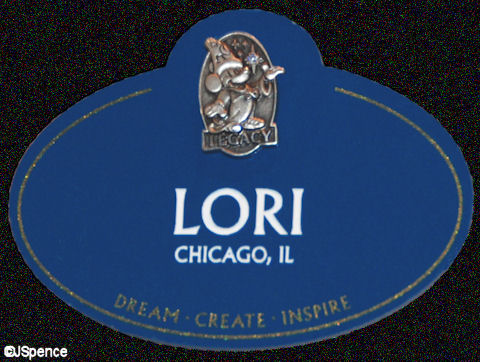 The recipients of the Legacy Award are selected by their leaders, direct reports and/or their co-workers. These are individuals who consistently Dream, Create, and Inspire each day by supporting the business objectives and goals of Walt Disney Parks and Resorts.
When visiting any of the Disney parks, it's easy to forget that there are thousands of cast members working behind the scenes (backstage), out of sight of the guests. These "backstage" individuals are just as important as their "onstage" counterparts. Without their contributions, the magic onstage wouldn't happen. Disney recognizes this and made sure that the requirements to win the Legacy Award were broad enough to encompass everyone.
So next time you're visiting any of the Disney resorts around the world, be sure to notice these blue nametags and congratulate the cast members. Also, if you see bronze pins on a white nametag, ask the cast member what they stand for. Whether it's an award pin or service anniversary pin, I can assure you, these individuals are proud of their accomplishments and their time spent at Disney making the magic happen.