First a wave hi to Mary Beth Tarbet. HI! Thanks for the nice note!
Now, this week's contest!
This was Challenge #167: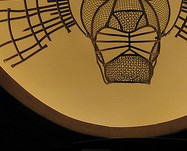 And here's the answer:



Copyright © 2009 Erin Blackwell Canon PhotoShot SD890 IS, 7mm, 1/125s shutter, f/3.2 , ISO 80 (Interior SCN Mode)
You guys surprised me! I thought you would find this one too difficult and barrage the Debs with an angry mob ruling to bring Barrie back. Instead, I got a lot of responses and winners! Mike Venere even said he liked the hard ones. As we say here at All Ears, Where in the World readers ROCK!
This art work is behind a cash register in the Zawadi Marketplace (Gift Shop) at the Animal Kingdom Lodge. (I'm thinking of putting this in the AllEars® desktops section.) I picked it because of the expression "March comes in like a lion…" and it was our first entry for March.
Jennifer Snapp was the first to send in the correct answer for the challenge! Congratulations to Jennifer and all the other readers who got the answer right: Mary Beth Tarbet, Bill Mckim, Kye Layton, Hoekzema Family, Seth Walker, Anastasia Macneil, Evanna Huda, Deb Ragno, Daniel Record, Paul Newman, Caryn Schil, Paul Dickson, Paul Knott, Colin Buchanan, Cheryl Buchanan, Elizabeth Macgregor, Brian Miller, Kelly M, Dale Knight, Emma Poprock, Julie Wickware, Danielle Ciotti, Bonnie Smith, Jennifer Toto, Sarah Holodick, Amy B., Tim Johansen, Kristen Mccoy, Bev Rematt, The Hicks Family, Jennifer Tremley, Sharon Pierce, Joanne Duddy, Mary Tackett, Tim Rachuba, Elaine Johnson, Barrie Brewer, Agnes Ciotti, Cara Richards, Luis Rodriguez, Bryan Gibson, Nancy Ahlsen, Jamie Poynton, Marcia Mardirosian, Noreen Rachuba, Nicole Duddy, Kelly Smith, Kyler Scott, Dan Meese, Michelle Roth-smoot, and The Scott Family. Each of you are entered in the March winners' drawing.
_______________________________________________________________________
Challenge #168: Where in the world is this?
I go to Walt Disney World with my dogs (we stay at Fort Wilderness), so here's Pluto! But where in the World is he? (Like I got the contest name in there? 😉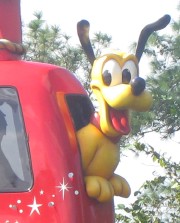 Do you know? Do you have a guess? Please send in your answer, before the end of the day on Thursday, March 17th, by clicking on the blue box below. Please do not post answers using the Feedback Form link at the bottom of this post. Remember to be specific with your answer – just naming a park will not get you into the drawing.



_______________________________________________________________________
Everyone who sends in a correct answer to a Where in the World Challenge this month will be entered in a drawing at the end of the month for some special AllEars® goodies and a cool Disney book!