Every year many of the good folks who have campsites at Fort Wilderness during the Christmas season do an incredible job decorating their sites. It's become a tradition that brings the same people back year after year; and each year they add more and more items to their display. Many of you may have seen Travel Channel's Samantha Brown spotlight some of those campsites on one of her Disney Holiday specials. It a wonderful tradition and one that many of you asked me to take pictures of.
My AllEars® teammate Erin Blackwell (she's the one responsible for updating menus) and her husband, John, are longtime Fort Wilderness campers. Erin and John were gracious enough to take Julie and me around one evening to view some of the displays. Not only was it great to see these decorations, but it was also nice to talk to some of the people responsible for them. Needless to say they are very proud of all their hard work putting the displays together. And it does take quite a bit of their time. I learned that many of them arrive as early as September in order to get the site of their preference. In addition to Christmas, many now also decorate for Halloween.
Anyway, here are some pictures for you to enjoy:
The Christmas tree is located in the center of the "Settlement".
One of the ways to view the decorations is to take a horse-drawn sleigh ride ($60/per carriage). Click here for more information on the sleigh ride.
OK, on to some pictures of the decorations: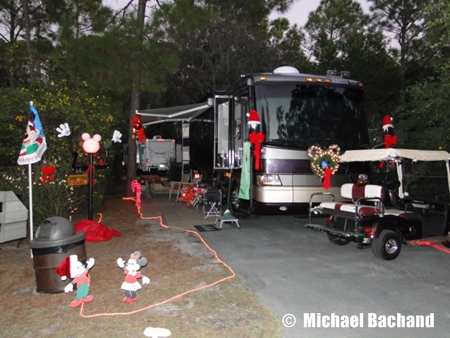 Many campsites had these really cool, homemade, Mickey lamp posts. Most didn't have the arms, just the pole and Mickey lamp, but I thought this one was pretty neat.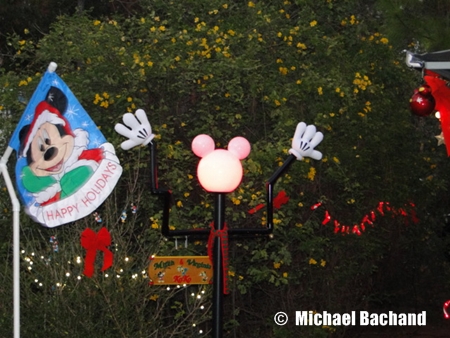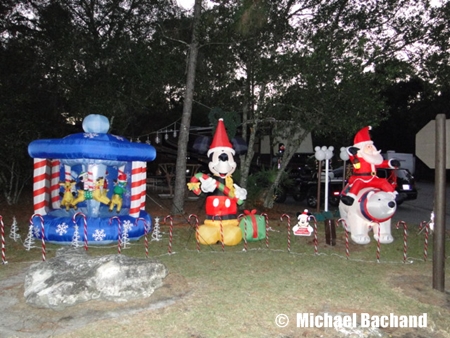 A number of campsites had these inflatable Disney movie screens. Can't you just see yourself on a beautiful evening, sitting in front of that watching your favorite Disney movie?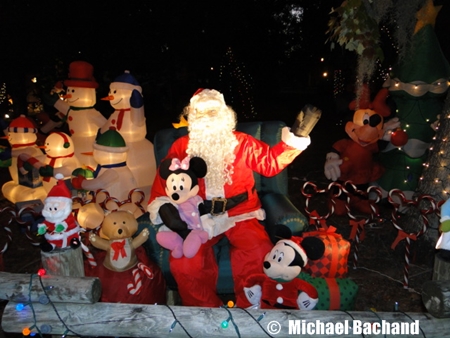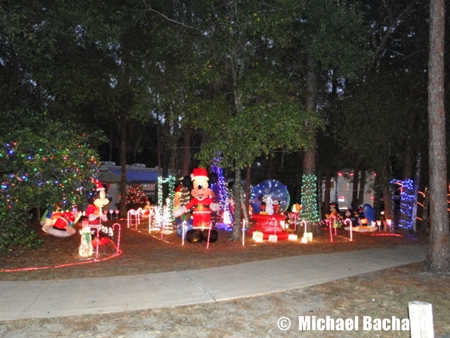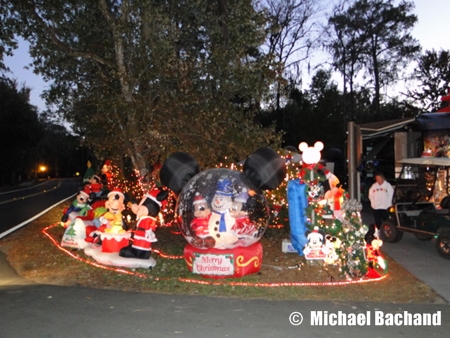 You can barely see the RV back there because of all the decorations.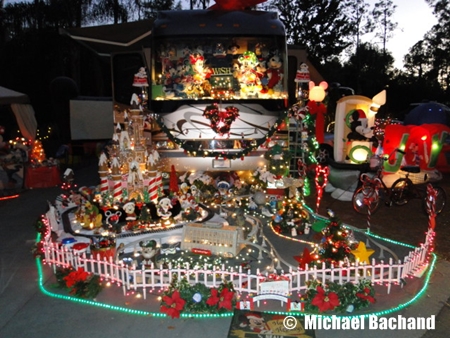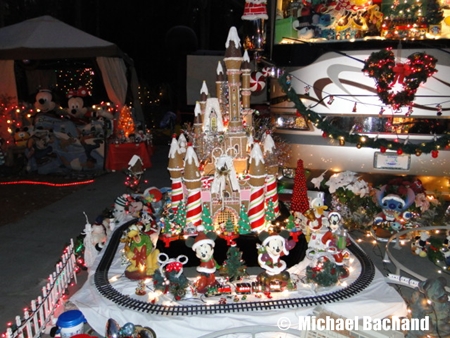 I didn't want to interrupt Minnie as she was taking her bubble bath.
Mickey bows out to feed all of Santa's reindeer.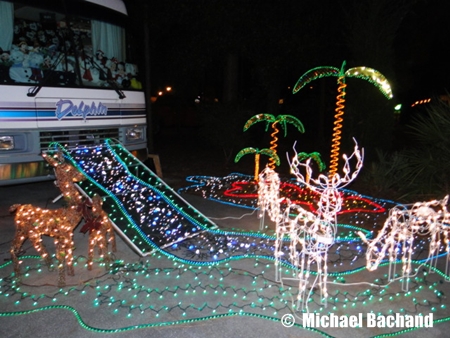 Now this is a golf cart! Very, very special!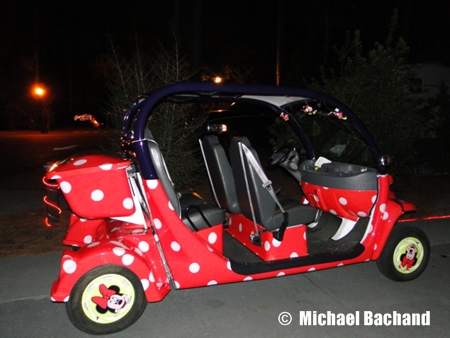 Well, I hope you enjoyed the photos! Let me know if you have any comments about anything in the blog. I'd love to hear from you!
NOTE: When you comment it is now necessary to enter the word "blog" (without the quotations) in a box that's located just below the "Comments" box.
Even though I've suspended my "favorites" blogs during the holiday season, I do want to announce the winner of my "What Would You Like To See In My Christmas Blog?"
And the winner is: The winner of the AllEars® baseball cap for commenting on my "What Would You Like To See In My Christmas Blog?" blog is: Amanda Campbell from Idaho. Congratulations to Amanda and "thank you" to everyone who took the time to share their "What Would You Like To See In My Christmas Blog?" and all the loyal AlllEars® readers!
Did you know AllEars® has a huge area called Rate and Review where you can share your dining reviews with fellow readers? Check it out!
Finally, be one of the first people to hear when my newest blogs go live on AllEars.net by joining "DisneyMike's World" Facebook group.
Well, that's all for now. As my good friend says, "see ya real soon"…DizneyMike
Hey, see this little green button? Well, it allows you to share this blog with your family and friends quite easily. Give it a try; it's pretty neat!