Characters In Flight – Grand Opening
A new attraction opened today (April 12, 2009) at the Downtown Disney Westside. "Characters In Flight" (operated by Aerophile) is a tethered helium filled balloon that takes guests 400 feet above Disney World for a breathtaking view of the property. Prices are $16 for adults and $10 for children ages 3-9.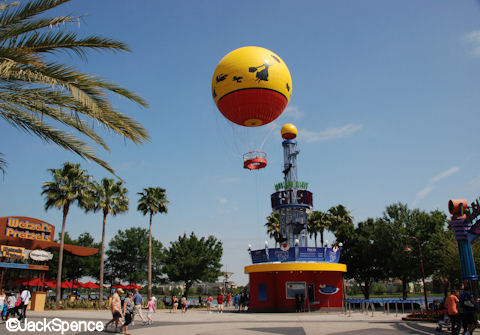 The balloon holds from 1-30 guests. Wind speed determines the capacity – the higher the wind, the fewer the riders. Capacity is determined as follows:
0-3 MPH – 20-30 guests
3-12 MPH – 10-20 guests
12-22 MPH – 10 guests maximum
22+ MPH – 0 guests
Each ride is approximately ten minutes in length. It takes two minutes for both the ascent and descent and then five minutes at the top. Each voyage carries an FAA certified hot-air balloon pilot.
Your adventure begins in the queue. Here, a ground-crew member will answer all sorts of questions as you watch other passengers float into the sky.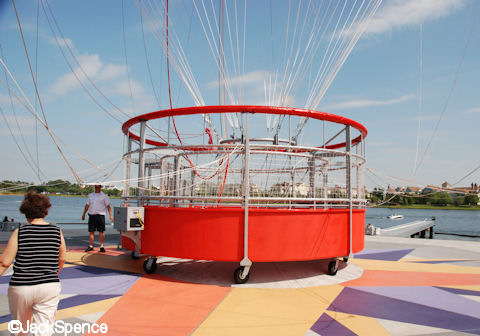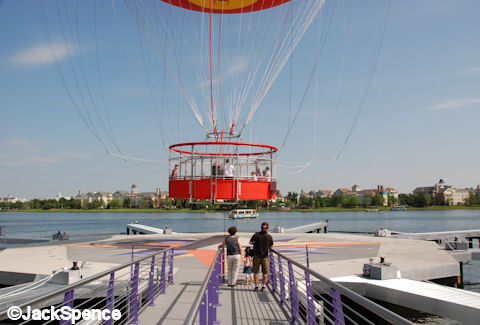 While waiting, I asked what would happen if the tether broke and the balloon was set free. After going into a lengthy explanation as to why this is virtually impossible, I pressed him for an answer. I was told that the balloon has a safety valve that kicks in at 1000 feet and releases helium until the balloon is in a "floating" state. Your pilot, who is already in communication with the authorities, would then start a controlled descent. But once again, the ground-crew member assured me that the cable was not going to break.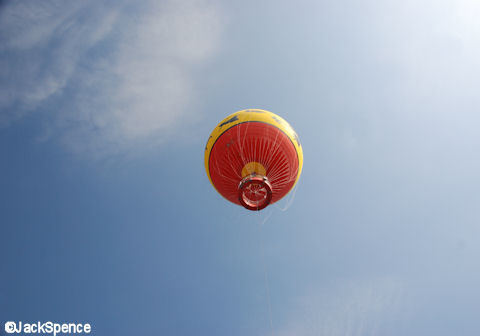 When I rode this morning, the winds were brisk and the capacity was limited to a maximum of ten guests. My ride only had seven passengers. In reality, this worked to my advantage — the fewer the people, the more room to move about the gondola and get pictures. Thirty people would be crowded.
If you run into windy weather while visiting, here is the refund policy:
"The ticket is valid only for the date of purchase and all refunds for unused tickets due to inclement weather must be refunded on date of purchase."
For those of you who have ridden in a hot-air balloon, you'll be in for a treat. Many people don't realize that in order to keep a hot-air balloon aloft requires a constant supply of heated air. Because of this, the pilot must constantly turn the burner on and off – which is VERY noisy. Since this is a helium filled balloon, the entire trip is extremely quiet.
I also asked what would happen in the case of a hurricane. I was told that these balloons, when secured properly to the ground, can withstand a Category One hurricane. But if it was determined that Disney World was in the direct path of one of these storms, no matter what category, it would be deflated.
The gondola is circular in shape. A solid "wall" surrounds you up to your waist. Above that is netting, large enough to easily fit your camera lens through.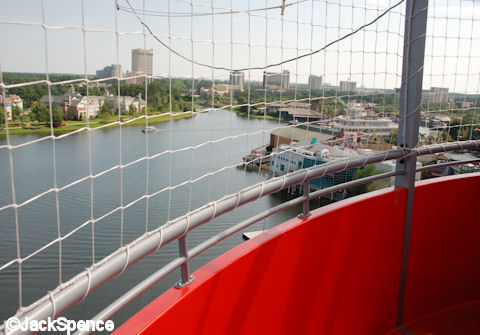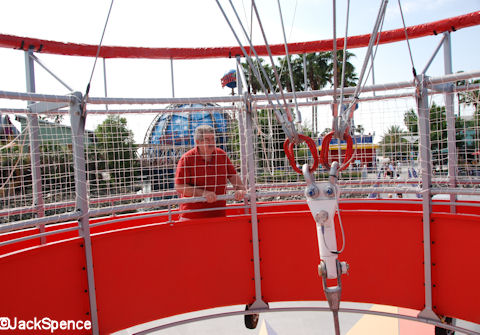 Just before takeoff, everyone is asked to hold on to a hand railing. As the balloon begins to rise and grab the gondola, it is somewhat jerky. After that, it's smooth sailing. Even on a windy day (like today), it's very peaceful and movement is hardly noticed.
Once we reached our maximum height, we were encouraged to move around, take pictures, and ask questions. My pilot, Todd, was somewhat of a comedian and kept us entertained with silly jokes. It added to the fun.
At landing time, we were once again asked to hold onto the hand rails as touchdown can be bumpy.
Upon landing, Todd highly recommended coming back for a nighttime ride as the experience is completely different. I asked if they planned to have special "fireworks" flights. The answer is no. There are too many variables to consider like capacity, weather, and the length of the queue at that time. If you want to see the fireworks while aloft, it will simply be the luck of the draw.
Here are a few facts about the balloon:
Volume: 210,000 cubic feet
Diameter: 72 feet
Circumference: 240 feet
Height: 105 feet
This next picture is looking into the middle of the gondola and the tether and pulley.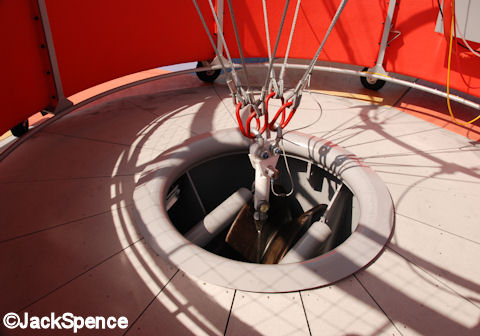 Below you can see the balloon's platform and our shadow on the water.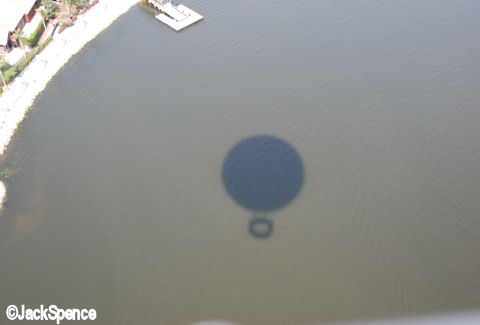 Downtown Disney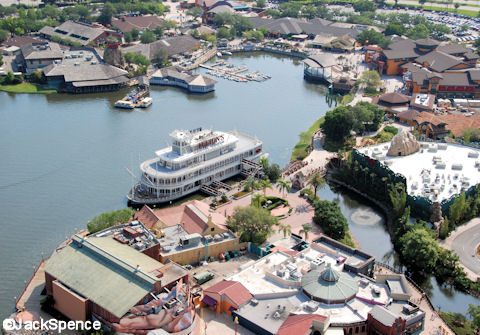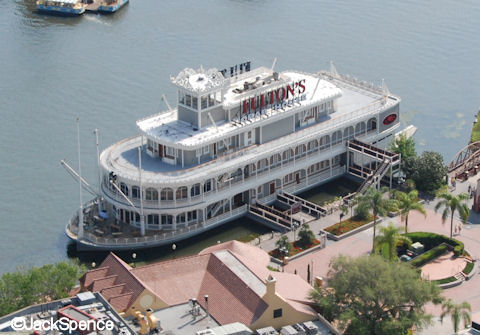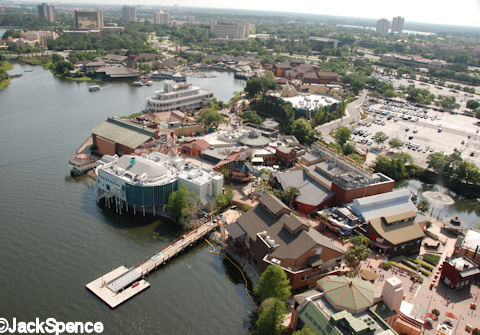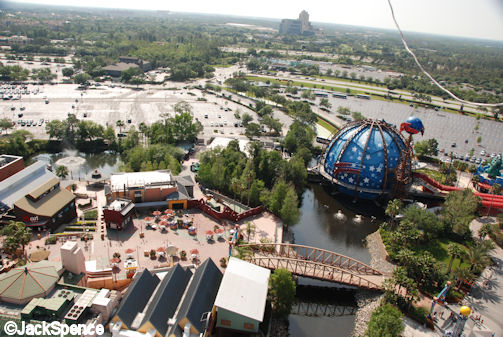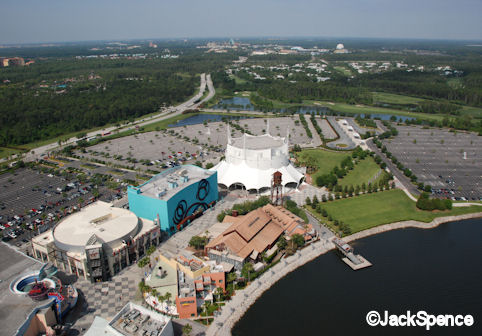 Orlando World Center Marriott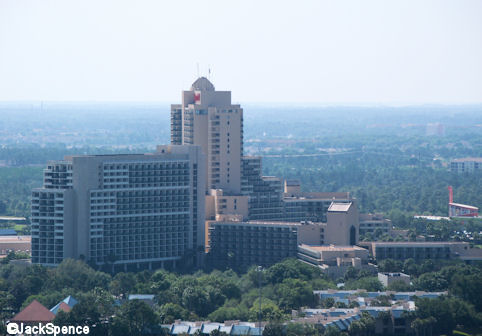 Team Disney Building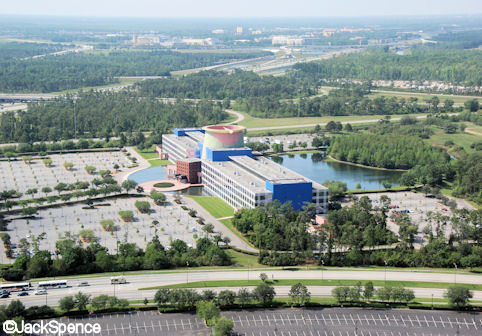 Saratoga Springs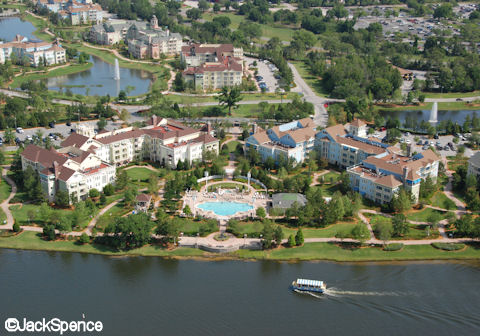 Contemporary Resort and Bay Lake Tower – Magic Kingdom in background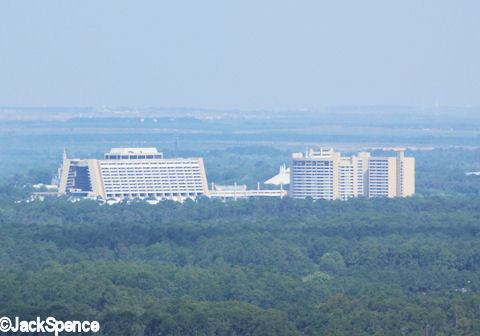 Tower of Terror
Swan & Dolphin Resorts
Expedition: Everest and the Tree of Life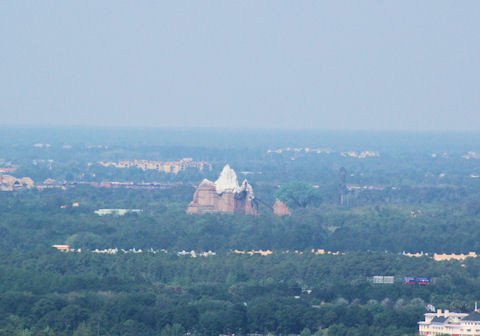 Spaceship Earth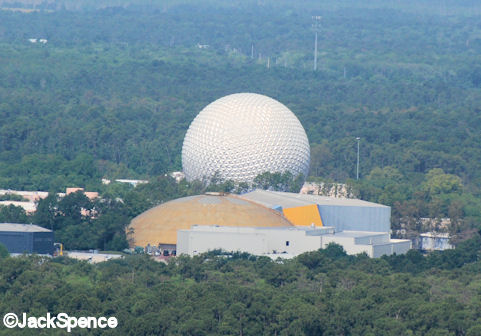 Epcot's Future World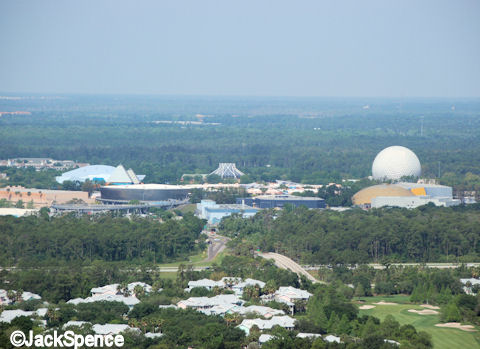 When viewing these pictures, please keep in mind that I have an 18-200mm zoom lens. This enabled me to get some close-up pictures that a simple point-and-shoot camera could not. Also, I edited these pictures on the computer once I got home.
***********************************
Hi everyone. Since the posting of this blog, I have received a number of questions. I have tried to answer most of them in the comments section, but not everyone is seeing them, so I'm amending my blog.
Q. Can you make reservations?
A. Since weather conditions are a major factor in the rides capacity, it would be impossible to offer reserved times for this attraction. Because of this, "Characters In Flight" is operated on a "first come, first flies" basis. Just show up, buy your ticket, then wait in line.
Q. Are wheelchairs allowed onboard?
A. ECVs that guests rent (like the ones Disney rents) are too large to fit in the gondola, that is why they are requested to transfer to a wheel chair. Guests in their own private wheelchair (electric or manual) may or may not fit without a transfer. This will be addressed on a case by case basis.
Q. Can guest seated in a wheelchair see?
A. Yes, guests in a wheel chair can see fine.
Q. Are there age and height restrictions.
A. At this time, I do not know, but I am trying to find out and will post it here when I learn more.
Q. What are the hours of operation?
A. The posted hours are Sunday thru Thursday 10:30am – 11pm, and Friday and Saturday, 10:30am – 12midnight.