A new shop, Disney Design-A-Tee, officially opened at Downtown Disney Marketplace today. Located behind Disney's Days of Christmas, this store allows guests to create personalized T-shirts. This is a joint venture between the Hanes Company and Disney.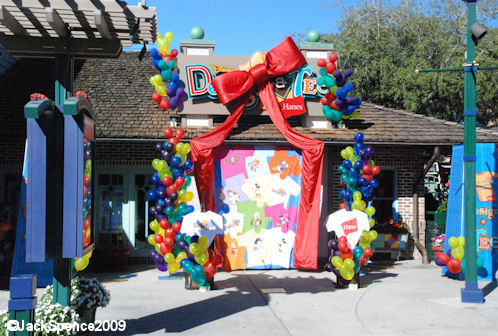 Inside the store are a number of T-shirt shaped kiosks. At touch-sensitive screens, you select from a number of options to create a one-of-a-kind Disney souvenir.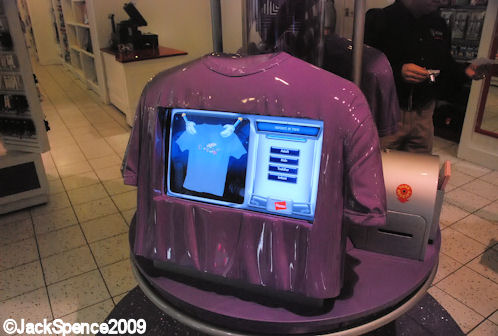 First choice, would you like a long or short sleeve shirt or a woman's fit. Next you select Adult, Kids, Toddler, or Infant. Short sleeve shirts are available up to size 5XL.
Color choices come next and then it's time to select a design.
There are seven categories here: Celebrations, Characters, Princesses, Tinker Bell, Pirates, Pixar, Disney Films, and Holidays. Within each category there are more selections to choose from. In all there are more than 100 designs.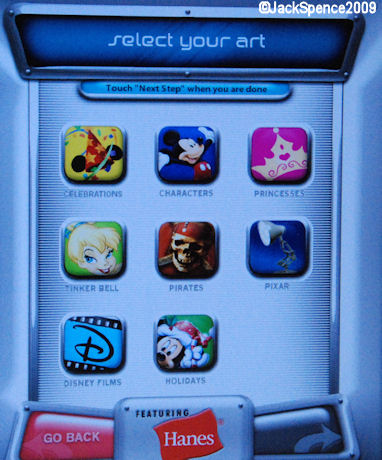 Four lines of text are available – one line above the graphic and three lines below. There is an on-screen typewriter that allows you to put your imagination to work or you can select from a number of ready-made messages.
As you continue to add designs and text, an image of your work-in-progress is displayed on the monitor.
Once you finalize your design, a receipt is printed out which you take to the cashier. Prices range between $18 and $31.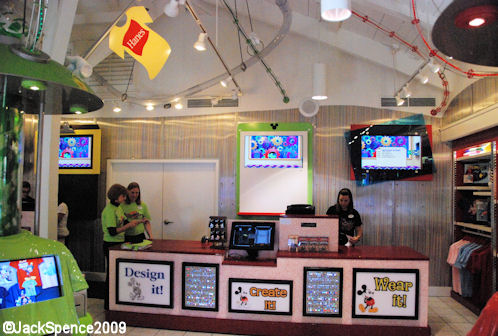 The cashier will display your work-of-art on a computer monitor and allow you to verify everything is correct before completing the transaction. After you pay, you're informed that the backstage storage space is very small so all of the T-shirts arrive at the store miniaturized. You are then handed a small Tee approximately six inches square.
Next you are instructed to take this tiny Tee to a marvelous machine located nearby, insert your mini-shirt, and push the start button.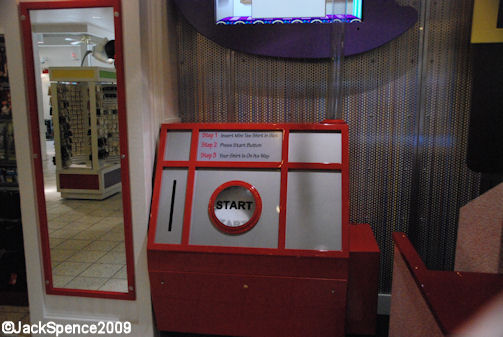 A moment later, your shirt is whisked upwards in a pneumatic tube and it travels all around the ceiling in a maze of plastic cylinders before disappearing backstage. It is here that Disney and Hanes work their magic. The shirt is mystically enlarged, dyed, and printed to your specifications.
Here's my creation.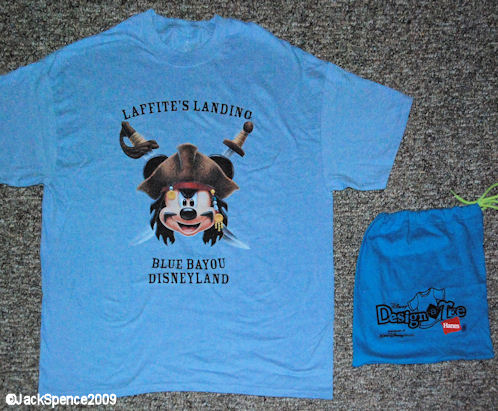 Although standard Disney plastic bags are available for your treasure, each shirt comes with its own cloth bag. A number of colors are available to choose from.
If the store isn't busy, I'm told it takes approximately 20 minutes for your shirt to be prepared. As the day progresses, this time can increase. Package delivery is available to Disney hotel guests and shipping is also an option if you don't want to wait around. One suggestion, if you think you will want one of these T-shirts, make this your first stop when visiting Downtown Disney. Then continue shopping or have lunch or dinner before returning.
The official announcement of the store is on our Disney News Blog!
Located next door to Disney Design-A-Tee is "Create Your Own Ear Hat." Here you get to select from a number of base caps, then add the ears of your choice. There is a second "Create Your Own Ear Hat" on Main Street in the Magic Kingdom.