We are still shaking the pixie dust out of our suitcases after our recent trip and I wanted to give a special shout-out to an amazing cast member whom we encountered at our Port Orleans resort…Georgina Santiago.
Georgina was our housekeeper. We (my mom, myself and my three kids…Reagan, 12…Sage & Sawyer, 11) tried to keep our room tidy, but always appreciated the way it looked after Georgina swept through. Not only was it sparkling clean, she ALWAYS left us sweet little towel animals to make us smile. It truly got to be as much fun going BACK to our room as it was getting to the parks, always wondering what might be waiting for us.
Of course, we wrote her notes of appreciation (and a small tip) and it seemed that the animals just kept getting more and more elaborate and adorable until, on the last day, she made this FABULOUS creation…an alligator sitting beneath a tree with tiny animals all around.
We decided to track her down! The kids and I ran everywhere, on a mission to find this kind woman. We finally caught up with her…back at OUR room. She was bringing her manager to show him the alligator towel on our air conditioner. Such a fun encounter!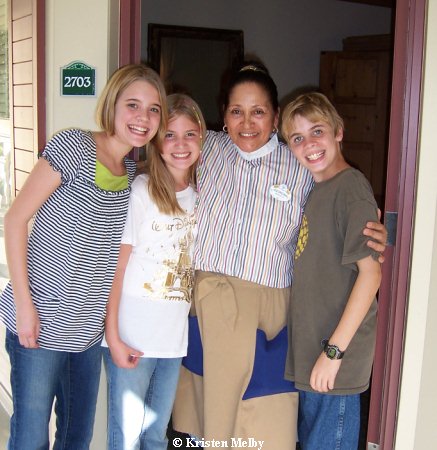 Our kids gave her a big hug and thanked her for making our trip so special and gave her an extra tip (well deserved!). I'm glad her manager was right there to see/hear the way Georgina went above and beyond her duty to make the World a truly magical place!
Kristen Melby