The last land I will be talking about at Hong Kong Disneyland is Tomorrowland. Like Fantasyland, it feels small compared to other parks.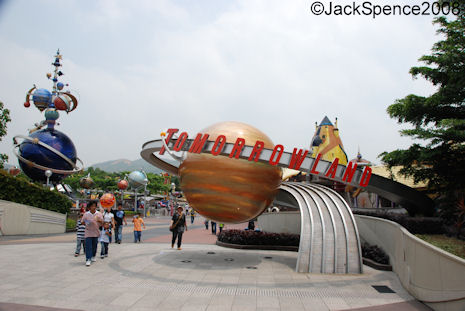 The first attraction I'll be discussing it Orbitron. This is your typical, hub and spoke space ride. What sets this attraction apart from its cousins in other Disney parks is that you sit in flying saucers instead of rocket ships. This is a nice variation. Another thing I like is that each party (all guests sitting in a particular saucer) is given a "boarding pass" with a number that corresponds to a given saucer. This eliminates everyone scrambling for the nearest seat and stops guests from splitting up after the fact and taking up more vehicles than were originally allotted. Once everyone is seated, the attraction host collects all of the boarding passes.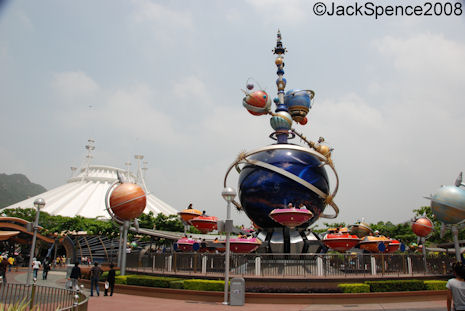 I was disappointed with one aspect of Orbitron. When Disney built the "Magic Carpets of Aladdin" attraction in the Magic Kingdom, they put in front and back seating, just like they did for Orbitron. But the Magic Carpets have a second joy stick in the back seat that controls the pitch while the front seat controls the height. Orbitron does not have this second joy stick. It should have.
Buzz Lightyear Astro Blasters is the exact same attraction as was built in California, Tokyo, and Paris. All of these versions came after the Magic Kingdom's so a nice improvement was made – your laser gun is attached to the ride vehicle via a cable, thus allowing you to pick the gun up and aim with more accuracy.
These are the "Fast Pass" machines for Buzz Lightyear Astro Blasters.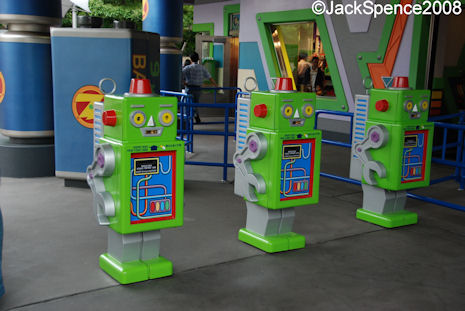 The Autopia attraction harkens back to the "freeway" design of the original Autopia in Disneyland California. However these cars are electric, not gas powered. When a car pulls into the station, it is automatically connected to a power source and its batteries are constantly charging while guests load and unload. However, each car has its own speaker and an internal combustion putt-putt sound is broadcast while en route.
This Autopia has three, separate roadways that wind over, under, and next to each other. I really enjoyed this simple ride, but it did have the longest and slowest moving line of any attraction in Hong Kong.
UFO Zone is another "so called" attraction. It amounts to a collection of space craft strewn out over a "soft pavement" area with water fountains and spouts for someone to run through. In other words, it's a play zone for children. Don't get me wrong, it's very cute and the kids loved it, I just have a problem with them classifying this as a full-fledge attraction.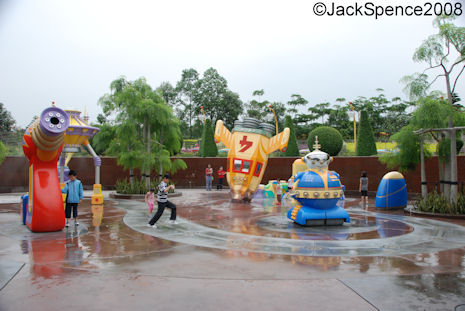 Space Mountain is the one "E" ticket attraction in Tomorrowland. This is a single-track roller coaster like Tokyo and California, however, I really can't tell you if the track layout is the same. Paris is also a single-track coaster but it has a loop.
If you're a fan of the other Space Mountains, you'll like this one.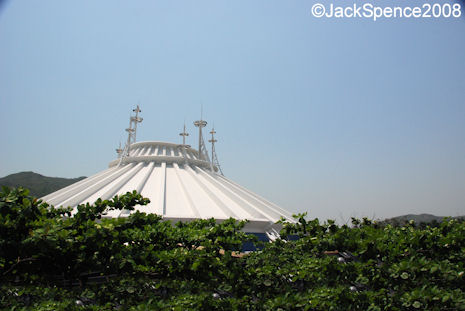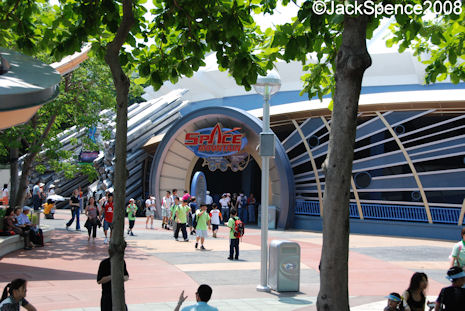 All safety instruction are given in three languages.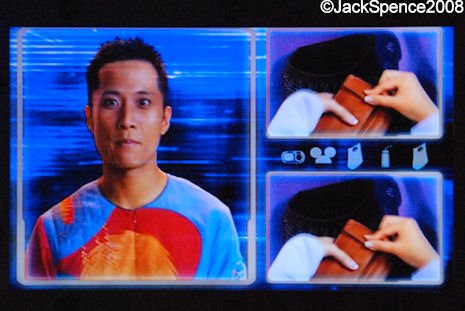 This is the loading and unloading area.
I think my favorite attraction in Tomorrowland was Stitch Encounter. Located in the Space Mountain building, Stitch Encounter uses the same technology as Turtle Talk with Crush in Epcot. Here, guests get to have a real-time conversation with Stitch. To be honest, I'm not a big fan of Stitch, but I loved this attraction. It made me laugh both times I experienced it.
Since Hong Kong Disneyland must deal with three languages, Stitch Encounter needs to accommodate this need. Outside the attraction is an ever-changing sign that lists what times the shows will be performed in each language. This information is only posted here so you must walk by and plan your day accordingly.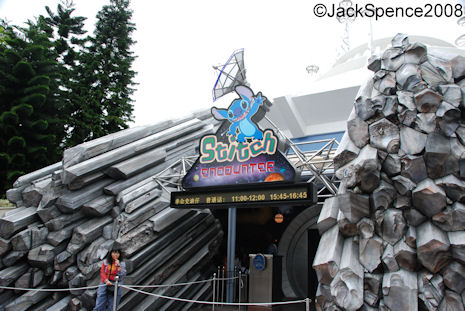 There are two counter service eateries in Tomorrowland, Starliner Diner and Comet Café.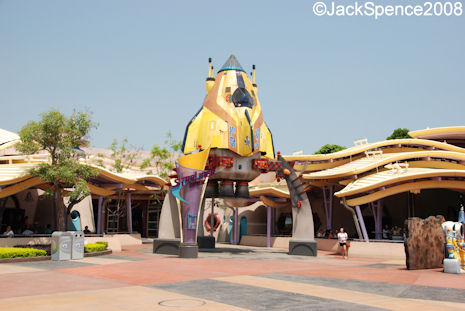 I ate lunch at the Starliner Diner one afternoon and ordered fried chicken. When I got to my table, I noticed a small, clear plastic envelope with something in it. When I opened it, I found a pair of plastic gloves to keep my hands clean while eating my greasy food. Nice.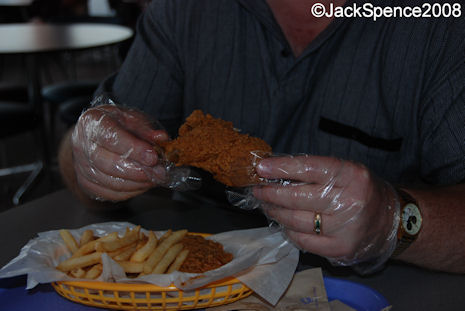 Like all Disney parks, Hong Kong also has its own parade. Here are some pictures.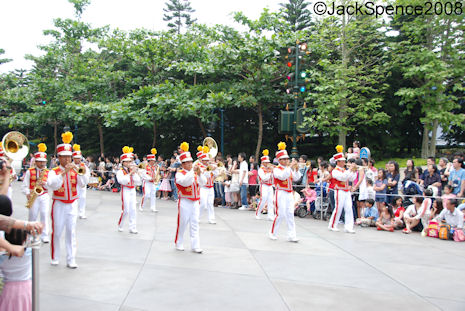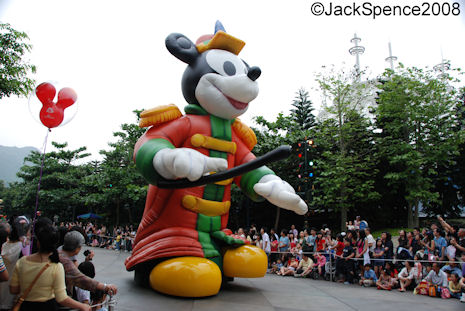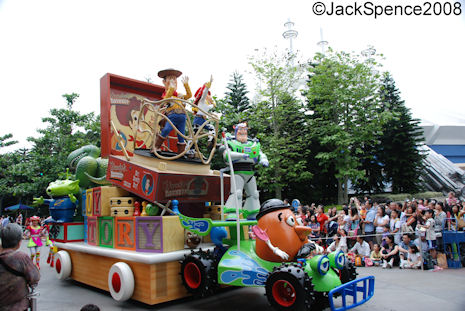 Read my entire Hong Kong Disneyland Blog
Overview Hong Kong Disneyland and Main Street
Hong Kong Disneyland Adventureland Part 1
Hong Kong Disneyland Adventureland Part 2
Hong Kong Disneyland The Hub and Fantasyland
Hong Kong Disneyland Tomorrowland and Disney on Parade