Today's the day!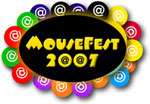 At 7:00am we head to the airport for a 10:00am flight on Southwest to Orlando. You may be wondering why we are leaving 3 hours in advance on a Saturday morning. Well, in the Baltimore / Washington area – you just never know what might await you on the roads or at the airport. We would rather be there in plenty of time and not stress about traffic delays or long lines at check-in.
Once we land, it's off to National Car's Emerald Aisle, then to the grocery store, then to Animal Kingdom Lodge. We will be staying in a one bed room villa for just tonight. After check-in, we need to get the suitcases we need for Land only over to the Boardwalk (our home for MouseFest Land), return the car and then back to AKL. We have 6pm dinner ressies at AKL…think we'll be ok time wise? We will see.
There's lots planned for Sunday, the first official day of MouseFest. You can check out the Cruise portion of the schedule on the Cruise Events Page.