Continuing my series of attraction comparisons…I decided to stick with the mountains, and compare the Splash Mountain attractions at Walt Disney World's Magic Kingdom (MK) and Disneyland (DL).
Both are located in about the same area of the park – though at MK this area is in Frontierland, and at DL it's in Critter Country. Since it's inspired by characters from Song of the South, placing it in Frontierland seems a bit odd – I think DL's Critter Country is a better fit….though since MK doesn't have that, I guess Frontierland works better than Adventureland or Liberty Square!
DL's Splash Mountain opened first, in July 1989, while MK's attraction opened in October 1992. The distinctive outline of Chickapin Hill is quite visible in both parks. One other thing both attractions have in common is a VERY long queue that winds around and around and back and forth and inside and around some more. Before Fastpass (which both attractions have) I've stood in those lines and wound around and around…
(Below: MK's Splash Mountain, DL's Splash Mountain)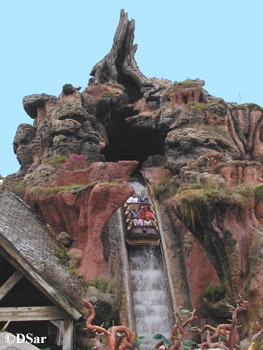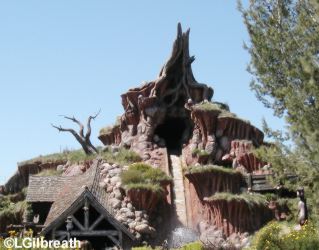 Upon reaching the loading area you'll notice differences in the "log" vehicles. In DL's there are six "seats" (riders actually straddle a bench) per log – the last seat is larger and can accommodate a parent and child). At MK there are four rows of two seats so people can sit side-by-side – it's a lot more comfortable. Though the MK logs always seem to have a musty/mildewy smell – yuck.
(Below: MK's logs, DL's logs)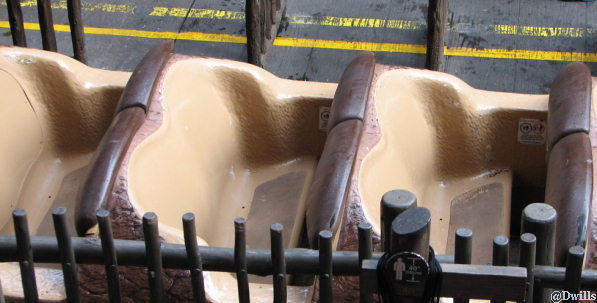 The layouts of the ride are similar – each culminating in the drop down Chickapin Hill at the end – but the scenes inside the ride are pretty different. I really prefer MK's Splash Mountain – it actually has a much more coherent storyline about Brer Rabbit leaving home in search of adventure, and outwitting Brer Fox and Brer Bear before deciding that home isn't so bad after all. I've never quite figured out what the storyline is at DL – or if there even *is* one…mostly it just seems to move from scene to scene, each featuring many audio-animatronic characters recycled from the America Sings attraction (which I loved – pop goes the weasel!).
Anyway…I think the MK version is a lot bigger and brighter, and I love the jumping fountains in the cavern. You see a lot more of Brer Rabbit, too – I think he makes two or three more appearances at the MK than he does at DL. Though one thing I prefer about DL's version – as you begin the final ascent to the "Laughing Place", the tone changes, and the mood becomes ominous as Mama Mole sings: "What can poor Brer Rabbit do, to keep from becoming rabbit stew", and then Mama Rabbit joins in with: "Stay away from the Laughin' Place, you must beware, the fox is there". And then there's the two vultures perched overhead who also have less than encouraging things to say. It sure enhances the whole "I have a bad feeling about this" atmosphere.
While both attractions have the potential to get you pretty wet, in general I find I stay drier at DL – especially if I ask to sit in the back of the log (which I always do). And I make sure never to sit on the right side of the log at MK, because that's the wetter side. 🙂
Everybody has a Laughin' Place – what's yours?
Laura