Whew…the Finding Nemo event was a whirlwind – it's hard to believe I
was only away from home for a total of 30 hours – it sure seemed a lot
longer than that!
Opening Day yesterday (Monday) was quite an experience and I was
excited to be part of it. Even first thing in the morning (Early Entry
was at 7:00) the park was buzzing – the new park maps featured "The Subs
Are Back!" tagline and artwork on the cover. Cast Members were wearing
special "Finding Nemo Submarine Voyage" buttons. Thanks to that Disney
magic, all signs of the big party in Tomorrowland the previous evening
had disappeared, but there was a big stage and risers set up between the
Matterhorn and the submarine lagoon that had appeared overnight, and
lots of booths from which radio stations were doing live broadcasts.
The first "event" on our schedule was the "What's New, What's Next"
presentation in the Honey I Shrunk the Audience Theater. I'm not going
to go into great detail here (maybe a later blog entry), but speakers
included Disneyland President Ed Grier, Dr. Bunsen Honeydew and Beaker
with a demonstration of Muppet Mobile Labs (amazing!), Tom Fitzgerald,
Executive Vice President of Walt Disney Imagineering, and Crush
the sea turtle. With a brief interruption by a band of pirates…
After that it was time (well time to go and wait, at least) for the
Grand Opening Ceremony, though it only started about 10 minutes late.
Once again Ed Grier spoke, as well as Disney CEO Bob Iger and Jay
Rasulo, President of Disney Theme Parks and Resorts. They acknowledged
the Imagineering team sitting in the audience who oversaw the re-creation
of the Submarine Voyage. Monday was "Dream Job Day" for the people
who were selected for the "Dream Job" positions, and those
cast-members-for-a-day walked by the stage in costume ready to go to work
– Princesses-in-Waiting, Jungle Cruise Skippers, Haunted Mansion
Butlers and Maids, High School Musical Pep Rally performers and of
course, Pirates.
A little musical number was next, featuring flipper-footed snorkeling
"dancers". Everything was going along just, well, *swimmingly* until a
big whale popped up from the lagoon behind the stage. Oh no, how can
the submarines possibly be launched with a *whale* in the lagoon??? Does
anyone speak whale??? Luckily Dory was nearby – who was another of those
wonderful "human" puppets. This whale must have been a bit hard of
hearing, though (maybe because he *didn't* have water in his ears?),
because it took the combined efforts of Dory AND the audience to
get the whale to "pleeeeeeeeease goooooooooo aaaaa-waa-aaay."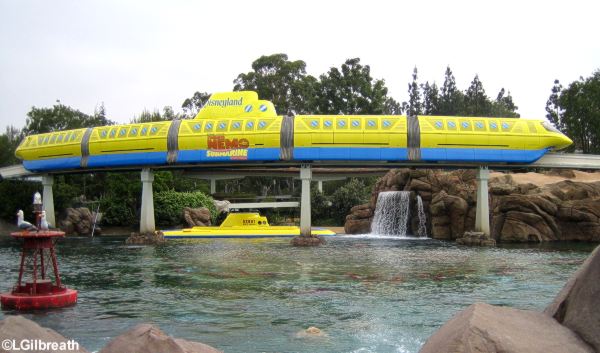 As the musical number concluded the monorail glided silently into view
over the lagoon – completely decked out like one of the yellow Finding
Nemo subs, up to and including the conning tower! It was so cool!
There was a burst of fireworks and it was official: Finding Nemo
Submarine Voyage was *open*. (Though it didn't open to the public for
another 90 minutes or so.)
I was curious about what the line might already be like so I went in
search of the queue. Which wasn't hard to find, since it
already stretched from the Matterhorn (where the outermost barricades
had been placed) ALLLL the way back to it's a small world (with
multiple switchbacks, of course), but it took me a while to get to
the front of the line. There I spoke to Mike from Las Vegas (an
AllEars.net reader!) who with his wife and a friend were the very
first people in line – they had arrived at the park entrance at
5:30 that morning and got into line as soon as the park opened.
I spoke to Mike again just after he'd gotten off the ride – big smiles
all around, and he told me it was "awesome". I asked him if it was
worth the wait, and he said: "totally." And he wasn't just talking
Turtle to me! 🙂
At that point it was about 12:40 and all of the barricades had come
down…the Nemo queue stretched alllll the way around the submarine
lagoon, past the Matterhorn, down into Fantasia Gardens and up onto the
small world terraces. And there were switchbacks along most of that which
almost doubled the length. The estimate is that it was a four-hour
wait at that point.
Disney has done a few things to make the wait a little more endurable –
snack and beverage carts have been placed in strategic places all along
the queue, and they've done a great job of shading the queue as much as
possible. The queue is positioned under the monorail track wherever
possible, and the Fantasia Gardens and small world terrace areas have
some shade. There were many Cast Members stationed along the queue,
especially where the line crossed walkways, and they were doing a great
job at keeping those clear. Cast Members were also walking the
line and handing out a "Submarine Voyage Quest" to parties with
young children (and some not-so-young! 🙂 ). This colorful
brochure includes games like finding hidden objects in the Tank
Gang's fish tank, multiple choice questions about the subs and the
Finding Nemo movie (What kind of fish is Marlin?), Fun Facts, and
a maze game. Cast Members told me that the brochures were in rather
short supply and only expected to last for several days before they
are gone.
One other interesting thing Disney will be doing: extending park
hours for the Submarine Voyage attraction up to an additional 2-1/2
hours after regular park closing – the idea is that anyone who gets
in line for the Submarine Voyage before the park closes (even if
it's one minute before!) will still get to ride. Though if the line is
already over 2-1/2 hours I'm not sure how that works!
There are more pictures of the Nemo attraction and Opening Ceremony
posted on this week's Wandering the
Land page.
A new Finding Nemo Submarine Voyage attraction page is
HERE.

Before I left the park I went over to Pirate's Lair on Tom Sawyer Island to see
if I could find any of the Pirates-for-a-day at work. And I did. 🙂
They were appearing with The Bootstrappers – a musical band of pirates. (Or
is "musical band" redundant?) There were two women and three men
who were lounging around Lafitte's Tavern with the Bootstrappers and joining in the songs themselves at times. One of the guys was doing a pretty
good Jack Sparrow, at least as far as mannerisms went. (My favorite
part of the Bootstrappers' act is when they talk about the "cursed dinghy
ride" and warn everyone to stay away…especially the kids. Because
it's filled with thousands of cursed little children that have been
nailed to the floor and forced to sing that song "over and over and
over…" Then they sing the song in a minor key as they slowly rotate or
imitate the stiff movements of characters in the ride. Ok, *I* find it
amusing…)
One thing I've noticed about Pirate's Lair, though – there's always a
longer line to get OFF the island than to get ON…I'm not quite sure
how that works!
Until next time,
Laura