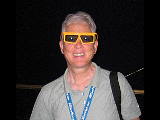 Thanks for checking out my new blog here at AllEarsNet.com!!! I'm very excited about the new feature and hope you will be too.
This first phase will have me, Deb Wills, blogging my way into your browser. Soon, we will be adding additional bloggers. This is just the beginning!
Here is just a little of what you can expect…..
I will be sharing my experiences in the world of Disney — planning, live reports from trips, tips, random musings and more. I have several big Disney trips on the horizon so my blogs will include information about my Disney Cruise Line Mediterranean trip in May-June as well as my Adventures by Disney Southwest US trip in August. While on these trips, I plan to make daily updates so you can follow right along from your computer. I'll even be able to add some photos!
I'm very excited to be able to share my Disney experiences with you….
So hold onto your hats and glasses folks… Let the Blogging Begin!!!!
Deb