TOURING
AT A GLANCE...
COMMISSARY LANE
GRAND AVENUE -
COMING SOON!
MUPPETS COURTYARD
HOLLYWOOD BLVD.
SUNSET BLVD.
ECHO LAKE
STAR WARS:
GALAXY'S EDGE
- COMING IN 2019!
TOY STORY LAND
- COMING SUMMER 2018!
(Currently PIXAR PLACE)
ANIMATION COURTYARD
ENTERTAINMENT
SPECIAL EVENTS
DISNEY'S HOLLYWOOD
STUDIOS ARCHIVES
OTHER WALT DISNEY WORLD
THEME PARKS
OTHER DISNEY THEME
PARKS
Phineas and Ferb
Meet and Play Experience
Disney's Hollywood Studios Archives
This location closed on January 24, 2016 to make way for future park expansion.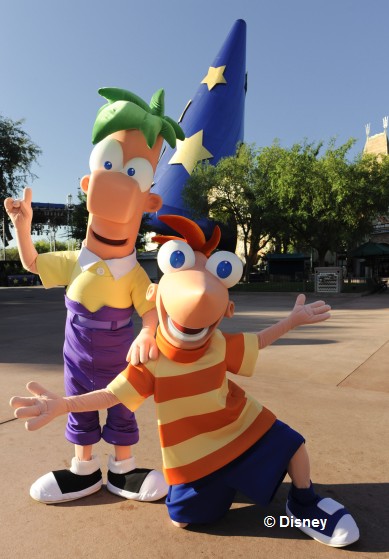 INTRODUCTION:
Characters Phineas (right) and Ferb (left) from the hit Disney Channel series "Phineas and Ferb" now greet guests of all ages in a new interactive meet-and-play experience at Disney's Holllywood Studios. The characters appear near Mama Melrose's Ristorante Italiano.

MEET AND PLAY EXPERIENCE: Guests are able to take part in an energetic and fun-filled meet-and-play experience with Disney Channel stars Phineas and Ferb at Disney's Hollywood Studios. Phineas and Ferb -- from the popular television show of the same name -- "know what they're gonna do today": the duo will make a movie all about their crazy adventures. With the help of guests and movie director Cletus Filmore, the greatest movie director in the Tri-State Area, they recreate some of their favorite moments... unless they are taking a break to meet with their adoring fans, signing autographs and taking pictures. The fun takes place near the exit of Muppet Vision 3-D.

TOURING TIPS
This is a new experience and it is expected to be very popular. Consult your daily Times Guide for exact times that Phineas and Ferb will be appearing.
KIDS AND CHARACTERS
Disney's Hollywood Studios has many other opportunities for children to meet and greet their favorite characters. Al's Toy Barn; the Streets of America area; inside the Magic of Disney Animation; Pixar Place; the Animation Courtyard. Consult your daily Times Guide for times and locations.
Disney's Hollywood Studios Characters at a Glance
Character Meet and Greet FAQ!
DINING
Mama Melrose's table service restaurant is adjacent to the Phineas and Ferb Play and Greet location.
Dining at a Glance at Disney's Hollywood Studios
SHOPPING
Phineas and Ferb merchandise is available at several locations throughout the Studios.
Shopping at a Glance at Disney's Hollywood Studios
INTERESTING FACTS
The Phineas and Ferb Meet and Play Experience opened Memorial Day Weekend 2011.