TOURING
AT A GLANCE...
FUTURE WORLD
WORLD SHOWCASE
ENTERTAINMENT
SPECIAL EVENTS
HOLIDAYS
OTHER WALT DISNEY WORLD
THEME PARKS
OTHER DISNEY THEME
PARKS
Frozen Ever After
Norway
Epcot


Frozen Ever After Opens to Record Crowds!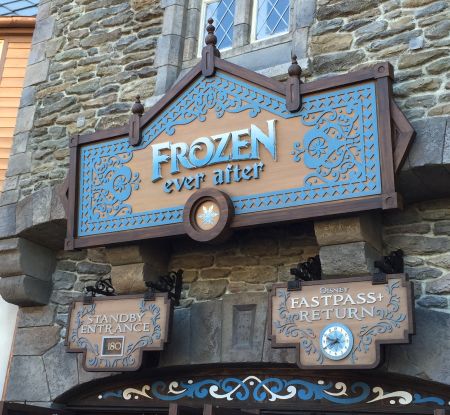 AllEars.Net's Deb Wills shares this first-hand report of her initial voyage on Frozen Ever After from June 21, 2016:
The front of Epcot opened at morning at 8:30. The line waiting to get into World Showcase for the new Norway attractions extended from the Mexico pavilion, where we were held, back into Future World. We were not let into World Showcase until 9 a.m. At that time, the line, which had been civil up to that point, got a bit crazy. I didn't see anyone actually running, but the masses were walking very, very fast. When I arrived at the pavilion shortly after 9 the wait time was already 45 minutes and growing.

I had a FastPass+ for 9:50. When my time came, I went to the FastPass queue and there was virtually no wait. As for the ride itself: Everyone on my boat laughed and cheered several times. I felt the ride was great and will definitely ride it again. Since I am local and visit the parks whenever I want, I would not wait for this ride, though -- I will make sure I have a FP+. If you are from out of town and aren't able to get a FP+, I'd wait for it for an hour maximum. I did not video the attraction or take photos as I wanted to simply enjoy it as a guest. Look for photos later this week.

When I left the area around 10:30, the line extended past the China pavilion. Stand-by wait time was posted as more than 300 minutes.

Between 11:30 and noon sometime the attraction closed due to technical difficulty. Cast members handed out Mickey Bars to those in line. Frozen Ever After reopened about 12:35 with a posted wait time of 240 minutes.
Throughout the day, the ride was open and closed. At times there was only a FastPass+ line and it extended way past Norway to China.

Bottom line, without giving any spoilers: Frozen Ever After is the next generation dark ride. It's very well done, with great Audio Animatronics, and a lot of fun!
Be sure to get a FastPass+ or expect long waits for a long time to come.
Photos and video coming soon.
This attraction transports guests for the "Winter in Summer" celebration. According to Portfolio Creative Executive Kathy Mangum, the attraction's project team is currently partnering with many of the talented individuals at Walt Disney Animation who helped bring the original "Frozen" film to life, as well as award-winning composers Bobby and Kristen-Anderson Lopez.
Frozen Ever After Video Update
D23 Expo August 2015
History: Frozen Ever After replaces the Maelstrom attraction/movie that was in the pavilion since it opened.