When to Go
Where to Stay
Ticket Information
Transportation
"Mini-mizing" Costs
Helpful Hints
Tips
For Families
For Guests without Children
ADD/ADHD
Autistic Spectrum
Disorders (ASD)
Dietary Needs
Vegetarian/Vegan
Epilepsy
Hearing
Medical Needs
Mobility
Motion Sensitivity
Service Animals
Size Concerns:
Visual Impairments
For International Visitors
Florida Residents
Other Resources
Touring Plans
Walt Disney World Itineraries
A major component of your Walt Disney World vacation will be touring the parks. Some folks have definitive plans while others like to meander about.
The AllEars.net team considered developing our own plans but decided the most incredible, statistically based plans were already out there..so why not just recommend those! Our best advice to those seeking Touring Plans are to obtain either the standard printed version or the online library of over 140 touring plans; developed by Bob Sehlinger, Len Testa and the Unofficial Guide team.
Disney estimates that the average guest experiences 10 attractions in a day when the visit the parks. Using a touring plan can save you hours in line per day and at least double the number of attractions your family enjoys during your visit.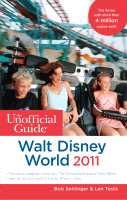 The Unofficial Guide to Walt Disney World contains 16 printed touring plans, which can be removed from the book to take with you, for all four Walt Disney World theme parks and as well as plans for Typhoon Lagoon and Blizzard Beach.
For the ultimate collection of touring plans, visit TouringPlans.com which has a library of over 140 itineraries for all types of groups. These plans include touring plans for seniors, plans for extra busy holiday touring, and even plans for those who want to sleep in.
A twelve month subscription to TouringPlans.com is just $10.95 and includes access to the Crowd Calendar and our mobile application, Lines, which allows you to see real time and estimated future wait times on your mobile phone while you are in the park. The subscriptions come with a 45-day money-back guarantee.
Because the touring plans are online, we are able to keep everything up to date with the latest park hours, entertainment schedules, and attraction rehab information.
For more information on subscribing to TouringPlans.com's trip planning tools visit: http//www.touringplans.com.