Magical Moments Parade Magic Kingdom Archives
The Magical Moments Parade last ran in 2001.
Afternoons — Daily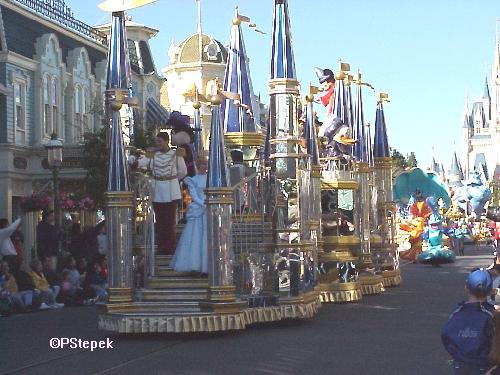 LAKE BUENA VISTA, Fla. — Decades of Disney memories are wrapped up in "Disney's Magical Moments Parade" — and more memories are made each day when it is performed in the Magic Kingdom at Walt Disney World Resort. Hundreds of Magic Kingdom guests join more than 100 Disney performers to become part of the parading musical spectacle each day.
"Disney's Magical Moments Parade" is a street-theater performance with a "stop-action" twist. Six giant floats (up to 55 feet long and 22 feet high) roll down Main Street, U.S.A. each afternoon loaded with famous Disney characters and surrounded by dancers and colorfully costumed performers singing the theme song, "Remember the Magic." Suddenly the music stops, each unit pausing in its own staging area while performers and Disney animated stars flood the street to perform multiple musical galas. Each float plays its own theme song with music drawn from the Disney classic it represents. Chosen in advance from along the parade route, selected guests dance out of the audience and onto the street to play special roles in the performance. Each parade float has a different interactive performance experience for guests.
The lineup includes:
"Remember the Magic" Theme Float — Disney "royalty" ride at the head of the parade in this sparkling castle float carrying Mickey Mouse, Donald Duck, Pluto, Goofy, Minnie Mouse and Chip 'n' Dale. Beneath a glittering archway, Cinderella rides with Prince Charming. Mickey waves from an 18-foot high turret on the float adorned with more than 500 pounds of glitter. Up to 12 selected guests ride with the characters. At each of the performance stops, 14 court dancers led by the Fairy Godmother in royal ball attire dances with other guests to the music of "So This is Love," "Bibbidi-Bobbidi-Boo," and other Disney originals. The Little Mermaid's Undersea Float — A coral backdrop sets the scene for the red-haired mermaid and her musical friends, including Sebastian as director of an underwater band. Reefs of coral and playful seahorses disguise jets spurting water along the sides of the float in time to the "Under the Sea" theme song. At each stop, guests join a conga line led by a dancing starfish and South American samba dancers.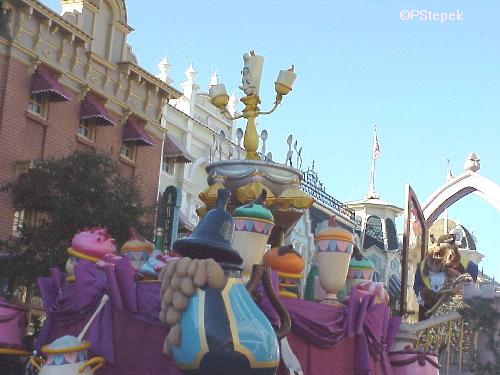 Beauty and the Beast Float — Lumiere leads the way riding inside a rotating giant punch bowl. He is surrounded by all the other "Be Our Guest" performers of the enchanted dining room — knives, forks, spoons, saucers, magnum bottles of champagne and twirling cakes. On a separate float, Belle and the Beast appear on a stone bridge in the royal garden. The dining hall dancers bring a score of guests on stage to join Cogsworth the clock in a merry waltz to the music of "Be Our Guest."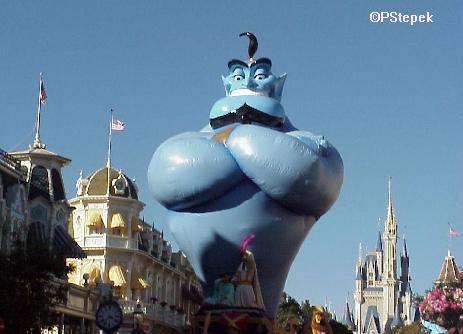 Aladdin's Treasure Float — Guests have the magical chance to conjure up a giant blue genie that rises 20 feet above a sea of gold and jewels. Aladdin, Jasmine, Jafar and harem dancers direct the performance as up to 30 guests join in the fun playing "Genie Says." Scimitar warriors led by the dancing Magic Carpet and a pair of harem camels surround the float. Music themes include "Prince Ali" and "One Jump Ahead."
The Lion King — Full-grown Simba rides high on Pride Rock beside other favorite characters from the famous movie. Rafiki stands toward the back waving his mystical walking stick while Zazu flies overhead. Guests beat out happy messages on jungle drums along the sides of the float while Simba and his friends, Timon and Pumbaa, continue a rousing chorus of "Hakuna Matata." Dancers marching beside the float include gazelles, zebras and elephants. Music includes "I Just Can't Wait to Be King."
Enchanted Forest — Largest of all, the 55-foot-long finale float depicts a fantasy garden filled with favorite Disney heroes and heroines. Snow White and Dopey, Mary Poppins, Winnie the Pooh and Tigger, Pocahontas and Meeko and surprise performers from recent Disney films will be in the garden setting. Grandmother Willow smiles and winks from the center of the float. Snow White's wishing well and fountain send water leaping into the air. A magic castle rises up to 30 feet above the float, which sends daytime fireworks skyward for the finale. As the parade closes, 22 other characters lead guests in a grand waltz to "When You Wish Upon a Star" and other favorite Disney songs. In all, hundreds of Magic Kingdom guests are invited each day to dance and play with the characters during their performance stops. Each stop provides three minutes of fun and photo opportunities for other family members as friends and relatives "remember the magic."
***Text from WDW Media Release ***
All photos here are copyright Phil Stepek and here with his permission. Photos may not be used without express written consent.