Heads up! Starting November 8, vehicles will access Disney's Hollywood Studios through a new point of entry.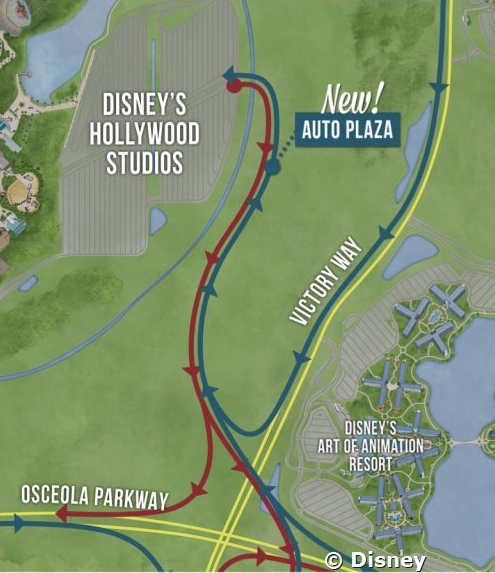 You've probably seen that Disney's Hollywood Studios is the site of a great deal of construction these days, as it gets ready for its 30th anniversary next year.  Not only will the new land Star Wars: Galaxy's Edge open (in late 2019), but also the Disney Skyliner transportation system, which currently has the Studios parking lot torn up, will come online.
As shown in the map above, vehicles approaching the Studios will use a new entrance and exit located just off Osceola Parkway as of November 8.  Southbound vehicles coming from Victory Way will also be directed to a connecting road that leads to the new park entrance. The current main entrance will be designated for Disney cast member use only, while the side entrance on Buena Vista Drive will be for bus use only.
The new entrance will be well-marked with updated road signs throughout Walt Disney World.
This is just one of the many anticipated changes coming to Disney's Hollywood Studios transportation and parking, in anticipation of the huge crowds that Star Wars: Galaxy's Edge is expected to draw.
Stay tuned for the latest news regarding Disney theme park transportation changes — subscribe to the AllEars© newsletter!