To all who come to this photo trivia game, Welcome! Along the way, the photos can make us relive memories and see details Walt's Imagineers put into everything we love in Walt Disney World!
When we talk next Sunday, Players, I will be in Walt Disney World! Well, depending on what time you're reading it. 🙂
Thank you for all the good wishes on my broken ankle. I also got tonsillitis this week, but I'm better now and hoping my karma will be better!

But don't worry! I'd have a great time at Disney if I had to jump on my husband's back and ride him like Seabiscuit. He'd have some complaints though. 🙂
Chloe Mayhew left for her Disney trip on Friday and Shelly Borella will be there when I am. Not that we're rubbing it or anything. Shelly, if that large group of yours needs all that time for bathroom breaks, at least use the Tangled restrooms. 🙂
Patti Mccaffrey, I never heard of that! Ouch, your poor ankle!
Now for Challenge #334:

And here's the answer:


Copyright © Erin Blackwell
We're looking at the American Adventure pavillion in Epcot's World Showcase as Smitty so aptly said.
Vera And Izzy Williams, do you mean the song "America with your Golden Wings"? My husband loves that song: he once had it on replay for 5 times in a row or more. Sarah And Chris, you've seen people wave their cellphone lights during this song? I never have but I would love to see that!
Shout out to Rosemarie Novelo: your story made me laugh!

The Kertes Family was the first to send in the correct answer! Congratulations to The Kerteses and to all our winners this week! Diane Tredore, Kristi Strembicki, Dee Dee Kenney, Donna Frank, Jim And Lorie Sonnen, Nan Amor, Bruce Jones, Ed Suscreba, Mary Beth Tarbet, Linda Ranatza, Carol Ney, Laurie Walker, Kenny, Jorge Caso, Phyllis, The Gunnels Gang, Betsy Silvestri, Melissa Such, Andrea Kruszewski, Daniel Record, Steve And Ruby Jordan, Courtney, Sharon Pierce, Craig Mitchell, Donald Leblanc, Janet T Thorn, Patti Odom, Robin Robinson , Kristi Paraday, Theresa Rucando, Kye Layton, Andrew Carrieri, Allison Caputa, Heather Keenan, Mary Ann Lamay, Kathleen Glovna, Jennifer Page, Ashley R. , Rosemarie Novelo, Kara Cummings , Sandie Albrecht, Cecilia Cocucci, Bridget, Michelle Boykin, Marguerite Garofalo, Vera And Izzy Williams, Rick Lahmann, Beth Sazama, Tricia Petty, The Parker Family, Mike Mondoux, Patty Carty, Mike Walter, Mike Amor, Chris Horne, Craig, Patti Gumiela, Eric Enli , Lenz Family, Wayne Beck, Jennifer Rowell, Belicia Cullen, Scott Cullen, Mike O'brien, Terri Vicknair, Maureen Wahtera, Tara Weaver, Eric Johnson, Jd Conti, Josette Gabel, Christine Brown, James Johnson, John Bickers, Tim Johansen, Deb Cumpstone, Lee Deroia, Mary Harpe, Pollyanna Buff, Bryan Fencl, Deb Ragno, Stefanie Vest, Lorine Landon, Pat Schwier, Melissa Gundrum, Laura V., Brian Mickle, Scott Greenbaum, Bruce Hinterleitner, The Long Family, Derek Carty, Brian Miller, Ryan Mccorristin, Jason Hocker, Emily Hudson, Carla C, Linda Scrivano, Maria Boyer, Lauren Kemble , Gabriella, Terry And Matthieu, Cathy Derecola, Sheryl Hicks, Heather Sabatino, Katie Bray, Lisa Pinder, Jon Landis, Amy Guerrini, K Beasley, Paul Dickson, Dennis O'reilly, Team Hill, Paul Scimeca, The Pearsall Family, Elaine Tomko-deluca, Gallagher Family, Cindy Pink, Trish Roam, Chris Kelly, Trish Roam, Cathy Connors, Ellen Sullivan, David Forister, Robert Wescovich, Robert Wescovich, Jim Finley, Maureen Handy, Julie Harris, John Stella, Herb Miller, Candice Grimes, Lisa , Amanda Campbell, Leach Family, Bill Schmid, Kerri Coggins, Kathryn Perkins, Bill Bingham, Chloe Mayhew, Dave Freemyer, Hobbes And Snorky, Dan Mangini, Louise Barton, Jeremy Hardy, The Kahle Family, Tom Koval, Judy Simonsen, Caroline Elliott, Bill Mckim, Lynette Michalos, Stan Kolis, Karen Ramirez, Cindy Tanner, Hilary Metzger, Chris, Gretchen, And Katie Barnes, Paul Newbiggin, Elaine Kleinhenz, Kris Nixon, Rob Blundin, Cynthia Hitchcock, Tyler Otts, Vicki Shearman, Claire Gregory, Sandy Reedy, Rob Hepler, Fran Rendulic, Diane Furtado, Virginia Pierce, The Emich Family, Haylee Smolek, Gerald Skanes, Larry Spernkle, Melanie Dalton, Bruce Nash, Grumpy's Groupies, Liz And Dave Fullerton, Mickey Eckert, Kirsten Miller, Grumpy's Groupies, Dawn Bach, Josh Willner, Maggie Klotz, Carolyn Como, Heather Pedulla, Demetrios Makres, Brenda Strohmeyer, Kerry A., Luis Rodriguez, Les Stewart, Bethany Angermaier, Chris Joyce, Doug Olson Family, Koren Family, Team Bonnie Sue, Cheryl Chambers, Morag Lemon, Terry Blair, Palicia Tipton, Wayne Chadourne, Al Sandal, Susie Howard, Sarah And Chris, Kevin Parmeland, Linda College, Shannon Murray, Amy Mccullough, Paul Ignudo, Jr., Jennifer Harmon, Lauren Thomas, Christopher Hall, Josh Carney, Wendy Barney, The Olszak Family, Sara Alaimo, Clay Anthony, Terry Fleming, Karrie Duffey, Shelly Borella, The Patterson Family, Jim Thompson, Maryann Romagnano, Courtney Moran, Darrell Shortt, Scott Sangston, Diana Grady, James Dezern, Hunter Armstrong, Caroline Burmester, Anastasia Macneil, Karen Bellamy, Team Meeker, Matt Holley, Kim Paulakos, Dave Carriere, Mike Cerce, Patti Mccaffrey, Gail States, Wade A. Williams, Christina Trigiani, Smitty, Mark Proper, The Hutchinson Family, Linda Bowles, Tyler Haeberle, Cathy Fleming, Gina Falzone, Andy Hickey, Shari Prater, Jonathan Ward, Tracy Discher, Jeff Blank, Julia, Leigh Mertz, Brian Grabowski, George Mundy Jr, Murr Family, Ron Harper, Josh Weiss, Joseph M. Zafia, David Ballard, Jennifer Bogdan, Heidi Goodhue, Dan And Elizabeth Johnston, Randi Balch , Jane Johnson, Timmy Saunders, Kyle Burdo, Barclay Bakkum, Shirley Garcowski, Kim Watson, Stephanie Dollar, Tom Higbee, Chris Bauman, Jeremy Reichelt, Amy Schweizer, Nicole Benoit, Vicki Britt, Jackie Klafeta, Terry Fleming, Jackie Graebel, Les Whitten, Fred Shakeshaft, Jo Ann Bailey, Danielle Harsley And Agnes Ciotti, and Tom Buck. Each of you are entered in this month's winners' drawing.
__________________________________ _____________________
Challenge #335 Where in the world is this?
Staying in the parks.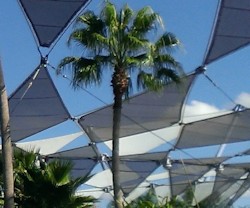 Do you know? Do you have a guess? Please send in your answer, before the end of the day on Thursday, June 13th, by clicking on the blue box below. Please do not post answers using the Feedback Form link at the bottom of this post.
See you next week, Players!


_______________________________________________________________________
Everyone who sends in a correct answer to a Where in the World Challenge this month will be entered in a drawing at the end of the month for some special AllEars® goodies!