Get ready because this was a long day filled with adventure, danger, and wild creatures in the night. Our story begins on a cool January morning at All-Star Movies at Walt Disney World. It was the place we collapsed each night after running amok through the parks. Having only visited the food court, gift shop, and front desk thus far, we set off on a photographic tour of themed buildings and terrorizing-sized Toy Story movie characters.

And here I thought a 3-story Buzz Lightyear was scary. Imagine being swept up by this angry broom. Angry Brooms, coming to a video game system near you this summer.
Having escaped the evil clutches of Little Bo Peep, we ran to the SUV, piled in, and sped off to see Celebration once again only this time with ample sunlight and a mission. I needed to mail a package to James, a thank you gift for getting Yoli and I into Universal's theme parks. While I took care of that, Yoli familiarized herself with the visitor's center, a history of the town, which homes were for sale, and what she might buy as a souvenir.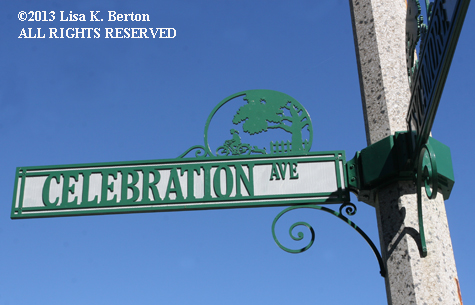 Wow! Celebration Ave in the town of Celebration, that's mind blowing.
We then made the excruciatingly long trek to the bakery on foot. Gosh, it had to have been at least 100 feet away, door-to-door. A quick carb pick-me-up and some fresh air and we were ready for another drive around town. Yoli was on the ready to shoot both photos and videos of the pretty houses we can't afford.

I am willing to live in either of these houses and I like yellow so that helps.
Back at Walt Disney World, we stopped at the newest resort, Art of Animation. As we approached the main building, again, on foot, we pondered hiding in the luggage compartment of the bus heading to Cape Canaveral for a Disney cruise. Too many manager-ish eyes were watching the bus so we acted like good little tourists and went shopping. We split up and grabbed photos of the pool, merchandise, neon lights, and other cool stuff. Yoli even bought me a present, a multi-pack of popcorn I should have bought earlier in the week but didn't and then couldn't find it again until we got to Art of Animation. The Cast Member made me close my eyes as he rang it up and placed it in a bag. No reason to spoil the surprise that she took it from my hands and demanded to pay for it.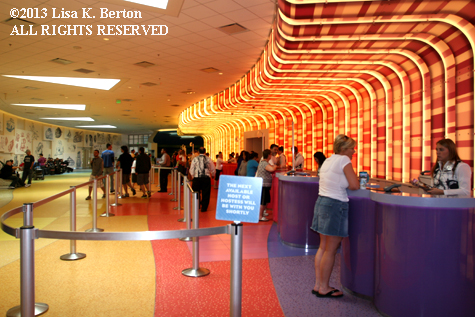 Is anyone else having a Journey into Imagination flashback? Not the ride but the play area.
The resort I had to show Yoli was Pop Century and it was for one reason, the groovy signs. Not that the signs were groovy but rather actually said, "Groovy." Why? Yoli says "groovy" all day long. You'd think she was a teenager in the 1960's. She wasn't. She was a teenager in the 1980's. She should say things like "awesome" and "bodacious". Kids today. Needless to say, she loved it.

If you'd like to help Snap and Crackle get their own larger-than-life signs, send your donation to…
The clock was ticking and we had to haul tush to make our afternoon tea reservation at The Grand Floridian. This was my big surprise for Yoli although I did tell her at the Ticket and Transportation Center while waiting for the ferry on our 2nd vacation day. When we arrived, I dropped her off at the front entrance and then parked in a land far, far away. Okay, here's something I simply do not comprehend. The guests who pay the most money for a room at Walt Disney World have to park the furthest away from their resort. It doesn't make sense. There's a lovely parking lot right up front but it's for valet. Everyone else has to enter the resort area, sadly pass by valet parking, drive across the street and park in a semi-enclosed lot. Whaaaa?

A view of the new watered down play area. I bet the tea tastes like chlorine.
We had a lovely lunch in the Garden View Lounge. Yoli had tea, teeny sandwiches, scones, and dessert. I had a gorgeous custom designed chicken salad and skim milk. The manager and waitress went far and beyond to make sure I had lunch too. I couldn't eat anything on the tea menu with all of my restrictions and honestly, I expected to just sit there and look cute while Yoli had her afternoon tea. They took good care of me. I still need to write a letter to Disney.
After Yoli videotaped the same room a million times, we went upstairs to look around. She got more video and we hopped aboard the monorail and disembarked at the Contemporary. I grabbed some photos for future blogs, Yoli wished she had enough moolah to buy everything she saw and then we headed out through the back towards the marina. I had never been to this part of the resort before. With little time and the light starting to fade, we headed back inside and went for another ride on the monorail

Do you think anyone would notice if it went missing? It's a good size for my front door.
We changed monorails at the Ticket and Transportation Center and rode the rail to Epcot and back. It's a nice ride and I always like seeing things from different perspectives. Having swapped monorails one more time, we rode it to the Polynesian and explored the main house. I was trying to give us enough time to arrive at Fort Wilderness for the sing-a-long campfire so we didn't stay too long at the Polynesian. Something happened with the monorail in the meantime so we got to take the bus back to the Grand Floridian to pick up our vehicle.

Can you spot what's wrong in this photo from the Tambu Lounge?
It was dark out as we headed to Fort Wilderness. I was prepared to answer a ridiculous amount of questions from the security guard as it always happens to me at this particular resort. Well, I'm happy to report it was a short and pleasant exchange. In fact, it took longer to find parking. It took some time to arrive but the right bus came and took us to the stop for the campfire. I forgot how long the walk is. Over the river and thru the woods for real.
We had a good time clapping along with the singing cowboy and watching the kids make s'mores. Like good examples, we waited for Dale to come to us and then we sprang to our feet. The movie that night was Toy Story 3 and as much as we both enjoy the movie, we bailed after 15 minutes or so. It was cold out, we were hungry, and beat.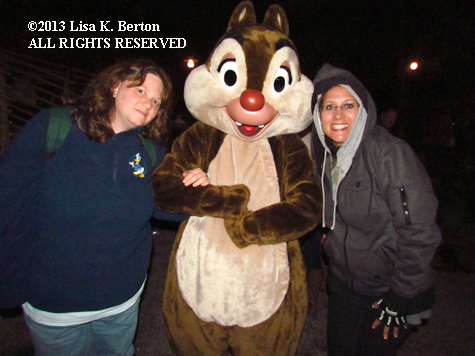 Left to right: New Englander, forest dwelling Floridian, and Californian.
We managed to stop and shop before leaving. I found a cool surprise, my former classmate, Mike Faverman's book, Ultimate Camp Cooking. That reminds me, I still need to email the photo to Mike. Let me just put it on my to do list….okay, got it. The store was cute but I'm not outdoorsy so I just bought a postcard.
The plan was to head back to the hotel and have dinner in the food court but as I drove past Port Orleans I remembered Yehaa Bob was performing. Yoli said she awake enough to check out his show so I banged a u-ey (that's a u-turn for the non-Bostonians) and went back. Oh, I thought I had found us a great parking spot near the entrance but I was so far off it was catastrophically sad. Anyway, we found a tall table and 2 stools in the back, hunkered down and laughed our butts off and sang, and clapped, and hooted and hollered for hours. What a show! Why I had never seen Yehaa Bob before disturbs me. I'm blaming my fellow Disney nuts. Yeah, Juan, I'm talking to you, and Erin, Johnny, Susan, Terri (especially Terri), let's see who else, oh, Sheryl, Sharon, and the rest of the lot. Oy, I'm so disappointed but it's fine, I've moved on. Oh, and Karen!

Perhaps he is Don Music's father.
Don't worry, we had dinner in the food court. Well, technically we took turns going to the food court, getting dinner, and bringing it back to the lounge and eating in between guffaws.
If you've lost track, we hit 8 resorts in 1 day plus the town of Celebration. Even though we stayed at All-Star Movies, it counts because we walked the resort and took photos. What a fun but long day. I think we passed out as soon as we made it back to the room.
Next up on Wednesday, the Magic Kingdom revisited.
Want more of Newbie and the Geek? Exclusive photos, videos, and content is available on my Facebook page.