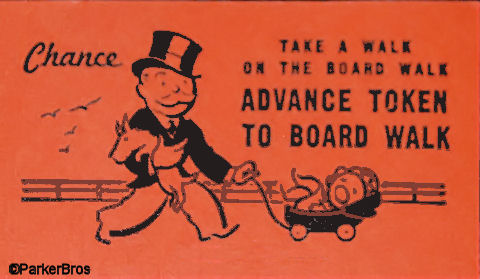 The concept for a boardwalk was born in Atlantic City, New Jersey in 1870. This resort town had already established itself as a vacation mecca. Beautiful hotels, elegant restaurants, and the Atlantic Ocean beckoned the well-to-do and the middle class to spend a few days or a few weeks in luxury during the summer months. However, the close proximity to the beach caused a problem for businesses. Sand. People tracked it everywhere. It could be found in hotel and restaurant lobbies, in railroads, in guest rooms, shops — everywhere. A solution was needed. The answer came from train conductor Alexander Boardman and hotel owner Jacob Keim. They proposed building a pedestrian walkway out of wood with openings between the slats large enough to allow the sand to fall between. So great was the problem that the city managers agreed to spend half of the town's yearly tax revenue ($5,000) to build an eight-foot wide wooden walkway that would stretch one mile and be elevated one foot above the sand. The Boardwalk officially opened on June 26, 1870.
The Boardwalk was a success and in the years to come, was widened and extended several times. In the early years, the Boardwalk was disassembled after the summer season and stored to protect it from the elements. Today, the Atlantic City Boardwalk is 60 feet wide and runs 6 miles. The planks of wood are arranged in a herringbone pattern and are laid on a substructure of concrete and steel. "Boardwalk" is the official street name for this thoroughfare and thus is always capitalized when referring to the street in Atlantic City.
The Atlantic City Boardwalk was the inspiration for Disney's BoardWalk Inn & Villas, a deluxe property. Designed by architect Robert A.M Stern, this resort would be located on the south shore of Crescent Lake and complement the Yacht & Beach Club Resorts, also designed by Stern.
The BoardWalk Inn & Villas would also mark the second Disney Vacation Club Property (DVC) after Old Key West. The resort would be divided in half with standard rooms being located in the "Inn" portion of the resort and DVC units in the "Villas" section. The resort officially opened on July 1, 1996.
Just like Atlantic City in days of old, Disney's version of this getaway-by-the-sea would feature a hotel, restaurants, shops, nightclubs, and games. The only thing missing is the sandy beach.
This week I will discuss the hotel portion of the resort and the amenities offered. Next week I will cover the BoardWalk Promenade. Note, when discussing the resort, Disney will either split the word in two "Board Walk" or write it as one word while capitalizing the W in "BoardWalk."
The BoardWalk is located on Epcot Resorts Blvd. As with all Disney resorts, you must check in with a guard before entering the property. Self-parking is a fair distance from the lobby so you might want to consider driving up to the porte-cochère and letting Bell Services handle your luggage when you first arrive. Valet parking is currently $12 per day plus tip.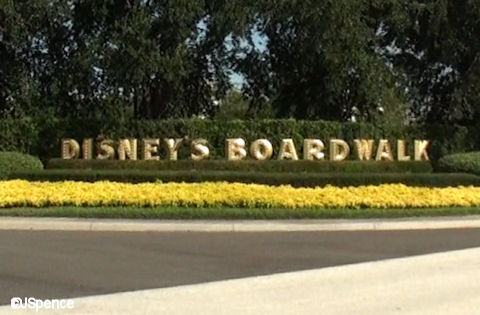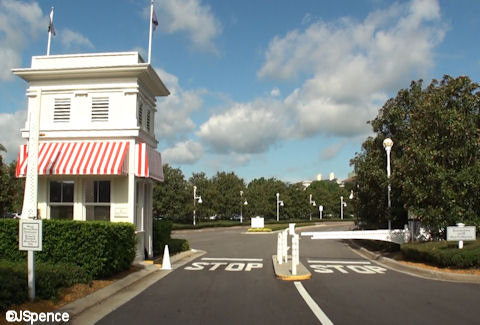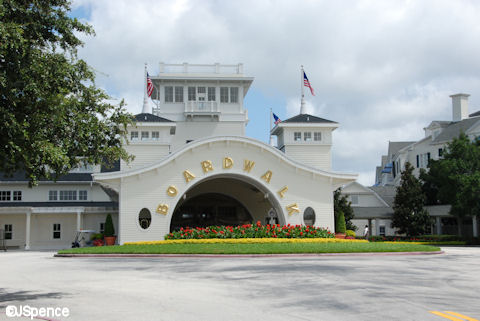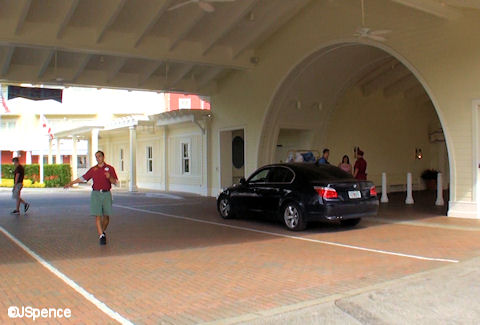 From the porte-cochère you pass through doorways adorned with signs welcoming you to the BoardWalk Inn & Villas. When entering the lobby anteroom, you will come face-to-face with a miniature carrousel.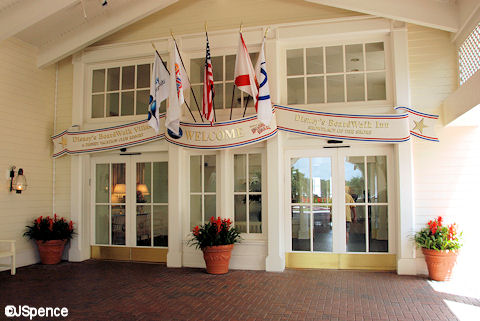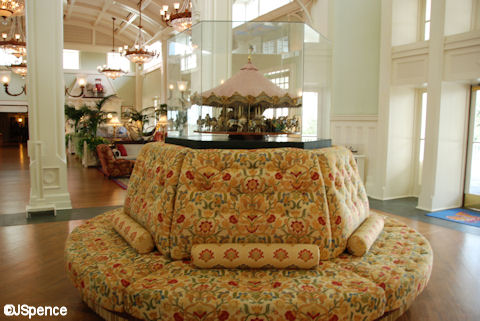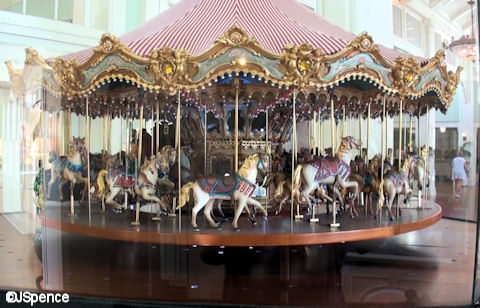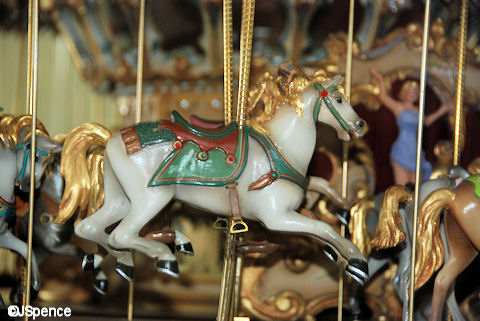 This hand-crafted carrousel was built by M.C. Illions sometime in the 1920's. Illions was a designer and manufacturer of full-sized merry-go-rounds and built this scale model as a sales tool to demonstrate his workmanship to prospective buyers. It was never his intent to have it publicly displayed. The carrousel features 44 individually carved and painted 4-inch-tall horses. No two are identical. When activated, these horses move up and down, just like their full-scaled brothers.
The carrousel was purchased by the Walt Disney Company in 1995 to be displayed at the BoardWalk. Over a period of one year, Imagineers restored decayed wood, worn mechanisms, and other items in disrepair. Another team researched the original color schemes and decorations used in Illions' full-scale merry-go-rounds and applied them to this model. Along the way, a few hidden Mickeys were added. Finishing touches included replating brass, applying gold leaf, crafting miniature leather stirrup straps, and replacing the tiny pearl-headed pins that serve as make-believe light bulbs. The Imagineers even scaled the speed of the carousel to match that of the King Arthur Carousel located at Disneyland in California.
After admiring Illions' carrousel, glance upwards. Here you'll discover the Hippocampus Electrolier Chandelier. This magnificent work of art features animals that might be found on one of Illions' creations. In classical mythology, a hippocampus is a sea horse with two forefeet, and a body ending in the tail of a dolphin or fish. In-between the hippocampus are cherubs holding light fixtures. An "electrolier" is a chandelier designed for electric lamps rather than gas or candle.
The Hippocampus Electrolier Chandelier weighs 3,000 pounds and is finished entirely in 22-karat gold leaf, hand-cut Austrian crystal, and custom-blown glass.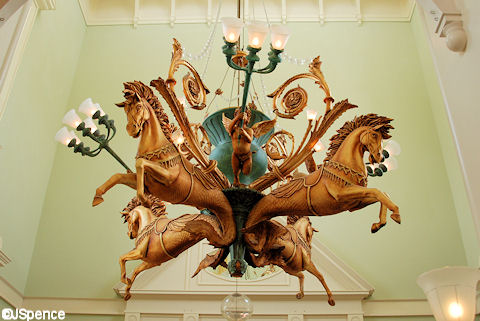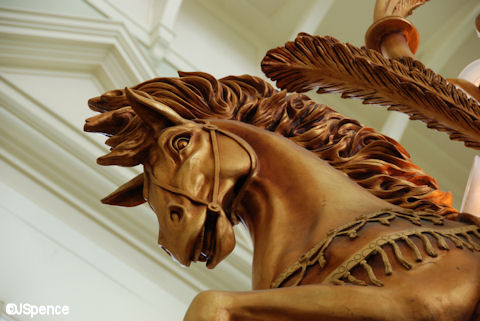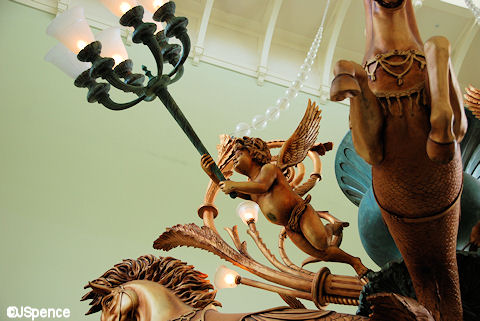 The main lobby is bright and spacious. Overstuffed furniture and potted plants sit next to large windows and create a comfortable sitting area. Along the opposite wall are the check-in desks.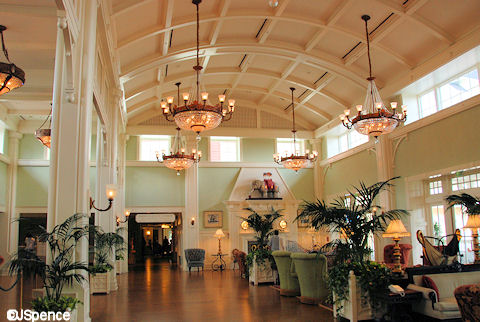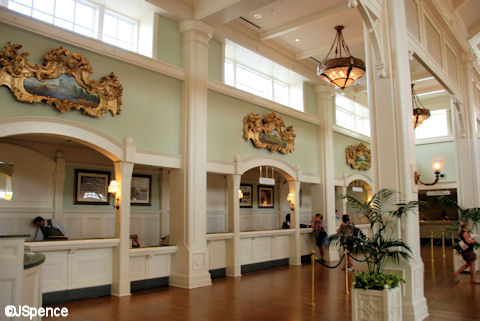 Above the check-in desks is an interesting detail. Within three elaborate gold frames we find depictions of pastoral settings. We also discover the castles of Disneyland, Disneyland Paris, and Tokyo Disneyland.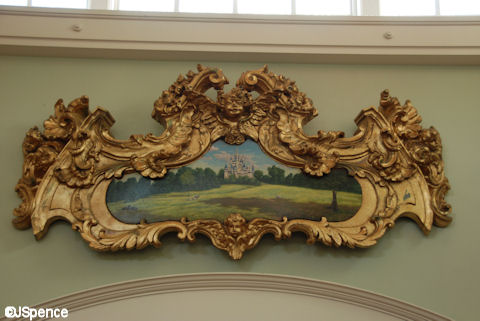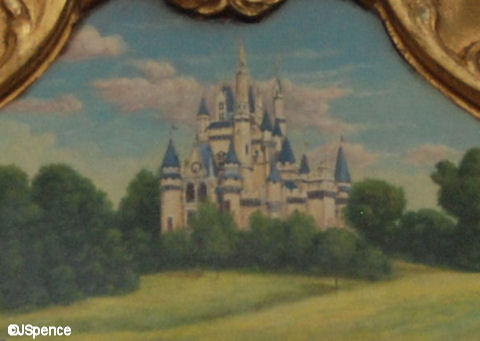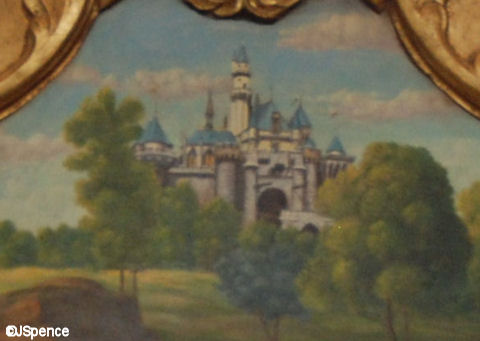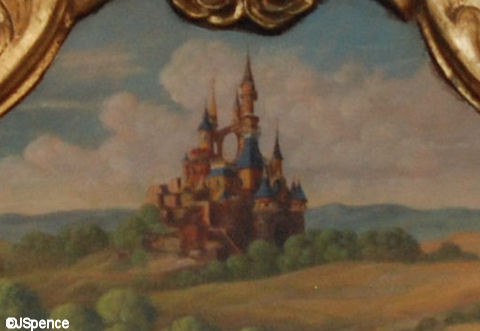 The lobby houses other interesting details. Take for instance this reproduction of Lucy the Elephant that is located south of Atlantic City perched high above the fireplace.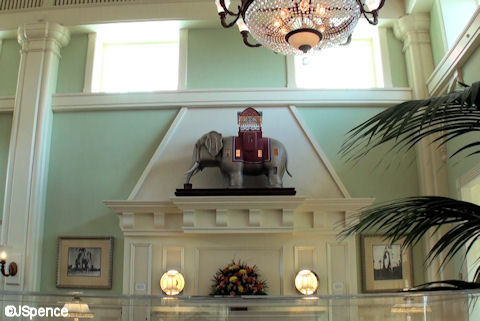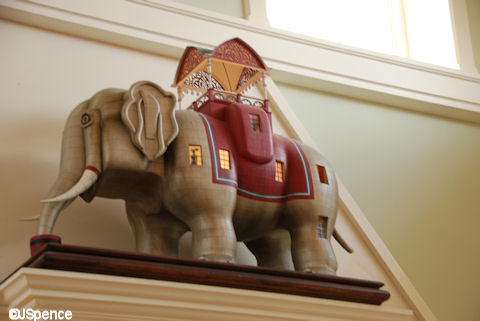 Lucy is six stories high, built out of wood and tin sheeting, and was an example of novelty architecture. Built in 1881 by James Lafferty, this structure was a sales gimmick to promote real estate and attract tourism.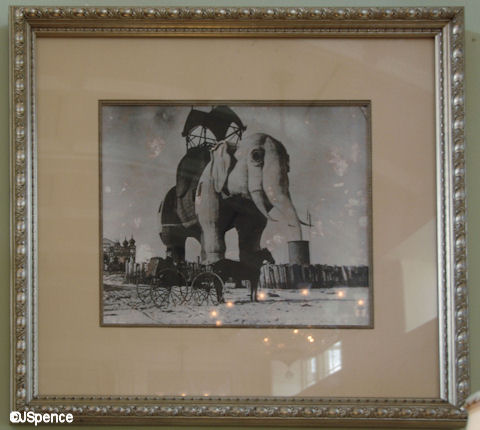 It is interesting to note, Disney has a plaque near their reproduction claiming this is the Colossus Elephant of Coney Island. However, their information is incorrect.
Sitting below the Lucy Elephant and to each side of the fireplace are perhaps the scariest two chairs you'll ever see. (They scare me, anyway.)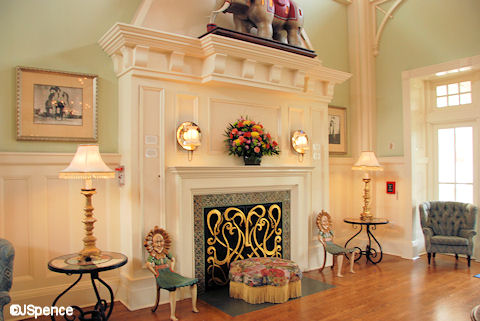 These "nanny chairs" were originally found on 19th century European carrousels. They were intended for adults to rest upon while their children rode the moving animals. These reproductions were cast from circa 1889 originals, hand painted and highlighted with gold leaf.
In this same area is another miniature reproduction, the Flip-Flap Railway which was located in Luna Park. Designed by Lina Beecher and built in 1898, this early coaster featured a 25-foot loop and was the world's first "upside down loop-the-loop roller coaster." The circular design of the loop (rather than teardrop used today) created a tremendous amount of g-force and caused its riders discomfort and neck problems. The coaster closed soon after opening.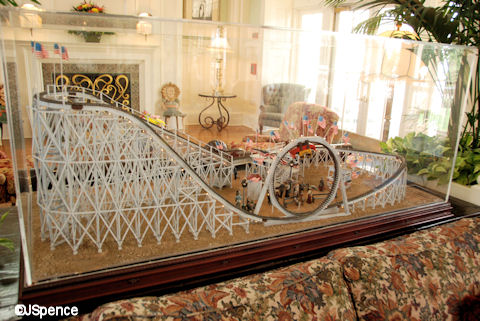 The founder of Coney Island Boardwalk's Steeplechase Park once said: "Paradox: a successful ride must look extremely dangerous yet convincing that the ride is completely safe." This axiom still holds true today.
Outside of the lobby we find a wonderful covered porch. Furnished with wicker chairs, this is the perfect spot to take a load off and relax in the afternoon and evening. It is here that you discover the lobby is actually on the second floor and this porch/balcony overlooks a beautifully manicured lawn below.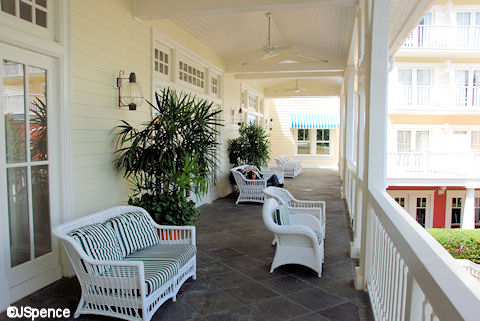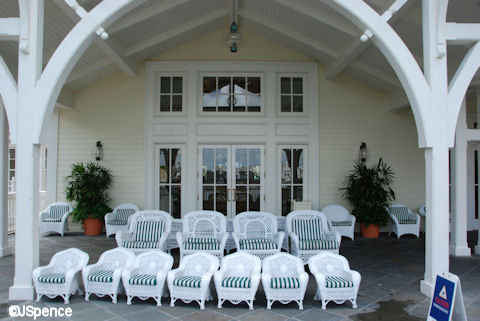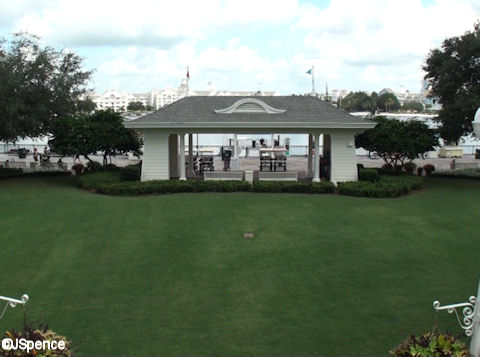 I especially like the "kissing bench." This chair design makes face-to-face conversation easy and facilitates a quick smooch every now and then.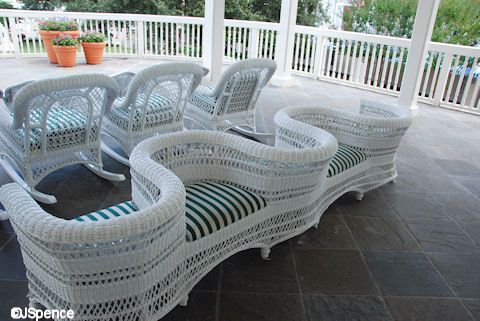 Adjacent to the lobby is Dundy's Sundries. This shop sells BoardWalk logo merchandise, souvenirs, sundries, books, and other gift-type items. For those staying in a DVC room and looking for food items, check out Screen Door General Store located on the BoardWalk Promenade. Dundy's Sundries is open daily from 7am to 11pm.
By the way, if you want to know who Dundy is, you'll have to read Part Three of this article. Trust me. It's an interesting story.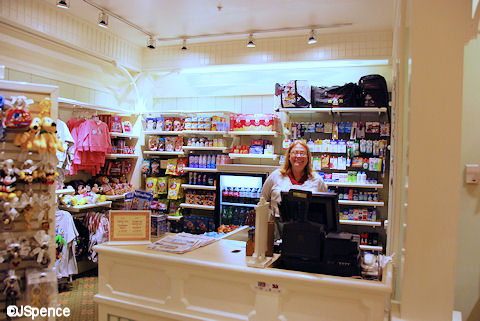 Leaving the lobby and walking toward the "Inn" section of the resort, we come to a long narrow hallway with windows on both sides. Located in this hallway is a Clamshell Mutascope. This early motion picture device was patented by Herman Casler on November 21, 1894 and soon became a staple in penny arcades around the country. The machine contained a wheel of still photographs that the patron would rotate with a hand crank, giving the illusion of movement.
At one time, there were several mutascopes lining this hallway, but alas, there is now just one.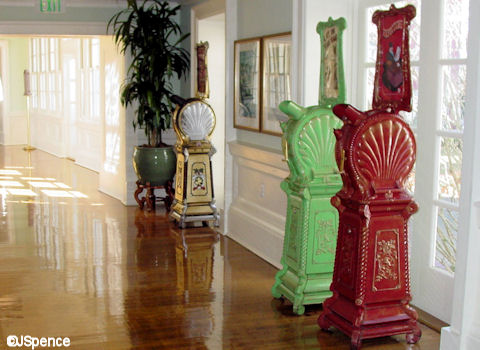 Further on we find another machine of this bygone era. Here, patrons could benefit from the "healthy" effects of electricity. By grasping the handles and twisting them inward, a person would receive a charge. The further the handles were rotated, the more electricity was transferred to the body. The claim was that this would give a person a "nerve and muscle" massage.
Machines like these and many others used to be located at the now long-gone Penny Arcade on Main Street at the Magic Kingdom. This once novel facility is missed by many old-timers of Disney World.
Across from the Clamshell Mutascope are two striking paintings and credenzas. If you study the credenzas carefully, you will notice additional paintings depicting early amusement park rides.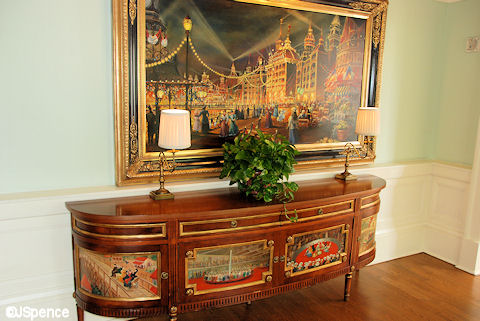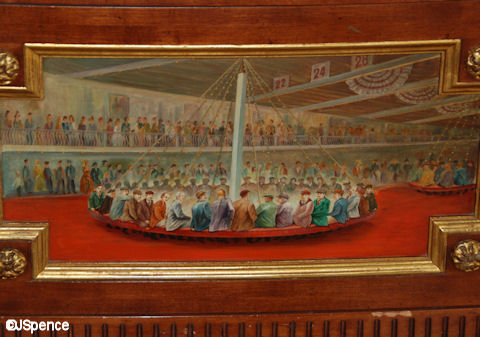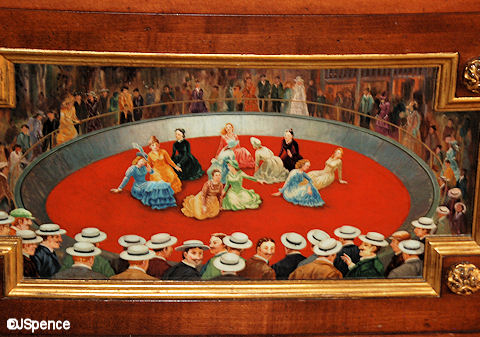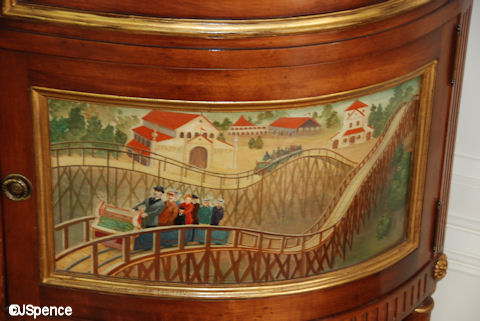 Also in this area are a number of lithographs and illustrations. These next two pastels depict how turn-of-the-century attractions allowed a repressed society to loosen their inhibitions and enjoy a few moments of gaiety.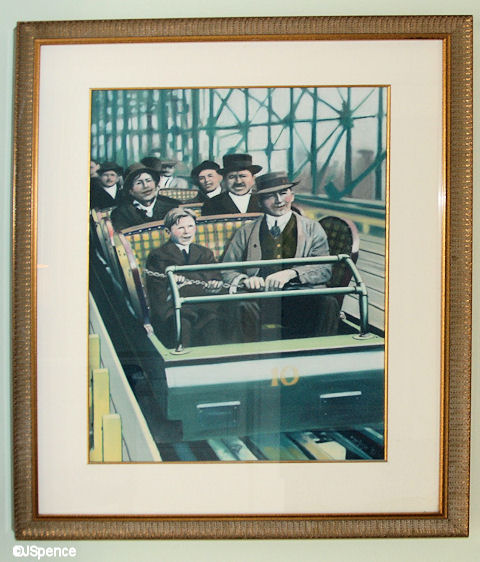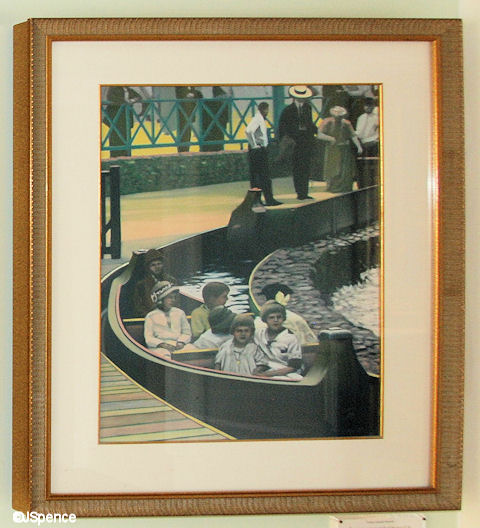 Another common theme seen throughout the resort is framed picture postcards from the turn of the previous century. After the American Civil War, a number of expositions were held in the U.S. to help promote commerce and trade. In 1873, the Interstate Industrial Exposition was held in Chicago. To help market the event, a "picture" postcard was created so attendees could send quick notes back home – and advertise the exposition. However, these early cards garnered very little attention. It wasn't until an image of the Eiffel Tower was printed on a souvenir card for the Paris Exposition of 1889 that the world took notice and postcards grew to be a phenomenon.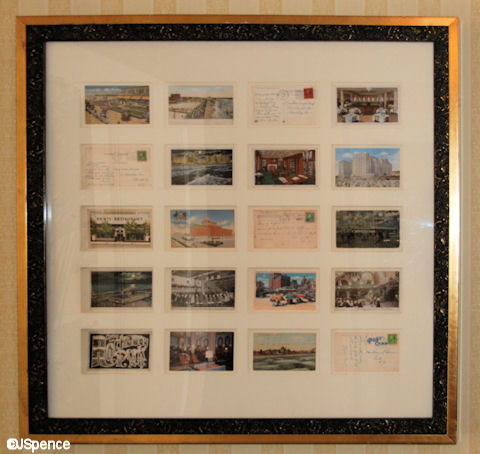 Up until the information age, a multitude of postcards were sold at the Disney Parks. Each and every attraction had at least one of these beautifully photographed picture cards – sometimes two or three. Many guests bought them simply as collector pieces. But alas, the ability to send email, instant messages, and electronic photographs greatly cut into the sales of these picturesque pieces of cardboard and demand for them dropped dramatically. Today, only a handful of postcards are sold in the parks and most of these feature Disney characters rather than a specific location.
That's it for Part One of the BoardWalk Inn & Villas. Check back tomorrow for Part Two.