This was Challenge #92: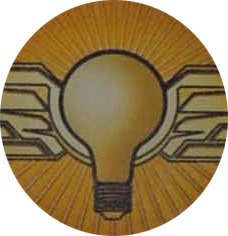 And here's the answer:


Copyright © 2007 Barrie Brewer, Nikon D50, 18-200VR, 1/250s shutter, f/8
I thought this week was going to be a challenge, but it seems that there are many of you who are familiar with the Imagination Institute. There are a number of places in the Imagination Pavilion where you'll see the emblem of the Imagination Institute. This particular one came from the sign outside of the pavilion.
Sharon Lee was the first to send in the correct answer for the challenge! Congratulations to Sharon and all the other readers who got the answer right: Stephanie Visco, Sharon Pierce, Emma Poprock, Stacey Van Dyke, April Pangburn, Erica Sipich, Elaine Johnson, Frank Pierce, Kirsty Butler, Kye Layton, Chloe Williams , Jodi Cook, Andrew Weed, Chuck Sands, Jennifer S., Caryn Schill, Lee, Ken Jackson, Shannon Milair, Sherry Klinefelter, Jamie Difatta, Dawn Bach, Amy Schweizer, Courtney Crowe &Maryann Eckenrode, Darlene Harmon, Amanda Gagnon, Bonnie Cola, John Lacasse, Christy Gonzalez, James Berry, Kathy Berry, Mary Beth Tarbet, Nicole W, Karen S. Nelson, Tom Koval, Chris Masse, Denise Owen, Emily Currier, Baines Family, Linda Scrivano, Jen Cerce, Clarissa K, Jennifer Kaufman, Brian Haas, Brian Yesutis, Jeffrey Dunne, Ken Maikowski, Christine Benoit, Jonathan Walker, Derek Carty, Gail Robinson, Anjanette Tournillon, Katie Fry, Tommy Carty, Pasquale Crea, Danielle Murgia, Danielle Berkovitz, Joseph Tortorici, Debbie Poole, Kendall Huffman, Daniel Recod, Megan Krainski, Susan Flebotte, Deborah J. Ragno, Melody Salemi, Sarah-jane Dunhill, Dave Cole, Jennifer Tremley, Ashley Mayer, Kayla Brackley, Michael Gainey, Vera Musella, Sabrina Bogart, Craig Canady, Paula Munson, Jackie Purcell, Christine Dagney, Emily Dagney, Erin Dagney, Joyce Tofflemire, Joy Palmer, Clarence Diggles, Kristen Gainey, Tommy Montgomery, Chloe, Hillary Waldroop, Karen Schlumpf, Amy Martel, Berry Morris, Julia Wickware, Jeremy Coto, Tim And Brendan Wingfield, Sarah Haas, Donna Currier, Hollie Hinton, Chris And Alison, Jennifer Harmon, Barbara Sims, Mike O'brien, Kelly Scola, Christie Condit, Jeffrey Munger, Kim Riley, Ed Aleszczyk, Robin Wilson, Z. Cheven, Michele Delorenzo, Bruce Hinterleitner, Tina Santacroce, Alicia Henderson, Susan Stanley, Double Family, Christina Rotella, Scott Otis, Phil Vickers, Kris Nixon, Jen Cox, Brittany Irish, Vincent Maltese, Brian Miller, Emma Ford, Donnie Whiteman, Jaclyn Kelch, Chris Linscott, Tom &Susan Linder, Dominic Plavny, Dolores Riccio, Caitlin Rush, Caitlin Barringer, Steven Bowling, Tricia Noble, Bruce Arnold, Diane Ramos, Jaron Goldberg, Ashley Deitchler, Carri Marotto, Mike Venere, Lesley Strawderman, Rochelle, Deanna Simmons, Leigh Mertz, Jennifer Schwing, Amanda, Dallas Hamilton, Tere Given, Ann Fowler, Shane Stack, Rich Esker, Krista Penno, Kristin Frascelli, Katie , Cori Lehman, James Greene, Becky Terjung, Marshal K., Karen Dresser-smith, Drew Deapo, Kevin Lawrence, Caroline Dupre, Angela, Barry Gruber, Tammy Kallenbach, Christina Cella, Kelly Montgomery, Cheri Palmisano, Joyanne M Johnston, Brandon Joyce, Dee Dee Chapman, Heidi Goodhue, Amy Kent, Amy Filliben, Teri Jo Fuson, Allie, Charlotte Ohare, Jessica Reed, Becky, Sharon L., Ken Fischler, Paul Ignudo, Jr., Melissa Dye, Elaine Tomko-deluca, Ronnie Lane, Jorge Caso, Sarah Connors, Marie Phillips, Heather Barilla, Noreen Rachuba, Steve Toponak, Joshua Thorne, Mindy Marinelli, Ken Rhinehart, Chris Moore, Tyra Trueblood, Robin Mcconnell, Ssg, Callie Marcotte, Carrie Kenney, Liz Weiter, Jamie Poynton, Nicole Lopresti, Julia Walsh, Susie Howard, Mickey Eckert, Sharon Dale, John Dupre, Margot Garofalo, Jennifer Bogdan, Emily Nussbaum, Theresa Rucando, Theresa Maradei, Cathy Ames, Sharon Bailey, Nicole Shuler, Kirsten Stark, Jeff Blank, Rebecca Smith, Jenifer Hughey, Gerry Smith, Scott Junkin, Debbie Lamd, Robert Dean Bostic, Bruce Dormuth, Heather Coursen, Jackson Hart, Julie Ellis, Mark Franklin, Donna Leto, Joshua Swainston, Elaine S. Puckett, Daria Hagemeyer, Thomas Auckland, Lisa M Kaffenberger, Jim, Joseph M. Zafia, Jim Finley, Kim Steiner, Bob Patterson, Aruna, Dave Kanigowski, Sandy Kanigowski, Carinne Kight, Ashley Pizzino, Lisa Hoffman, Eric Hoffman, Jo Ann Bailey, Ashley B, Walter N Clark, Stephanie Price, Michelle Mcknight and Aj Perras. Each of you will be entered in the July winners' drawing.
_______________________________________________________________________
Challenge #93: Where in the world is this?

Do you know? Do you have a guess? Send in your answer, before the end of the day on Thursday, July 9, by clicking on the blue box below. Please do not post answers using the Feedback Form link at the bottom of this post. Remember to be specific with your answer – just naming a park will not get you into the drawing.


_______________________________________________________________________
Everyone who sends in a correct answer to a Where in the World Challenge this month will be entered in a drawing at the end of the month for some special AllEars® goodies and a cool Disney book!