What's Disneyland Paris Got That We Don't?
by
Joan L. Feder
AllEars® Staff Writer
Feature Article
This article appeared in the October 2, 2018 Issue #993 of ALL EARS® (ISSN: 1533-0753)
Editor's Note: This story/information was accurate when it was published. Please be sure to confirm all current rates, information and other details before planning your trip.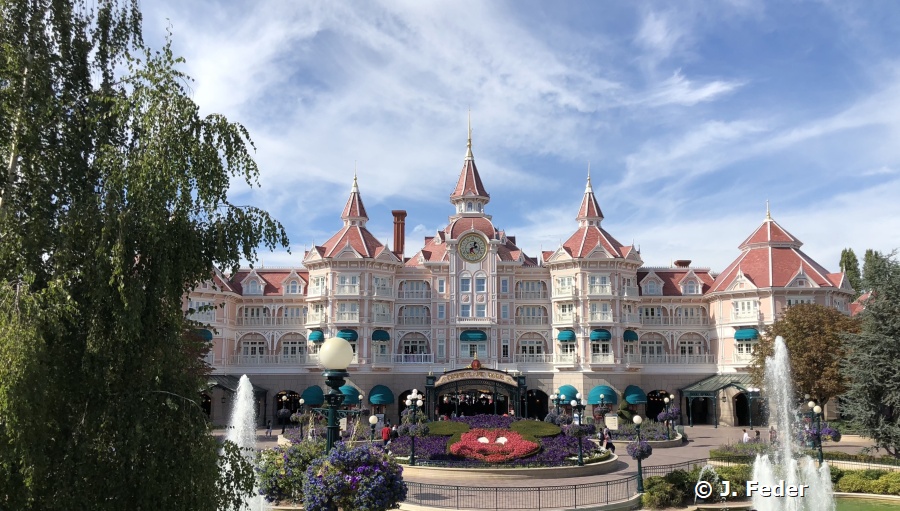 Walt Disney World is my "home" resort. I go there as often as I can. Last month, though, I visited Disneyland Paris. I was surprised at how two vacation spots that have so much in common could also be so different!
THE ATTRACTIONS
Disneyland Paris is much smaller than Walt Disney World. It has two parks, instead of four. The parks themselves are also much more manageable in size.
Disneyland Park
This is France's version of the Magic Kingdom. Many of the attractions are the same, including Dumbo, Peter Pan and Snow White. Pirates of the Caribbean is similar to the Florida version, but there is an entire area devoted to swashbucklers. In addition to the ride, there is a Pirate Galleon to explore. There are also two playgrounds, Davy Jones Locker and Skull Rock!
Some rides have no comparable version in Florida. Indiana Jones and the Temple of Peril isn't a show like at Hollywood Studios. It is a high-speed coaster with twists, drops and inversions. Some attractions are like the Phantom Manor, which is similar to the Haunted Mansion, but set in Frontierland with a western theme and different back story.
This park is also home to all things Star Wars, including character meet and greets and Star Tours: The Adventures Continue (I got to be the French Rebel Spy!). One of the coolest attractions was Star Wars Hyperspace Mountain. This was an amazing Star Wars overlay of the classic rollercoaster. The famous Admiral Ackbar assigns your mission — to pilot a reconnaissance vessel and spy on an Imperial Star Destroyer. It is a thrilling ride set to the soundtrack from the legendary saga — where you get to face TIE fighters and an intimidating Star Destroyer.
Walt Disney Studios Park
There are some old familiar attractions at this park that no longer exist at Hollywood Studios. For example, the Art of Animation and the Studio Tram Tour Behind the Magic (which includes Catastrophe Canyon) are still in full swing. Just like in Florida, this is where you will find the Pixar-themed rides. There are some new ones, like Crush's Coaster and Ratatouille. The Slinky Dog Zigzag Spin has the same look as Slinky Dog Dash, but is not a rollercoaster. Other attractions include the Rock n' Roller Coaster starring Aerosmith. This version is not set in Los Angeles, but has more of a neon lit, rock-and-roll, smoke-filled atmosphere. This is also where you will find the Tower of Terror, which was very much the same, although I had a hard time accepting Rod Serling speaking French!
FASTPASSES
The system at Disneyland Paris is totally different. They still use paper FastPasses. To get one, you must go to the attraction, insert your park ticket and return at the allotted time. At Disneyland Paris, the window is 30 minutes instead of the 60 minutes at Disney World.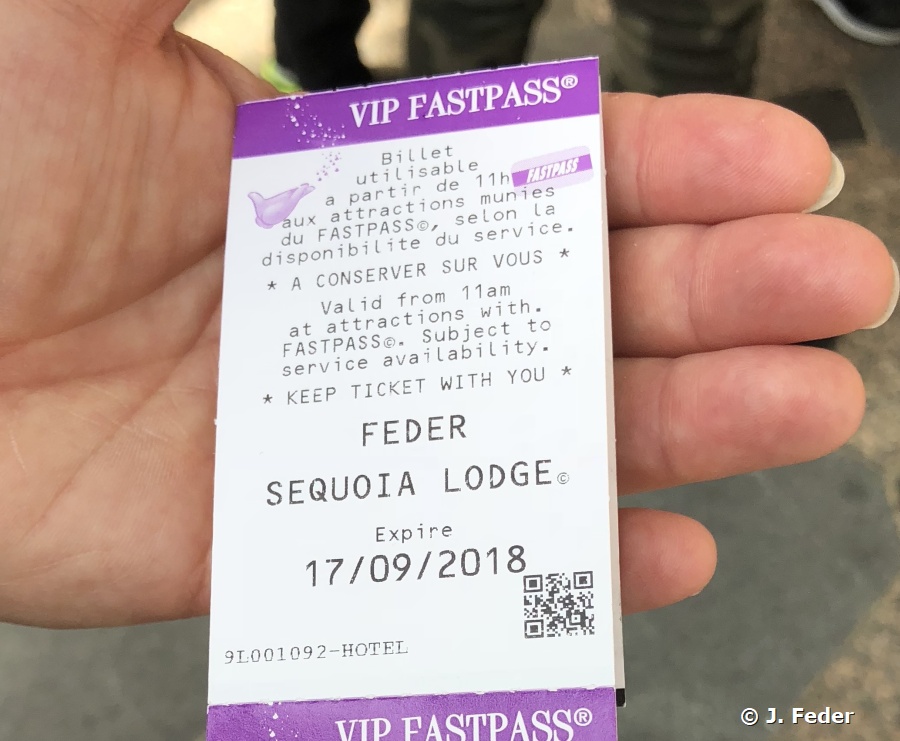 On the other hand, Paris has some offerings that are not available at Disney World. Select Disney hotels offer a Hotel FastPass — which is an extra FastPass per day per person and can be used at any time except between 1 and 4 p.m. For certain suites at the Concierge level, a VIP FastPass, one per person per day, is included. This gives you access to all the FastPass attractions as many times as you would care to ride.
Another difference is that at Disneyland Paris you can pay to upgrade your FastPasses. They just started to offer something called Speedy Access. The extra fee starts at $34 per day, which buys a Super FastPass that gives guests one time access to EITHER three Family FastPass attractions or three Big Thrill Attractions. If you are willing to pay more, you can get one time access to all of the FastPass attractions, or for even more, unlimited access to all of the FastPass attractions!
One problem, however, is that not all of the best rides have FastPasses. Moreover, the FastPass line is not always that quick, sometimes the wait is still more than 30 minutes.
THE CASTLES
Walt Disney World is home to Cinderella Castle. It is the centerpiece of the Magic Kingdom. It is a combination of fantasy castles from Disney films and real palaces like the Castle Neuschwanstein in Bavaria. In Paris, the Castle is called Le Chateau de la Belle au Bois Dormant, or Sleeping Beauty Castle. It was inspired by the Mont Saint-Michel monastery in Normandy.
Both castles serve as the gateway to Fantasyland but are very different. In Florida, Cinderella's story is told in a series of five lavish mosaics. In Paris, upstairs you will find La Galerie de la Belle au Bois Dormant, where Sleeping Beauty's story is told in stained glass windows and tapestries. Cinderella Castle is home to The Bibbidi Bobbidi Boutique and Cinderella's Royal Table. Sleeping Beauty Castle has a couple of shops, and no restaurant.
The biggest difference between the two castles is what is hidden deep in their interiors. Cinderella Castle has the Dream Suite, a sumptuous hotel room that is only available as a prize or to special guests (Tom Cruise was one). Sleeping Beauty Castle contains a "secret" room of a different sort. In the basement is a dank, dark dungeon. Inside, chained to a wall, sleeps an 89 foot dragon. If you wait it will wake, growling and puffing smoke.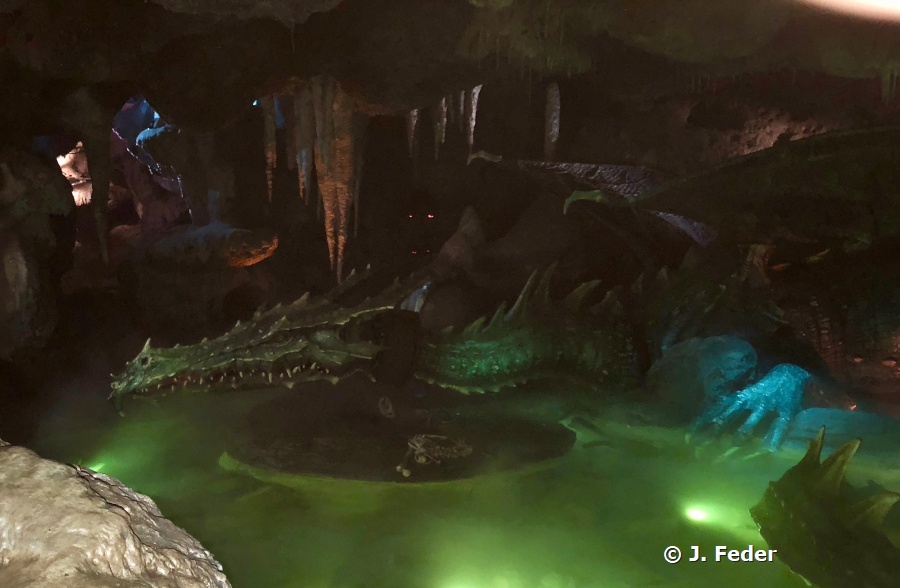 CHARACTER MEET AND GREETS
Many of the character interactions at Disneyland Paris are the same as those you find in Florida, like the Princesses and the Fab Five. But, they also have some that are very different. In Paris, there are regularly scheduled meets with Maleficent, Jafar, Jack Skellington, Spider-Man, and even the Cheshire Cat.
Lines for some of the characters are also handled differently than in Florida. Disneyland Paris is using an app called Lineberty to help manage the queues at some of its locations. Basically, it is like a FastPass in that it assigns a time to come back to line up. After downloading the app, you have to pick your location, and then which character you want to meet. The slots for each day open at a certain time that morning, and can fill in minutes. If you are successful, the app gives you an estimate of how long the wait will be and you can go do other things until it is your turn. When it gets close, you'll get a text telling you to head back.
THE HOTELS
Disneyland Paris has accommodations that range from cabins to luxury suites. There are eight choices, including a Victorian themed 5-star hotel at the entrance to Disneyland Park! While I have enjoyed many of Disney World's resorts over the years, this was the first time I stayed on property in France. I booked a concierge level room at the Sequoia Lodge.
The difference in service between Disneyland Paris and Disney World was immediately apparent. First, we were instructed to park our rental car and then head to the lobby to check in, luggage in tow. There were NO bell services. The concierge was located behind a screen in the main lobby area, and was not particularly helpful. They did not volunteer any useful information and had to be specifically asked about park hours and the like.
The one place the Sequoia Lodge excelled was in the morning breakfast. Much more than the usual continental breakfast at the concierge lounges in Florida, it was a full-on buffet.
The Disneyland Paris hotels provide several benefits to guests including extra magic hours each day. Also, some of the higher end hotels have special meet and greets in the morning — we got to see Goofy when we were there.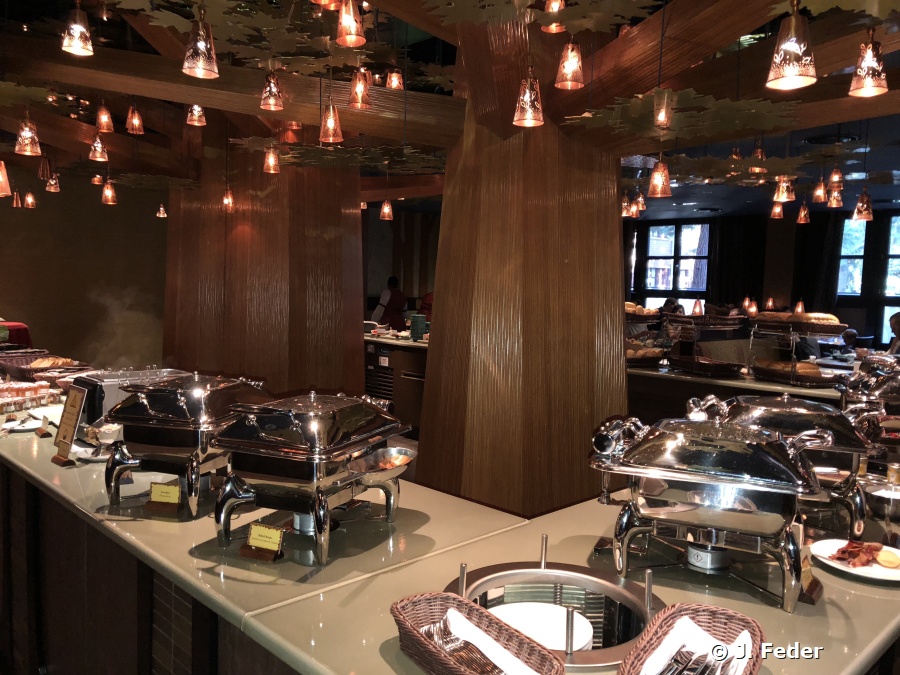 TRANSPORTATION
Disneyland Paris is extremely easy to reach, much like Walt Disney World. It is right off the expressway and it's no problem to find by car even if you don't speak French. If you arrive by plane, Disneyland Paris offers a Magical Shuttle Airport Transfer similar to the Magical Express in Florida.
Train service is available from London (the Eurostar arrives in 2 to 3 hours) or Paris (the RER train takes about 35 minutes). The train station for both of these is less than two minutes from the park gates. Another option from Paris is a daily shuttle called the Disneyland Paris Express. It leaves from three locales, arriving at the parks at 10 a.m. and leaving at 9 p.m.
To get to the parks from the hotels, there are no boats, gondolas or monorails. You can either walk or take a Disney Bus. Be sure to ask where the stop is. At least at the Sequoia Lodge, it was not clearly marked.
MISCELLANEOUS DIFFERENCES
Park App: The Disneyland Paris app is very basic. It really only lets you check park hours, wait times, entertainment schedules and make dining reservations. The My Disney Experience app goes much further, allowing you to manage your reservations, advance order quick service food, and change your FastPasses, all from your phone.
MagicBands: Disneyland Paris still uses key cards, which you can use to charge some things in some places. Carts like popcorn, soda and ice cream only take cash. There are no MagicBands.
Language: While most Cast Members speak English, you may find that some do not because, as Lumiere says, "after all Miss, this is France!"
Security: Disneyland Paris has much tighter security that is much more apparent than you see at Disney World. There were armed guards in the Disney Village/train station area, and security with dogs everywhere. Our hotel had a baggage scanner to examine all the luggage coming in, and we witnessed several guests being checked with wands as they entered the hotel, including kids.
Overall, Disneyland Paris felt familiar, but was different enough to seem exotic. I loved seeing the way the attractions varied from those I was used to, and really enjoyed experiencing all of the new ones. I can't wait to go back some day!
============
RELATED LINKS
============
Also by Joan Feder for AllEars®:
Taking a Spa Break
I've Heard That Voice Before: June Foray
I've Heard That Voice Before: Paul Winchell
==============
ABOUT THE AUTHOR
==============
Joan Feder is a lifelong Disney lover and aficionado. She is a writer who loves to cook, read and travel. Her favorite spot to visit is Walt Disney World, where you can find her several times a year drinking a Dorma Nesmond at the Hollywood Brown Derby.