WDW Chronicles: 1982 Opening of Epcot Center
by Jim Korkis
Disney Historian
Feature Article
This article appeared in the September 18, 2012 Issue #678 of ALL EARS® (ISSN: 1533-0753)
The groundbreaking for Epcot Center took place October 1, 1979. To build awareness and excitement about Disney's newest theme park among guests, the Epcot Center Preview Center was in the post-show area of "The Walt Disney Story" on Main Street at the Magic Kingdom. The Preview Center featured concept artwork, elaborate models and a short film. Guests could also take a ride on the monorail to view the construction in progress at a platform close to where Spaceship Earth was being built.
Preparation for the Epcot Opening festivities began nearly four years beforehand, with the minute-by-minute planning starting in March 1982. Twenty different committees were involved in creating the dedication ceremonies from design of invitations to finance to talent booking to transportation and more.
Before the official opening in 1982, there were Cast Family Previews for the new park on September 24, 25 and 27 from 6 p.m. to 1 a.m. Construction workers and their families previewed Epcot Center on September 26. The demand by the cast members to visit the new project was so great that three additional nights (September 28-30) were added from 4 p.m. to midnight.
Full menu selection was available at restaurants throughout Future World and World Showcase, with alcoholic beverages sold at retail prices. Normal cast member discounts were in effect except for tobacco products.Complimentary wheelchairs and strollers were available. The cast parked in the regular guest parking lot.
While the official opening of Epcot Center was at 9 a.m. on October 1, 1982, the park was unofficially open to select Disney guests the nights of September 28-September 30 as well.
"Guests visiting the Magic Kingdom on those three days will receive an information brochure about the 'sneak preview' of Epcot Center at the Toll Plaza.Walt Disney World Resort guests and Lake Buena Vista Hotel Plaza guest will also be notified of their opportunity to preview Epcot Center prior to October 1, 1982," stated a memo from September 22, 1982.
Epcot Center opened as announced on October 1, 1982. The cost of a one-day ticket was $15 for an adult, $14 for a junior and $12 for a child. However, members of the Magic Kingdom Club or Walt Disney World Resort guests could knock a dollar off the price of each ticket. Also available as ticket media were 3-, 4- and 6-day World Passports that included transportation, admission, plus unlimited use of attractions at both Magic Kingdom and Epcot Center. There were no single-day Park Hoppers.In addition, an Annual World Passport good for an entire year was available at a cost of $100 for an adult and $80 for a child.
During the early weeks of October, the opening hours were Future World from 9 a.m. to 10 p.m. and World Showcase from 10 a.m. to 10 p.m.(At the end of October and through the month of November, Future World was open 9 a.m. to 9 p.m. and World Showcase 10 a.m. to 9 p.m. The only exception was the Friday and Saturday after Thanksgiving, November 25, when both Future World and World Showcase were open from 9 a.m. to midnight.)
Richard Cason, his wife and four children (Jennifer, 16; Chris, 15; Ricky, 14; and Jody, 13) were the first family welcomed into Epcot Center on October 1. They were from Winter Park and got up at 4:30 a.m. to arrive at the park at 6 a.m., only to find the gates wouldn't open to the parking lot until 7 a.m. Cason said he "drove around the loop" before making it into the parking lot. "I just told the kids to get out and run for the gate," he told reporters at the Opening Ceremonies.
The family received a silver pass from Chairman and CEO of Walt Disney Productions, Card Walker, allowing the family admission into Epcot Center and the Magic Kingdom for life. Due to space limitations, only the first family, press and a few special invited guests saw Walker read the dedication plaque and there were brief remarks by Florida Governor Bob Graham and the president of AT&T William Ellinghouse, since Spaceship Earth was also dedicated that day.
There were marching bands and dancers followed by the release of 15,000 balloons and 1,000 pigeons. All other guests were kept waiting in the parking lot and only saw the ceremonies later that evening on the news.
Throughout the early weeks of October, there were individual dedications of pavilions, lasting from 20 minutes to an hour, almost every day. The first one was Spaceship Earth on opening day, October 1. These mini-ceremonies led up to the official dedication of Epcot Center, which was a three-day event.
On the evening of Friday, October 22, nearly 5,000 formally attired, invited guests gathered around Spaceship Earth. The regular Disney park guests had been ushered out of Epcot Center at 6 p.m. The invited guests included Florida Governor Bob Graham and his wife, corporate executives of Walt Disney World's many sponsors, state and national politicians and other celebrities.
Cast members dressed in tuxedos offered trays and trays of bubbly champagne as seven big bands provided the entertainment for the elegant evening.
The Goodyear Blimp "crashed" the party, flashing the display: "Saluting Walt Disney World, Epcot Center." This event was considered the dedication of Future World.
On Saturday, October 23, the Goodyear Blimp was there again, even though that evening there were rain and wind, so entertainment locations were moved inside when possible. There were nearly 10,000 guests at this evening event, assisted by umbrella-wielding cast members.
Appetizer-sized portions of a variety of international specialties from the World Showcase countries were given to the guests along with even more champagne. This event was considered the dedication of World Showcase. The huge walk-around People of the World dolls paraded around the promenade, followed by the World Showcase Lagoon show, "Le Carnival de Lumiere", and fireworks.
Disney executive Donn Tatum told a reporter, "It may rain on our parade but it can't dampen our spirits."
On Sunday, October 24, 1982 at precisely 11 a.m., double Westminster chimes signaled the beginning of the Grand Opening Dedication Ceremonies at Epcot Center. There was no rain but the weather was overcast and cool so the Disney Company provided blankets to the invited guests to keep warm.
A group of 16 herald trumpeters and six drummers joined by the West Point Glee Club soon followed the chimes, as did the 450-piece All-American College Marching Band assembled by Walt Disney World from 146 colleges.
There were nearly 10,000 invited guests, including Walt Disney Productions executives Donn Tatum and Card Walker, along with Mrs. Lillian Disney (Walt Disney's widow), corporate executives, foreign and American political figures and many other VIPs. There was a flag raising ceremony with an American flag that was a gift from President and Mrs. Ronald Reagan that had been flown at the White House.
This activity was followed by what was called the "International Ceremony of the Waters." This ceremony was inspired by a similar event during Walt Disney's lifetime. During the dedication of the "it's a small world" attraction at Disneyland, children of many nations poured water from the waterways of their countries into the attraction flume. (The attraction opened there on May 28, 1966. It involved 10,000 balloons, 500 costumed children and 1500 foreign dignitaries. At the opening ceremony, a liter of water from each of the 100 countries represented was poured into the canal, which is called the Seven Seaways.)
Twenty-three international performing groups surrounded what was then known as the CommuniCore Fountain, and one by one they poured a vessel of water into the fountain. Each vessel was unique to represent the country and each was stored in Cash Control so that the integrity of the water being from that particular country could be maintained. The water (often with publicity photo opportunities in the respective countries) was gathered from the lakes, rivers, and oceans of the 23 countries and was to "signify the international understanding and cooperation that Epcot Center stands for."
CEO and Chairman of Walt Disney Productions Card Walker walked to the podium and said:
"It is a great thrill, really a wonderful thrill. Lilly, thanks for being with us. Joining us around this magnificent fountain are representatives of nations from around the world. They have brought with them waters from the great oceans, the seas, the rivers, and the lakes on our planet, Spaceship Earth. These waters will flow together as a symbol of the oneness of humankind and the hope for peace among nations, making this truly a fountain of world friendship.
"And now it is my great pleasure to read the bronze plaque officially dedicating EPCOT Center. I'll read it right here: 'To all who come to this place of joy, hope, and friendship, welcome. EPCOT Center is inspired by Walt Disney's creative vision. Here human achievements are celebrated through imagination, the wonders of enterprise, and concepts of a future that promises new and exciting benefits for all. May EPCOT Center entertain, inform, and inspire, and above all may it instill a new sense of belief and pride in man's ability to shape a world that offers hope to people everywhere in the world.' Thank you."
As Card Walker led Lillian Disney off the stage, he said under his breath: "Well, we've done it." Mrs. Disney, who was known for her shyness, did not officially speak at the event.
The regions that each poured urns containing one gallon of water into the fountain were: Canada, Denmark, Italy, Korea, Japan, Africa [several countries included in a group], Egypt, Morocco, Colombia, Mexico, Barbados, Puerto Rico, China, Philippines, Belgium, Czechoslovakia, Finland, France, Germany, Spain, Switzerland, United Kingdom, Yugoslavia. Water came from as far away as the Arctic Ocean, the Nile River in Africa, and Yangtze River in China.
At the conclusion, an aerial salute of fireworks created "The Colors of the World," immediately followed by a jet flyover by the Florida Air National Guard.
Dennis Despie, then Vice-President of Entertainment for Walt Disney Productions said that he hoped this celebration would become an annual event because it was one of the few opportunities for this type of international celebration in the United States. Fifteen hundred folk festival performers from 23 nations performed during the weekend of October 22-24. They performed in and around the nine international pavilions.
During the month of October, some of the attractions like Spaceship Earth and Universe of Energy were sometimes closed for hours because of operating difficulties. Other attractions like Journey Into Imagination would not open for months and World Showcase restaurants were overwhelmed by eager guests. However, despite any difficulties, it was apparent that Epcot Center was Disney's newest success.
===============
RELATED LINKS
===============
In anticipation of Epcot's upcoming 30th anniversary, Deb Wills reflects on the Spirits of America, found in the American Adventure:
http://land.allears.net/blogs/debwills/2012/09/epcot_sculpting_the_spirits_of.html
Other features from the Walt Disney World Chronicles series by Jim Korkis can be found in the AllEars® Archives:
http://allears.net/ae/archives.htm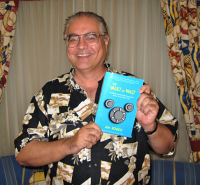 =-=-=-=-=-=-=-=-=-=-=-=-=
ABOUT THE AUTHOR:
Jim Korkis is an internationally respected Disney Historian who has written hundreds of articles about all things Disney for more than three decades. He is the author of the book The Vault of Walt, which contains nearly 40 chapters of untold Disney stories. As a former Walt Disney World cast member, his skills and historical knowledge were utilized by Disney Entertainment, Imagineering, Disney Design Group, Yellow Shoes Marketing, Disney Cruise Line, Disney Feature Animation Florida, Disney Institute, WDW Travel Company, Disney Vacation Club and many other departments.
Read more about The Vault of Walt: http://astore.amazon.com/debsunoffiwaltdi/detail/0615402429
-o-o-o-o-o-o-o-o-o-o-o-
Editor's Note: This story/information was accurate when it was published. Please be sure to confirm all current rates, information and other details before planning your trip.