WDW and the Disability Access Service Card
by Jamie Bunch
AllEars® Guest Columnist
Feature Article
This article appeared in the September 8, 2015 Issue #833 of ALL EARS® (ISSN: 1533-0753)
Editor's Note: This story/information was accurate when it was published. Please be sure to confirm all current rates, information and other details before planning your trip.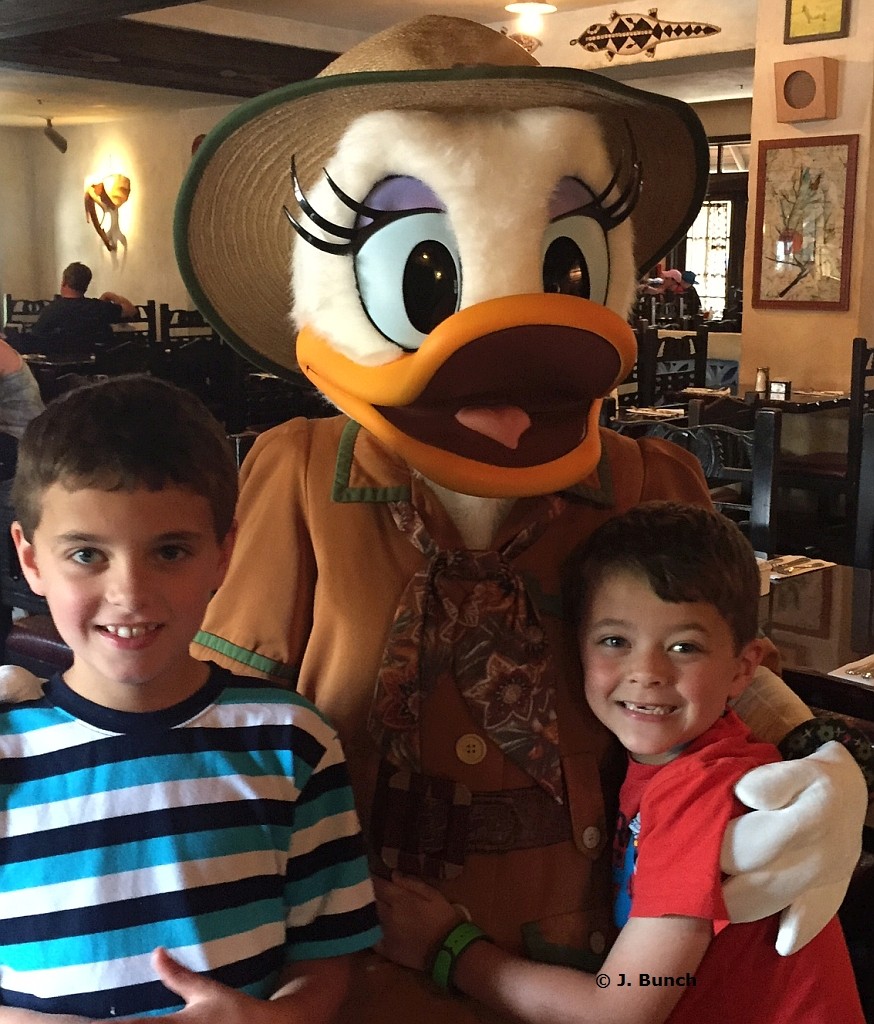 My family and I recently took a trip to Walt Disney World, the first time there for my 9-year-old son, Jackson, who is diagnosed with autism. We were not sure if it would be too over-stimulating for him or how he would react to having to wait in line for many of the rides. But with a little planning and some Disney magic, he had a wonderful time.
We are lucky that Jack is not affected by loud noises — that can make a big difference at Walt Disney World. But waiting in line isn't exactly his strong suit, either. He is, however, a huge Disney fan and we made sure to show him pictures of the Disney parks and rides to help get him prepared. We even checked out several YouTube videos of the rides to familiarize him with the fun that was soon to come.
The hotel I chose for our vacation was the Port Orleans French Quarter resort. I recommend this resort for children with special needs as it is quiet, small and relaxing. It's a beautifully landscaped resort with a generous-sized pool, playground, carriage rides, green space for running and an arcade. The resort is the smallest of Disney's moderate resorts and it's not overly crowded. It's nice to come back to Port Orleans after a hectic day at the parks and not feel as though you still have to step over small children or weave your way back to your room. It is very calming and relaxing as soon as you walk through the door. This resort also has great access to Downtown Disney via boat. (The kids loved the boat ride, by the way — one fewer bus to take.) Other recreational activities included a pool party and campfire. Needless to say, my kids consumed all of the marshmallows they could eat at the campfire!
Before our trip, we took advantage of our My Disney Experience account and scheduled FastPass+ online for our three rides per park per day. We knew that Jack would enjoy the Seven Dwarfs Mine Train and meeting Mickey so those were high on the list.
Once at the Magic Kingdom, our first stop was at Guest Relations for a Disability Access Service card. For those of you who haven't been to Disney World for a while, the DAS card has taken the place of the Guest Assistance Card, which previously provided special accommodations for those with "invisible" special needs.
To obtain a DAS: On your first visit to a Disney park during your trip, go to Guest Relations and explain that you need a DAS card. While you do not need to bring documentation to receive a DAS card, we did. Jack's physician provided a letter for us to show the Disney cast members so that there was no question about why we were asking for a special accommodation. The Disney cast member took Jack's photograph and asked us which attraction we wanted to ride first. Based on the current wait times for that ride, the cast member scheduled our first return time for the ride of our choice and we were on our way. Be sure to have everyone in your party present when you receive the DAS card, because the cast member can link everyone's MagicBands so thatyou all can enjoy the rides together. Once you get a DAS card at one park, it works for all the others as well for the length of your stay, so this is a one-time stop on your first day.
For the rest of your stay, the DAS card works like this: if your family chooses a ride that has a wait, you ask the cast member there for a return time for your party for that ride. They will scan your MagicBand and the system will record your return time for your entire party. For example, if the wait is one hour for Space Mountain at noon, you would receive a return time of 1 p.m. You and your party can come back anytime after 1 p.m. to ride Space Mountain. This means anytime until the park closes — unlike FastPass, for which you have just a one-hour return window.
During that hour (or longer), you can use your time as you'd like. Once you come back to the ride, you enter through the FastPass line, not the Standby line. You must complete the ride for the first return time before you can book a return time for another attraction. (You can also use FastPasses while you are waiting for your DAS return time. This allows your child/family member to ride other rides without having to endure the really long wait times.) When you do go for your DAS return time, the family member who has the DAS card MUST be there. This should be obvious, but unfortunately there are some who try to take advantage of this accommodation. We found that Jack was capable of waiting for some rides, so by no means did we abuse this access. We tried to time and plan rides/shows that would allow us to experience the most we could in the time we had.
Once you are in the attraction or show I would recommend staying close to an exit. Sometimes Jack gets a little bored and restless if something is not holding his attention. For example, we had to exit the Frozen Sing-Along, but we were seated next to the door so as not to disturb the other guests. Know your child and be prepared for his possible response to a show that he may not be enjoying.
We also purchased the Disney Dining Plan and made our dining reservations to coincide with the parks we would be visiting each day. This was a huge time-saver. While most table service meals can have a long wait, we were able to breeze right in with our reservation. This included a lunch at Le Cellier in Epcot and lunch with the characters at Animal Kingdom's Tusker House. With the MagicBand, Disney can keep track of all of your meals and charge it straight to your account. It's so easy and quite the time-saver. You really do not want to wait in the hot Florida sun with ANY hungry child!
Lastly, I would recommend building in some down time. Let the kids swim, play on the playground, get an ice cream and enjoy the resort views. This allows everyone a chance to decompress and relax. It is a vacation after all.
Please know that autistic children can go to Disney World and have fun! Take the time to prepare and plan your trip. This plan worked very well for us and it will be a trip to remember for years to come.
= = = = = = = = = = = = =
RELATED LINKS
= = = = = = = = = = = = =
— Vacationing at WDW for Those with Special Challenges
— Tips for Traveling with Special Needs from AllEars.Net Readers
— Disney's official flyer on the Disability Access Service
-=-=-=-=-=-=-=-=-=-=-
ABOUT THE AUTHOR:
Jamie Bunch works in healthcare IT and is mom to two beautiful boys, Jackson (9) and Peyton (6). She has been to Walt Disney World many times and looks forward to having many more wonderful vacations there with her children.
-o-o-o-o-o-o-o-o-o-o-o-
Editor's Note: This story/information was accurate when it was published. Please be sure to confirm all current rates, information and other details before planning your trip.