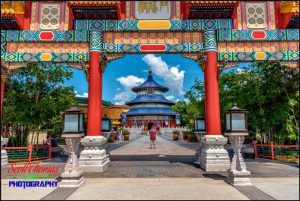 Photographer Scott Thomas shares his favorite Disney photos and photography tips in his weekly Picture This! blogs for AllEars.net.
Unlike framing a picture to hang on a wall, using a "frame" in your photographs is very different. By doing so you give the image added depth, leads the viewer to the main subject and gives the photo context and sense of place. This is especially true with architectural subjects like arches or gates. Epcot's … Continue reading "Framing the Gates of Epcot"
Copyright © 2010 Barrie Brewer, Nikon D300, 18-200 VR, 0.0015s shutter, f8, ISO 200 Sometimes Epcot's International Gateway feels like my own private entrance to the World Showcase. Located between the United Kingdom and France, Epcot's "back door" is accessible by foot or boat from the Epcot resort area and Disney's Hollywood Studios.