Stories with Character: Goofy!
by
Joan Feder
Feature Article
This article appeared in the August 20, 2021 (#1149) edition of ALL EARS®
Editor's Note: This story/information was accurate when it was published. Please be sure to confirm all current rates, information and other details before planning your trip.
---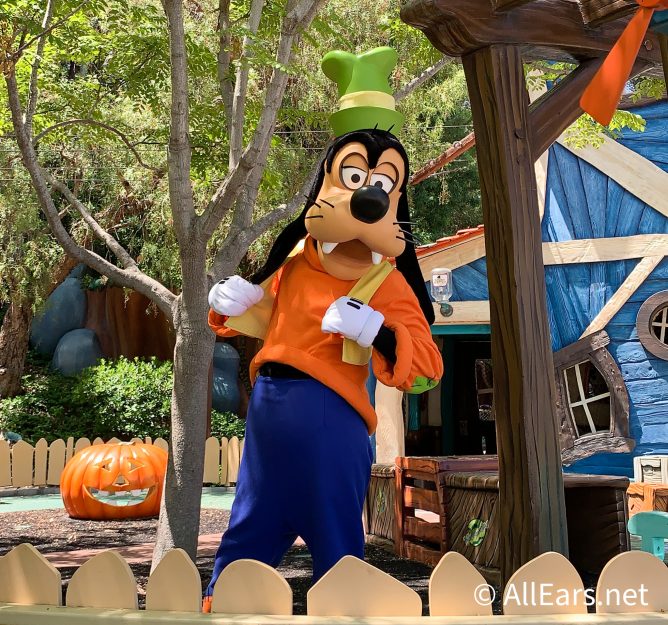 There are many cartoon characters in the animated universe. Most of them make one or two appearances and then vanish. There are some, however, that have real staying power. Take Goofy for example. He has been popular for almost nine decades!
Before we take a look back at where Goofy came from, let's settle the age old debate of WHAT, exactly, Goofy is. Rumors about his species have been swirling for years. Is he a human, a dog, or, as some would have us believe, a cow? He walks, talks and acts like a man. But Goofy is neither human nor heifer; he is most definitely a DOG. To find the proof, all you have to do is look back at his original name.
Goofy made his first appearance in Mickey's Revue, which was released on May 25, 1932. At that time his name was actually Dippy Dawg.
In this cartoon, Mickey and the gang are putting on a show. They are soon interrupted by an audience member loudly munching on some peanuts. This obnoxious fellow looks a bit like Goofy only much older. He also has glasses, a white beard and a tail.
Once this grizzled old guy opens his mouth, however, there is no doubt that, whatever he looks like, he is still Goofy. He doesn't speak, instead he lets out that signature Goofy laugh—a loud "ah-hyuck, hyuck hyuck."
Dippy reappears several more times as a running gag through out the short. He keeps hyucking it up until he is knocked out by a couple of other theatergoers who happen to have a mallet.
This debut role was small but made a big impression. Dippy Dawg was popular with Disney's staff and audience alike. In his next appearance, 1932's The Whoopee Party, he still has a tail, but is considerably younger, and looks a lot more like classic Goofy. This more youthful Dippy made five more films during the next two years.
Dippy officially changed his name to Goofy in the Orphan's Benefit, which was released on August 11, 1934. In it he finally displays his trademark front teeth (along a lack of grace) while dancing with Clarabelle Cow. This cartoon also featured several other up and coming Disney stars including a young performer named Donald Duck.
A year later, Goofy really hit it big. He was tapped to co-star in a series of films with Mickey and Donald. On March 16, 1935 he co-starred in the first of the now classic trio cartoons: Mickey's Service Station. Other entries in this beloved series include the Clock Cleaners and Lonesome Ghosts.
Over the course of the trio cartoons, Mickey's parts got smaller and smaller, while Goofy and Donald's antics stole the show. So much so, that the duo was given their own series of cartoons, starting with 1938's Polar Trappers.
Within a year, Goofy was so popular that he got a chance to go solo. His first independent short, Goofy and Wilbur, was released on March 17, 1939.
It was not long before Goofy's new found stardom hit a hitch. The man who created Goofy's signature laugh and voice, Pinto Colvig, quit the Disney Studio. While others filled in occasionally, Goofy was essentially left without a voice.
This led to Goofy's next big transition. He became the star of the incredibly popular "How To" cartoons. In them, the Goof had little or no dialogue while a narrator described the action.
The first entry in this series was actually entitled The Art of Skiing. It was released on November 14, 1941. It was the first time that audiences heard Goofy's signature holler— "yaaaaaaa-hoo-hoo-hoo-hooey!"
The next year, How to Play Baseball was released. In it Goofy fills every single role in the cartoon, including all the players on both teams and the umpire! This short was created at the request of producer Samuel Goldwyn, and was initially released with his film, The Pride of the Yankees (the life of Lou Gehrig).
The forties were a busy time for Goofy. During that decade, he made dozens of cartoons. Other entries in the How to Series included How to Swim, How to Fish and How to Play Football.
He also found time to get involved in the war effort during World War II. He appeared in cartoons like Victory Vehicles. In it, Goofy illustrates different modes of transportation that could be used during the war's rubber shortage. He also served as the mascot emblem of the 602nd Bombardment Squadron and the 756 Bombardment Squadron U.S. Air Corps.
During the 1950s, Goofy transitioned again, this time becoming a kind of everyman character. These shorts focused on Goofy's life as a family man. He went on diets, gave up smoking, and moved to the suburbs.
While the title card still read "Walt Disney presents Goofy", the name "Goofy" was not used in these cartoons. Instead, he is referred to variously as Mr. Walker, Mr. Wheeler, Mr. X, or most often, as George Geef.
Goofy also became more human looking—he lost his floppy ears and his protruding front teeth. His wardrobe was upgraded from baggy pants and a vest to business suits complete with ties. In a couple of these shorts, he even speaks with a "normal" non-Goofy voice!
The last Goofy cartoon of this era was the educational short Goofy's Freeway Troubles. It was released in 1965. He then retired from films for the next 18 years.
Goofy made his triumphant return to the movies in 1983. He played the role of Scrooge's dead partner, Jacob Marley in Mickey's Christmas Carol. He also returned to a more standard look, regaining his ears and front teeth.
The everyman shorts from the 1950s inspired Goofy's next big change. In 1992, he starred in the Goof Troop animated series. Again, he had evolved to suit the times. In it, Goofy is a single dad to son Max Goof. He lives in the suburbs and dresses like an average guy.
This same premise was the basis of A Goofy Movie, released in 1995 and its sequel, An Extremely Goofy Movie.
In the early 2000s, Goofy became the head waiter on television's the House of Mouse. He returned to his classic clothing from the 1940s, wearing his hat and vest.
Goofy became one of the main characters on the Mickey Mouse Clubhouse (2006 – 2016) series for preschoolers. He then played a big part in its followup, Mickey and the Roadster Racers (2017 – 2021).
Television also gave Goofy an opportunity to revive his career in shorts. Mickey Mouse was a series of cartoons that featured Mickey and his whole gang, including the Goof. This was a real throwback to the shorts of the 1920s and 1930s. Goofy looked a lot like he did as Dippy Dog. It ran from 2013 through 2019.
This was succeeded in 2020 by The Wonderful World of Mickey Mouse which is still airing on Disney's +. The second season of ten shorts premiered on July 28, 2021. It features Goofy along with Mickey and the rest of his pals. They go on adventures in various places and time periods, ranging from under the sea to the Old West.
Goofy has also appeared in other media. He was in several Disney comic strips as well as comic books. He even had an alter ego known as Super Goof. He has also been in several video games including Epic Mickey and the Kingdom Hearts franchise.
And of course Goofy can be found at the Disney Parks. At Disney World's Magic Kingdom, he is the Great Goofini and has his own roller coaster, The Barnstormer. Over at Hollywood Studios, he is the train conductor on Mickey and Minnie's Runaway Railway.
Goofy's playhouse is located at Disneyland. He has attractions and/or makes personal appearances in Paris, Tokyo and Hong Kong. He also runs the Goofy Candy Co. that sells sweets at the Disney Parks around the world.
In 2021, Goofy has yet another new project. Like most of us, he has been stuck in the house for the last year or so. As a result, later this month, Disney+ will premiere three new Goofy cartoons which provide tips on How to Stay at Home.
These films are inspired by the Goofy shorts of the 1940s with a modern twist. Titles include Binge Watching and Learning to Cook. They are directed by Eric Goldberg, (who animated the Genie from Aladdin). Bill Farmer will voice the Goof as he has since 1987. The shorts are scheduled to be released on August 11, 2021.
As you can see, Goofy has had an incredible career so far. He has appeared in every form of media from print to film and beyond. In short, he is not just a jack of all trades, but a master of many. Roger Rabbit probably put it best when he said, "Nobody takes a wallop like Goofy! What timing! What finesse! What a genius!"