October 2017 Walt Disney World Bits and Bites
Feature Article
This article appeared in the September 26, 2017 Issue #940 of ALL EARS® (ISSN: 1533-0753)
Editor's Note: This story/information was accurate when it was published. Please be sure to confirm all current rates, information and other details before planning your trip.
= = = = = = = = = = = = = = = = =



STEP BACK IN TIME
= = = = = = = = = = = = = = = = =
by Joan L. Feder
AllEars® Contributor
We hunt through our archives for this monthly featurette, which looks at the history of Walt Disney World and The Walt Disney Company. This month we travel back to 1989 and the opening of Body Wars in Epcot.
From the beginning, Imagineers included a pavilion centered around health in their concept for Epcot. As early as 1978, those plans included an attraction that would take guests inside the human body called The Incredible Journey Within. It had to wait until the late 1980s, when MetLife sponsored the Wonders of Life pavilion. Initially, the attraction was going to be a dark ride with suspended vehicles, like Peter Pan's Flight. This format was soon abandoned in favor of the new simulator technology used in Star Tours at Disneyland.
Body Wars opened on October 19, 1989. It was the first thrill ride in Epcot and also its first attraction with ride restrictions; guests had to be 3 years old, and at least 40 inches tall. There were four vehicles that held 40 riders each, and the attraction ran about seven minutes. Guests entered Miniaturized Exploration Technologies (MET) through two Dermatopic Purification portals and were briefed by Mission Control. The Body Probe and passengers were miniaturized to the weight of less than a drop of water. The ship was beamed into a volunteer's body just below the skin (exactly like jumping to lightspeed on Star Tours). The probe then went in search of Dr. Cynthia Lair who was already on-site studying the effects of a splinter on the volunteer's immune system. The ship found Dr. Lair finishing up her tests when she was suddenly sucked away into a capillary! The probe pursued Dr. Lair in a rough and wild ride through the heart and lungs. Finally, the doctor was recovered but there was not enough energy to beam out. Based on Dr. Lair's suggestion, the ship goes to the brain to get the necessary electrical charge. Power is almost completely gone when a neuron fires allowing the probe to beam back out. Mission complete.
Body Wars was poised to be a big hit. The attraction featured several popular talents. Tim Matheson (better-known as Otter from the film "National Lampoon's Animal House") played the pilot. Elisabeth Shue, known at the time from "The Karate Kid" and "Adventures in Babysitting," was Dr. Lair. The director was Leonard Nimoy, who played Mr. Spock on Star Trek, and had already directed several hit movies, including Disney's Three Men and a Baby.
Body Wars was the first of attraction of its kind in Florida, as Star Tours did not open there until later that year. Unfortunately, the technology that worked so smoothly in space at Disneyland did not do as well in the human body. Many guests got nauseous. The Imagineers apparently went too far in providing a realistic experience for Body Wars. The entire ride included the rhythmic pulse of the circulatory system, and in the lung, the movement was even more extreme as the cabin rose with each inhale, and dropped with every exhale. Motion sickness was so prevalent that 20 seconds were edited out of the lung portion of the ride shortly after it opened. The subject matter was also an issue, as many people felt that things like veins, blood, and brains were inherently disgusting.
When Star Tours opened at Hollywood Studios in December 1989, word spread that it was much better than Body Wars. It was more thrilling, had a better story, and caused much less motion sickness. Body Wars, which started with waits of an hour or more, lost its allure. Lines for Star Tours got longer and longer, while Body Wars became a walk-on.
When MetLife ended their sponsorship in June 2001, the Wonders of Life Pavilion fell into decline. It was reduced to a seasonal schedule in 2004, and closed on December 31, 2006. The building reopened, without any of its attractions, for the 2007 Food & Wine Festival, and has been used as a festival center ever since. For a time there were rumors that Body Wars would return, but that has not been the case. The simulators are gone (probably used as spare parts for Star Tours), and that area is now used for festival storage.
As with any Disney attraction, the closing of Body Wars brought a mix of reactions. Many people felt it was no great loss. For some, it was an inspiration and something they still miss. In any event, it was a part of the Epcot experience for more than 17 years, which is not a bad run.
RELATED LINKS:
From the Tickle Trunk – Opening of Wonders of Life
= = = = = = = = = = = = = = = = =


HIDDEN MICKEYS ALERT
= = = = = = = = = = = = = = = = =
Steve Barrett, author of the Hidden Mickeys Field Guide books and webmaster of HiddenMickeyGuy.com, wants to inform you of a few Hidden Images in Epcot that are worth searching for.
1. Everyone (at least, most of us) loves Figment. Well, a tiny Figment plush is hiding above you at the exit of Journey Into Imagination With Figment! He's hanging from a ceiling electrical device in Studio B of the Magic Photo Studio section inside ImageWorks. (I was told by a cast member that the manager of the area moves this Figment around the ceiling from time to time.) (Thanks to Debbie Newton and Colin Brooks.)
2. For years, I've looked for a classic Hidden Mickey made of lily pads along the Gran Fiesta Tour Starring The Three Caballeros ride in Mexico. I think I finally spotted one! (Maybe I was looking in the wrong places.) Anyway, these three lily pads look suspiciously like a sideways Mickey to me. You'll find the lily pads to the right of your boat just past the first tunnel with the wall murals. I hope these lily pads stay in place for a long while. (Thanks to Kevin.)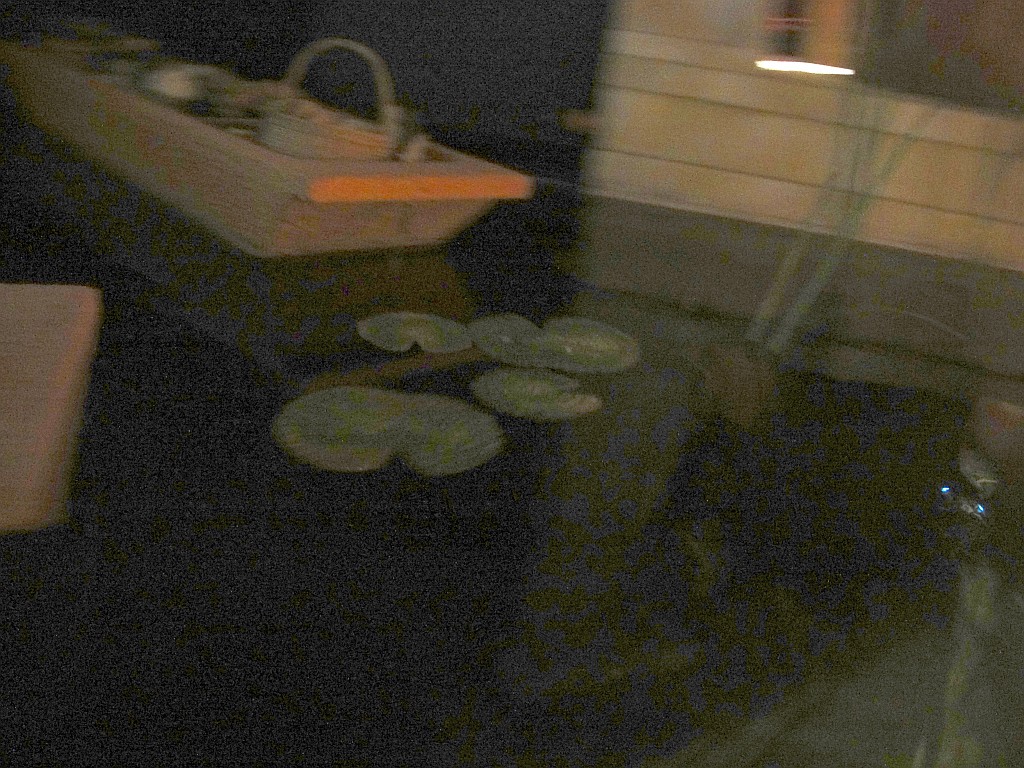 3. Landscapers usually try to maintain a classic Mickey made of bushes in the outdoor miniature train exhibit in Germany. Sadly, a bush Mickey was absent for many months, but recently I saw a new one (actually, several possible candidates). These three bushes are at the right side of the front part of the exhibit (as you face the trains from the main World Showcase promenade). If you happen to see one of the landscapers early one morning in Germany, please encourage him or her to preserve a bushes Hidden Mickey!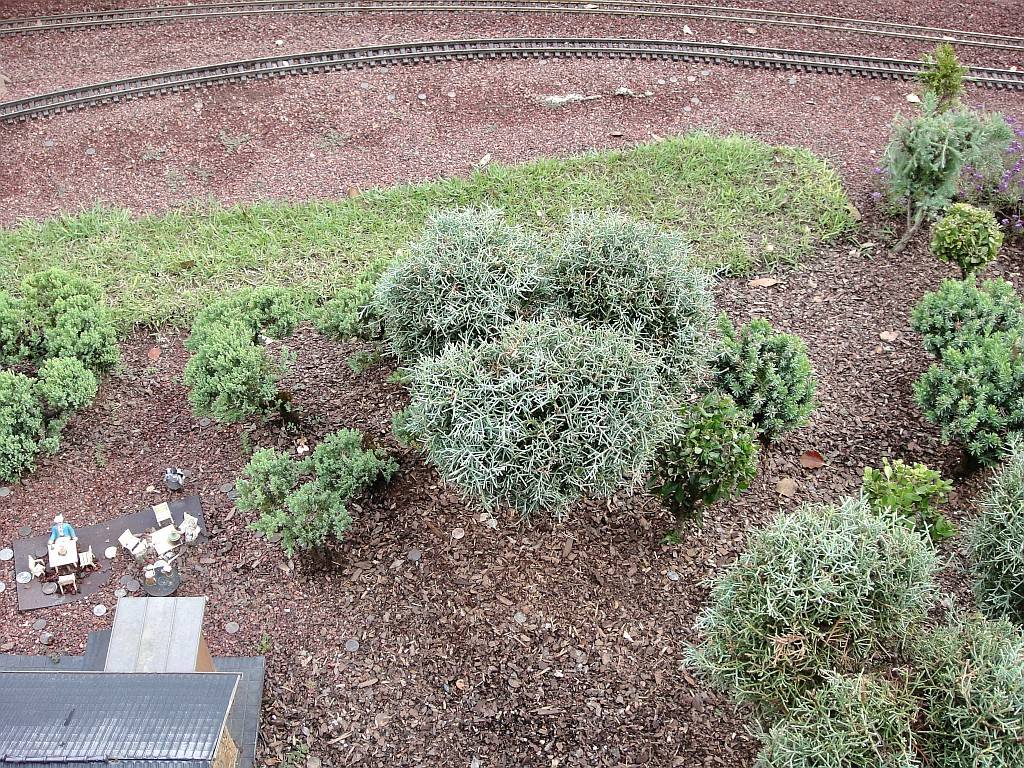 =-=-=-=-=-=-=-=-=-=-=-=-=-=-=-=
You can find an archive of past Hidden Mickey Alerts HERE.
And check out our latest Searching Disney with Steve blog.
= = = = = = = = = = = = = = = = =



SOUVEN-EARS
= = = = = = = = = = = = = = = = =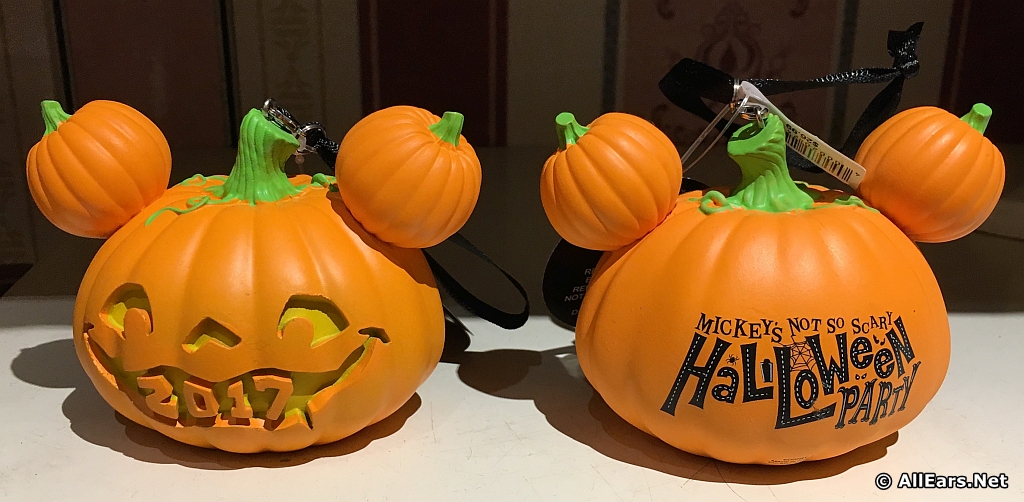 Our occasional featurette on shopping around the World returns this week with an entry from our staff writer and "A Mom and the Magic" blogger Kristin B. Ford.
For shoppers, one of the true treats of Mickey's Not-So-Scary Halloween Party at Walt Disney World is the opportunity to purchase Halloween merchandise that is only sold during the party.
Because a lot of the party merchandise is considered collectible, it used to be that party-goers lined up just to crowd around merchandise displays once the parties started at 7 p.m. Disney planners have since improved this shopping experience by allowing guests with their party wristbands access to the exclusive merchandise as early as 4 p.m. and, thus, eliminating a bottleneck of shoppers.
The Magic Kingdom offers party T-shirts, in adult women's (purple, $32.99 plus tax) and men's cuts (orange, $28.16 plus tax) and kids' versions that glow in the dark (green, $23.47 plus tax). Only annual passholders can purchase the gray version of the unisex T-shirt and a limited edition collectible pin with Hades from Disney's "Hercules" ($15.99 plus tax).
All party-goers can purchase the limited release event logo pin and pins that feature the villains, who feature prominently in the Hocus Pocus Villains Spelltacular stage show presented during the Halloween party. Each villain is depicted with a cauldron that opens to reveal a scene from his or her animated movie. Some of the villain pins are sold individually ($15.99 plus tax) as part of a limited edition of 5,400. There also is a boxed set ($109 plus tax) with an edition size of 1,000 and a framed set ($270 plus tax) with an edition size of 300.
If you'd rather collect Christmas tree ornaments than pins, there is an adorable dated Mickey-shaped jack-o'lantern ornament that lights up ($26.99 plus tax).
My favorite souvenir is the Halloween–themed MagicBand ($39.99 plus tax). It has new special effects, like the ability to glow in the dark, and the box it is packaged in smells like chocolate! This MagicBand 2.0 has a limited edition size of 4,000.
Originally, Mickey's Not-So-Scary Halloween Party events also were supposed to sell a collection of Sanderson Sisters merchandise based on the Hocus Pocus Villains Spelltacular. The online anticipation appeared to be great, but the merchandise was pulled before the first party with no explanation or promise of a restocking.
As with any special Disney merchandise, if you see something you like, don't hesitate to purchase it because items can and do sell out later in the night. You can find party merchandise at the Emporium, Mickey's Star Traders, Frontier Trading Post and Big Top Souvenirs in the Magic Kingdom.
= = = = = = = = = = = = = = = = =


MONTHLY REMIND-EARS
= = = = = = = = = = = = = = = = =
Through Nov. 13: Epcot International Food and Wine Festival expands to 75 days for its 2017 season. In addition, the Eat to the Beat Concert Series will run the length of this year's Epcot International Food and Wine Festival. New acts coming this year include Kenny G, 10,000 Maniacs, Everclear, Blue October and Squeeze.
October 1, 3, 5, 6, 9, 10, 12, 13, 15, 17, 19, 20, 22, 24, 26, 27, 29, 31: Mickey's Not So Scary Halloween Party!
October 27-28: Walt Disney World Swan and Dolphin Food and Wine Classic
Check our Events page for a full schedule of upcoming events.
-=-=-=-=-=-=-=-=-=-=-=-=-=-=-=-=-=-=-
Resort-Wide
Disney Skyliner construction: Walt Disney World is in the process of creating a new transportation system, Disney Skyliner, which will give you a bird's-eye view of the resort while traveling via gondolas. During this time, construction noise will be seen or heard throughout the resort, but noise should not be heard from Disney hotel rooms between dusk and 9 a.m.
Grand Avenue is a re-imagined area of Disney's Hollywood Studios made up of part of the former Streets of America and the Muppets Courtyard. Inspired by present-day downtown Los Angeles, Grand Avenue will be where vintage office buildings and warehouses are being converted. A highlight of Grand Avenue will be BaseLine Tap House. This new corner pub will feature California beers and wines along with a selection of small bites. The current Muppets Courtyard will become Grand Park. The Muppets theater has been renamed "Grand Arts Theatre" and boasts a brand-new marquee.

EDITOR'S NOTE: AllEars.Net will get a sneak preview of the BaseLine Tap House later this week! Watch for updates!

Star Wars: Galaxy's Edge — Work is under way on the 14-acre Star Wars-themed land at Disney's Hollywood Studios that was announced during the 2015 D23 EXPO. It's set to open sometime in 2019.

Toy Story Land — Construction is under way for the new Toy Story Land that will open in Disney's Hollywood Studios in Summer 2018.

Star Wars: A Galaxy Far, Far Away will not be performed through Oct. 4, 2017.
Hall of Presidents in Liberty Square will not reopen until late 2017. Along with the addition of the new president, the attraction is getting a new show, and a complete theater upgrade including a new sound system, lighting and high-definition projection system.

Splash Mountain will be closed for refurbishment until November 16, 2017.
Art of Animation Resort is currently undergoing some general refurbishment projects. During this time, the resort will be in full operation with all amenities available, including dining, merchandise and recreation locations. It is possible that construction may be seen or heard, but noise should not be heard from guest rooms between dusk and 9 a.m. No end date for these projects has been announced as yet.
Through Fall 2018, Old Port Royale Food Court, Shutters at Old Port Royale, Cabana Pool Bar and Calypso Trading Post will be undergoing refurbishment. A variety of dining options will be available for all meals. Centertown will serve breakfast and dinner. Grab 'n' Go options will be available in three island markets: Aruba, Jamaica, and Martinique. In addition, buildings in Barbados and Martinique islands are being demolished to make way for new construction.
The resort rooms are undergoing a "hard goods refurbishment" that will continue for some time into 2017.
Disney's Old Key West Resort is undergoing a wholesale refurbishment, which is expected to be completed in 2019.
Pop Century resort rooms are currently undergoing refurbishment, with work expected to be completed by Summer 2018. In addition, there are a number of other refurbishment projects going on around the resort, but all amenities are available.
The Walt Disney World Swan and Dolphin
The resort is currently undergoing the largest renovation in its 25-year history. The Dolphin room renovations are currently scheduled to be completed by the end of 2017.
The Yacht and Beach Club Convention Center is undergoing expansion and renovation now and throughout 2018. No end date has been specified.
Resort room refurbishment is taking place through mid- to late 2017.
Run-off Rapids is closed for refurbishment. No reopening date has been announced.
Portobello Country Italian Trattoria at the Disney Springs Landing will be closed for refurbishment until sometime in Fall 2017. When it reopens, it will be known as Terralina Crafted Italian.
ESPN Wide World of Sports Complex
ESPN Wide World of Sports has teamed up with the nation's top cheerleading organization, Varsity Spirit, to create a new state-of-the-art cheerleading and dance team competition venue, the first in the world specifically designed for cheerleading and dance team competitions. The venue will include a flexible design for one large competition space that can be set up for as many as four competition areas. Additional areas are being tailored for warm up and practice, along with areas for judges and officials. With the ability to seat more than 8,000 guests, plus performance and warm-up space, the new multi-use sports and entertainment venue will also have the ability to host six regulation basketball courts, six regulation volleyball courts or concert configurations. There will be concessions throughout the building, and an additional box office and entry to the complex. Construction is ongoing until further notice, with intermittent overnight lane closures, lane shifts, traffic congestion and noise along Osceola Parkway/Victory Way.
Blizzard Beach will close for its annual refurbishment on Oct. 29. It will remain closed through Jan. 7, 2018.
-=-=-=-=-=-=-=-=-=-
A complete list of known rehabs can be found HERE.
= = = = = = = = = = = = = = = = =


MAGICAL MOMENTS
= = = = = = = = = = = = = = = = =
Each month, we like to share a few heart-warming Magical Moments brought to us by the amazing Disney cast members!
Brad: My family and I were celebrating my daughter's adoption and she was wearing her celebrating pin. My youngest son's adoption was delayed, but we still gave him an "almost adopted" pin. While we were meeting Mickey and Minnie at Animal Kingdom, a cast member followed us out. He told us that he and his sister were adopted and when he saw our children's pins it moved him. We told him our story of how my wife and I foster and adopt medically fragile children. Our adopted daughter was actually born addicted to drugs and they told us that she would be brain dead. It wasn't until a trip four years ago and a stroll down Main Street USA that she first started to look around and become aware. Now she is as healthy as can be. We knew then that Disney was a special place for our family. The cast member then told us to meet him in front of the The Festival of the Lion King show. Not only did they let us go in first, but they gave us front row seats. (My son is in a wheelchair and with four children under the age of 6, that helped.) The cast member also had a bag of Mickey ears for all six of us. After the show, when we thought we were finished with that amazing surprise, a group of cast members came and took us backstage where we got to meet the cast, including Timon. When we thought we were finished, they escorted us to the nighttime safari and were boarded right away. When we got back to our room there were four stuffed animals laying on our kids' beds. A month later, one of the cast members that we had met called our house and asked when our youngest son's adoption would be. We told him we were hoping for the end of the year. He told us that he loved our story and wanted to celebrate our son's adoption by giving us a 4-day park hopper to use when we come back to Disney to celebrate his adoption. There are few things that can make this grown man cry, but this whole experience was one of them. Simply Magical!
Louise Dobbins: Back in 2010, we went to Walt Disney World with our four boys, then ages 11, 8, and 5-year-old twins. At Epcot, we talked to a cast member who was very helpful at one of the character spots. She gave us some great tips and was so great with my kids. The following day we went to Hollywood Studios. My boys all wanted to do the Jedi Training Academy to fight Darth Vader. We made sure that we were first in line for the next show to try and give some of our kids a chance to get picked for the show. It is hard when you have four boys who all want to do the show. We thought we would have to do it several times to get them all to have a turn. While waiting in line, the same cast member we had spoken to in Epcot the day before came up and started talking to us. We told her how happy we were with the tips she had given us the day before and wondered how she worked in different parks. She told us she was going on vacation, so was working every day in different parks to make up her hours. We told her we were going to wait for several shows so all of our boys could fight Darth Vader. She went backstage and spoke to the man who chose the kids for the show. We didn't know it, but she arranged it so that all of our boys were chosen for the next show. We were so shocked when they all got picked. We got the best pictures ever! That cast member went above and beyond to make our kids wish come true. So grateful to her. She really made our trip extra special.
Lizzy B: In the lead-up to our vacation at Disney World, our cars broke. That's right, two cars. Broke. Same day. That is just the kind of thing that happens to us. Anyway, a few days later we're about 30 minutes away from the World when my husband gets a call on his cell phone from "Lake Buena Vista." He answers while I keep driving. His end of the conversation doesn't give me much hope, as it includes the words, "how much is that going to cost?" I am instantly thinking they lost our reservation, our credit card was hacked, every worst-case scenario. He hangs up and tells me we got UPGRADED to a cabin at Fort Wilderness! We are mutually shocked. We get to Fort Wilderness to check in and are just about unable to breathe, because seriously, this sort of thing doesn't usually happen to us. A young lady, Ms. Nicole, checks us in. We're excited and explain about our previous bad luck, and she decides that we should celebrate a piece of good luck. She gives my 6-year-old son a Simba plush and a cowboy hat. He proceeds to toss his beloved baseball cap like yesterday's news and put on his "Adventure Hat." Then she gives us three extra Fastpasses for the day. The cabin was beautiful. And it more than made up for the fact that it rained (and sometimes poured) every day of our trip. A bit of good luck is its own sunshine.
Jodi Durante: My family and I were disappointed when we found out that Pandora – The World of Avatar was opening the day after we were leaving to go home. We went to Animal Kingdom early on our last day (the day before Pandora was scheduled to open) and a cast member leaned in close to us and quietly said, "Pandora is open for a short while today if you'd like to check it out." My daughter's eyes lit up! We were able to see this magical world with floating mountains and beautiful waterfalls. We were also able to experience Flight of Passage. I was unsure if I would be able to ride it because I am disabled and have difficulty walking due to chronic ankle problems. (I use a mobility scooter to get around.) However, I was assured that I could board the motorcycle-style ride vehicle with help and I had no issues. The ride was phenomenal! It was unlike anything I have ever experienced. I actually had tears flowing down my cheeks, because even though I cannot walk, I felt like I could fly. It was an amazing, exhilarating experience. My entire family felt like we were the luckiest people in the world that day!
-=-=-=-=-=–=-=-=-=-=-=-=-=-=-=
We just bet you have a story to tell about an unforgettable moment during your Disney vacation! Please send your favorite memory for inclusion in a future AllEars® via our Contact Us page. Thank you all for sharing!
-o-o-o-o-o-o-o-o-o-o-o-
Editor's Note: This story/information was accurate when it was published. Please be sure to confirm all current rates, information and other details before planning your trip.