I've Heard that Voice Before: Donald Duck, Part 2: Tony Anselmo
by
Joan Feder
Feature Article
This article appeared in the February 11, 2020 (#1064) edition of ALL EARS®
Editor's Note: This story/information was accurate when it was published. Please be sure to confirm all current rates, information and other details before planning your trip.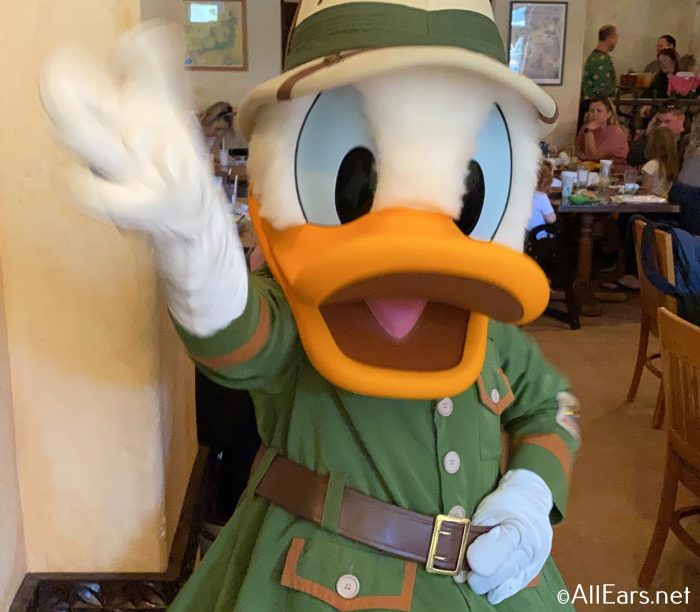 I've Heard That Voice Before Donald Duck Part 2: Tony Anselmo
Donald Fauntleroy Duck has been making movies for over 85 years. He first appeared in 1934's The Wise Little Hen. Squawky and temperamental from the start, he became an instant hit with fans. For the first 50 years of his career, Donald was voiced by the legendary Clarence "Ducky" Nash. Nash passed away in 1985, leaving the Duck in the capable hands of his current official voice, Tony Anselmo.
Born in Salt Lake City, Utah on February 18, 1960, Tony was four years old when saw Mary Poppins. It set him on the course he would follow for the rest of his life. He stated, "I remember leaving the theater and asking, 'How did they do this? Who did that?' and so on…So a seed was planted there, and from that time on I never wanted to be a fireman, an astronaut, or anything else. I wanted to work for Disney." Naturally he started out by learning to draw.
A couple of years later, Tony's family moved to California. While there, he continued to work on his drawing. He also began studying animation. He built his own light table and started making his own animated films using a Super 8 camera.
During high school, Anselmo was a class clown, imitating teachers and doing voices. At the same time, he remained serious about his art. He took classes at night at local colleges. He even started corresponding with Disney animators. Several of Disney's Nine Old Men, including Frank Thomas, Ollie Johnston and Eric Larson, mentored Tony.
With their support, Anselmo earned a Disney Family Fellowship to the California Institute of the Arts. He started his four-year program in 1978, at the age of eighteen. One of his teachers was Jack Hannah, who not only animated Donald Duck in the 1930s, but directed his cartoons for over a decade. Tony's work at Cal Arts was obviously impressive. Just two years into his curriculum, he was chosen for a special training program at the Disney Studio.
On September 1, 1980, Tony began studying at the Disney School of Animation. There were only fourteen people in his class. One of his fellow students was future director Tim Burton. The purpose of the program was to teach new artists how to bring animated characters to life the traditional Disney way.
It was not long before Tony began to work on Disney feature films. Over the years he was involved with many of the classics including The Little Mermaid and The Lion King. On Beauty and the Beast, he was the animator for Belle's friend, the wardrobe.
How did any of this lead to Anselmo doing Donald's voice? It didn't. That was a happy accident. Early in his career, Tony ran into Clarence Nash at the Disney Studio. They struck up a friendship. As Anselmo recalled, "I was really just curious about it, because I could do voices, and [Donald's] was one voice I couldn't do." So, he asked Clarence to show him how. Tony never intended to voice Donald; he was really asking just for fun.
At first, Tony couldn't do it. He kept at it though, practicing in the shower or in the car. Finally, one day, he got it— he could quack like Donald Duck! Proudly he showed off his new skill to Clarence Nash. Over time, the two continued to meet, both talking about and as the Duck. What Tony didn't realize was that this was really a prolonged audition.
Little by little, Nash helped Tony polish his performance. They worked together on Donald's voice for three years. In 1985, Nash fell terminally ill. When Tony visited him in the hospital, he learned what Nash had intended all along: Tony was going to step in as the new official voice of Donald Duck.
Donald is not an easy character to portray. It is hard to keep his language intelligible. This means Anselmo must review and sometimes revise Donald's scripts. Tony has no trouble with big words like "supercalifragilisticexpialidocious". But shorter words that may seem simple, like "rules", contain soft constants and are nearly impossible. Tony's solution? If he can't pronounce something clearly, he just substitutes another easier word that has the same meaning.
Additionally, playing Donald can be physically exhausting. Performing his long tantrums can leave Anselmo feeling light-headed. Once Tony asked Jack Hannah if Clarence used to have the same problem. It turns out that he did. In fact, Nash had fainted a couple of times in the recording studio!
Anselmo voiced Donald for the first time in a Disney Channel special called DTV Valentine that aired in 1986. Since then he has worked on virtually every Duck project Disney has done. He played Donald in movies like Who Framed Roger Rabbit and Fantasia 2000. Tony's Donald can be heard at Disney theme parks in the Gran Fiesta Tour Starring The Three Caballeros and mixed with Clarence Nash in Mickey's PhilharMagic. He can be heard in many video games, including the Kinect Disneyland Adventures, and the Kingdom Hearts, Disney Infinity and Epic Mickey series.
Anselmo is also the voice of Donald for almost all of his television appearances, including DuckTales, the recent Mickey Mouse shorts and 2018's Legend of the Three Caballeros. Due to Tony's heavy recording schedule, Daniel Ross stepped in as Donald, but only for Mickey and the Roadster Racers, and its spin-off Chip 'n' Dale's Nutty Tales.
Tony has done other voices as well. He has occasionally voiced Donald's nephews, Huey, Dewey and Louie. Once he even performed as Daisy! His other work for Disney includes small roles in Phineas and Ferb, The Great Mouse Detective, and Mickey's Around the World in 80 Days. Tony has not done many voices for other studios, though he did play the Mayor on an episode of the The Real Ghostbusters television series.
Anselmo has received several nominations and awards as a result of his voice work. He was nominated for an Annie Award for his work on 2004's Mickey, Donald, Goofy: The Three Musketeers. He won two Behind the Voice Actors Awards in 2014; one for his work on Mickey Mouse Clubhouse and the other for his performance in Kingdom Hearts. In 2009, Tony Anselmo was named a Disney Legend.
In 1990, Anselmo's dual talents as an animator and voice artist led to a unique honor. Tony became the only person ever to have both voiced and animated Donald Duck. You can see and hear his work in Disney's version of The Prince and The Pauper.
In addition to his voice work and animation, Anselmo creates Disney inspired fine art. He has painted several pictures that feature Donald and his pals. You can even buy one of his originals or limited editions for your home.
Tony is also an avid Disney collector, and has amassed an impressive assortment of Disney posters. His collection was highlighted in a book in 2002 called The Disney Poster Book featuring the Collection of Tony Anselmo.
For Tony, playing Donald Duck is a serious business. He tries not to voice Donald before 11am to be sure his tone is sharp and clear. He never eats before recording as food can impact the sound of his voice. But Anselmo would not have it any other way. As he said, "I've watched Donald Duck cartoons a million times and my whole life I wanted to work for Disney. Pending natural disaster, I expect to be doing Donald the rest of my life."