I've Heard That Voice Before: Corey Burton
by
Joan L. Feder
AllEars® Staff Writer
Feature Article
This article appeared in the February 12, 2019 Issue #1012 of ALL EARS® (ISSN: 1533-0753)
Editor's Note: This story/information was accurate when it was published. Please be sure to confirm all current rates, information and other details before planning your trip.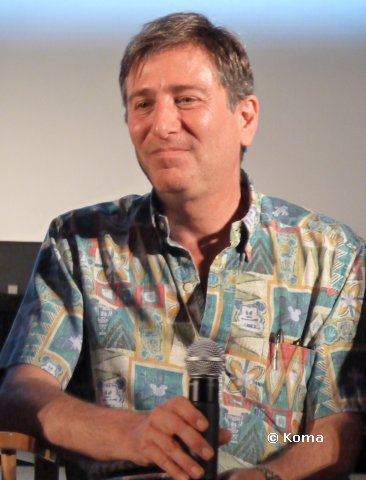 Cartoon characters can live forever. Unfortunately the same can not be said for the actors whose voices bring them to life. Being able to take over a beloved character and keep him alive and relevant is a unique talent, even in the specialized world of voice acting. There are only a handful of people who have done it successfully, and one of the best is Corey Burton. His famous characters for Disney include Captain Hook, Ludwig Von Drake, and Dale the chipmunk. His long career, however, has encompassed so much more; his voice can be heard on television, in movies and at theme parks worldwide.
On August 3, 1955, Corey Gregg Weinberg was born in Los Angeles, California. He became interested in voice acting at a very early age. After a visit to Disneyland's Haunted Mansion and listening to Paul Frees' performance as the Ghost Host, Corey was inspired to make voice work his career.
As a teenager, Burton took advantage of a family connection to meet June Foray, the actress who voiced everyone from Rocky the Flying Squirrel to Cindy Lou Who of Grinch fame. After attending some of her recording sessions, he met Daws Butler, the man who would become not only his friend, but his mentor. Butler was a renowned voice actor, known for his work as Yogi Bear, Elroy Jetson and a plethora of Hanna-Barbara characters during the 1960s. Butler gave Corey the opportunity to study radio acting, and then to work with many of Hollywood's original radio personalities.
Corey was 17 years old and working at Radio Shack when Butler suggested that he audition for a gig at the Disney Studios. They needed someone to fill in for Hans Conreid (the original voice of Captain Hook), who was unavailable to record some additional dialogue for a school film strip. Using the name Corey Weinman, he aced the audition and was hired by Disney for his first professional job. This short performance was admired by Les Perkins who went on to found the Disney Character Voices department, and it eventually evolved into a very long and fruitful relationship with Disney.
Burton has voiced a multitude of characters for Disney television including Captain Hook on Jake and the Never Land Pirates, Dale the chipmunk in several different series (going all the way back to Chip 'n' Dale's Rescue Rangers), and even Count Dooku in Star Wars: The Clone Wars. Burton also performed many voices on home video releases, for example on the old Sing-a-long Song VHS tapes, he was the voice of Professor Owl, Bertie Birdbrain and Ludwig Von Drake. In 2005, he performed the voice of Walt Disney as part of a special feature on the Bambi DVD called Inside Walt's Story Meetings.
Corey Burton's work can also be heard in many Disney animated feature films. He voiced Captain Hook in Return to Never Land, and did other original voices for everything from Hercules to Toy Story 2, Atlantis: The Lost Empire, and Treasure Planet. One of his biggest assignments came up as part of the restoration of Fantasia for its theatrical re-release in 2000. The Studio wanted to return the film to its original longer roadshow length. Unfortunately, much of the soundtrack narration originally recorded by Deems Taylor had deteriorated. Initially, Burton was brought in to fill in the missing pieces, but it was soon decided that he should re-record the whole track (performing as Taylor) for the sake of consistency. Burton has said that this experience was made even more special given his opportunity to work with Roy E. Disney.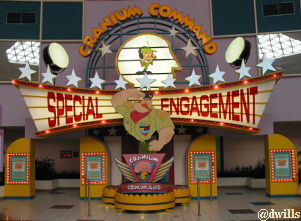 The voice of Corey Burton is a big presence throughout the Disney theme parks. At Disneyland, he is one of the first voices you hear, making the announcements on the parking lot trams. He is the voice of the Ghost Host during the Nightmare Before Christmas, Holiday version of the Haunted Mansion. Burton voices Grumpy on the Seven Dwarfs Mine Train and he is also the voice of the Pirate of the Caribbean who guides you on and off the attraction. And remember Cranium Command at Epcot? As General Knowledge, Burton was the guy who assigned poor Buzzy to pilot a teenage boy.
Corey Burton has had the opportunity to work with many other studios as well. He has performed on each of the major television networks, including as NBC's Peacock logo announcer for several years. His credits include shows on Nickelodeon and Cartoon Network, like The Adventures of Jimmy Neutron: Boy Genius and Samurai Jack. Burton has been a big part of the Transformers franchise, giving voice to the likes of Ratchet, Megatron, Shockwave and Spike. He is also part of the DC animated universe, where his roles have included Brainiac and Commissioner Gordon.
In addition to his work on Fantasia, Burton has done a lot of A.D.R./looping work in a variety of films. A.D.R. (Automated Dialog Replacement) involves re-recording parts of a movie's dialog that have been damaged or are for some reason unusable. Corey worked on such films as ET, Total Recall and Poltergeist. He also dubbed parts in several foreign language films for release in English, including Castle in the Sky. Moreover, Burton's voice can be heard on a wide variety of video games, ranging from Disney Princess: Enchanted Journey to Batman: Arkham City.
All of this work has led to several awards and nominations. In 2003, Burton received an Annie Award (the major awards celebrating work in animation) for his role as Ludwig Von Drake in House of Mouse. He was also nominated for an Annie for his work as Captain Hook in both Return to Never Land and Jake and the Never Land Pirates. His performance in Star Wars: The Clone Wars was nominated for his role as Baron Papanoida, the same role that George Lucas played in his cameo in Revenge of the Sith.
Corey Burton's recent work still includes many roles for Disney. He played Dale and Ludwig Von Drake, among others, in the recent Disney Junior/Disney Channel Series, Mickey and the Roadster Racers. He also voiced several parts in Kingdom Hearts III, which was released earlier this year, including Zeus from Hercules and Yen Sid the wizard. No doubt we will be enjoying his talents for many years to come!
============
RELATED LINKS
============
VIDEO: Corey Burton on the Voices of the Parks Panel – D23 Expo 2011
VIDEO: Voices of the Parks Panel – D23 Expo 2011
I've Heard That Voice Before: June Foray
Also by Joan Feder for AllEars®:
Taking a Spa Break
Another World: Disney's Hilton Head Island
I've Heard That Voice Before: Paul Winchell
What's Disneyland Paris Got That We Don't?
= = = = = = = = = = = = =
ABOUT THE AUTHOR
= = = = = = = = = = = = =
Joan Feder is a lifelong Disney lover and aficionado. She is a writer who loves to cook, read and travel. Her favorite spot to visit is Walt Disney World, where you can find her several times a year drinking a Dorma Nesmond at the Hollywood Brown Derby.