How to Beat the Heat at Disneyland
byAutumn Hilden
AllEars® Guest Columnist
Feature Article
This article appeared in the June 20, 2017 Issue #926 of ALL EARS® (ISSN: 1533-0753)
Editor's Note: This story/information was accurate when it was published. Please be sure to confirm all current rates, information and other details before planning your trip.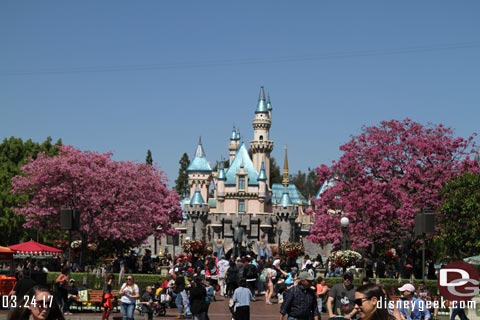 Maintaining your cool at Disneyland in the summer is just like any other aspect of an enjoyable Disney vacation: it takes planning and a little bit of practice. Check out these insider tips for what to ride and when, what to eat and where, and the things you absolutely must avoid if you want to keep cool and refreshed on your summer trip to The Happiest Place on Earth.
Wait Strategically
First off, lines for attractions can be killer no matter how hot the temp is. That's why the very best line for hot days (or any day, really) at Disneyland is Roger Rabbit's Car Toon Spin. It's sort of a predecessor to Walt Disney World's interactive queues, so not only is it cool, temp-wise, it's cool story-wise as well. You'll wind through the back alleys of a moonlit Toon Town, listening to sound effects and familiar voices while stepping through sets and around props. That lovely noir jazz from the movie soundtrack accompanies you the whole way, and it'll be a wait you'll love. Beware, though, that if you FastPass this ride, you bypass the entire queue, losing the story experience and the a/c.
Speaking of FastPasses, Indiana Jones is another strategic wait to try when it's hot out. Avoid the line if you don't have a FastPass, as the front half is entirely outdoors without shade. But if you do have a FastPass, you'll skip to the indoor wait (which is still pretty long, so on a normal day FP is barely a benefit for this ride, but when you're avoiding heat, it's great). Inside you'll enjoy the cool caverns of the Temple of the Forbidden Eye while you anticipate your encounter with Indy.
Play Inside
Sometimes you just can't mess around with the warm California sun. You need to get indoors! DCA's Animation Academy has long been a favorite for summer shade seekers, and with great reason. It's big, dark, and cool, with music and movie clips to wash over you while you recover from the heat. But choose the Animation Academy with caution. It's very often crowded with ornery guests, and when people get grouchy they tend to lose all sense of decorum (picnics spread on the floor, kids screaming while parents nap, etc.). Still, it's really your only option in DCA (other than bugging out to the Grand Californian, which I recommend as a much better alternative). At Disneyland, you can get your air conditioning with a semblance of civility by stopping at the Disney Gallery, enjoying some Great Moments with Mr. Lincoln, or taking in a few Mickey Mouse animated shorts at the quiet Main Street Cinema.
Another option, if you time it right, is Walt Disney's Enchanted Tiki Room, a glorious ode to mid-century kitsch and a wonderful respite from the weather. Waiting on the lanai for the show to start can be tough in the heat, though, so judge carefully (hint: if the pre-show introduction of tiki gods is already in progress, go ahead).
This is where some insider knowledge can help you not wilt during your Disneyland day. Certain rides that have long lines during the day (in the sun), clear out completely at night. Without fail, Buzz Lightyear Astro Blasters is a walk-on when the sun goes down. Save those for evening. Also save a couple of mega-popular rides with long, outdoor lines. These rides are still busy at night, but at least you can avoid waiting for them in the sun: Big Thunder Mountain Railroad, Haunted Mansion, Jungle Cruise (partially shaded but unusually hot, nonetheless), and Space Mountain.
Load Up on Cold Treats – the Right Way
So what is the right way to load up on tasty, cold treats at Disneyland? Without waiting in long, hot lines. Adventureland's Dole Whip is a fan favorite, but waiting in the sun for 40 minutes to get one is hardly an effective way to cool down, is it? And these days the secret is out about the second line, so there's no more beating the system there, either. Try these alternatives for delicious, frozen sweets instead. You'll wait inside — or not at all!
In Disney California Adventure, Rita's Baja Blenders pumps out delicious, affordable margaritas in no time. Get your ice cream at Clarabelle's Hand Scooped Ice Cream or Ghirardelli Soda Fountain; they both let you wait indoors for your custom treat. And for creative sodas and slushies, hit up the Cozy Cones. Cone 4 serves Red's Apple Freeze in a pretty short line. For a cool snack at the front of the park, go for Schmoozies smoothies. There's never a line and you can at least pretend you're getting something healthy.
At Disneyland, it's Gibson Girl Ice Cream Parlor for indoor yummies and Maurice's Treats in Fantasy Faire for the Boysen Apple Freeze. Maurice's is another secret spot that never has a line, and if you need a sit-down, you can grab a shady bench at the adjacent Royal Theatre and stay for a quick melodrama performance.
While many of Disneyland Resort's in-park restaurants offer shade or indoor seating, some are much better than others. If you're looking for total shade and an abundance of seating in DCA, head for Paradise Gardens. It's a beautiful beer garden-type area bordering quick-service locations Boardwalk Pizza and Pasta and Paradise Grill. Not only will you find fans, gazebos, and an atmosphere that strongly recalls old-school Magic Kingdom, you'll probably hit some live music too. At Disneyland, make cool-down lunch plans at Hungry Bear or Rancho del Zocalo. Both have adjacent restrooms and loads of covered seating.
When you need an icy blast of legitimate air conditioning at DCA, dine at Ariel's Grotto or Carthay Circle lounge or restaurant. You'll get a table service meal with your a/c. For a faster blast, try Flo's V8. With excellent food, music, and views, it's the best quick-service option with indoor seats (and they're on both sides of the ordering area, don't forget). Smokejumpers and Fiddler, Fifer & Practical will work as well, but their food is a little more of the rubbery/sitting-around-for-a-bit variety. At Disneyland, get your dose of cool air at Blue Bayou if you've got time and money for a nice meal. Otherwise visit Golden Horseshoe (with bonus music and comedy while you eat), Plaza Inn, Pizza Port, or Red Rose Taverne/Pinocchio's Village Haus.
Call a Time Out
When all else fails, don't forget that Disney's Grand Californian Hotel & Spa is connected to DCA. The lobby and halls are shady and very cool (almost too cold), and you'll find plenty of places to sit, have a beverage, and recharge from the heat. Bonus: the Hearthstone Lounge usually has some citrusy ice water on a stand outside its doors. Grab a cup to sip on while you rest. At the Grand Californian, it's easy to take a break inside and then circle back around to either park's front gates. And, since the relocation of the resort's security checkpoints, your wait to re-enter will be even shorter now than in the past. Of course if you're visiting on a full-blown vacation and can swing a deluxe hotel, make it the Grand Californian, and you can use the exclusive turnstile for hotel guests — no front gate wait required!
Know What to Avoid
Some things you just never want to do during the summer at Disneyland, period. If you are especially susceptible to heat stroke or overheating, avoid Mickey and the Magical Map, which is somehow hotter than anywhere else in the park, despite being outdoors and under a shade canopy. It's almost like a greenhouse, and the sticky, dead air there is difficult to endure or recover from. The lines for Alice in Wonderland and Mr. Toad's Wild Ride are also especially grueling. Mr. Toad has a perpetual, nearby sewer issue that compounds the misery of that line in the summer. Autopia and "it's a small world" offer no shade whatsoever, and Matterhorn offers very little and only at the end. Finally, the Disneyland monorail is totally un-air conditioned and sweltering, Sleeping Beauty Castle Walkthrough has little or no a/c in tight quarters, and the queue for Toy Story Midway Mania has an extremely hot indoor section that also lacks a/c or any kind of breeze/air movement. Experience all of the above with caution.
Be Smart
Finally, make sure to follow all the normal rules for staying cool. Wear light, loose clothing. Slather on sunscreen every two hours. Keep hydrated with plenty of water, and eat regularly. Rest before you need to. Also, keep in mind that desert summers are cool at night, even when days are scorching. Be prepared for a major change in temp when the sun goes down. It'll feel great for 20 minutes, and then don't be surprised to find yourself wishing for a light jacket.
Good luck and happy summer vacationing!
= = = = = = = = = = = = =
RELATED LINKS
= = = = = = = = = = = = =
Here Comes the Sun: Tips for Walt Disney World
Sun Survival Tips from AllEars.Net's Tips Database
= = = = = = = = = = = = =
ABOUT THE AUTHOR
>= = = = = = = = = = = = =
Autumn Hilden is a Los Angeles-based writer and editor. She has worked for Disney Publishing Worldwide and The Jim Henson Company and is currently writing books for young adults. Autumn grew up taking family photos in front of the waterfall pool at the Polynesian Village Resort and selecting "desert" for the final flight on Horizons. She now embraces Disneyland as her Happiest Place on Earth. You can follow her on Twitter here.
-o-o-o-o-o-o-o-o-o-o-o-
Editor's Note: This story/information was accurate when it was published. Please be sure to confirm all current rates, information and other details before planning your trip.