Finding Fun for Boys at Walt Disney World
by Kristin Ford
AllEars® Staff Writer
Feature Article
This article appeared in the September 3, 2013 Issue #728 of ALL EARS® (ISSN: 1533-0753)
Editor's Note: This story/information was accurate when it was published. Please be sure to confirm all current rates, information and other details before planning your trip.
So, you're headed to Walt Disney World for a family vacation and you're looking for an experience that will add that extra magic to the trip. Some time ago, AllEars® Editor Deb Koma offered suggestions about all the special activities Walt Disney World offers for girls in a feature in this newsletter. Since then, we've been asked many times to spotlight the things that might appeal to the boys in the household. Here, I've laid out experiences grouped around common interests for young boys, though girls certainly are welcome to participate, too. This list is by no means exhaustive, so please share some of your favorites with us, as well.
= = = = = = = = = = =
PIRATES
= = = = = = = = = = =
If your seafaring lad loves pirates, you will want to block out a significant amount of time for the Adventureland section of the Magic Kingdom. Here you will find four separate pirate-themed activities.
Before you leave home (up to 180 days ahead of time) you can book a makeover at The Pirates League, which is located in between the entrance and exit of the Pirates of the Caribbean ride. Walk-ins are welcome, too, if space is available. The 45-minute experience transforms kids and adults into new recruits for Captain Jack Sparrow's crew. It begins with would-be deckhands being given an official pirate name when they enter the treasure-filled lair before their make-up is applied. Then, they receive a reversible bandanna, The Pirates League sash, earring and eye patch, sword and sheath, temporary tattoo, unique pirate coin necklace and a personalized pirate oath. Afterward, the recruits enter a "secret" room, where hidden treasures are revealed and official photographs are taken by a PhotoPass photographer. My almost-11-year-old son has been to The Pirates League twice and thoroughly enjoyed each time. He did arrive wearing a pirate costume that we purchased at Walt Disney World, which added to the experience and made for great portraits. We found The Pirates League to be worth our time and money. Makeovers cost about $30 to $40, depending on the package selected. To make a reservation, call 407-WDW-CREW.
If your little buccaneer wants to meet the most clever of pirates, Captain Jack Sparrow, there is only one place at which to do so: His Pirate Tutorial performed on the outdoor stage across from The Pirates League. Be sure to check the daily Times Guide for the Magic Kingdom for show times. A handful of kids are chosen from the audience to learn how to sword fight during the performance, though all children are invited onto the stage at the end. A PhotoPass photographer documents each show, so parents actually can watch their kids and not worry about trying to capture the perfect shot. We have some great pictures from when my son was chosen, and he has wonderful memories of that day. (At this time, Captain Jack Sparrow only does separate meet-and-greets at Mickey's Not-So-Scary Halloween Party and Mickey's Very Merry Christmas Party.)
While you are waiting for The Pirates League or Captain Jack Sparrow's Pirate Tutorial, be sure to ride Pirates of the Caribbean, which opened just a couple years after the theme park did. It since has been updated to include characters from the popular movie franchise. Outside the attraction, Pirate Goofy meets guests and poses for photos.
This spring, a new scavenger hunt opened in Adventureland called A Pirate's Adventure: Treasures of the Seven Seas. Typically, this experience — which involves map-reading, hidden clues and entertaining special effects — does not have a line and can be enjoyed while waiting for the other pirate activities. Each quest is fairly short at about 15 minutes and easy to solve. Every clue triggers a physical action, from a firing cannon to a moving skeleton, which are fun surprises for all ages.
Beyond the Magic Kingdom, there also are several other pirate experiences. In 2009, the Caribbean Beach Resort renovated a number of rooms so guests could feel like they were staying on a pirate ship. From mast-like headboards and barrel tables to carpet that imitates wooden decks and bedspreads decorated with a treasure motif, it's clear that pirates will be comfortable in these surroundings. (We are planning a stay at the Caribbean Beach Resort this month, so please check my blog for more details.) This moderate Disney World hotel also added pirate theming to its public spaces, including the pool, which looks over the harbor near a Spanish fortress. (See the AllEars.Net fact sheet for current room rates.) Other pirate details can be found at the kids' splash area, the gift shop and even the pontoon boats at the hotel's marina.
Speaking of pirate ships, Barefoot Bay Marina at the Caribbean Beach Resort is one of four at Walt Disney World where pirates ages 4 to 12 can embark on pirate adventure cruises. These two-hour cruises take kids to various "ports of call" (other marinas) where they will discover clues that eventually lead to treasure. Along the way, they'll don pirate bandannas, hear swashbuckling stories, enjoy a snack and drink, and then take home the booty they find. Pirate cruises depart at 9:30 a.m. daily, weather permitting, from the Caribbean Beach Resort, Grand Floridian Resort & Spa, Yacht & Beach Club and Port Orleans Riverside. Cost is $36.21 per child — no parents allowed — and reservations can be made by calling 407-WDW-PLAY.
Want to sail Seven Seas Lagoon with the entire family? Try the Pirates & Pals Fireworks Voyage, which departs each night from the marina at the Contemporary Resort. This experience begins with a meet-and-greet with Captain Hook and Mr. Smee at the dock. Then, Captain Patch invites guests aboard for snacks and drinks, and the cruise gets under way. The voyage is filled with spirited sing-alongs, tall tales and Disney trivia games — you could even win a prize. Finally, the boat anchors in the lagoon for a perfect view of the Wishes fireworks over Cinderella Castle in the Magic Kingdom. A mystery guest greets you upon your return to the marina. The Pirates & Pals Fireworks Voyage takes place Monday through Friday and begins 75 minutes prior to the scheduled fireworks. Cost ranges from $30.99 to $34 for children ages 3 to 9 and $53.99 to $59 for adults. Call 407-WDW-PLAY to make reservations.
= = = = = = = = = = =
DINOSAURS
= = = = = = = = = = =
If your child is one of the many with a fondness for dinosaurs, Animal Kingdom definitely should be on your itinerary. One of the park's large themed sections, DinoLand U.S.A. houses rides, carnival games and a fantastic play area. Kids of all ages can enjoy this section of the park.
Guests enter DinoLand U.S.A. by walking under a life-size dinosaur "skeleton," the first of several imposing models that help guests feel like they have stepped back in time. Visitors first come to The Boneyard, which is a play area consisting of slides of different heights, nets, tunnels and squirting water. Cross the bridge and young paleontologists will find themselves in the midst of an archeological dig where they can "discover" woolly mammoth bones. My elementary-age children have loved The Boneyard since they were toddlers, and they still ask to visit it each time we go to Animal Kingdom.
Farther into DinoLand U.S.A. are three rides: Primeval Whirl, TriceraTop Spin and Dinosaur. The gentlest is TriceraTop Spin, which essentially is Dumbo The Flying Elephant replaced by dinosaurs. Primeval Whirl has a height requirement of 48 inches because it is a spinning coaster with sharp curves, hill and drops. It's thrilling but not necessarily scary. Dinosaur, however, is by far the most intense of the three rides. The simulator with a height requirement of 40 inches takes riders on a journey into the past to save the last dinosaur that can be both dark and frightening for young kids.
However, everyone can enjoy the outdoor carnival games and the dinosaur-themed gift shop. DinoLand is a must if your child is fascinated with these creatures.
For a fun dining experience with a dinosaur theme, be sure to visit Landry's T-REX Cafe at Downtown Disney. Owned by the same company that developed Rainforest Cafe, the concept is quite similar. T-REX Cafe, though, immerses diners in the Mesozoic world of the prehistoric animals. Animatronic pterosaurs, woolly mammoths, a massive undulating octopus and a 15-foot-tall T. Rex are placed throughout the restaurant and every 20 minutes, a meteor shower provides a fun warning of doom for reptiles and human diners alike. There really is not a bad seat at T-REX, but the central ice cave is always popular because it changes from red to blue and back again.
T-REX serves American cuisine, including sandwiches, salads, entrees and its famous Chocolate Extinction dessert. The bar offers a selection of wines, beers and cocktails. T-REX also houses a dino dig area to entertain kids while they are waiting for their reservations and a Build-A-Dino store (similar to Build-A-Bear) for unique souvenirs.
= = = = = = = = = = =
SPORTS
= = = = = = = = = = =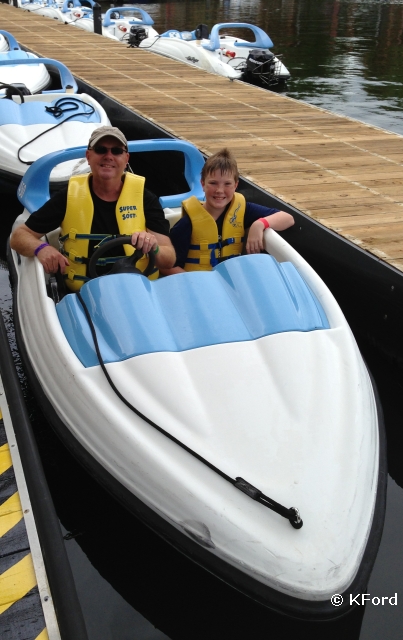 Sports fans won't want to miss the ESPN Wide World of Sports, just inside the Walt Disney World arch. The complex features separate areas for baseball, football, soccer, tennis, and track & field. It hosts events for all these sports, plus runDisney, cheerleading, lacrosse, gymnastics, dance, volleyball and more. Check http://espnwwos.disney.go.com for the upcoming schedule and to purchase tickets for specific events. Guests also can enter the complex to dine, shop and look around if they pay the admission price of $16 for adults and $11 for children ages 3 to 9.
If being out on the water is your boy's idea of a perfect day, there are several options. Sammy Duvall's Water Sports Centre, which is based at the marina at the Contemporary Resort, gives guests the opportunity to parasail, water ski, wakeboard, tube or ride a personal watercraft. As a child, I learned to water ski on that lake, and the ski instructors were wonderfully patient and helpful. See http://sammyduvall.com for rates and call 407-939-0754 for reservations. (NOTE: AllEars® readers can get 15 percent off by using the coupon mentioned at the bottom of this newsletter.)
Many of the deluxe and moderate hotels at Walt Disney World that are located near water have marinas that rent pontoon boats and two-person Sea Raycers. My husband and son have taken out the Sea Racyers on several occasions and enjoy the experience of seeing the property from a different vantage point.
Anglers can participate in guided fishing excursions or dockside fishing. Excursions take place on a 21-foot Tracker pontoon boat that can accommodate up to five guests. The excursions go out on Bay Lake, Seven Seas Lagoon, Village Lake, Crescent Lake or World Showcase Lagoon for either two hours ($270) or four hours ($435) and include all equipment and supplies, plus membership to the Bass Anglers Sportsman Society for a year. Call 407-939-BASS to make a reservation.
To fish off the dock, gear for casting-rod fishing can be rented from the Bike Barn at Disney's Fort Wilderness Resort & Campground. Poles are $6 per half hour or $12.50 for the day. Bait is $5 to $6, depending on type. For traditional cane-pole fishing, visit the Fishin' Hole at Old Man Island at Disney's Port Orleans Resort – Riverside. Poles there are $4 per 30 minutes for an individual, or $12.46 for the all-day family package (4 to 6 people). All fishing at Walt Disney World Resort is catch-and-release only.
Finally, you may have to be 16 years old to play one of Walt Disney World's four championship golf courses, but families are welcome at all four miniature golf courses. Winter Summerland, located just outside Blizzard Beach water park, offers two 18-hole courses that are whimsically designed for Santa's working and off seasons. Fantasia Gardens, within walking distance of the Walt Disney World Swan & Dolphin Hotel, has a traditional miniature golf course themed to Disney's "Fantasia" and a par-3 course for more advanced players. Prices are $14 for adults and $12 for kids ages 3 to 9 for 18 holes. If you play a second round, get half off. Disney World pass holders get half off all four courses.
= = = = = = = = = = =
OTHER ACTIVITIES
= = = = = = = = = = =
These are just a few activities to get you thinking about how to maximize your vacation enjoyment with your youngsters. There is a host of other subjects you could consider, too.
Are your boys into trains? Then you'll want to check out the Magic Kingdom railroad or the train at Animal Kingdom or, of course, the legendary monorail system at the resort. Don't forget The Magic Behind Our Steam Trains tour, too, for those ages 10 and up.
If they're into other forms of transportation, like automobiles, perhaps you'd like to take a trip to see the "Cars" wing of Disney's Art of Animation Resort? And of course they'll want to check out the new version of Test Track in Epcot, as well as trying their hand at driving themselves at the Tomorrowland Speedway.
Maybe it's coasters your boys like. OK, then, Space Mountain, Expedition Everest and Rock 'n' Roller Coaster, here we come!
What about animal wildlife? You could spend a day or more at Animal Kingdom.
If they're budding history buffs, they'll be interested in the historical attractions such as those at Liberty Square in the Magic Kingdom or the movie-industry history on display at Hollywood Studios.
Is your young man a gamer? Don't miss DisneyQuest at Downtown Disney West Side, an indoor interactive "theme park," which houses five floors of cutting-edge technology, virtual reality and 3-D experiences. You might also want to poke your nose in to Innoventions, both West and East, in Epcot, to see what new technology, games and hands-on activities are being featured.
You get the idea: The list is practically endless.
Clearly the activities above aren't JUST for boys, but we hope that we've sparked some new ideas for those who were worried that Walt Disney World might not have any interesting options for the young males in their household. There's little doubt that some girls will enjoy many of the same sporting events, pirate play and even the fantasy fun of walking among the dinosaurs of the distant past. And, given how much fun all the activities can be at Walt Disney World, they might even offer parents a chance to watch their sons and daughters have fun — dare we say it? — together.
Now wouldn't that be a magical vacation?
-=-=-=-=-=-=-=-=-=-=-=-=-=-
RELATED LINKS:
The Princess Experience (AllEars® Issue #611)
http://allears.net/ae/issue611.htm
The Pirate's League and Captain Jack Sparrow's Pirate Tutorial
http://land.allears.net/blogs/guestblog/2012/03/the_pirates_league_at_disney_w_1.html
A Pirate's Adventure: Treasure of the Seven Seas
http://land.allears.net/blogs/kristin-ford/2013/05/_going_on_a_pirates.html
Caribbean Beach Resort pirate rooms
http://land.allears.net/blogs/jackspence/2009/02/caribbean_beach_resort_pirate_1.html
Winter Summerland
http://land.allears.net/blogs/guestblog/2012/03/disneys_winter_summerland_is_g.html
Fantasia Gardens
http://land.allears.net/blogs/kristin-ford/2013/06/fantasia_gardens_at_walt_disne.html
The Magic Behind Our Steam Trains Tour
http://allears.net/btp/tours.htm#rr
DisneyQuest
http://allears.net/btp/dqfaq.htm
-o-o-o-o-o-o-o-o-o-o-o-
Editor's Note: This story/information was accurate when it was published. Please be sure to confirm all current rates, information and other details before planning your trip.