Fantasy-izing: Disney's Newest Ship Sets Sail
by Debra Martin Koma
AllEars® Senior Editor
Feature Article
This article appeared in the April 3, 2012 Issue #654 of ALL EARS® (ISSN: 1533-0753)
A little more than a year ago, I wrote in glowing terms in this newsletter about my first Disney cruise experience, aboard the Disney Dream. (AllEars® issue #592, January 25, 2011, http://allears.net/ae/issue592.htm). I'm back again with my latest cruise adventure, on the newest member of the Disney Cruise Line's fleet, the Disney Fantasy.
If Disney's foray into the cruise industry doesn't interest you — you feel that you're more of a theme parks person — I urge you to read on anyway. There are some very cool innovations on the Fantasy that I can imagine eventually being translated to the theme park experience.
You may have read about the Disney Dream, which launched last January. If so, you know that the Fantasy is its sister ship. Like the Dream, the Fantasy is IMMENSE. Let me throw some facts and figures at you: The Fantasy is 1,115 feet long, 216 feet high, has 14 decks, and holds 4,000 passengers, plus another 1,458 crew members. She has 1,250 staterooms, two theaters, five table service restaurants, nightclubs, lounges, a full spa and fitness center, plus an assortment of pools and water play areas, an art gallery, a sports deck, shops and a game arcade. Yes, that's just on ONE ship. If someone tells you they got lost onboard, you can believe them — with that much space, it is so easy to do.
If I were to try to paint a verbal picture of the Fantasy for you, I'm afraid that my description would sound much like my review of the Dream — they are for all intents and purposes extremely similar. The Fantasy shares its sister's opulent appointments — Swarovski crystal chandeliers, an expansive atrium with sweeping stairways, lush carpeting, gold accents… While the overall design of the Fantasy is art nouveau, as opposed to the Dream's art deco décor, the two ships share so much in common that it seems redundant for me to belabor that point.
There are however some key differences between the Dream and the Fantasy that I'd like to focus on.
= = = = = = = = = = = = = = =
Animation Magic
= = = = = = = = = = = = = = =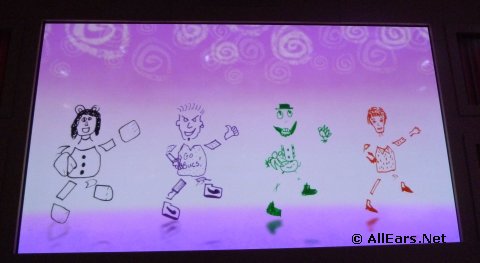 Overall, I found many of the most exciting differences I found on the Fantasy to be in the area of entertainment — and that's why I say that I think some of these ideas might one day be implemented in a theme park setting. Take for instance the new show featured at Animator's Palate restaurant. Aboard the Dream, folks were excited when Animator's Palate introduced the ability to have an interaction with Crush, the giant sea turtle from Disney-Pixar's Finding Nemo. Crush not only appears on the restaurant's walls, but can "see" diners, and converse with them about what they're wearing and doing, as he does in Epcot's groundbreaking show "Turtle Talk with Crush."
You can also talk with Crush at the Fantasy's Animator's Palate, but on this new ship they offer yet another innovative show. Called "Animation Magic," this show combines classic Disney cartoon clips and characters with drawings created by the diners themselves. The show itself is delightful — I really wish I could have seen it more than once. I won't spoil the surprise of the show too much, but if you want to see a few still photos and hear some more about how your drawings are taken and converted into animations dancing across the screen in front of you, read my blog and see the excerpts of my video interview with Bob Zalk, Senior Show Producer with Walt Disney Imagineering:
http://land.allears.net/blogs/allearsteam/2012/03/whats_new_on_the_disney_fantas_3.html
= = = = = = = = = = = = = = =
New Live Entertainment
= = = = = = = = = = = = = = =
As I interviewed various crew members and Imagineers involved in the development of the Fantasy, one of the recurring themes I heard was that this ship was truly designed with seven-night sailings in mind. As many of them told me, longer cruises means they have more time with the guests, which allows Imagineers the chance to tell their stories more fully. But that same advantage also proves to be a challenge: there has to be rich enough variety of experiences to keep everyone entertained over the course of an entire week.
To that end, the Fantasy adds two new theatrical productions to the Disney Cruise Line's repertoire — Wishes, an all-new show whose story revolves around graduating high school seniors about to embark on new lives, and Aladdin, a show virtually lifted from Disney California Adventure and translated brilliantly to the Fantasy's Walt Disney Theater.
Of the two new shows, I felt Aladdin was the stronger, more exciting presentation. Of course, any production that features the smart-aleck, ad-libbing Genie is sure to be a crowd-pleaser, but I think the fact that the show had a good long run out in California gave it the chance to hone both the plot and the pacing. And the way they created the flying Magic Carpet illusion was just ingenious. I rated Aladdin two thumbs up!
I didn't feel quite so generous after viewing the 45-minute presentation of Wishes, although the charming young cast did impress me with their enthusiasm, and I did enjoy the variety of less commonly seen Disney characters, like Hercules and King Louie. The highlight of the show was the energetic, modern-day reworking of Pinocchio's, "I've Got No Strings" — I doubt that there was anyone in the audience whose toes weren't tapping, and I would sit through the show again just to see that number.
The Fantasy will also be introducing two additional shows in the near future, which were not quite ready to be staged. The "welcome" show to be presented on the first night of the cruise, will be "A Fantasy Come True," a high-energy, multimedia musical production that follows one family's journey as they discover the amazing experiences and enchanting surprises that await them aboard the Disney Fantasy, while the last night of the cruise will feature "An Unforgettable Journey," a 45-minute musical that will connect guest experiences to Walt Disney through audio and video clips. For more on the Fantasy's live entertainment, see Deb Wills' blog:
http://land.allears.net/blogs/debwills/2012/03/whats_new_on_the_disney_fantas_2.html
= = = = = = = = = = = = = = =
Europa
= = = = = = = = = = = = = = =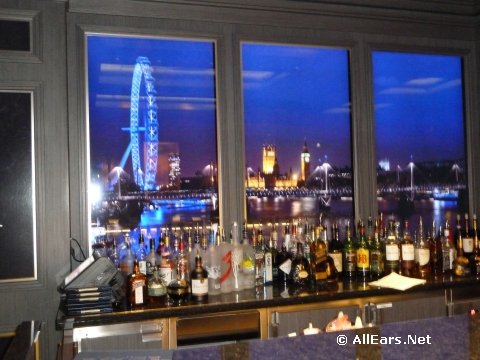 On the Fantasy, as on the Dream, the adults-only nightclub area is located on Deck 4 Aft and features five distinct lounges. Unlike the Dream, though, the Fantasy's nightspot is themed around various cities of Europe. Dubbed Europa, the area features a central location, the Venice-inspired La Piazza, which acts as a hub (or the central square). Four other clubs branch off from La Piazza: O'Gills, a sports-bar/Irish pub; The Tube, a London-themed dance club with an electrified dance floor; Ooh La La, a boudoir-like Parisian champagne bar; and the Skyline lounge, which, like its Disney Dream counterpart of the same name, sports a cityscape backdrop that changes every 10 or so minutes.
For more details on the clubs of Europa:
http://land.allears.net/blogs/allearsteam/2012/03/whats_new_on_the_disney_fantas.html
= = = = = = = = = = = = = = =
Midship Detective Agency
– Muppet Version
= = = = = = = = = = = = = = =
The Midship Detective Agency is an interactive "mystery" game that was introduced last year on the Disney Dream. Similar in style to the recently launched "Sorcerers of the Magic Kingdom" game at Walt Disney World, the Midship Detective Agency game takes you from one end of the ship to the other looking for clues. While the Dream has two different scenarios, which Fantasy also shares, the Disney Fantasy adds a third mystery incorporating the wonderful Muppets.
This Muppets adventure, "The Case of the Stolen Show," starts on Deck 5 Midship or Deck 2 at the Midship Detective Agency self-serve kiosk. You pick up a game card and ship map and follow the video instructions on the screen. Introduced by Kermit, and, one of my personal favorites, Pepe the King Prawn, I found this game highly entertaining. In fact, it appears that Pepe is sailing on the Disney Fantasy — your adventure takes you to his cabin, which becomes part of the game itself. I decided to play straight through, although you can stop and start as time permits — your "badge" card is encoded and keeps track of what you've done so far. It took me the better part of 90 minutes, traveling on nearly every deck, from aft to forward and many spots in between, before I finally solved the puzzle as to who was stealing the Muppets' props. To quote Bean Bunny from Muppet Vision 3D, "what a cute ending."
http://land.allears.net/blogs/debwills/2012/03/the_muppet_adventure_game_1.html
= = = = = = = = = = = = = = =
Water Play Areas
= = = = = = = = = = = = = = =
While the Fantasy sports many of the same water play areas as the Dream — the same swimming pools and the AquaDuck water coaster — the Fantasy does have two unique areas of its own:
Satellite Falls has been added to the adult-only water areas on Deck 13 Forward, near the Currents Bar. There's a circular splash pool with benches and a gently falling rain curtain, which you can actually sit inside of if you wish.
Aqua Lab is a brand new play area on Deck 12 near the AquaDuck. According to Imagineer Peter Ricci, who also designed the AquaDuck, Nemo's Reef and other water areas on the ship, the concept is that Donald Duck's nephews, Huey, Dewey and Louie, created the lab to conduct a variety of water "experiments" before building the water coaster. Water sprays at you from every direction, from the walls and leaky pipes surrounding you, from the Ducky Dinghy inexplicably suspended overhead, and, Ricci's personal favorite, from the spinning "DuckBoy" paint buckets (a play on "Dutch Boy" paint) that tip over and dump on you when you least expect it. One walk through this new area and you can see why Ricci calls the AquaLab "a labor of love" and "so much fun."
http://land.allears.net/blogs/debwills/2012/03/whats_new_on_the_disney_fantas.html
= = = = = = = = = = = = = = =
Bibbidi Bobbidi Boutique/
Pirates League
= = = = = = = = = = = = = = =
Finally, one of smartest additions to the Fantasy, in my opinion, is the Bibbidi Bobbidi Boutique, the beauty salon geared toward transforming little girls into elegant princesses that is so popular at both Walt Disney World and Disneyland. The Boutique offers an assortment of makeover packages, several of which are exclusive to the Fantasy, every day except one — on the day of the sailing's designated Pirate Night, the Boutique transforms into The Pirates League, where young and old alike can be made up to look like their favorite buccaneer. Details and prices for the Princess and Pirate makeovers can be found in my blog here:
http://land.allears.net/blogs/allearsteam/2012/03/whats_new_on_the_disney_fantas_1.html

As you can see, while very much like Disney Dream, the Fantasy is more than just a clone — it's sort of like the Disney Dream 2.0. Advancements in technology have enabled Disney and its Imagineers to raise the cruise standards bar even higher, while creating a vessel that gives individuals of all ages a unique cruise vacation experience.
DISCLOSURE: As an invited media guest, AllEars.Net's cruise expenses for the Disney Fantasy Media Preview Cruise were paid by the The Walt Disney Company. Opinions expressed herein are solely the author's, however, and do not reflect the opinions or policies of The Walt Disney Company or its affiliates.
= = = = = = = = = = = = = = =
RELATED INFO
= = = = = = = = = = = = = = =
Before we left for the Fantasy's media preview cruise, we asked readers to submit questions. We tried to answer as many of these questions as we could in the blogs we've been posting on AllEars.Net the last two weeks — hopefully we've answered yours. Unfortunately, we couldn't address specific stateroom questions, as only a handful of rooms were open to us for inspection. Here are a few other random things you were wondering about: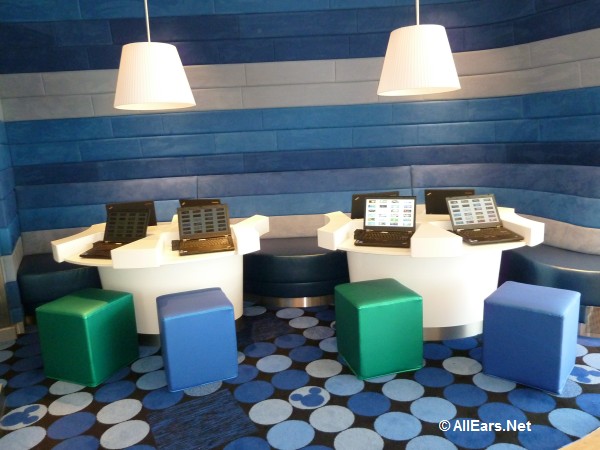 Q: My older son is less than thrilled with what we have seen of The Edge (the "tween" club area). It really looks like a room with empty tables and beanbags. Can we get an idea of what they will be doing there so that he can get as excited as his younger brothers?
A: The Edge is located on Deck 13 Midship, and is dedicated to the 11-13 age group. Yes, it is a big room with a lot of bean bags, but it also has a fantastic view through its floor-to-ceiling windows and some fun activities for younger teens. I spoke at length with several of the counselors there about how the club works. Kids check in once at the beginning of the cruise, and then can come and go to the Edge as they please. In fact, there's a dedicated elevator that will only stop on the 13th floor with a tween's encoded Key to the World card.
In one side room, off the main area, there's a green screen, where tweens have a chance at playing a weather person, or a sports or news anchor, then can burn a CD of the experience as a keepsake. In another area, there's an interactive gaming table, which one counselor described as basically a big iPad, with a variety of games. In addition, there are scavenger hunts, video games, and plenty of scheduled activities, like an arts and crafts hour and beginning cooking classes, as well as activities that occur up on the sports deck, like dodge ball. For those looking for quieter pursuits, there are plenty of books and board games. There's no food served in the Edge, but tweens are welcome to run down to Cabanas on Deck 11 and bring food up to eat there. Here are a few photos of the Edge — I'll have more online later this week.
http://allears.net/cruise/ships/fantasy/images/edge-fantasy-1.jpg
http://allears.net/cruise/ships/fantasy/images/edge-fantasy-3.jpg
http://allears.net/cruise/ships/fantasy/images/edge-fantasy-4.jpg
Q: What can you tell us about accessibility on the ship?
A: Just from my observations, and from speaking to random guests aboard the cruise, it seems that the Fantasy is extremely accessible for those in wheelchairs or scooters.
Here are few photos of guest rooms a fellow passenger allowed me to snap — there were no unoccupied accessible staterooms available to us during the preview cruise.
http://allears.net/cruise/ships/fantasy/images/fantasy-accessible-stateroom-1.jpg
http://allears.net/cruise/ships/fantasy/images/fantasy-accessible-stateroom-2.jpg
http://allears.net/cruise/ships/fantasy/images/fantasy-accessible-stateroom-3.jpg
As you can see, the stateroom was spacious, and the bathroom facilities were barrier-free. You could roll the wheelchair right into the shower and there were grip bars and a hand-held shower for added convenience. Additionally, the room door was equipped with an automatic opener, and a lower peephole so that someone seated in a wheelchair could see out. According to others I spoke with, they found the thresholds between doorways easy to cross over, and I noticed ramps in numerous locations. I even found ramps located in the water play area of The Vibe, the older teen club located on Deck 4 Forward. I noted several stand-alone accessible restrooms in the Europa area. We'll have more on accessibility concerns on the Fantasy in the coming weeks.
Q: We have no kids and are not "kid-oriented." Does the Fantasy have enough to do for adults with no kids?
A: As mom to one son who has pretty much left the nest, I wondered this myself. Rest assured, there are plenty of "adult" things to do on board, and off. (Ooh, that sounds almost X-rated, but you know what I mean!) The kid or family activities are very clearly defined. There are scheduled character meet-and-greet sessions in the Atrium throughout the day and the family pool areas have plenty of children running around, but if you really wanted to, you could probably spend the entire week on the ship without seeing Mickey and friends more than a few times. During the day, you can visit the "over-18" areas up on Decks 11 and 12 — the Cove Cafe, the Cove Pool, and Satellite Falls, the new water area for adults. There's the whole Europa nightspot area. And there are two adults-only table service restaurants, for special nights out: Palo, the romantic Italian restaurant on Deck 12, and Remy, next door, the very exclusive (it only seats 68!) restaurant that features a menu co-authored by Victoria and Albert's executive chef Scott Hunnel and award-winning French chef Arnaud Lallement. After dinner, you can visit the neighboring Meridian Lounge for a nightcap. If you're familiar at all with Disney cruises, you probably already know about the adults-only pool and the adults-only beach at Disney's private island, Castaway Cay. These restrictions are carefully enforced. If you want to get away from it all and pamper yourself, there's the Senses Spa, and if you need to work out, there's a fitness center. If the nightly theatrical show are too "kid-oriented" for you, there's the Buena Vista Theater, which shows not only G-rated films, but more substantial fare like The Help and War Horse. So while the Fantasy, and the entire Disney Cruise Line, is definitely "family friendly", I'd say that adults without children will have no trouble amusing themselves without the pitter-patter of little feet.
-=-=-=-=-=-=-=-=-=-=-=-=-=-=
ABOUT THE AUTHOR: Debra Martin Koma, AllEars.Net's Senior Editor, fell in love with Walt Disney World on her first visit there — when she was 35! She's lost count of how often she's returned to her Laughing Place in the ensuing years, but knows that she still isn't tired of it. (And doubts she ever will be.) Read more of her writing for AllEars® here:
http://allears.net/btp/dkoma.htm
-=-=-=-=-=-=-=-=-=-=-=-=-=-=
RELATED LINKS:
Disney Fantasy information to date:
http://allears.net/cruise/ships/fantasy/disney-fantasy.htm
Disney Fantasy Menus (with more added daily):
http://allears.net/cruise/ships/fantasy/dining/menus/fantasy-menus.htm
Disney Dream Information:
http://allears.net/cruise/ships/dream/disneydream.htm
The Disney Fantasy's maiden sailing began March 31, with several members of the AllEars.Net Team aboard. Follow Deb Wills on Twitter as she shares photos of the cruise's highlights throughout the day at http://twitter.com/AllEarsDeb.
And read Laura Gilbreath's daily blogs from the Fantasy at:
http://land.allears.net/blogs/lauragilbreath/disney_cruise_line/fantasy_maiden_voyage_2012/
-o-o-o-o-o-o-o-o-o-o-o-
Editor's Note: This story/information was accurate when it was published. Please be sure to confirm all current rates, information and other details before planning your trip.