DISCLOSURE: This post may contain affiliate links, meaning when you click the links and make a purchase, we receive a commission.
Anyone who has flown on Spirit knows it is the top in the game when it comes to budget flights. A $95 flight from DC to Miami? Yes please!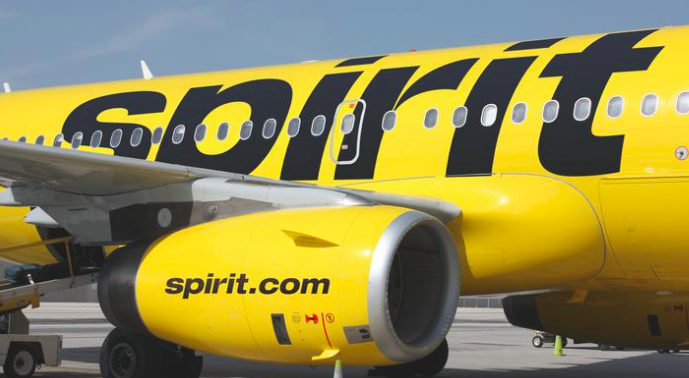 Although it may seem counterintuitive, cheap flights come with a price! Unlike your typical major airlines, budget airlines like Spirit charge for carry-on bags, and bag fees for checked bags are higher. These costs can easily add up!
Spirit Airlines consider a personal item to be a purse or small backpack that is no bigger than 18 x 14 x 8 inches. Carry on luggage can have maximum dimensions of 22 x 18  x10  inches. We're sharing a variety of personal items and carry-ons that will help you keep your trip costs to a minimum!
We can't imagine getting any more features out of this travel backpack! This 15 inch bag has designated pockets for your laptop, phone, water bottle, even tissues! Inside there is a compartment to plug in and place a portable charger, with a coordinating cord on the exterior so you can charge your devices while on the go.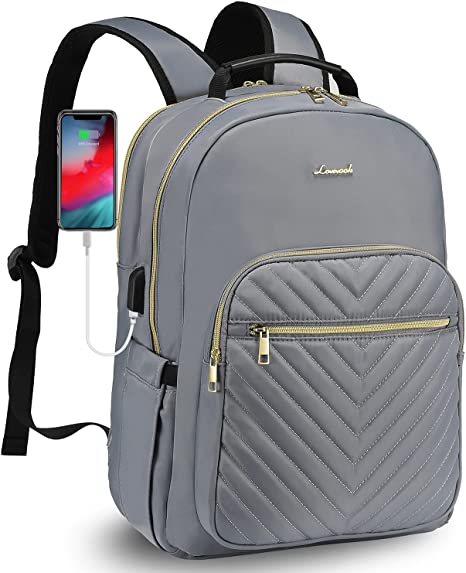 The back has a strap that allows for you to slip the backpack over your suitcase handle if you are traveling with more luggage. With the space inside this backpack though, you probably won't need to! Reviewers note that even though it's a smaller bag, they were still able to fit all of their necessities thanks to the shape and multitude of compartments. We love this floral print, but it comes in a ton of different colors too!
If you're an adventurer who loves spending time in the great outdoors you'll appreciate this hiking-style backpack. The square shape and buckles totally give us camping vibes! Padded straps help support the bag without putting too much pressure on your shoulders, and the bag also has a top looped handle. 
The main interior compartment has a padded laptop sleeve as well as four smaller pockets that will keep your smaller items organized. If you're planning on bringing this bag camping or anywhere outdoors, there's no need to worry because the material is both durable and waterproof! We are totally bringing this with us the next time we stay at the Fort Wilderness Campground.
Backpacks aren't the only bags suitable for use as a personal item. This duffle bag is just as spacious as it looks but will still fit Spirit Airlines's personal carry on dimensions. They have two models, one with and one without a shoulder strap. Both versions have large looped handles for easy carrying.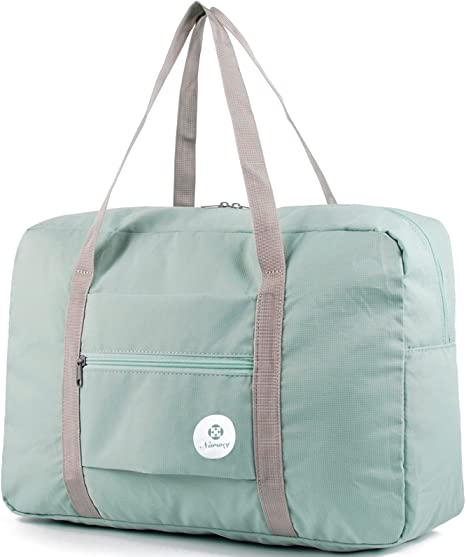 The heavy duty straps are reinforced to support just under 50 pounds. There is one large main compartment and a small zippered compartment on one side that also acts as a strap to hold your duffle over the handles of a rolling suitcase. There are THOUSANDS of reviewers not only confirming this bag is accepted by Spirit, but also sharing how they were able to fit everything they needed for a week long trip just in this bag alone!
Just planning on a short trip? No need to bring out the big guns- you can easily stick to something smaller. Opt for a weekender and you'll be able to bring everything you need without having to tote around a bulky bag. 
We like this black zippered tote by Lily & Drew. It has both handles and an adjustable shoulder strap and only weighs 3 pounds. Inside the main compartment there are two medium mesh pockets and three smaller ones, and separate from that is a laptop compartment with its own zipper. The front of this bag has another zippered pocket with space for your phone, wallet, and even a clip to hold your keys in place. The wear-resistant material will see you through many trips!
We understand, not everyone is a packing minimalist. If you need something a little bigger but don't want to commit to a full-sized suitcase, this carry-on fits within Spirit's dimensions so you'll only need to pay the fee for a carry-on. This compact little suitcase by Sakroots has a front flap open that reveals a spacious interior.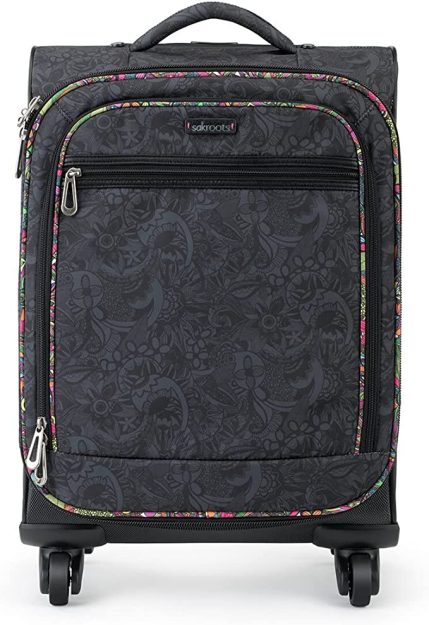 Inside the front flap is a large, zippered, mesh pocket where you can store items you don't want floating around inside the main compartment. Straps inside the main portion help compress any bulky items, and two more exterior pockets provide extra storage opportunities. These cute patterned suitcases are also crafted from vegan certified material, so you can look good AND feel good!
Once you try a spinner suitcase you won't want to go back. This suitcase by U.S. Traveler features wheels that spin 360 degrees which make it extremely easy to maneuver in any direction. The top handle extends and retracts, while an additional top and side handles will come in handy when lifting it up and down from the overhead bin.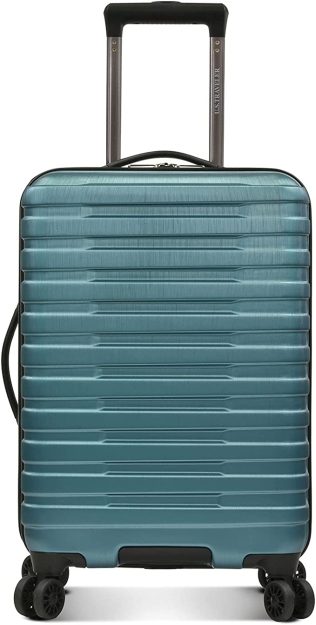 Opting for a suitcase with a hardshell exterior will provide additional protection to your belongings, plus it's waterproof! As if all of this wasn't enough, this suitcase also has a built in USB port to charge your devices! It really doesn't get better than this, and this one will help you avoid paying Spirit's baggage fees.
Are you planning on traveling with young children? Check out our article on flying with a baby!