If you're a big thrill junkie, then Universal Orlando may be the place for you!
There are some awesome coasters here, from Hagrid's Magical Creatures Motorbike Adventure to Hollywood Rip Ride Rockit! We recently got to check out the brand-new VelociCoaster at Islands of Adventure during a preview, but now we're back for opening day to share all the details.
We arrived bright and early this morning at the parking garage ready to go! We expected a large crowd, so it's best to show up as soon as you can. By the time we got in, the line was already long enough to be rerouted in front of Hard Rock Cafe.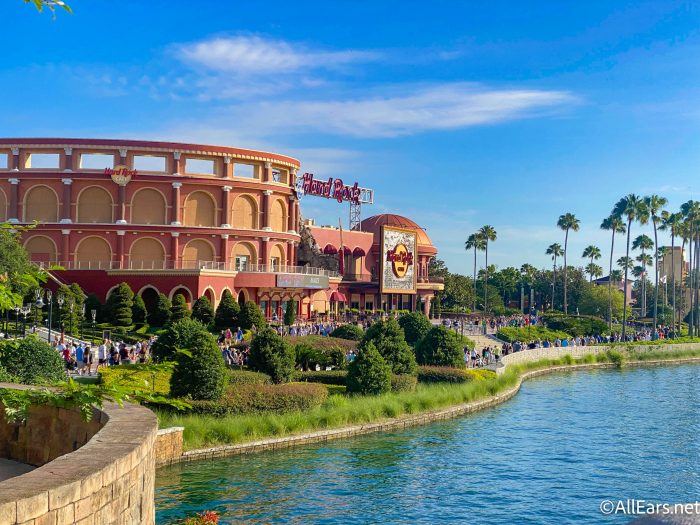 We hustled into the park and made our way toward the area where we hoped the line would end. Things were pretty empty in other lands, including Hogsmeade. THIS is why you rope drop guys!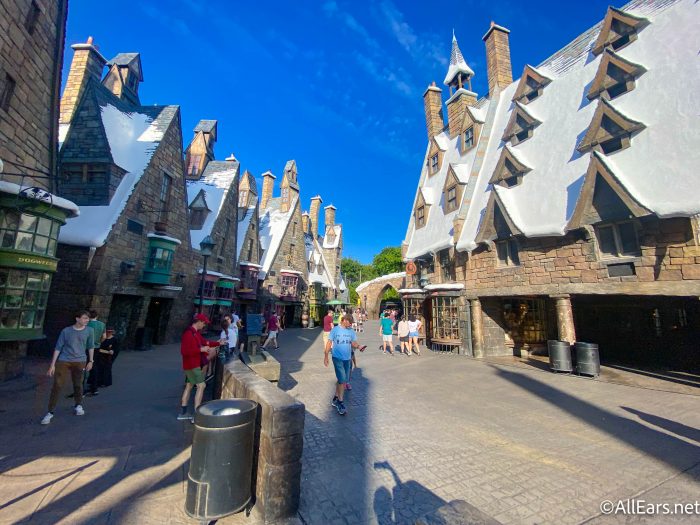 Anyone who wanted to ride Hagrid's this morning could've hopped on in about 5 minutes! After our march through Hogsmeade, we finally found the end of the VelociCoaster queue — all the way in Toon Lagoon!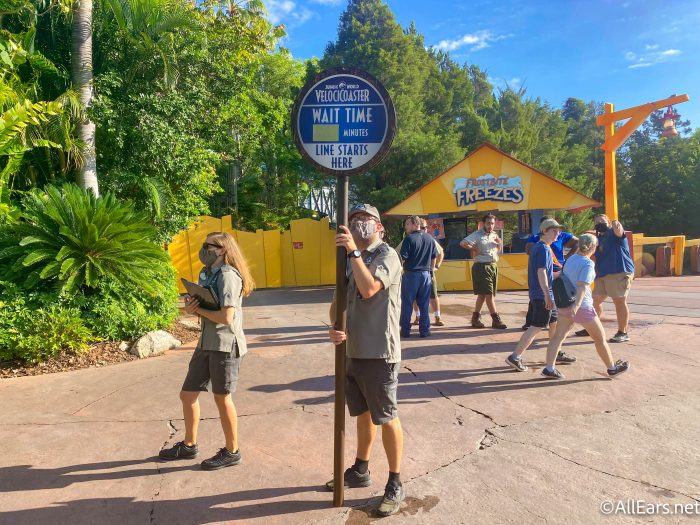 At the time when we got in line, the park wasn't officially open, so they hadn't started running the ride yet or letting people into the regular queue. Once opened, we started moving towards the ride entrance (with many detours along the way).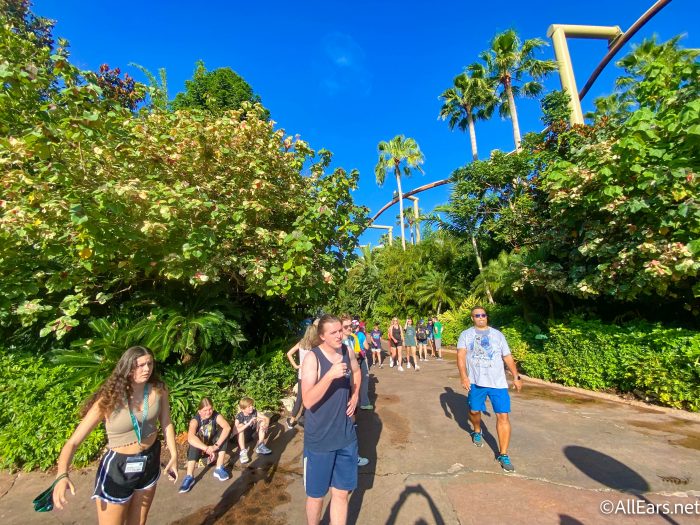 While in the queue, we passed by Skull Island: Reign of Kong, which was already loading guests.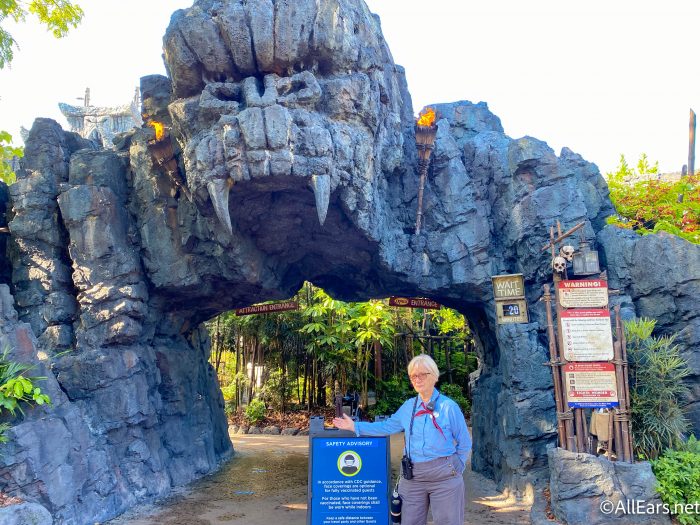 During this time, we noticed that a wait time was showing up on the Universal Orlando app. It started out at a 180 minute, or 3-hour posted wait!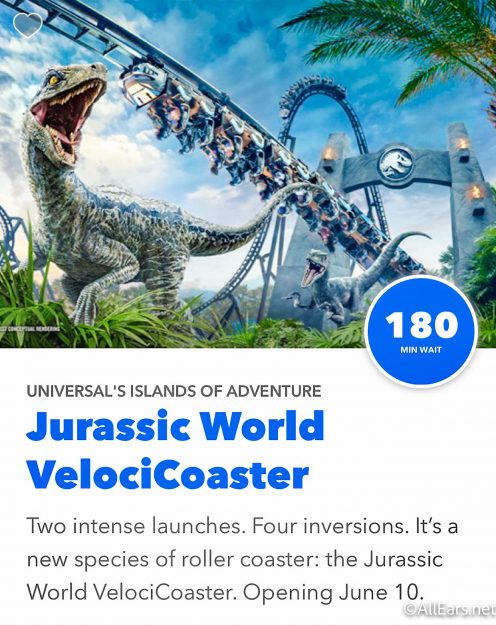 We finally made it into Jurassic Park, and we pretty much weaved through the entire land. Around…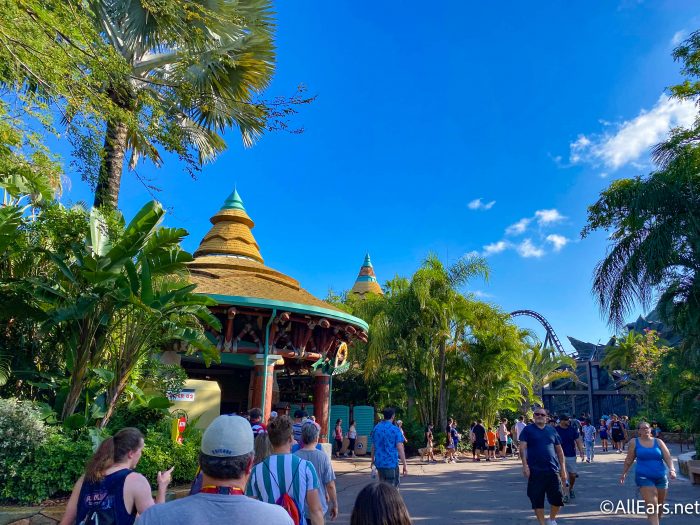 …and around…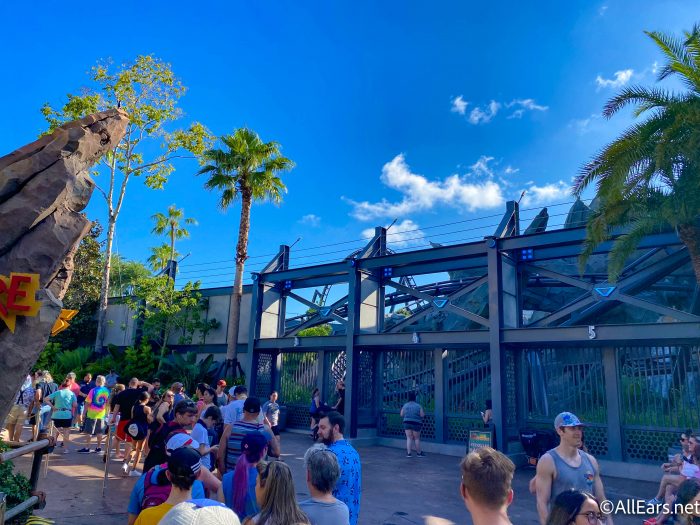 …and around.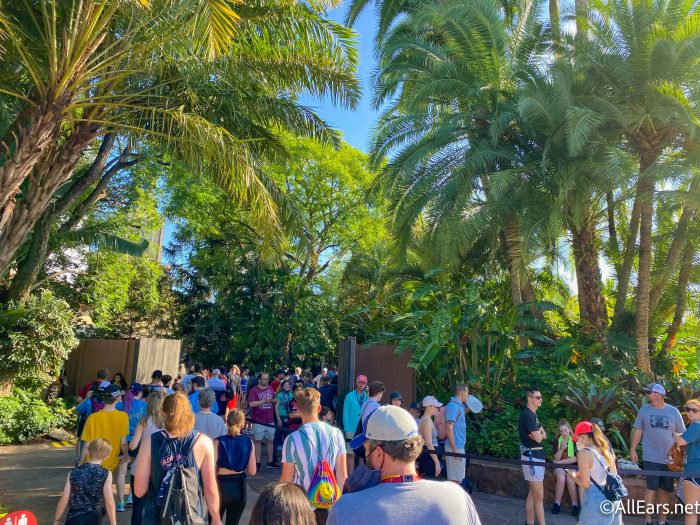 And then, we were shocked to find ourselves in a different land altogether. We're not in Jurassic Park anymore Toto…we're in Hogsmeade!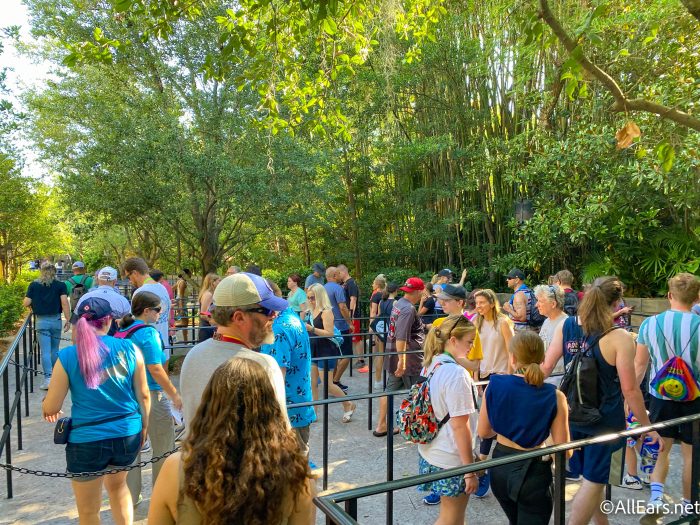 The line for VelociCoaster was so long that they ended up using part of the Forbidden Journey extended queue to help cover the wait!
When we left Hogwarts, we started making progress toward the actual ride entrance. Our wait was slightly disrupted by some filming from The Today Show.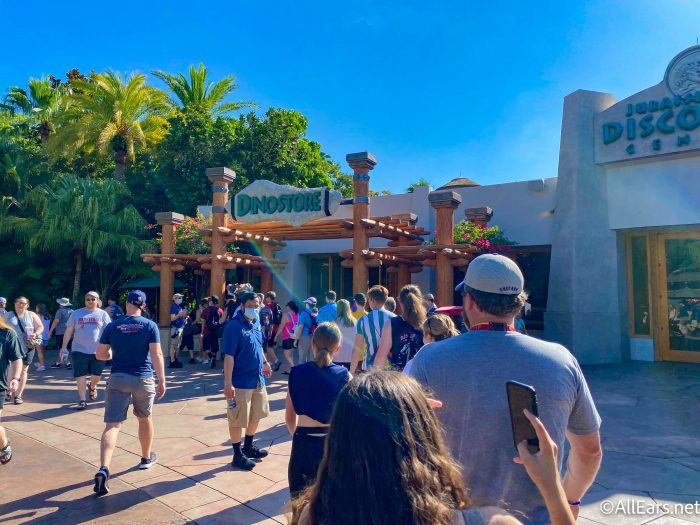 And then, the moment we were waiting for at last — we're here!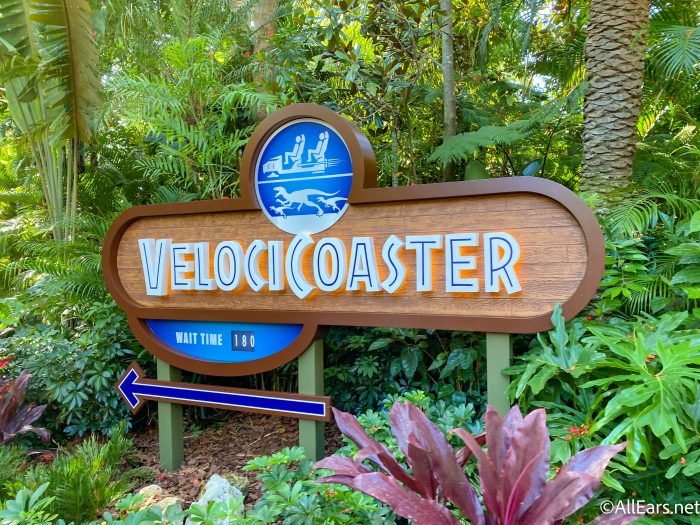 When we got to the entrance, we spoke to some friendly Team Members who told us that they wouldn't be using Virtual Line for this attraction during its initial opening. They didn't give a date on when that might begin, but they noted that Universal wanted anyone who came to ride VelociCoaster to be able to get on the ride and not miss out because of Virtual Line.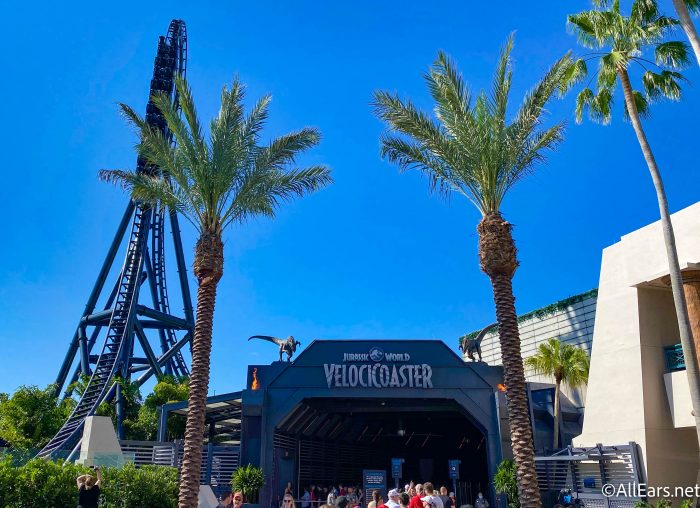 The wait time was still 180 minutes when we got to the front. And we haven't even been through the regular queue yet!
Thankfully, this queue area is super cool, with tons of fun details to check out along the way.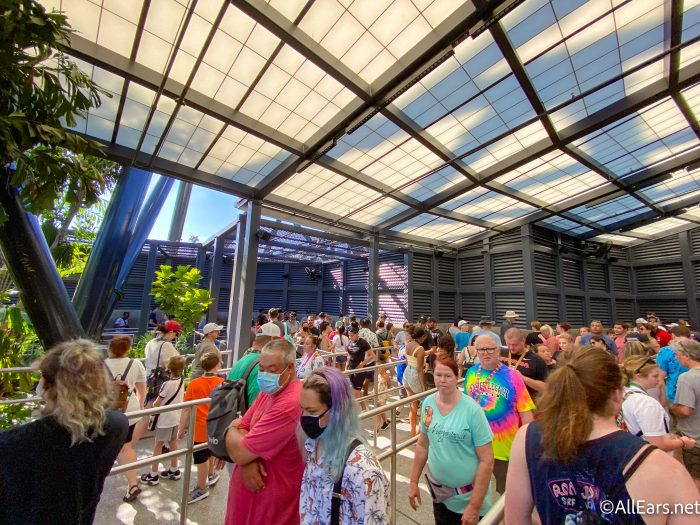 We were directed down by the water, and we could spot some of The Today Show filming happening from there! Also, there was a Team Member stationed out here passing out tickets to those who needed to use the restroom.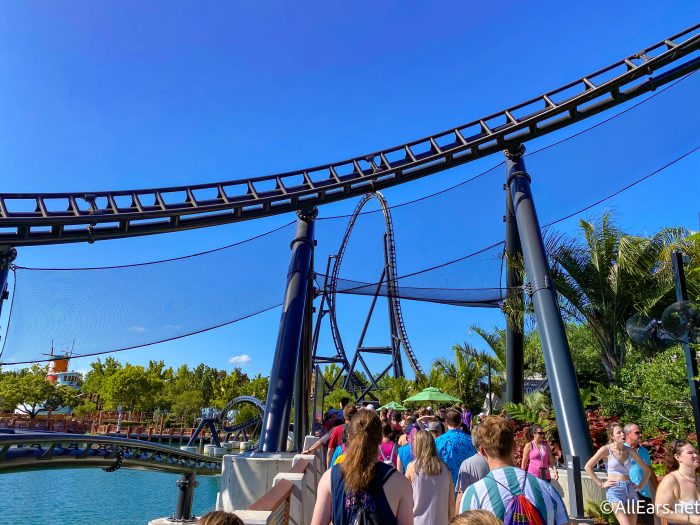 Keep in mind that it's hot in Florida, so be prepared for these outdoor waits!
Waiting in line for OPENING DAY of VelociCoaster in Universal! pic.twitter.com/KD0t5pxIoh

— AllEars.Net (@AllEarsNet) June 10, 2021
Once we got back inside, we got to see more of the exciting things, like the dinos themselves!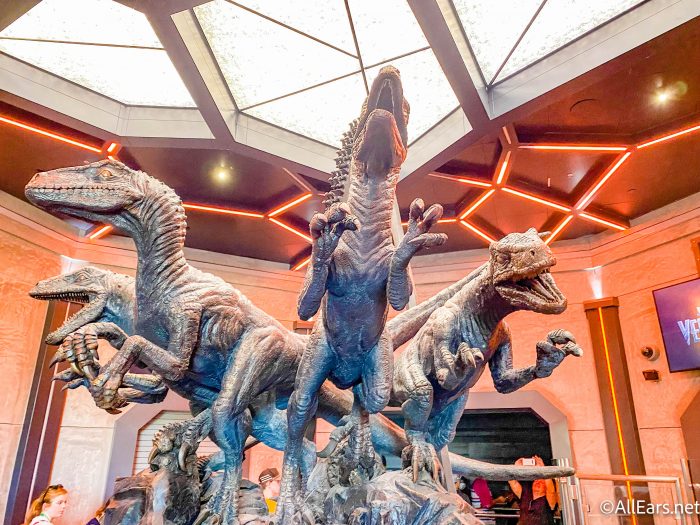 And we got to experience our favorite part of the line, the "live" raptors!
After that, we hopped on the ride — it was every bit as amazing as we remembered!
And once we got off, Team Members were outside handing out free churros!!! It looks like it was a churro stand after all…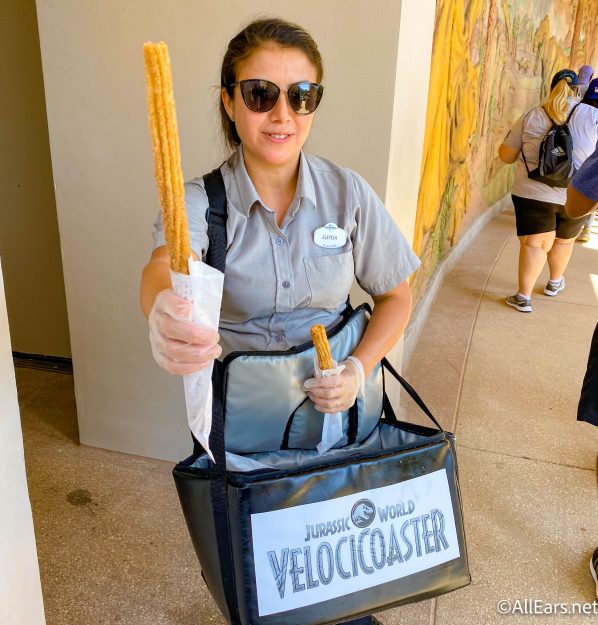 If we weren't sure that this was our favorite Universal ride before, then we definitely are now.
@UniversalORL is giving out free churros after guests ride VelociCoaster proving IT WAS A CHURRO STAND AFTER ALL 🤯 pic.twitter.com/JIVI2acbVS

— AllEars.Net (@AllEarsNet) June 10, 2021
Sorry Hagrid's, you can win back our love if you give us free Butterbeer after we ride!
So that's what our opening day experience was like! By the time we got off the ride, the wait had dropped to 120 minutes. We got in line around 8:40AM and were boarding the ride at 10:43AM, so 2 hours is pretty accurate.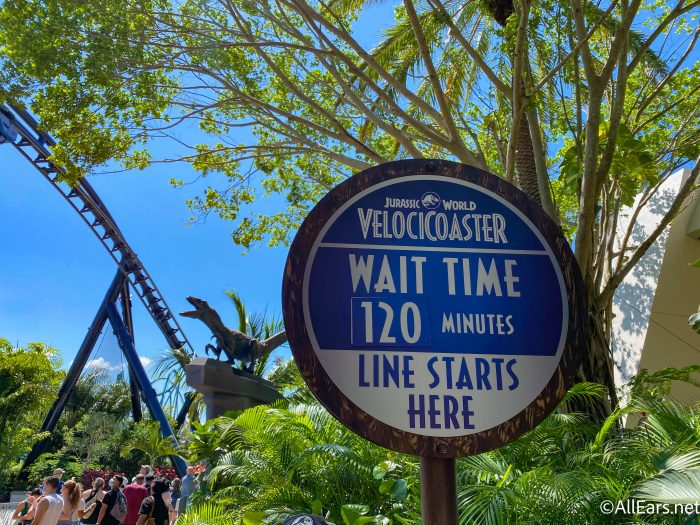 We had a great time here at the VelociCoaster grand opening, and we'll make sure to keep you updated with more details throughout the day. Stay tuned to AllEars for all things Universal!
Would you ride this coaster?
Join the AllEars.net Newsletter to stay on top of ALL the breaking Disney News! You'll also get access to AllEars tips, reviews, trivia, and MORE! Click here to Subscribe!