Set to accompany Walt Disney Animation Studios' upcoming feature release Raya and the Last Dragon when it hits theaters on March 5th and also premiering on Disney+ in June, is their first new short since 2016, Us Again.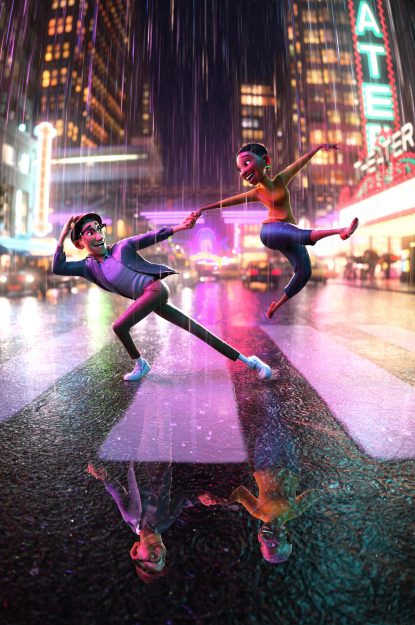 Us Again gives us a look at an elderly couple who has grown old and faced the changes that come with that in different ways.  A magical night of dance and rain may pass and leave them with both memories and revelation.
To talk about the making of this vibrant short on a recent virtual press conference was Zach Parrish (Director,) Keone & Mari Madrid (Choreographers/Dancers,) and Brad Simonsen (Producer.)
Press Conference highlights:
Parrish on the concept of Us Again:  "When I was coming up with ideas, we pitched four ideas actually in the development process, but this idea, in particular, came from a time in my life when I was kind of struggling with the changes that go along with aging.  I was kind of bemoaning my aging body.  I'm not a super old person, but I was starting to recognize those changes in myself, and…it kind of led me to these conversations that I would have with my mom where she would always talk about all the great things that she was gonna do when she grew up.
"And it really made me stop and realize that I kinda had my priorities wrong.  I was looking in the wrong direction, and if I'm always looking in the past, then I'm gonna miss the beauty in the now.  I'm old by my own definition, and she's young by hers.  And so that idea of youth being a state of mind, really got my gears turning and I really thought it'd be fun to do a fountain of youth story."
Parrish on telling the story through dance:  "I…looked at a lot of Fantasia reference because it's amazing the storytelling that they did in those short films without dialogue, driven mostly by music and movement.  And so, as I was thinking of this idea for the film and knowing that I wanted to do the entire thing through dance…it really sparked this memory of this video that I saw–this incredible couple–online.  I believe they were teaching at the time, and, it was to Bob Marley's 'Is This Love' and they were dancing as an old couple.
"And it was perfect because as an animator, I'm very familiar with pose-to-pose animation and their style of dance had this perfect animationness to it, but also they have this incredible ability to tell stories with the way that they dance.  All dance is storytelling, but theirs was so deep and so emotional, and the connection between them was so visceral that it felt perfect for this film. And so, from the very beginning, even when I was pitching the idea of the short, I was actually using, examples of Keone and Mari as, like, 'this is what I would love for it to look like, if somebody can do this,' never thinking that it would actually be Keone and Mari who would get to bring it to life."
On what message people can take away from Us Again:
Keone:  "I know this may be oversimplifying it, but that can be sometimes a good thing…Just, you know, love and being present with each other.  You know, the other day, we were walking our dogs and there was this old couple in front of us who was matching and…it's…that hashtag #commongoals feeling when you're watching them walk across the street.
"And Mari and I were feeling that joy, and that love and that warmth, and, I hope that people can take that away.  Because I know it's still a tough time for people, and I hope that…all we hope to do as artists is to bring some sort of joy and warmth to people and somehow inspire their day, and, we hope that people can take that away."
Mari:  "I think this is something that Zach said of just realizing what's important.  You know, I think great art stays with you after you see it, or you experience it…it just follows you home, and it has the little bit of a thing that is reminding you or telling you some kind of truth, and I hope that people feel that, and that they would just do simple things, like, 'Oh, I'm gonna cuddle my dog for 10 minutes, and I'm just gonna enjoy that.' Like, whatever that source of love and presence that you kind of brush to the side every day, that you would take the time to do it, and then feel that."
Simonsen:  "I think overall it's being present and exactly what they said…really also being grateful and thankful for the loved ones you have.  I think that often we take them for granted, frankly, that they'll be there with us and we're living through a moment in time when that's something that we shouldn't take for granted.  We really should love who we're with and tell them that and care for them and enjoy the moment that we have."
Parrish:  "I think these guys have said it so well–there's a few other, small hopeful takeaways that we wanted throughout…I said from the beginning to my wife that I hope when people watch this film, they look at their grandparents and realize that they were kids once too, and…it inspires them to ask questions, you know?  Because that is something that I feel like I missed out on because I wasn't self-aware enough I guess, to ask those questions while my grandparents were still around.
"And so, I hope that inspires conversations between generations about their lived experiences, and their views on life, and their view on their relationships. That's a very subtle one, but hopefully, people think about their families differently.
"I think that the idea for the short was always…about taking that time to focus on what's truly important, and what's around you and what makes your life beautiful.  I think many people think that it's about being okay with aging and sure, that's a part of it too, but I think the core of the idea is less about age and it's more about any age not focusing on things that are holding you back.  Not focusing on the past.  Not focusing on anything that's distracting you from the beauty that is the world around you, and appreciating those who are on that journey with you and make your life beautiful.  That's really where Dot's character comes into play, is that she's encouraging Art to see that, but she's also that person who carries so much of the beauty of his world for him, and so, hopefully, all ages can take that away.
"And if nothing else, they just love to dance."
Us Again is opening in theaters with Raya and the Last Dragon on March 5, 2021, and will have its Disney+ premiere in June.
Questions?  Comments?  Suggestions?  Drop us a line below.
Be sure to follow @allearsnet on Facebook, Instagram and Twitter!
Check out our YouTube Channel for reviews, news, information and more!
Click below to subscribe to the AllEars® newsletter so you don't miss any of the latest Disney news!