A home-cooked meal is that much better when it's got a bit of Disney flair too!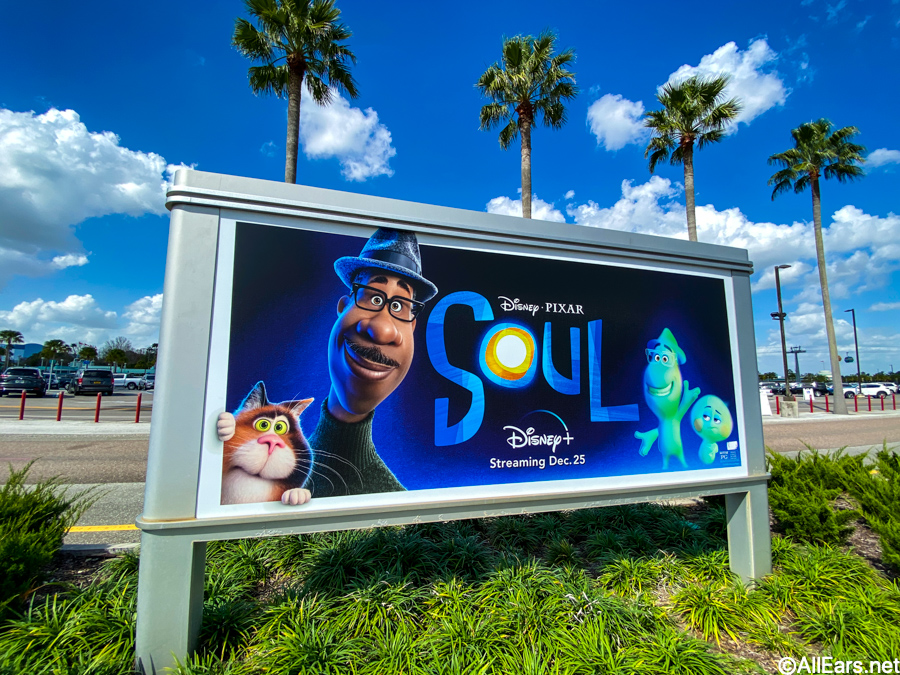 Well, we hope you're hungry because we're coming at you with FIVE sweet recipes inspired by Disney and Pixar's Soul!
Since Soul pays special homage to food, cooking, and jazz music, Dole is sharing a whole bunch of healthy recipes that celebrate the relationship between food and life! These recipes are a part of Dole's healthy-living initiative and each is packed with fresh flavors. Let's jump right in!
Sunrise Pizza
The Sunrise Pizza is a breakfast pizza with fruit toppings! Here's what you need to make it.
Ingredients
2 medium DOLE® Bananas, peeled
4 frozen whole wheat waffles
1/4 cup honey-flavored nonfat Greek yogurt
1 can (11 oz.) DOLE Mandarin Oranges, drained
2 teaspoons honey dash ground cinnamon
DOLE Fresh Raspberries or Blueberries (optional)
Directions
Thinly slice bananas on diagonal
Prepare waffles according to package directions
Spread waffles with yogurt
Arrange banana slices on top, overlapping
Arrange mandarin oranges in center of each pizza
Drizzle with honey. Sprinkle with cinnamon. Garnish with raspberries or blueberries, if desired.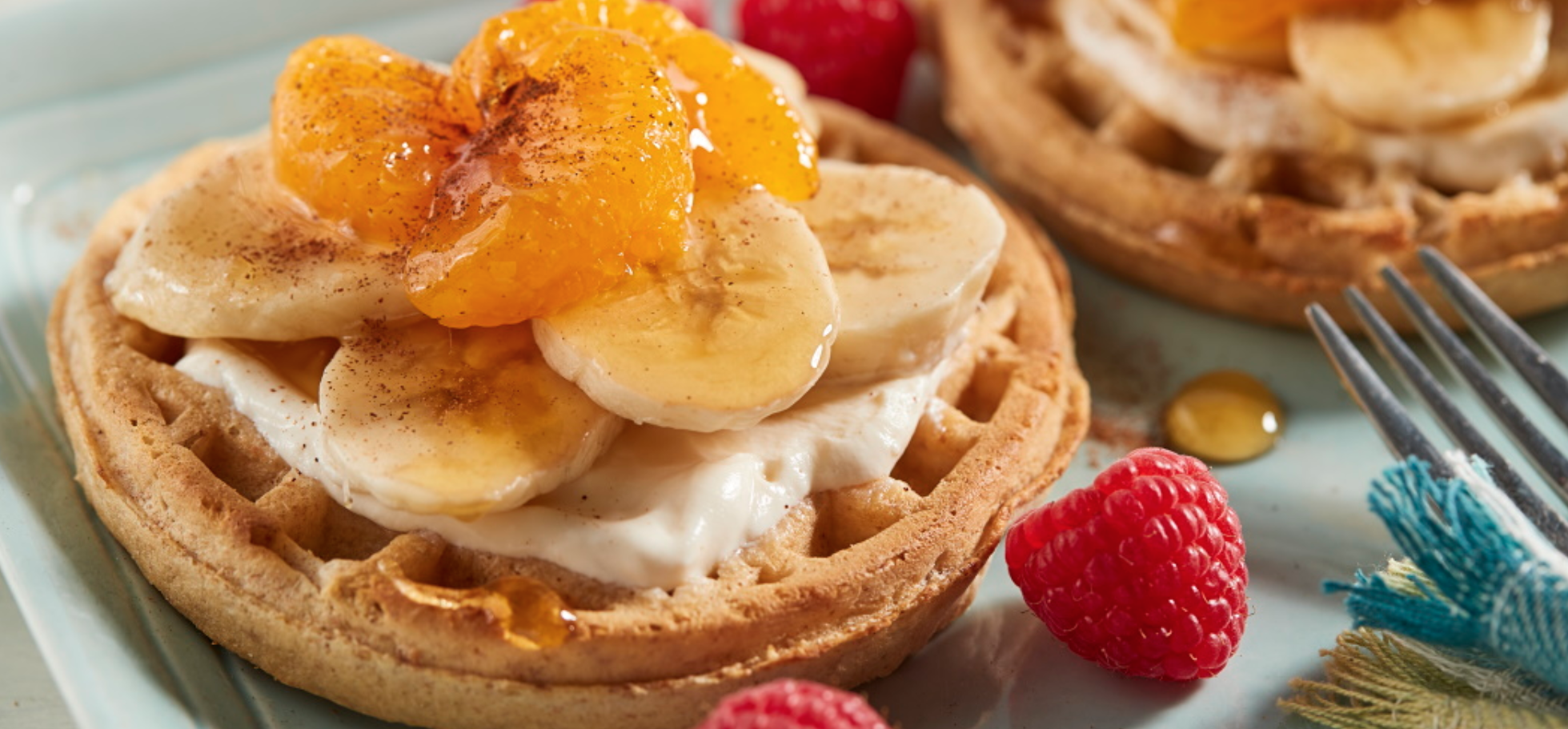 Festive Dessert Pizza
The Festive Dessert Pizza is vegetarian and includes lots of delicious fruits!
Ingredients
½ cup dark chocolate chips, 70% cocoa
1 (8-inch) round whole-wheat flatbread
1 cup DOLE® Strawberries, hulled and sliced
1 cup DOLE Raspberries
1 cup DOLE Tropical Gold® Pineapple, peeled and diced
1 tablespoon sliced almonds, toasted (optional)
Directions
Place chocolate chips in small bowl and set over a small pan of simmering water (do not let bottom of bowl touch water). Heat, stirring often, until the chocolate has melted.
Pour melted chocolate over flatbread and spread evenly with an offset spatula or butter knife.
Scatter berries and pineapple over the chocolate-covered flatbread while chocolate is still warm. Sprinkle almonds over fruit if desired, cut the pizza into four equal portions and serve while chocolate is still warm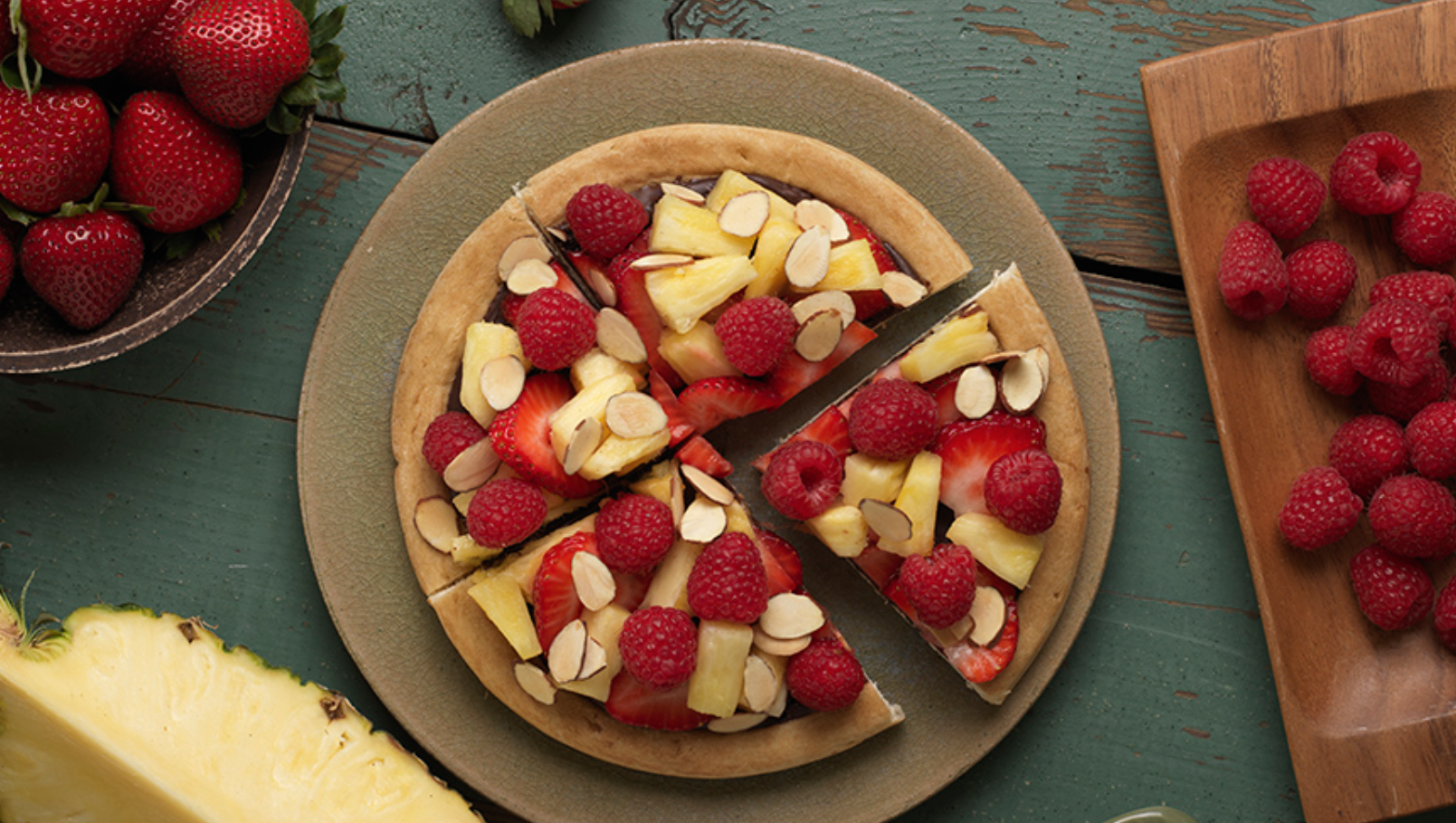 Right Note Smoothie
The Right Note Smoothie is vegan, low sodium, and gluten-free! It's packed with fruits, oats, and even some veggies!
Ingredients
2 ripe DOLE® Bananas, peeled, cut crosswise into thirds and frozen
1½ cups unsweetened almond milk
1 cup chopped DOLE® Pineapple, frozen
½ cup DOLE® Baby Spinach
½ cup DOLE® Blueberries, frozen
⅓ cup DOLE® Blackberries plus additional for garnish (optional)
¼ cup old-fashioned rolled oats
Fresh mint leaves for garnish (optional)
Directions
Purée all ingredients in a blender on high until smooth. Serve garnished with blueberries and mint, if desired. Makes about 5 cups.
Chef Tip: Peel and freeze ripe bananas to have on hand for this recipe as well as other smoothies and baking.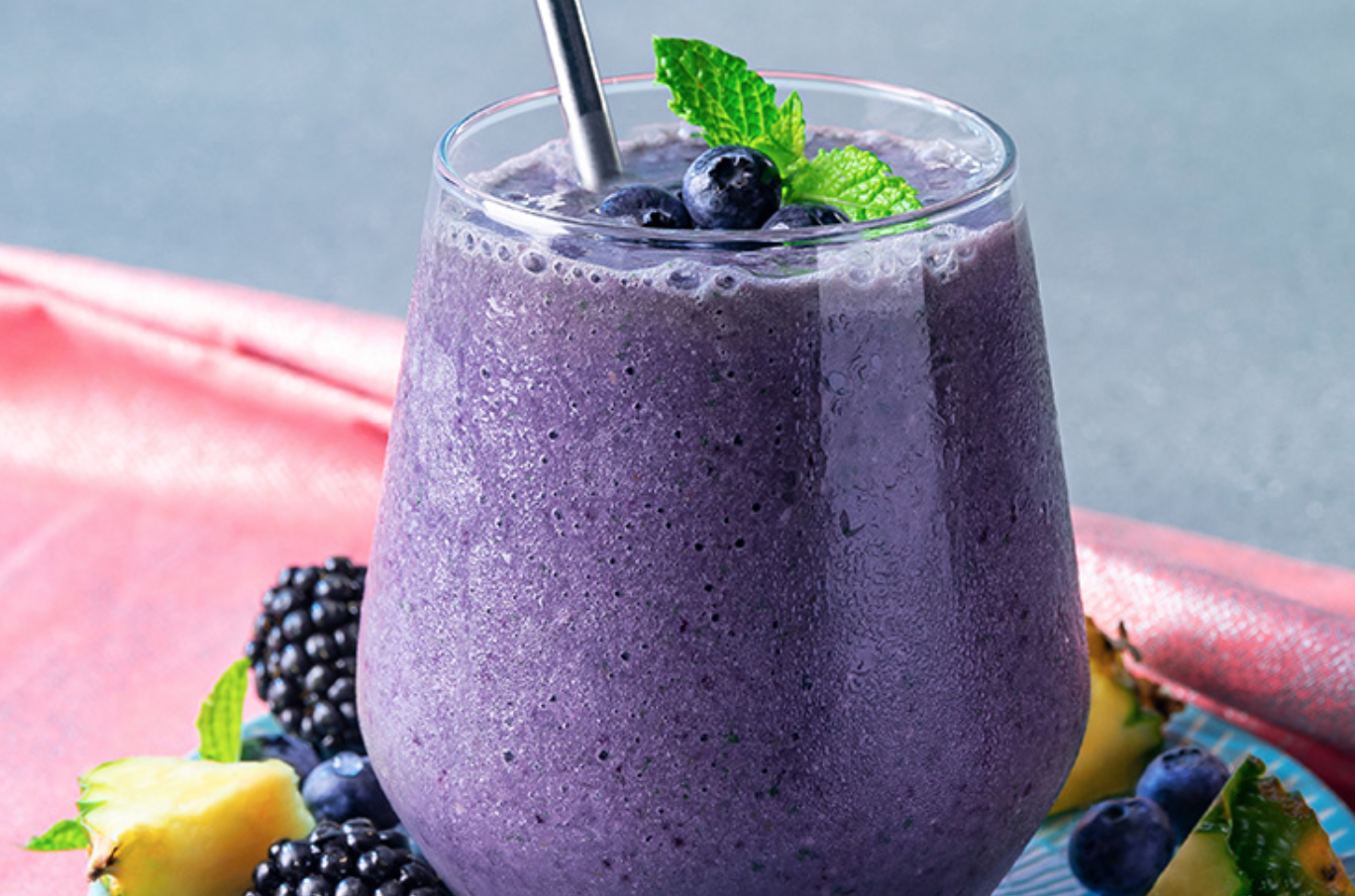 Vegan Chocolate-Banana Cream Tart
The Vegan Chocolate-Banana Cream Tart is vegan, low sodium, and gluten–free. It includes nuts, tofu, fruits, and chocolate!
Ingredients
Vegan nonstick cooking spray
1 cup pitted dates
½ cup dry roasted, unsalted pistachios
⅓ cup gluten free old-fashioned rolled oats
¼ teaspoon salt
½ (16-ounce) package silken tofu, drained and coarsely chopped
3 ripe DOLE® Bananas, peeled and coarsely chopped
½ cup vegan unsweetened cocoa powder
3 tablespoons powdered sugar
1 teaspoon vanilla extract
1 tablespoon agar agar
3 tablespoons vegan dark chocolate chips


Directions
Spray a 9-inch pie plate lightly with nonstick cooking spray.
Pulse dates, pistachios, oats and salt in a food processor until small crumbs form. Press into bottom and up sides of prepared pie plate. Wipe out food processor bowl.
Purée tofu, bananas, cocoa powder, sugar and vanilla extract in the food processor until smooth; transfer to a large bowl.

Heat agar agar and ½ cup water to a simmer in a small saucepan over medium heat. Simmer 3 minutes or until slightly thickened and agar agar is dissolved, whisking occasionally.

Whisk agar agar mixture into tofu mixture; spread in prepared crust.

Sprinkle tart with chocolate chips. Freeze at least 2 hours or overnight. Cut tart into 8 slices.
Chef Tip: An equal amount of gelatin can be substituted for the agar agar.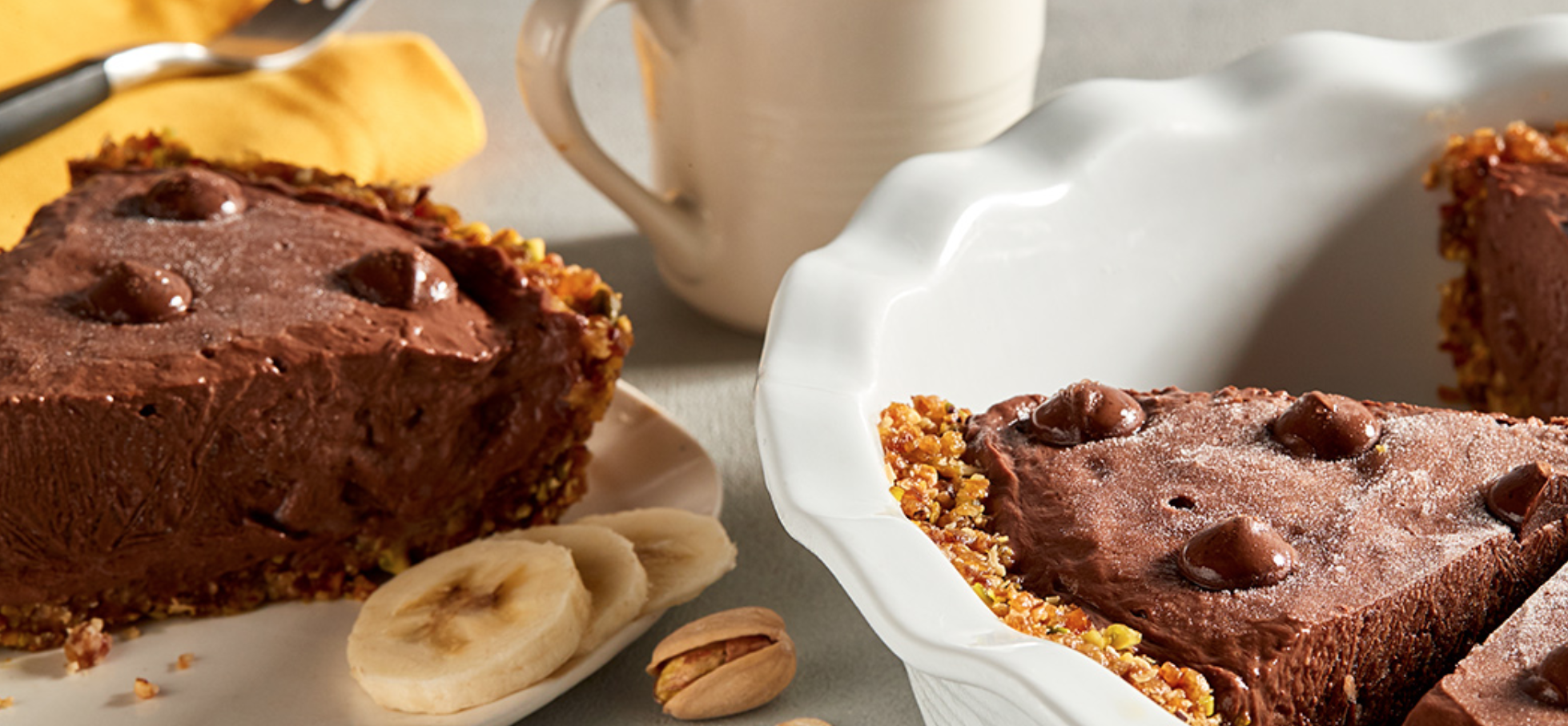 Loaded Banana Bread
This Loaded Banana Bread is a spin on the classic, ever-popular banana bread! It's great for breakfast or a mid-day snack.
Ingredients
Nonstick cooking spray
1½ cups white whole wheat flour plus additional for dusting
½ cup coconut sugar
1¼ teaspoons baking powder
½ teaspoon baking soda
¼ teaspoon salt
2 large eggs
5 medium very ripe DOLE® Bananas, mashed
¼ cup almond milk yogurt alternative
¼ cup natural buttery spread with olive oil, melted and cooled slightly
1 teaspoon vanilla extract
¼ cup crushed pecans


Directions
Preheat oven to 350°F.
Spray an 9 x 5-inch loaf pan with nonstick cooking spray. Dust bottom and sides of pan with flour.
Whisk flour, sugar, baking powder, baking soda and salt in a medium bowl.
Whisk eggs in a large bowl.
Stir in bananas, yogurt, buttery spread and vanilla extract.
Add flour mixture and stir just until combined.
Pour into prepared pan and sprinkle with pecans.
Bake bread 1 hour 5 minutes or until toothpick inserted in center comes out with a few crumbs and top is golden brown.

Cool bread 10 minutes on a wire rack. Run a small knife around edge of pan to loosen and remove bread from pan.

Cool completely on wire rack. Cut into 10 (¾-inch-thick) slices.
Chef Tip: For a twist, replace 1 banana with 2/3 cup diced strawberries; fold into batter with bananas in step 2.
We've already started to pull out our pots and pans after seeing all these recipes! You can find more recipes from Dole here. And, we'll be sure to bring you more Disney-inspired recipes soon!
What Soul inspired recipe are you looking forward to making the most? Let us know in the comments below!